It's a simple fact: Food is more fun when served in a bowl. From morning oatmeal to satisfying soups to decadent post-dinner sundaes, bowls are the vessel of choice for some of the most soul-satisfying cooking bounty. The best part about the bowl? It's ideal for creating mini individual servings.
When it comes time for dessert, you don't need a crowd to make and enjoy a delicious treat: Creating creative, tasty, individually portioned desserts in bowls is a snap!
These four delectable single-serving dessert recipes prove that bowls are for more than just sundaes.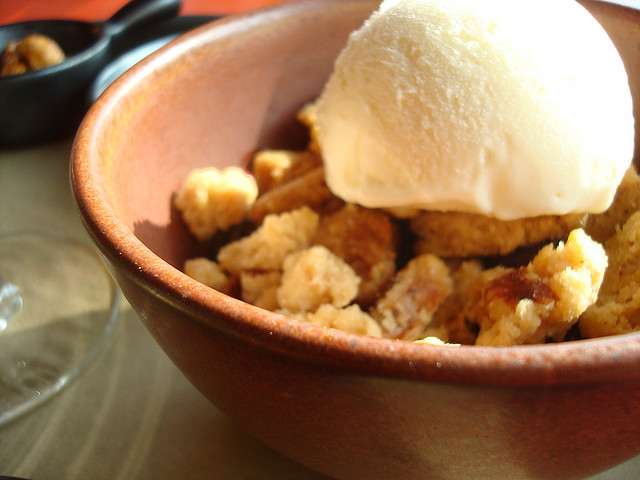 Photos via CakeSpy
When it comes to delicious dinner in a bowl, look no further than Craftsy course Big Bowls: Hearty Vegetarian Meals. In the course, James Beard Award winner Martha Rose Shulman will guide you through cooking six different kinds of whole grains and add six new vegetable and bean dishes to your vegetarian cooking repertoire.
All of these recipes are meant to make one individual bowl dessert, perfect for indulging in a delicious dessert just for you! However, any of the recipes can easily be doubled or tripled, then divided among the appropriate number of bowls in order to serve a crowd with lovely pre-portioned treats!
Dessert bowl #1: Individual fruit crisp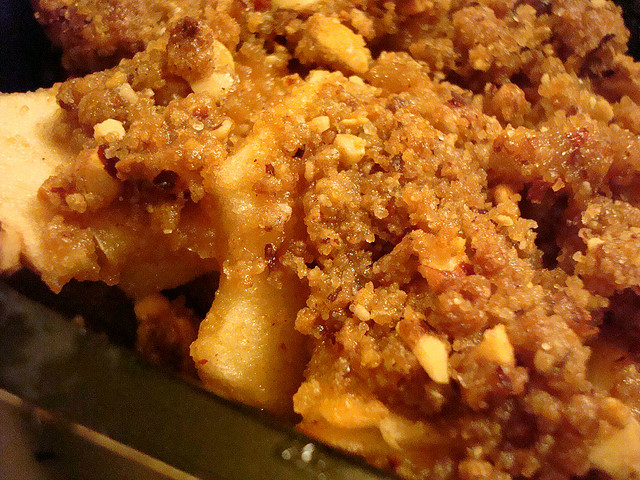 Fruit crisp is a satisfying dessert which can be tailored to include whatever fruit is in season. It's a traditional dessert after a southern barbecue meal, but don't let that keep you from serving it after any type of dinner.
1/2 cup chopped fruit (of your choosing)
1 1/2 tablespoons light brown sugar, divided
1 tablespoon flour
1/2 teaspoon cinnamon
1 tablespoon toasted chopped nuts
1 tablespoon butter, melted and cooled to room temperature
pinch salt
Note: International readers may enjoy our handy Metric Conversion Guide.
1. Place the fruit in a microwave-safe bowl with 1/2 tablespoon of brown sugar. Mix until coated. Let sit while you prepare the next step.
2. Combine all of the ingredients until coated and pinch into crumbs.
3. Scatter the crumbs on top of the fruit, in the same bowl you mixed it in.
4. Microwave the bowl for 1 to 1 1/2 minutes on high with a sheet of paper towel on top to avoid spatter.
5. Remove from microwave and let cool enough so that it won't burn your mouth. This dessert is fantastic with whipped cream or ice cream on top.
Dessert bowl #2: Gooey chocolate cake bowl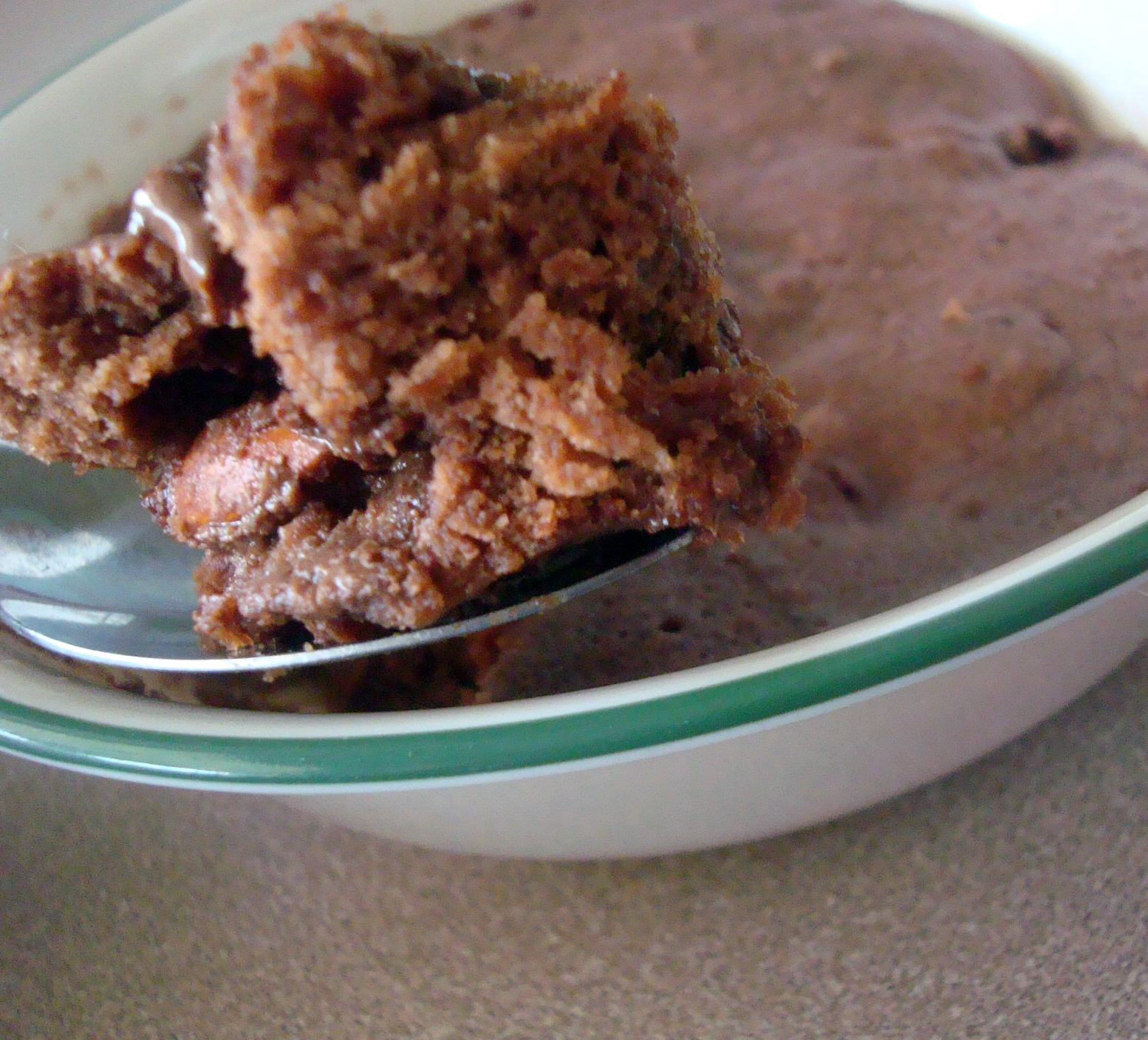 Did you know that you can make cake in a mug in the microwave?! For this recipe, slightly adapt the recipe and make it in a bowl (preferably, one with somewhat high walls). Adding plenty of chocolate morsels guarantees an agreeably gooey result.
Makes one
1. Prepare the cake in a mug per the directions, except instead of combining them in a mug, combine them in a bowl with fairly high walls (to allow for rising). F0ld in the chocolate morsels and nuts, if using.
2. Cook according to recipe instructions. Once finished, remove from microwave. Once it has cooled slightly, top as you'd wish (whipped cream wouldn't be excessive) and serve.
Dessert bowl #3: Nacho bowl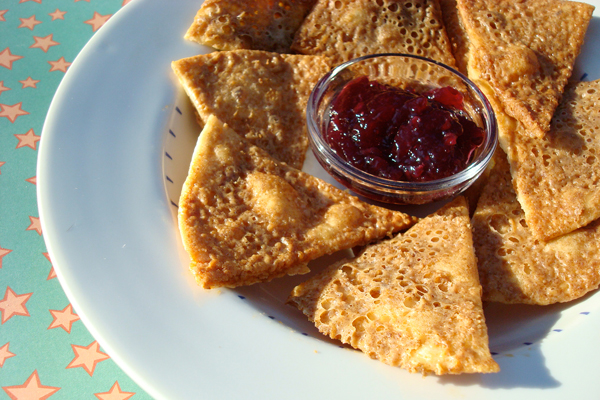 Totally not kidding: Nachos can be enjoyed for dessert, too! Place the sweet bites in a shallow bowl with homemade jam for "salsa", or top them with ice cream for a decadent treat that'll have you saying, ¡Olé!
Makes one serving
1 flour tortilla
2 teaspoons butter, melted
2 teaspoons cinnamon-sugar
Dip of choice: Ice cream, jam or whipped cream
1. Preheat the oven to 350 F. Line a baking sheet with parchment paper.
2. Take a plain flour tortilla and slice it into triangles.
3. Brush with melted butter and cinnamon sugar.
4. Place on the prepared sheet, and bake until crispy (6 to 10 minutes, depending on how thick the tortilla is).
5. Place in a bowl and serve with jam or melted chocolate for dipping, or go the whole nine yards and top with ice cream for a truly memorable dessert.
Dessert bowl #4: Bread pudding parfait bowl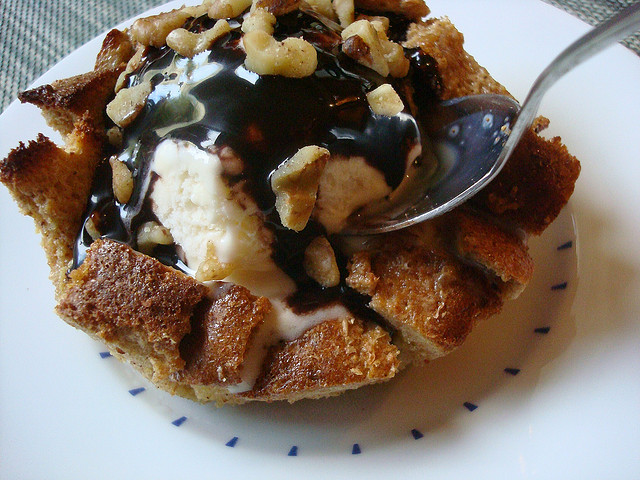 Have your dessert and eat your bowl, too, with these creative "bowls" made from day-old bread. You'll need oven-safe bowls (such as Pyrex) or a jumbo cupcake tin for this recipe.
Makes two bowls
2 slices slightly stale bread, sliced lengthwise
1 egg, lightly beaten
 1/4 cup light cream or half and half
 1/2 teaspoon vanilla
 Cinnamon and nutmeg to taste
 About 1 teaspoon brown sugar per cup
 1 scoop of ice cream per cup (plus optional toppings of your choice!)
1. Preheat the oven to 350 F. Grease the bowls or two cups of your jumbo cupcake tin.
2. In a bowl, mix the egg, cream, vanilla, and spices together.
3. Dip each slice of bread into the egg mixture, allowing bread to soak up some of the mixture.
4. After dipping each piece, arrange in the bowl or tin until the strips have lined up to approximate the bowl-like shape. If needed, press down in the center so that they mimic the bowl shape. You should have enough pieces of bread to make two bowls.
5. Drizzle about a teaspoon of brown sugar over each little "bowl" making sure to hit the sides of your little bread bowl. This will caramelize and taste delectable later.
6. Place in the oven for about 10 minutes, or until browned and crispy on the sides and firm in the center–or put in toaster oven for about 15 minutes on medium-high.
7. Remove from heat and let set for at least 20 minutes. Once firm, place a scoop of ice cream in the center of each "bowl" and garnish with whatever toppings you like. Enjoy immediately.
Would you use a spoon or a fork for these desserts?