Have you made chilled, overnight oats before? Are you sitting there wondering what in the world overnight oats even are?
If you're new to this breakfast idea, brace yourselves, you are about to have a new breakfast obsession because this make ahead oatmeal is not only quick, healthy and versatile, it's also delicious.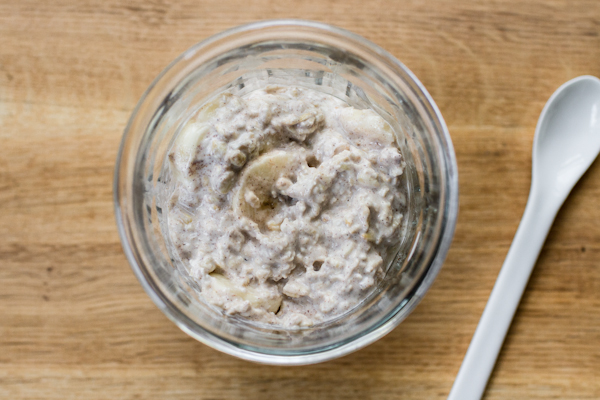 Breakfast is my absolute favorite meal of the day. I love starting each day in the kitchen with morning light pouring in the windows and a cup of coffee in hand. My breakfasts typically take just a few minutes to prepare and then cook. Nothing extravagant but always nutrient dense and satiating to power me through my mornings.
I have a handful of breakfast recipes that I rely on throughout the week and never grow tired of. Scottish Oats are on constant rotation during winter months, and gluten-free waffles happen all year long — and probably most frequently. And while I do love smoothies, they never seem to fill me up enough in the morning.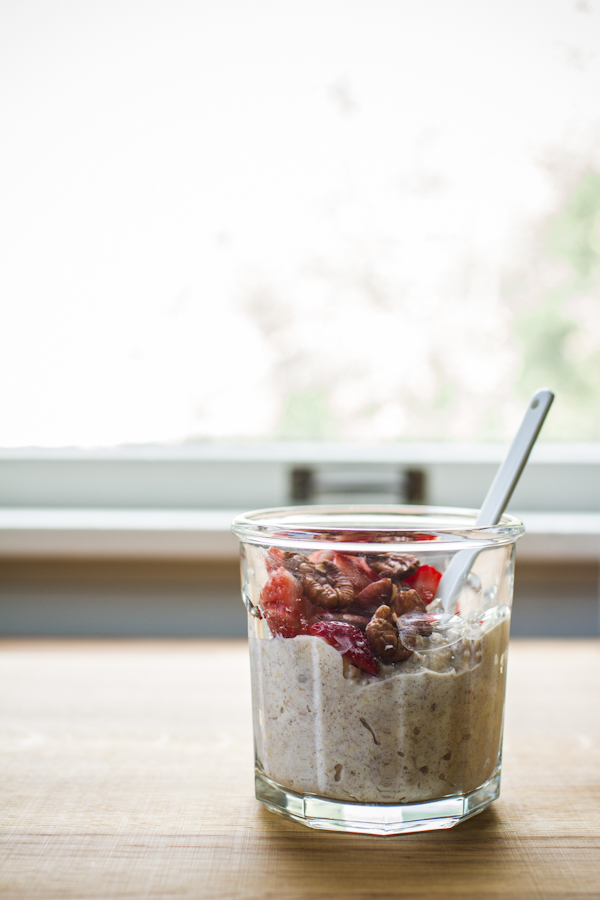 In summer months, when mornings are hot and I don't want to heat up the kitchen first thing I turn to chilled breakfasts. Overnight oats is a recipe that happens constantly during the summer. It takes about 2 minutes to whip up and then you simply set it in the fridge until morning and top however you like.
The best part is that you can make a batch big enough to get you through 3-4 days. All you have to do is double the recipes you'll find below then portion the mixture into separate jars — then grab and go!
This is an excellent breakfast option if you don't have much time in the morning, and you typically eat your breakfast at work. It's also perfect for splitting with your significant other or kiddos and letting everyone choose their own toppings.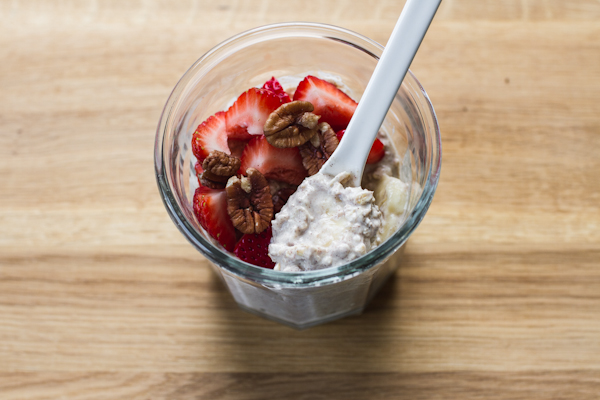 I have two versions for overnight oats to share with you today. One is made with yogurt and the other is a vegan option made with chia seeds. Both options are equally delicious, thick and chewy, and very filling.
They're a blank canvas for you to top and enjoy!
The yogurt soaks into the oats with milk and creates almost a doughy texture. My typical go-to recipe adds banana and cinnamon to the base mixture. I like to use a whole milk Greek yogurt but any Greek yogurt will do. You can use non-Greek yogurts, but the texture won't turn out nearly as thick and luscious.
For the vegan version, chia seeds are added to thicken the mixture. The milk soaks into the oats and chia seeds resulting in a very thick oatmeal texture. Banana is a great option to add to the vegan overnight oats but chopped dates also work well for a bit of chewy sweetness (and if you don't like bananas). The base of each recipe is not really sweet but adding the banana or dates adds just the right amount for me.
With either version, it's so thick by morning that if you turn the mixture upside down it won't budge! If you like your overnight oats a bit thinner just add more milk in the morning. I like mine extra thick!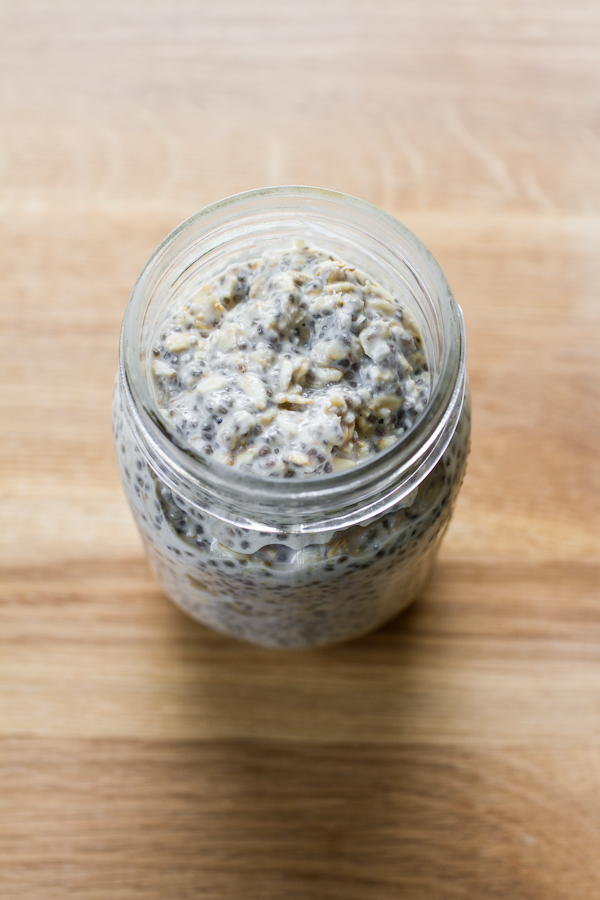 Feel free to adapt the recipes below as you like. This is just a rough guideline for the proportions of liquid, seeds, etc. Once you start making overnight oats you won't be able to stop!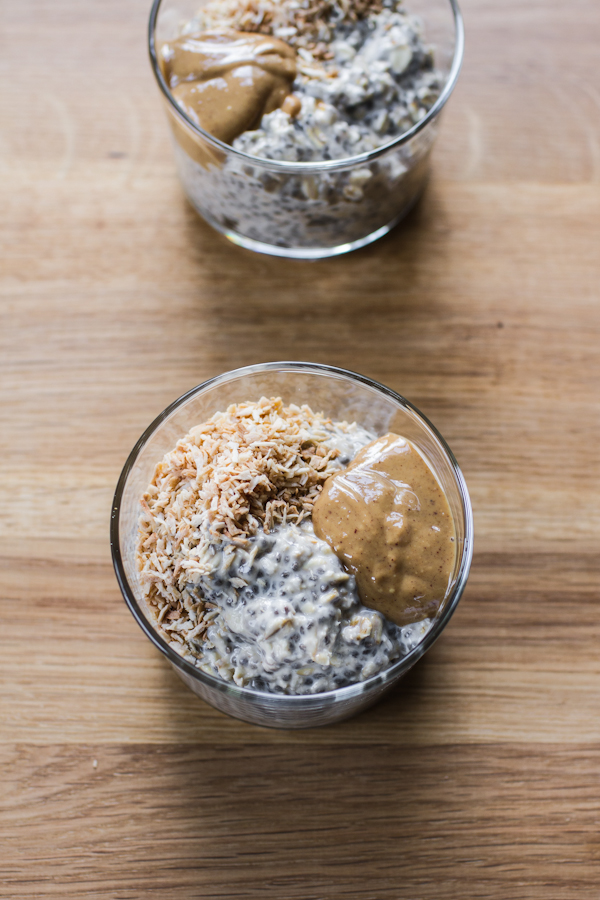 Recipe for overnight oats with yogurt and banana —
Yields: 2-3 servings
Ingredients:
1 cup rolled oats (gluten-free, if needed)
1/2 cup whole milk plain or vanilla Greek yogurt (or low-fat Greek)
1/2 cup 2% milk or whole milk
1/2 teaspoon cinnamon
1 small/medium banana (sliced)
Recipe for vegan overnight oats with chia seeds and dates
Yields: 2-3 servings
Ingredients:
1 cup rolled oats (gluten-free if needed)
1 1/2 cups unsweetened plain almond or soy milk (or vanilla unsweetened)
2 – 3 tablespoons chia seeds
1/2 teaspoon pure vanilla extract (nix if using vanilla milk)
pinch of sea salt
4 pitted and well-chopped Medjool dates
Directions for make ahead oatmeal:
Step 1:
(Non-Vegan) Place rolled oats in a bowl a stir in the yogurt, milk, and cinnamon until well combined. Fold in the banana.
(Vegan) Place rolled oats in a bowl a stir in the milk, chia seeds, vanilla, and salt. Fold in the chopped dates.
Step 2:
Pour the mixture into a jar or seal-able container and place in the fridge for at least 2 hours but preferably overnight.
Step 3
Portion what you'd like into a separate jar (if taking to go) or bowl, add toppings, and serve.
Notes: You can also sub ground flax seed meal instead of chia seeds (or grind the chia seeds) if you'd like a doughier texture similar to the yogurt version.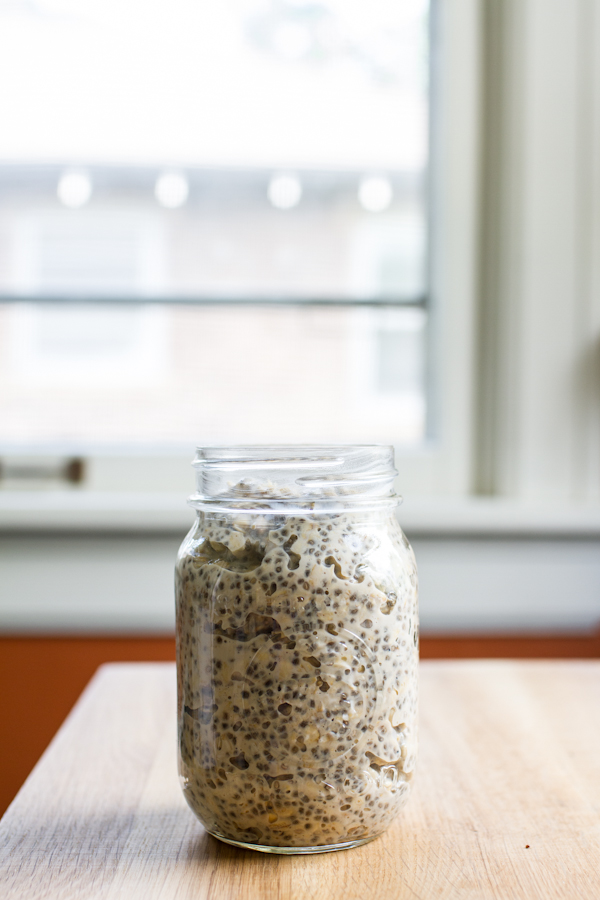 Topping ideas:
Peanut butter, almond butter, sunflower seed butter, etc.
Toasted coconut
Fresh berries
Banana
Pecans, walnuts, almonds
Cranberries, raisins, dried apricots
Granola
Strawberry chia seed jam 
Drizzle of maple syrup or honey
Do you like eating chilled breakfasts during warmer months?