A summer dessert should be easy to assemble, easily made ahead, a show stopper and should be loaded with the sweet summer fruit. A trifle is all of those things.
A trifle is a classic English dessert and usually consists of layers of fruit, soaked cake, pudding and cream. My current go-to version follows the classic closely with a few time-saving tips here and there.
I do make my own pound cake, but if you are really looking for ease, you can easily purchase one.
The first thing I do is grab whatever berries look most jewel-like at the market. From there I do very little with them beyond adding a bit of sugar to encourage their juices to emerge and perhaps a touch of cinnamon or rose water for an exotic flavor. I let the berries sit for about 30 minutes and give them a gentle mash to really get really juicy. If this trifle is strictly for adults, I may suggest adding a splash of liqueur such as amaretto or grand mariner.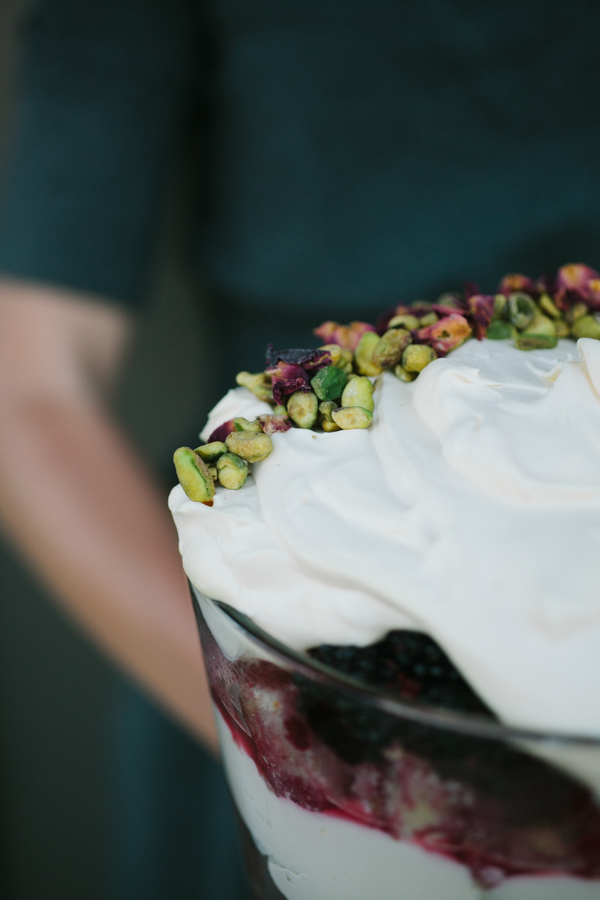 From there, I cut up my pound cake into rough 1-inch cubes. I add a layer of cake cubes to the bottom of a trifle dish or glass bowl then top the cake with a layer of juicy berries. Next, I skip the hassle of a pudding and add lightly sweetened whipped cream. You can add a bit more interest to your cream with vanilla bean, mascarpone, creme fraiche or even greek yogurt.
Remember when we talked about labneh? Lately I've been making a strawberry trifle with a bit of rosewater, a labneh pound cake and cream whipped with labneh (about equal parts cream and labneh sweetened with honey to taste). 
I layer each component two times and always finish with a layer of whipped cream. Garnish with toasted nuts for a bit of crunch.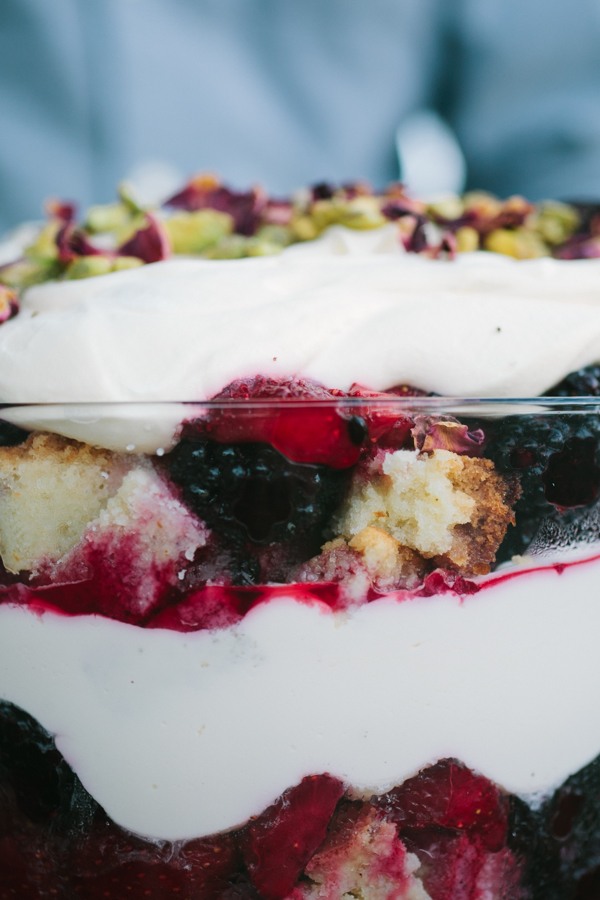 Simple Summer Trifle
Serves 10-12
6 – 8 pints fresh berries
1/4 cup sugar
1/2 pound cake, cut into 1-inch cubes
2 cups whipped cream, whipped to soft peaks and lightly sweetened to taste
Toasted nuts for garnish 
Step 1.
Combine the sugar and berries and let sit for at least 30 minutes. 
Step 2.
Add a layer of pound cake then top with berries. To that add a layer of whipped cream then repeat the layering one more time. 
Step 3.
Garnish with toasted nuts.
Pound Cake
1 pound butter, softened
3 cups sugar
6 large eggs
4 cups all-purpose flour
1 1/2 teaspoons kosher salt
3/4 cup milk
1 teaspoon vanilla extract
Step 1. 

Preheat your oven to 300 F and grease a bundt pan with butter or pan spray.
Step 2.
Cream the butter and sugar until very light, about 5 minutes on medium-high speed. This step is important for incorporating air into the mix which gives the cake lift and structure.
Step 3.
Crack the eggs into a bowl and slowly add them to the mixer. Scrape down the sides of the bowl with a rubber scraper and mix again until well combined.
Step 4.
Turn the mixer on low and add half of the flour. Mix until just combined. Add the salt, the milk and the vanilla extract. Continue to mix briefly before adding the rest of the flour. Mix until everything is well combined, scrape the bowl again.
Step 5.
Bake for 1 hour to 1 hour and 15 minutes, or until a toothpick comes out clean when inserted in the middle.
Step 6. 
Let the cake cool in the pan for 10 minutes before unmolding and cooling completely on a wire rack.
The cake can be wrapped and kept for two days or frozen for up to one month.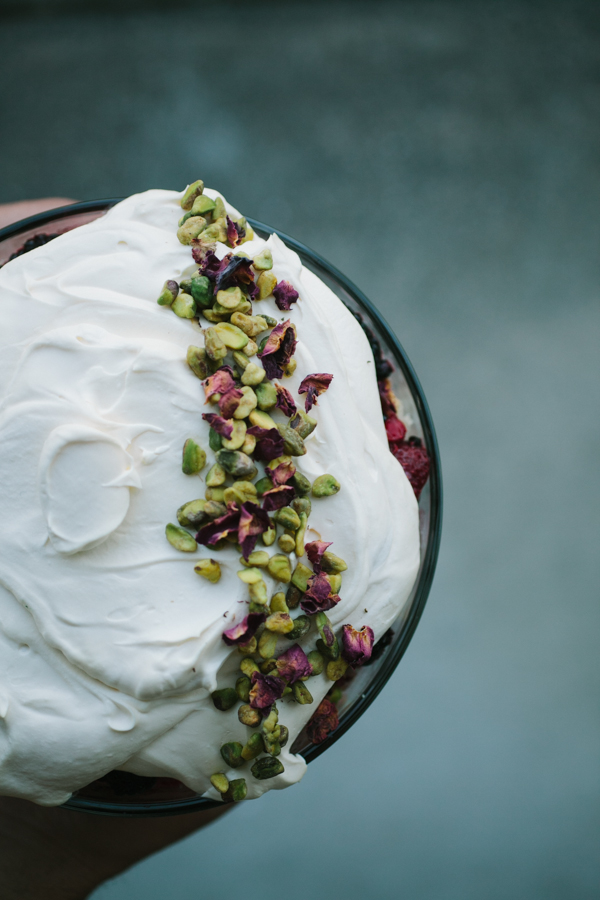 How do you trifle? There are so many amazing variations of this desserts and so many delicious options. When it comes to cake, fruit and cream you really can't go wrong.