Just as we pulled into our driveway I flung open the passenger door as quickly as I could. Five and a half hours in a small car crammed with five people and a long weekend's worth of goods will have one pining for fresh air and a good leg stretch. But we did it. We survived a road trip with three young children and much of the success of our traveling time was due to the snacks I packed the day before we left.
These simple and healthful snacks will satisfy and cure the long car ride boredom.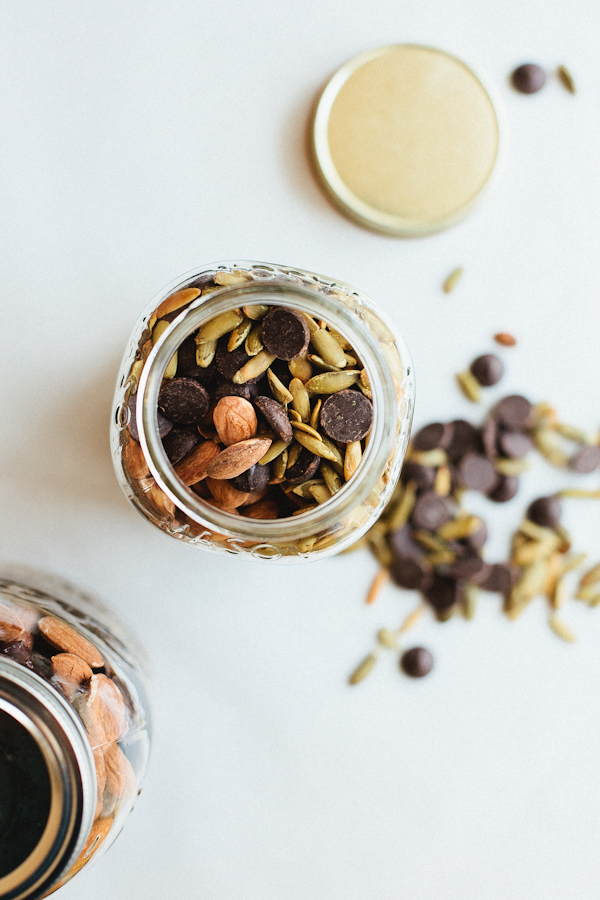 Planning ahead
I'm not usually much of a pre-planner but with so much car time ahead of us I really needed to give some forethought to the snacks. If I didn't it would mean more whining, grumbling and quick stops at places with not-so-healthy offerings.
The snacks I decided to pack were assembled in about 30 minutes and all kept well throughout the entire trip. If the packing progresses longer than the time you planned – as is usually the case – a quick trip to the store is all you really need to load up on easy and healthful snacks for the road.
Foods that travel well
When packing road trip food I think about:
    1. Nutrition
    2. How much of a mess is this going to make?
    3. Will this double as a distraction for the kids (keep them busy while eating)?
    4. Will it keep?
    5. Ease – of assembling and eating
For me this usually means snacks like; popcorn, trail mix, granola bars, nuts, seeds, multigrain crackers, fruit leathers, blueberries, carrots, etc.
If you are traveling in the summer it's especially important to keep hydrated. We always have a bottle of water on hand but sometimes that's not exciting enough for the kids. I try to stay away from juice and milk as it inevitably spills and then we'd have to take along a cooler. Instead I'll make water fun by adding citrus juice, fresh fruit and/or part of a vanilla bean to add great flavor to the water.
If I do need to keep some things cold, I'll pack some frozen peas or frozen fruit as the ice packs as my kids love to nibble on the cold fruit and vegetables.
If time allows I'll often bring my kids to the store with me and into the kitchen with me as I prep these snacks. Being a part of the process gets them more excited for the snacks which helps to keep them satisfied and distracted longer while we are in the car. We often allow them to choose a "special treat" from the store which can be a really great boost in morale when the car ride is getting rough. If you don't have kids, I still give you permission to get yourself a "special treat." Kid or no kid, long car trips can get boring. Sometimes a little pick-me-up is necessary for any of us.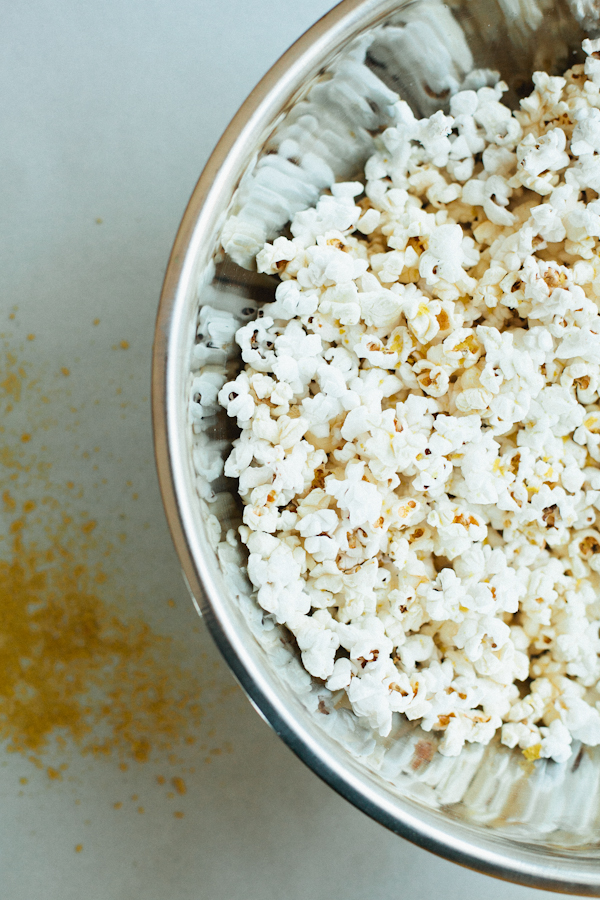 Simple recipes for the road
Popcorn – Popcorn is a staple in our family. For the road I keep it butter-less and top it with salt, garlic powder and a bit of brewer's yeast, which sounds terrible but actually adds nutrition as well as a flavor that is sort of like cheese powder. We love it.
Coconut Cocoa Nib Bars – Toast 2 cups of unsweetened coconut and mix with 1/4 cup brown rice syrup. Add more if the coconut isn't holding together. Mix in 1/4 cup cocoa nibs and/ or dried cherries. Press into an 8" cake pan with parchment on the bottom. Press the mixture in the pan very firmly before inverting the pan and cutting. It may fall apart but it doesn't need to be pretty. Store in an airtight container.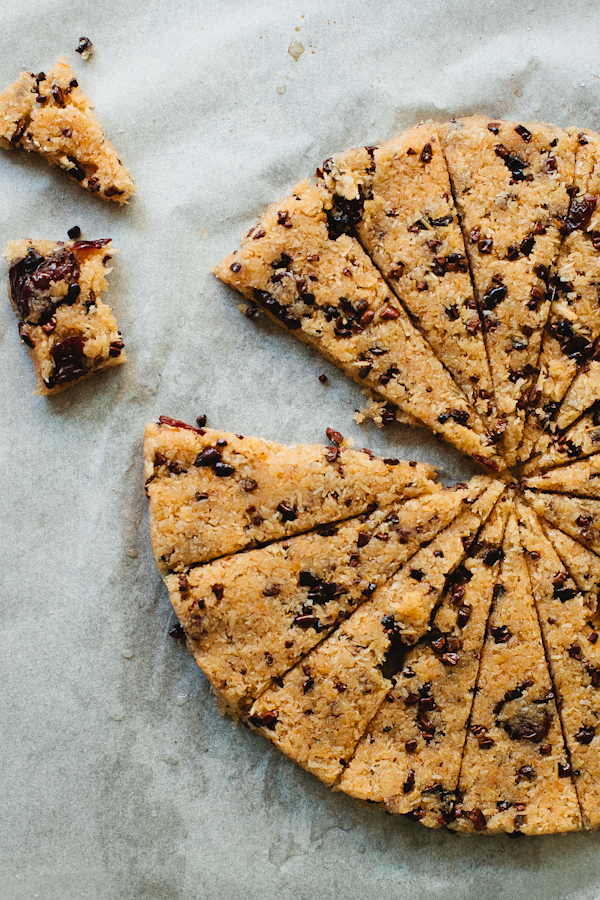 Nut Mix – This is really anything you'd like. We almost always have this on hand for even day to day car travels for kids whose energy needs a bit of a perk. Ours always has chocolate and we all know to remind one another that you can't just pick out the chocolate. We use roasted almonds, pepitas, dried cherries and dark chocolate chips in ours.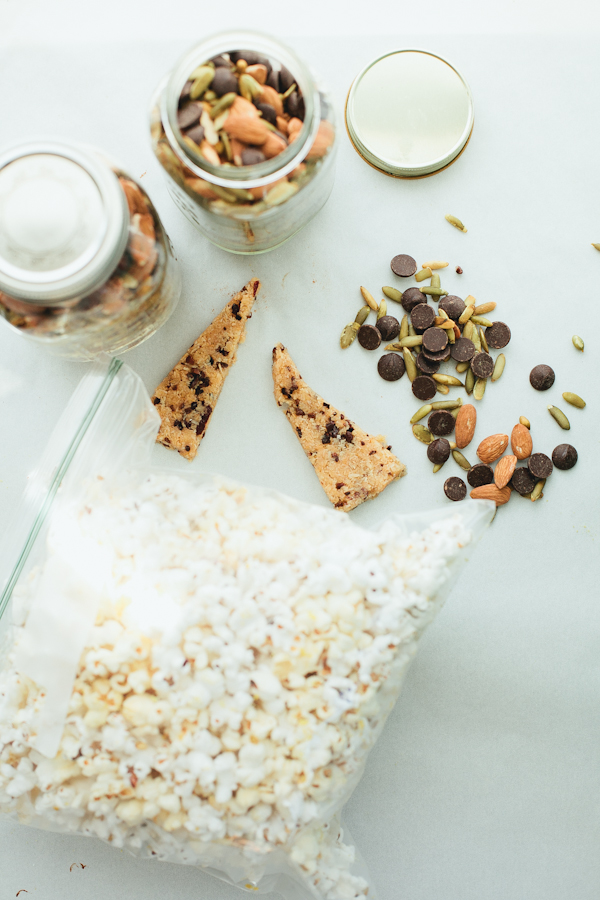 Need some more ideas for fresh summer eats? Check out summer pickling variations and simple summer side dishes.
What are your favorite snacks to pack for road trips?