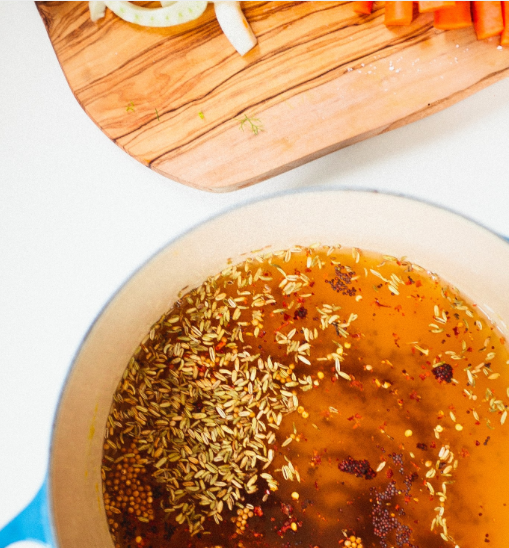 Pickles and summer go together like cherries and ice, ice cream and sticky faces, picnics and grass stains. It wouldn't be summer without a sweet and tangy relish on a hot-off-the grill burger. Crisp dill infused spears of zucchini use up the inevitable glut of the loved and loathed summer squash. Blushed tangy purple onions that kick up the juiciest of tacos. Sweet and sour cherries next to creamy cheeses spread over crackers at a grown-up picnic. And I've yet to mention cucumbers.
Beyond Cucumbers
When I told you we were going to be pickling you probably assumed I meant cucumbers, right? Well, the truth is I've never really made classic dill spears, though I've created at least a hundred different pickles. I've pickled onions, garlic, garlic scapes, cherries, raisins, prunes, peaches, apricots, carrots, fennel and lemons. I have nothing against pickling cucumbers, a burger isn't really a burger without either relish or crisp pickle slices, and yet when I set out into the kitchen to make pickles my creativity goes wild and I reach into my crisper drawer and pantry for whatever I can get my hands on. If you need convincing that a pickle isn't a pickle unless it's a cucumber then I challenge you to try Judy Rogers' pickled prunes. That is a life-changing pickle.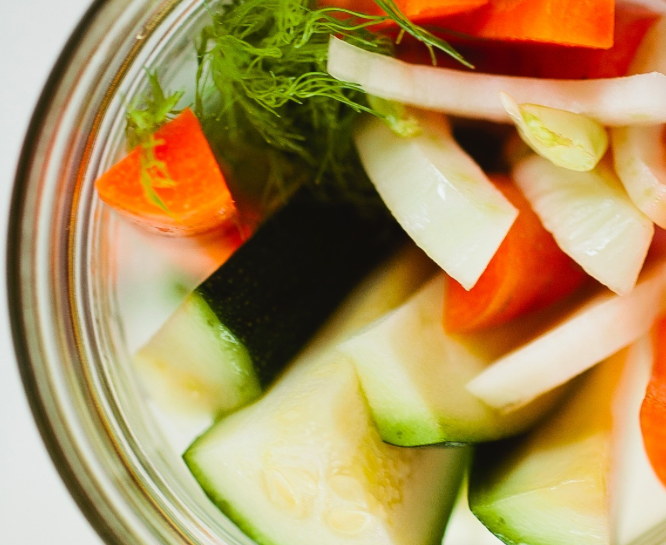 Refrigerator Pickles
For convenience sake I often skip the water bath. I find the large pot and huge canning tongs to be a bit cumbersome when all I really want is a few jars of pickles. So I stick to small batches and store them in the fridge. Refrigerator pickles come together quickly and are a clever way to use up the bountiful produce available this time of year. Well sealed they will keep in the fridge for several months.
Quite often I'll just make a large pot of a basic mixture of vinegar, water, sugar and salt and then pour that over what I'm pickling along with some spices and dried herbs. If I'm pickling fresh or dried fruit I'll add more sugar to play on the sweetness.
I love infusing the brine with a number of spices. Typically I'll always have some peppercorn, mustard seed and bay but often I'll also add some cumin and coriander seeds, fennel, juniper berries and chile flakes. In the pickled peaches a cinnamon stick is a must.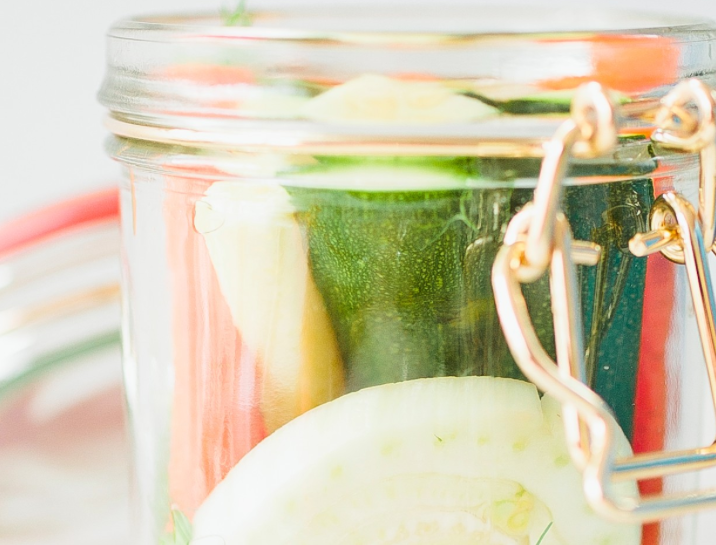 How To Use Your Pickles
A few pickled items on a plate along with some cheeses and cured meats makes a wonderful start to a great summer meal. Use these pickles as a bright appetizer, a garnish for bloody marys, alongside a grilled burger or as a healthful snack. Once you've discovered the simplicity and delight of fridge pickles it's quite possible there will be little room in the refrigerator for little else. Not a bad problem to have I'd say.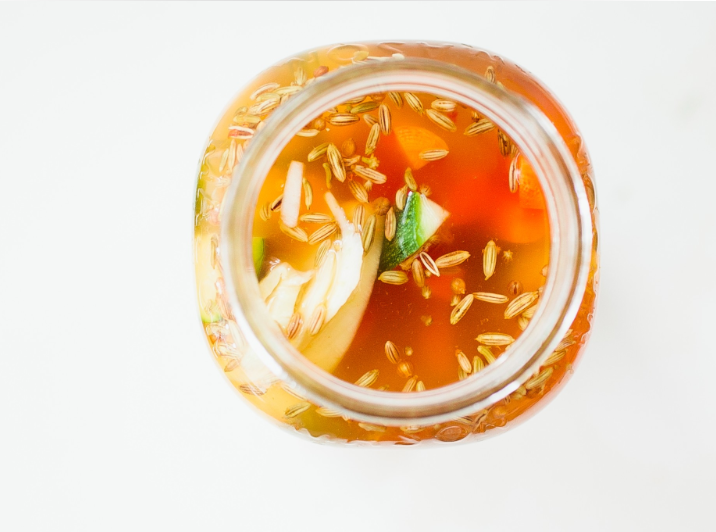 Recipe For a Basic Brine
For 1 pound of fruit or vegetables.
1 cup vinegar (any kind except balsamic)
1 cup water
2 tablespoons sugar
2 teaspoons kosher salt
Bring all of this to a boil with other herbs or spices then pour into the jars with your prepared vegetables or fruit inside.
This recipe is completely adaptable. If it's too flavorful add more water. Want more sweetness? Add more sugar.
Below I've listed some of my favorite variations.
Most often I'll use apple cider vinegar or distilled vinegar or a combination of the two.
Carrots – add garlic, chile flake and cumin seeds
Celery – add garlic and juniper berries
Peaches – increase the sugar to 1/3 cup, add nutmeg, vanilla bean and cinnamon stick
Prunes – same as peaches, add black pepper and orange zest
Now put your pickles to use in egg salad, by learning how to hard boil eggs. Or see how to cut vegetables to make your pickles properly.