Summer has hit us in Seattle. I have promised no complaints about the heat because 49 weeks out of the year we're cold. So I'm not complaining when I say I have no motivation to cook and absolutely no desire to turn on either the stove or oven. Instead, I want casual dinners outside. I want picnics in the park and I want to take advantage of the lush produce that has flooded the markets and our little garden.
The season of assembling
This time of year I'd prefer to stay outside as long as possible, getting wet in the crossfire of the squirt gun fight, rather than spending much time in the hot kitchen. So I stock my pantry with the essentials and my fridge full of fresh produce and dinner becomes more assembly than cooking. No complaints here.
Stocking the pantry
The trick to assembling meals is having cupboards and a fridge full of ingredients:
1. Sun-dried tomatoes 
A little jar of these ruby beauties goes a long way. I prefer them packed in oil as I'll just use their oil to create a base for a flavorful vinaigrette.
2. Capers 
These provide a pop of bright saltiness that I adore.
3. Roasted peppers 
It's easy to make these yourself but like I said, I'm avoiding the oven or stove so having a few jars lying around makes a simple dish come together quickly.
4. Canned beans
Full of protein and practically a blank canvas. White beans are my favorite but I also love black beans in a salad with cilantro and avocado.
5. Spices
My pantry is never without: cumin, fennel, coriander, cinnamon, ginger, nutmeg, cayenne, curry powder and cardamom. I have a thing for spices and by "thing" I mean they are literally spilling out of my cupboards but those are some of the ones that are on heavy rotation.
6. Herbs 
Fresh and dried. I grow many of my own herbs and use them constantly. They add a ton of flavor, nutrition and freshness to salads, pastas and sauces. Dill, basil, tarragon, mint, cilantro and Italian parsley are my summertime favorites. Currently in the garden I have a few unusual herbs growing, like Vietnamese cilantro and chervil, which add a great unique flavor to simple dishes.
7. Pasta & grains
Rice, lentils, couscous, wheat berries, farro, quinoa and pasta in various shapes and sizes are great to keep stocked.
8. Cheese
Crumbled feta, shaved Parmesan and creamy goat cheese — they all add heartiness and an intensity to a dish that is made up of only a few ingredients.
9. Oil & vinegars
Olive oil is of course a must but I also love having walnut oil and other nut oils around. I'm sort of a vinegar hoarder as well — rice, champagne, red wine, balsamic are among my favorites.
10. Citrus 
Lemons in particular. Olive oil and lemon juice is quite possibly the perfect vinaigrette. Limes are great too, especially with avocado.
As far as produce goes I let the farmers market or grocery store determine what is in the fridge. Right now I'm never without cherry tomatoes, zucchini, corn, peas, fresh herbs, cherries and strawberries.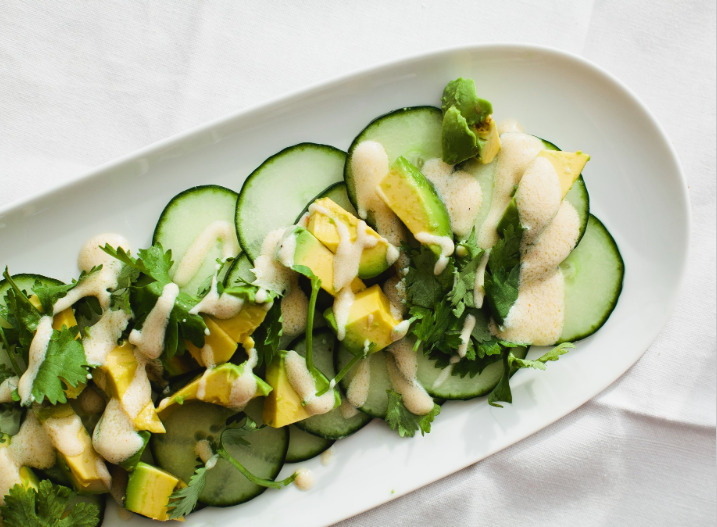 Simple ideas
These salads are great for a simple side dish for dinner or to take to a summer picnic or potluck. To make a full meal I'll often serve with simple grilled chicken, sausages or make a platter of charcuterie. With a hearty piece of bread, the leftovers of these salads make a great lunch the next day.
My hope is that these ideas will jumpstart your creativity. Adjust them to fit your tastes. Learn how to cut vegetables here, first. And, salt and pepper goes without saying.
Zucchini slaw with tomatoes and basil
Grate zucchini and toss with olive oil and lemon. Toss in halved cherry tomatoes (fresh or roasted) and basil. Finish with a creamy goat cheese or mozzarella. Toasted bread crumbs would be lovely here too.
Corn salad with scallions and feta
Fresh or frozen corn tossed with lime juice, olive oil and plenty of chopped scallions and crumbled feta or cotija cheese. For an added layer of flavor grill the ears of corn first before shucking.
Cucumber, avocado salad with cumin
On a platter arrange thinly sliced cucumber with chunks of creamy avocado. Make a vinaigrette with olive oil, a bit of sour cream or yogurt and toasted cumin seeds or ground cumin. Drizzle this over the platter and finish with cilantro or dill. Add lemon or lime juice for more acid.
White beans with peas and mint
Combine canned or cooked white beans with fresh or frozen peas. Drizzle with olive oil and lemon juice and finish with lots of fresh mint. Top with cheese: Parmesan, feta, sharp cheddar, gruyere. Anything goes.