It's easy to create unique and impressive textures to your silver clay jewelry designs because working with metal clay is much more forgiving than the solid form. I'm excited to show you the many ways you can create this texture!
If silver clay jewelry designs aren't your favorite look, this technique can also be applied to other metal clay such as bronze and copper, which are more affordable.
Follow along with this tutorial to learn how to create your own unique silver clay jewelry designs!
For this tutorial I'm using Art Clay in fine silver and creating texture with mats, but there are many other objects you can use. Look around your house for anything that has texture and can be sprayed with nonstick oil. Get creative!
Make sure you have these tools:
Art clay
A rolling mat or thickness guides
A plastic or glass tube to roll the clay
Circle cutters
Texture mats or something to texture your clay
HattieS No Stick spray
A sharp needlepoint to make the hole
Metal punches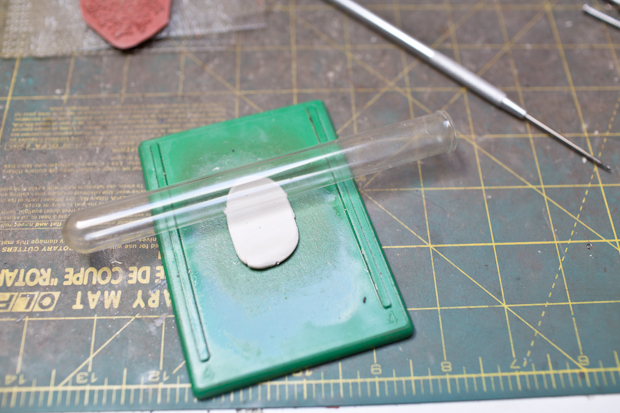 Step 1: Roll out the clay
Roll your clay out in whatever thickness you like. You can also use playing cards for thickness. See my tips and tricks post on using precious metal clay for other pointers.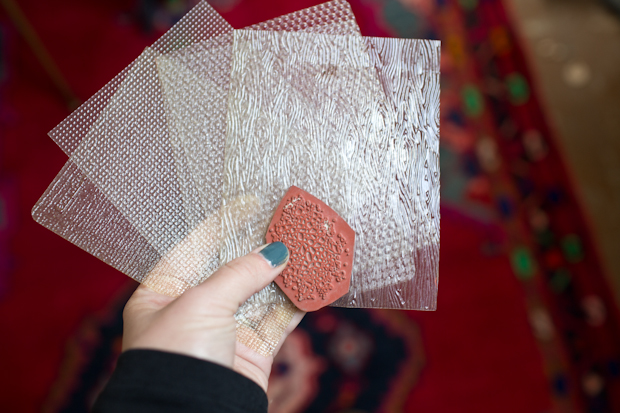 Here are a few of the texture mats I have, as well as a pebble stamp texture. I am going to use the wood texture, because it's my favorite.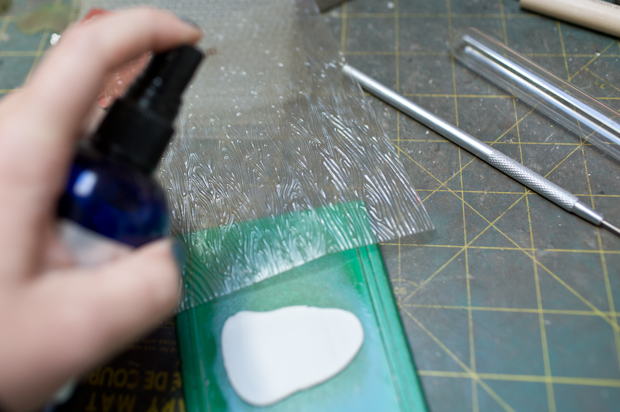 Step 2: Coat your texture tool
Next, spray your texture mat with HattieS No Stick spray (you can also rub it down in olive oil). This way the clay will not stick to it.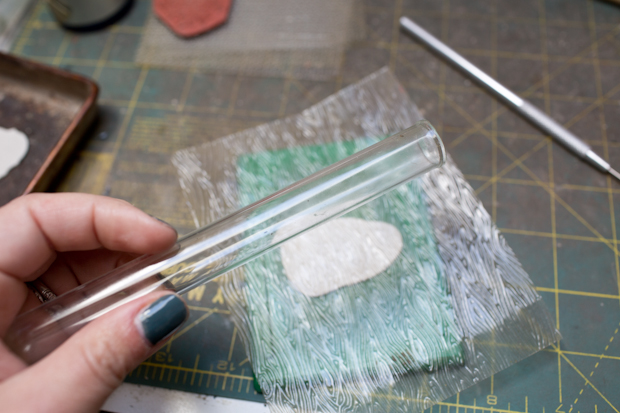 Step 3: Use your roller
Place the texture mat texture side down on top of the clay and use your roller to gently roll over the clay.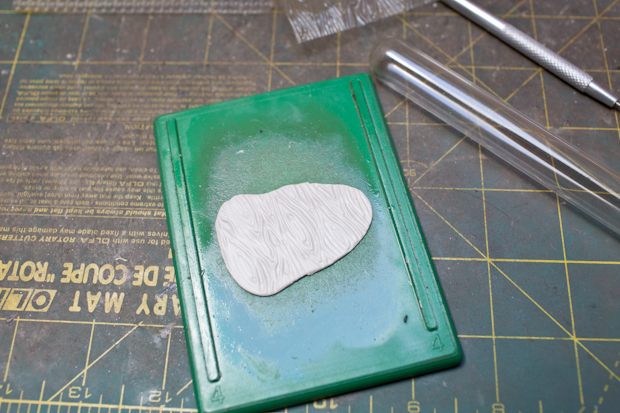 Pull off the texture mat and you are left with an imprint of the texture. So cool!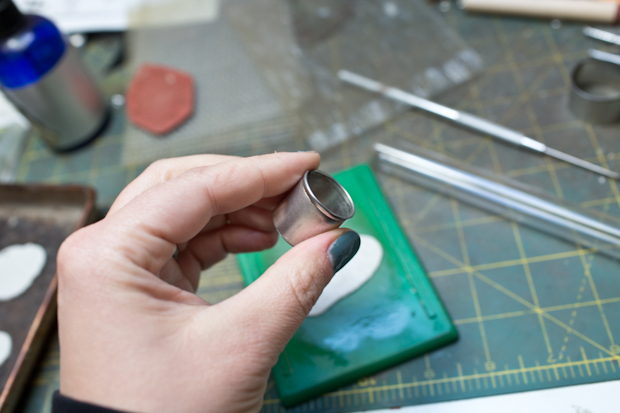 Step 4: Cut out your design
Use a circle cutter or anything that is the shape and size you would like to cut into the textured clay. Cups, glasses, jars, anything really.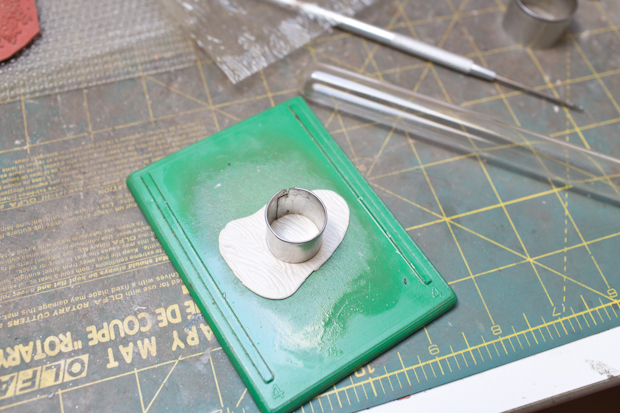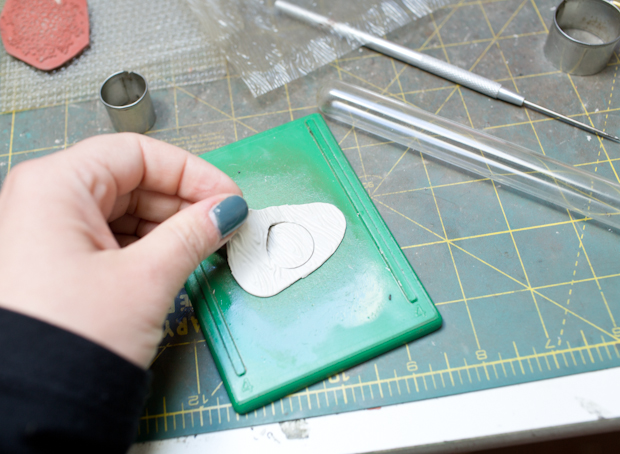 You are left with a perfect circle of textured clay.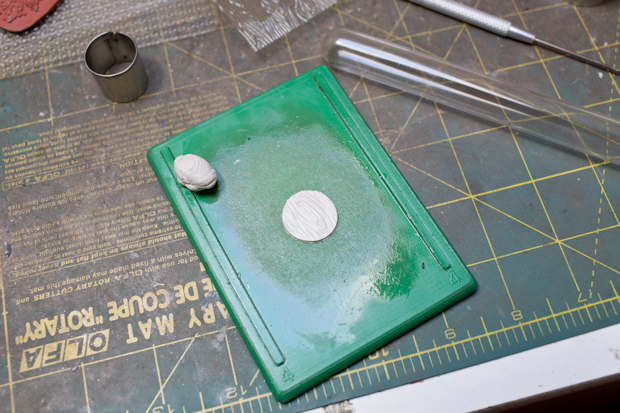 Step 5: Store excess clay
Roll up the excess amount and put it away in 2-3 bags that are airtight.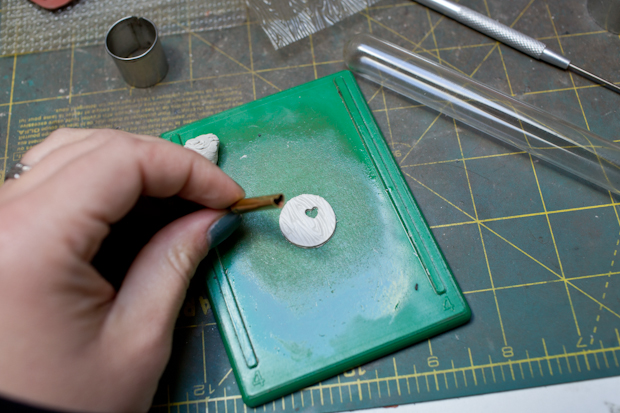 Step 6: Punch any desired holes
Here I used a small heart puncher to punch a design into the clay while it was still wet. Next, take your needlepoint and make a tiny hole in the top for the jump ring to go through.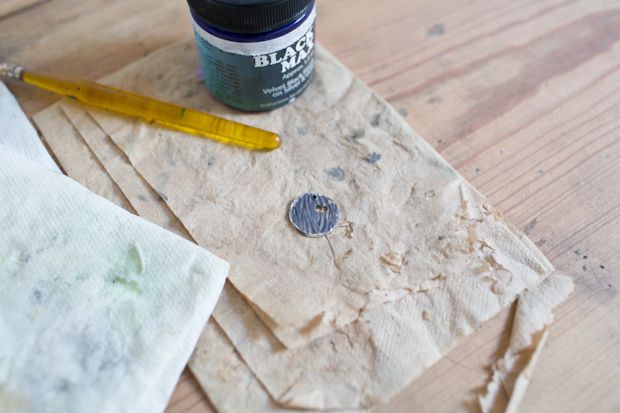 Step 7: Fire and bring out texture
Finish up by drying, sanding and firing the metal clay according to the instructions. I use Black Max liquid to darken my piece and bring out the texture. You can also use Liver of Sulfur.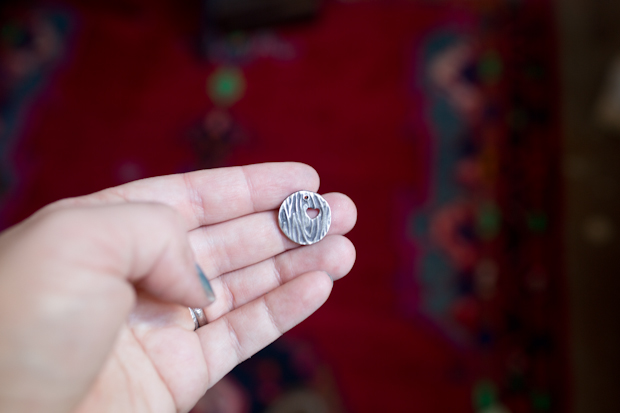 Step 8: Polish
Wipe off the excess with a polishing cloth or sand paper and you are left with a cute little pendant.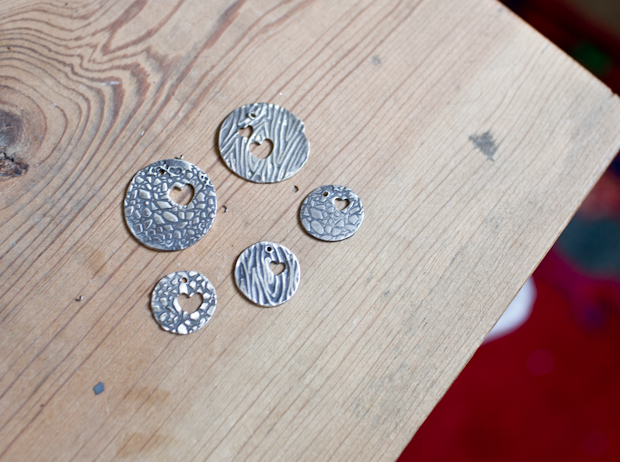 [box type="shadow"]

Make beautiful pendants, buttons, charms and whatever else you can imagine! Find out how to evenly fire metal clay to create fabulous pieces of jewelry in Bluprint's Torch-Fired Precious Metal Clay class.

Sign Me Up!

[/box]
What else can you use to texture your silver clay jewelry designs?