Finding the proper sewing table for you can make a huge difference in your enjoyment and productivity. No one wants to associate sewing with a sore back!
When you're looking for a sewing table, make proper ergonomics a primary focus.
A great resource for proper ergonomics in your sewing room is the Occupational Health and Safety Administration Web site. Their recommendations are for workplaces that involve sewing and cutting tasks, but they are just as appropriate for the home sewer.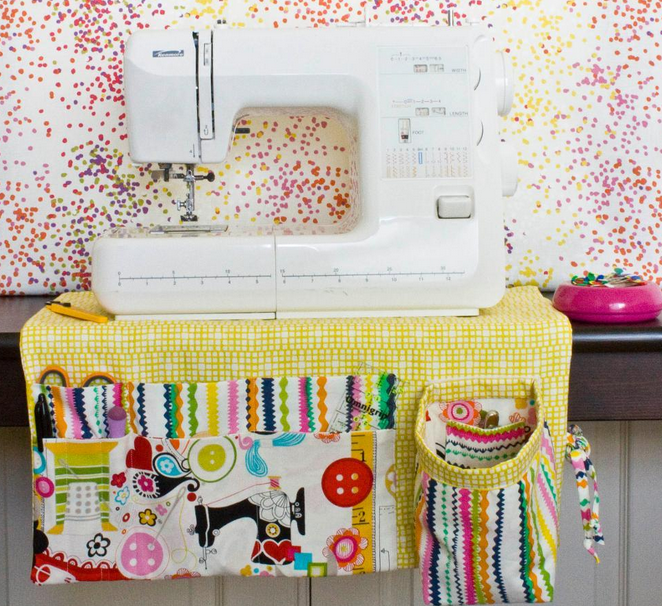 Photo via Schlosser Designs
Sewing tables are an individual preference. What works for one person might not work for another, and it's largely dependent on your height. Ideally, you will have two sewing tables: one set up for using your sewing machine and another for cutting fabric.
Here are 5 tips to keep in mind when searching for a sewing table!
1. Your sewing machine table should keep your work at elbow height and your wrists straight.
If the table is too low, it will cause you to hunch forward, straining your back, neck and shoulders. If the table is too high, you'll have to raise your shoulders to work, which will tire your neck, shoulders and upper back. The work surface should be large enough to comfortably fit your machine, as well as any task lighting you need. The table should also have enough room over your thighs for you to comfortably work the foot pedal without the table pressing on your legs.
2. Be sure to also consider the chair you use at your sewing table.
Your feet should rest flat on the floor and the work surface should still be at elbow height. An adjustable height chair can help you get the perfect fit.
The same principles apply for a cutting table — your work should be at elbow height when you are standing.
3. Consider the type of work you usually do to find a good width for your table, since you don't want to be bending over to make your cuts.
A sewist who sews a lot of full-length ball gowns will want a wider sewing table than one who sticks to children's clothes.
4. Find a sewing table that best suits your height.
Since everyone's elbow height is a bit different, it's a great idea to have your sewing tables custom-made. This is especially true if you are particularly tall or short. If that's not an option, see what's available at your nearest craft store. But don't stop there! Many regular tables can make great sewing or cutting tables, even if they weren't originally intended for that purpose.
My sewing machine sits on a small square kitchen table. Scour garage sales and thrift stores if you're looking to furnish your sewing room on a budget. Be sure to take a tape measure with you when shopping to make sure everything will fit.
5. If a table is almost perfect but not quite, see if a simple adjustment would make it work for you.
Can you cut the legs down to make it an appropriate height? Use wooden or cinder blocks to raise the table height a little bit? These are easy solutions that can result in proper ergonomics.
Do you have a sewing table you love? Tell me about it in the comments!