Chiffon is a lightweight, sheer fabric made from cotton, silk or synthetic fibers. It's used frequently in evening wear and lingerie, but also works well for blouses or other light, airy garments. Chiffon can be quite slippery, which makes it tricky to work with. It's not recommended for your first foray into machine sewing, but if you've got the basics down, it's worth giving it a shot. Read on to uncover a few sewing chiffon tips to make the process easier!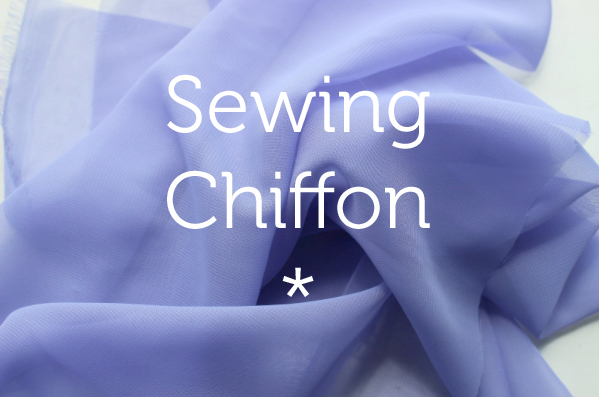 You Can Sew That: Taming Tricky Fabric
Take any fabric from bolt to beautiful, minus the heartache in between! Get the Class
1. Cover your cutting surface with tissue paper.
Lay your fabric on top of the tissue paper and your pattern pieces on top of the fabric. Cut through the tissue paper. This will keep your fabric from shifting around as you try to cut. After cutting the fabric, let it rest for about 30 minutes before sewing.
You can also try using a liquid stabilizer to help stabilize the fabric throughout the construction process.
2. Use fabric weights to keep the fabric smooth and taut as you cut.
Use new, fine-tip straight pins to prevent snags and holes in the fabric. If you can, baste your pieces together rather than using pins at all.
3. Cut through only one layer of fabric at a time.
If you have a pattern piece that needs to be cut on the fold, make a double of the pattern piece and tape it together so that you can cut the piece out without folding the fabric.
4. Use tailor tacks instead of cutting notches.
A tailor tack is a doubled length of thread run through the fabric at notches and darts. Use a contrasting color of cotton basting thread.
5. Use a new, sharp needle.
Perhaps one of the most important sewing chiffon tips is to always begin the project with a new, sharp needle in your machine, and, if possible, a straight stitch needle plate. The straight stitch needle plate will prevent the chiffon from getting sucked down into the needle hole.
6. You'll want a fairly short stitch length.
Somewhere between 12 to 20 stitches per inch. Of course, always test first to adjust for your fabric and machine.
7. Avoid back tacking.
Instead, make sure you leave enough thread at the beginning and end of your seam to hand knot.
8. Need to use interfacing?
If so, look for a silk organza interfacing.
9. Chiffon is prone to stretching.
So be careful as you feed the fabric through the machine. If it does get stretched out, you can usually steam iron it back to its original size.
10. Press seams flat before pressing them open.
This helps to set the stitches and gives you a pucker-free seam.
11. French seams are a great option for finishing seams on a chiffon garment.
Not only do they look pretty, neatly hiding the raw edges of your fabric, but they will help stabilize the garment and prevent it from warping.
Although chiffon can be difficult to work with, the good news is that the drapey nature of the fabric will hide minor imperfections. Take your time, sew slowly and you'll be pleased with the end results.
You Can Sew That: Taming Tricky Fabric
Take any fabric from bolt to beautiful, minus the heartache in between! Get the Class