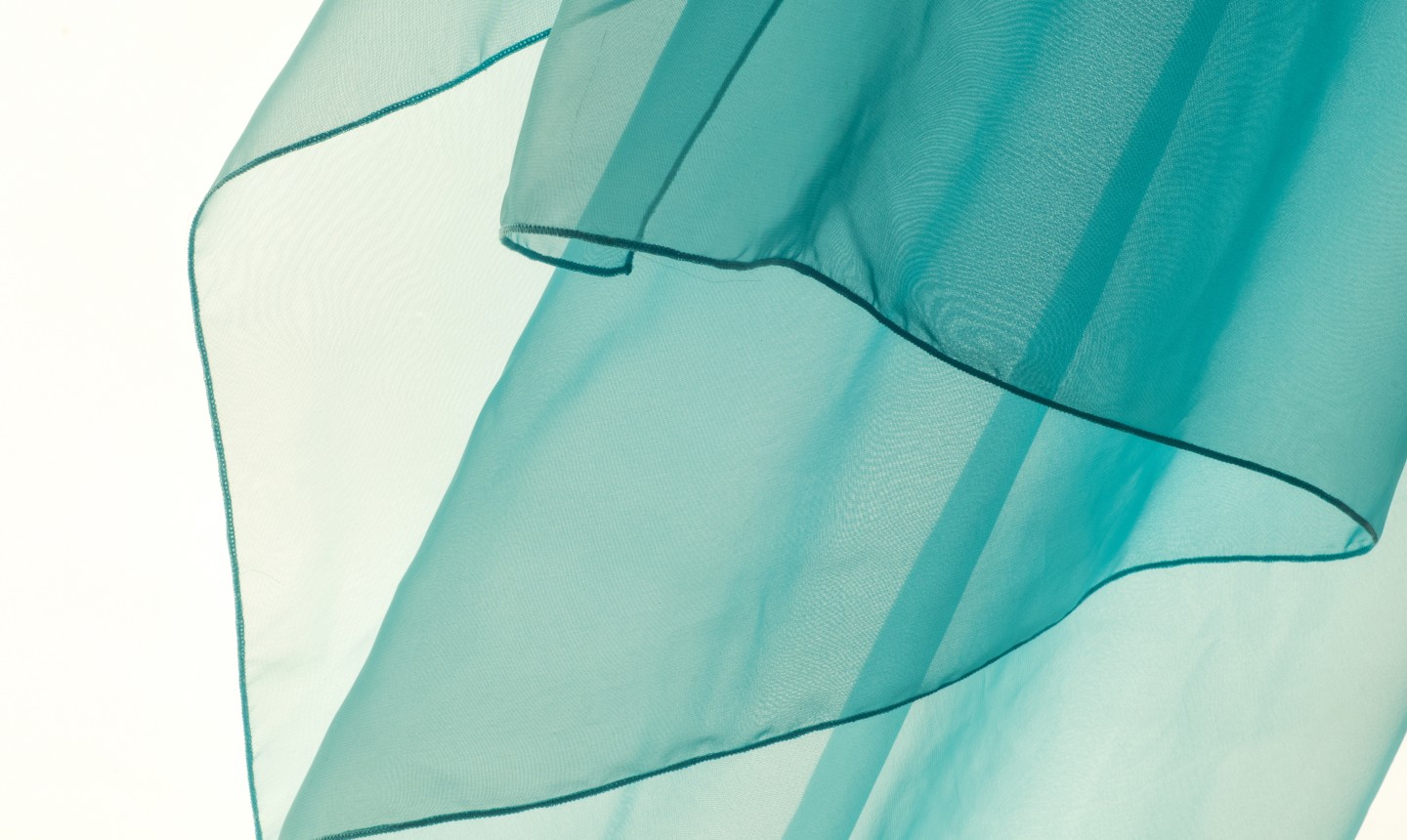 Wearing chiffon is effortless — it's so luxuriously airy and soft. Working with chiffon? Not so much. Whether it's made from cotton, silk or synthetic fibers, chiffon can be so troublesome on the sewing table that newbies are typically warned to steer clear.
But what if that bolt of lovely chiffon is calling your name for a super cute blouse or dressy shift? We say, go for it! These 10 pro sewing tips can make chiffon (almost!) as easy to use as any fabric.
1. Tissue Paper Is Your Friend
To make cutting chiffon go off without a hitch — or a slip — place tissue paper on your work table. Top the paper with your fabric, then arrange your pattern pieces on top of the fabric and cut through all the layers. The tissue paper will keep the fabric from shifting as you cut.
2. Fabric Weights, Yes; Pins, No
Fabric weights will keep your fabric from moving (and ruining all the work you just did laying it out properly) while you cut. And, unlike pins, weights won't leave any telltale holes behind. If you do need to use pins at any point, go with new, fine-tip straight tip pins, and try to restrict them to the seam-allowance areas.
3. Cut One Layer at a Time
If you have a pattern piece that needs to be cut on the fold, save yourself some heartache and DON'T. The two sides are likely to shift as you cut, causing you to lose the grain line. Instead: Make a copy of the pattern piece, tape the two pattern pieces together, then cut your chiffon in a single layer.
4. Use Tailor's Tacks to Mark Your Fabric
Tailor's tacks allow you to mark positions (like darts, notches, buttonhole endings and closures) without marring your delicate fabric. Simply use a doubled length of cotton basting thread (in a contrasting color) to sew a loose running stitch along the dotted lines through both the pattern and fabric. Then snip the tops of the stitches and remove the pattern pieces.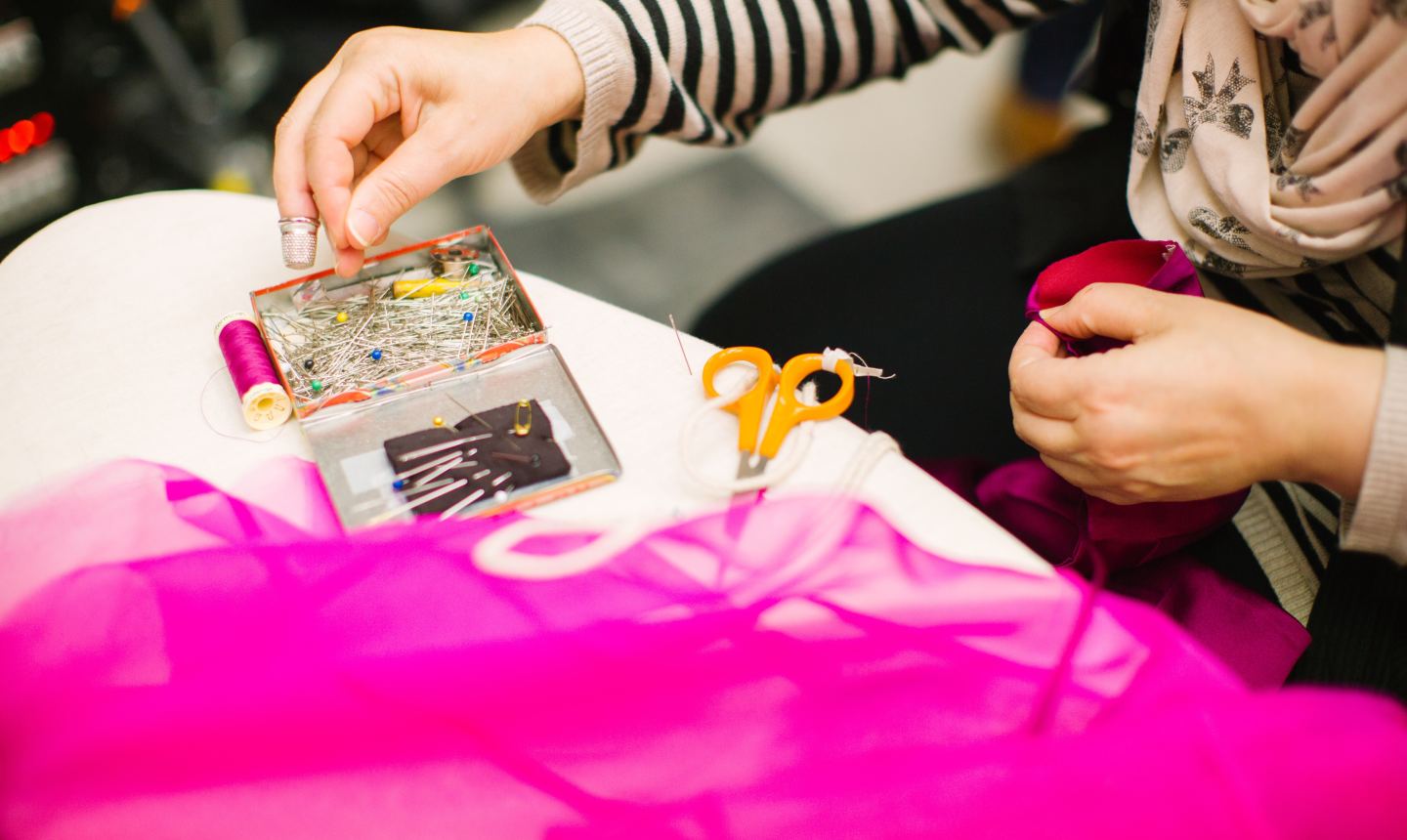 5. Set Your Machine Up for Success
Before you start stitching, make sure you have a brand new, sharp needle in your machine (and that you change it up at the fist sign of a fabric pull). Also key: Install the smallest opening throat plate available for your machine; this will prevent the chiffon from getting sucked down into the needle hole as you stitch — a headache you definitely don't need.
6. Shorten-Up Your Stitches
You'll have the most chiffon stitching success by setting your stitch length somewhere between 12 to 20 stitches per inch. Of course, always do a test run with a scrap of your chiffon, and adjust your stitch length as needed.
7. Avoid Back Tacking
With sheer fabrics, you really don't want to do any back and forth tacking at the beginning or ending of your seams, since it'll show through. Instead, make sure you leave enough thread at the start and finish of each seam to make hand knots at the back.
8. Use the Right Interfacing
If your project calls for interfacing, go with silk organza. It's a great choice for delicate interfacing because it's strong and stable, yet disappears into the chiffon and won't make it too opaque. In some cases, you may be able to simply use a second layer of your chiffon.
9. Watch for Stretching
Be super careful not to stretch your chiffon as you feed it through the machine. If your seams do get stretched, though, don't panic: Steam ironing can usually get the fabric to shrink back to its original size (just make sure your chiffon is steam-friendly!).
10. Look to the French for the Perfect Finish
Because your fabric is so sheer, the inside construction can be seen on the outside. That's why a French seam will be your new BFF. Not only do these seams look pretty, neatly hiding the raw edges of your fabric, but they also help stabilize your garment and prevent your seams from warping or getting wonky. And after such an expert sewing job, you definitely don't want that.
Follow these tips and get ready to enjoy your gorgeously floaty new garment!