Learning to sew with a serger (also known as an overlock or overlocker) is much like learning to sew all over again.
There are some similarities, like handling the fabric and never sewing over pins, but the way the machine is threaded, how it feeds and cuts the fabric and the stitch tension is all very unique to this fantastic machine.
Here are my tips and suggestions to help you find serger success!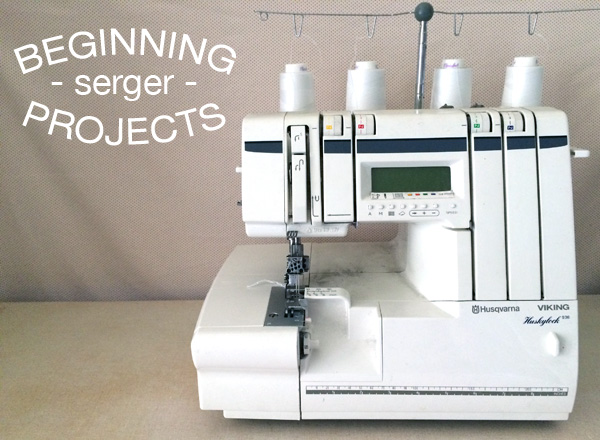 Tips for beginners
If you are a new sewer, I wouldn't recommend you begin tackling the serger right away, as it is best to totally understand the principals of sewing on a conventional machine before moving onto something as different as a serger. Don't try a serger before getting to know your regular machine first.
I purchased my first serger when I was 18 years old, fresh out of high school and unafraid. This is a good state of mind to be in when learning this machine, as you want to be fearless but not reckless. There is a blade in this machine that can do damage to your project and your body, and it is to be taken seriously.
Like with any sewing machine, I suggest beginning with a project that uses woven fabric, and master that first before moving onto projects involving stretch fabrics. Though one of the main joys of sewing with a serger is the ability to work with jersey knits, swimwear fabric, and sweater knits, so once you've mastered the machine with a woven, give knits a try!
Fun + simple project ideas for beginners!
Below are three projects that I would suggest trying before launching into anything too major, as these all have a margin of error built into them — that's what we're looking for in a beginner project. Remember, even if you're not a beginner sewer, you are a beginner serger sewer, so give yourself a break and go slow!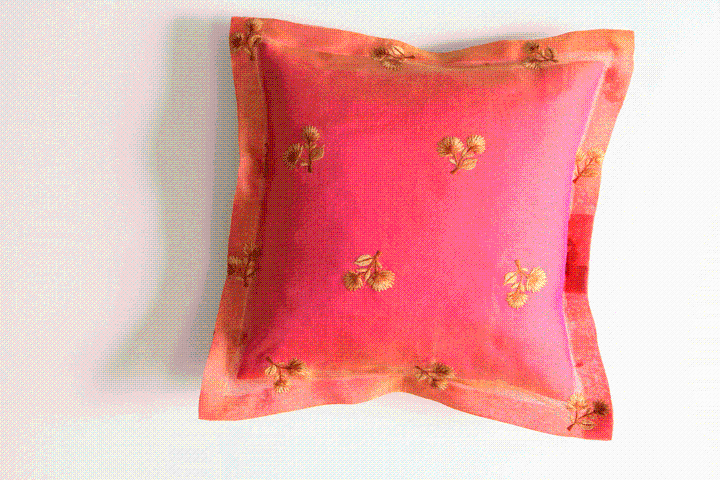 Photo via Linda Lee, made in her online class Sew Luxury Fabrics: Pillows
Project one: a pillow
A great project for a new sewer on any machine is the classic pillow. This can be a throw pillow or a bed pillow, your choice. The joy of this kind of project is that there is no fit involved since it's not a garment, and there is a level of instant gratification as well! The Craftsy pattern shop has loads of pillow patterns, some free!
For a throw pillow try the Envelope Pillow from Craftsy member Love Quilting or for a bed pillow, check out the Standard Pillowcase project from Sewing Patterns On the Net.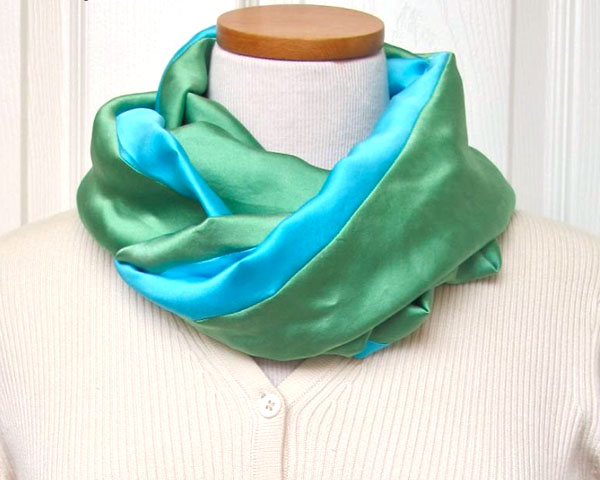 Photo from Tie Dye Diva Patterns
Project two: a scarf
Another good project is a scarf, as it has long straight edges to get comfortable with the serger, and like the pillows, there isn't any garment fitting involved. One thing to remember with a serger is that the knife cuts off your seam allowance while sewing, so you always want to be certain that things are just the way you like them because the extra fabric is gone after it's been stitched!
For a simple yet beautiful scarf, try the Infinity Scarf project from Craftsy member Tie Dye Diva Patterns, pictured above.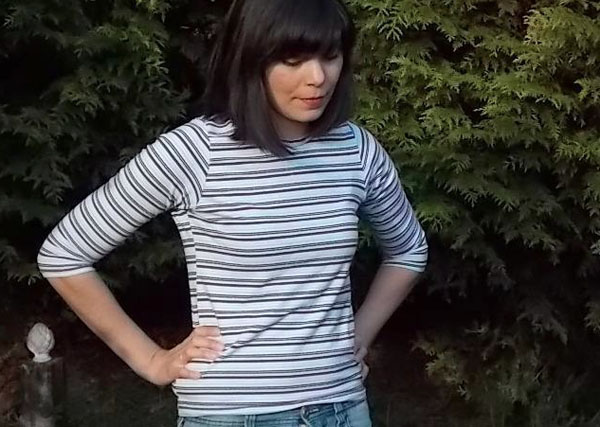 Photo from On the Cutting Floor
Project three: a T-shirt
Once you've figured out how to thread, handle the fabric, and do a bit of sewing on woven fabrics, it's time to jump into knits! A great starter item is the classic T-shirt since it's okay if it doesn't fit perfectly well. Stick to stable knits like 100% cotton jersey or 95% cotton and 5% spandex jersey, as these will be easier to handle than slinky knits, like those with rayon, modal, silk, polyester, or linen. 
Want a helping hand with your serger? Here's a great online class to help you along!
Learn everything you need to know to unlock the hidden potential of your serger and make projects you'll be proud to show off! Have fun with step-by-step guidance and personalized advice from expert Amy Alan in her fun, online class Beginner Serging.
Enjoy 9 easy-to-follow video lessons you can watch anytime, anywhere, forever. Revisit your favorite techniques as often as you'd like with just a click, plus, get a downloadable, printable serger stitch book cover!
Sign me up! >>