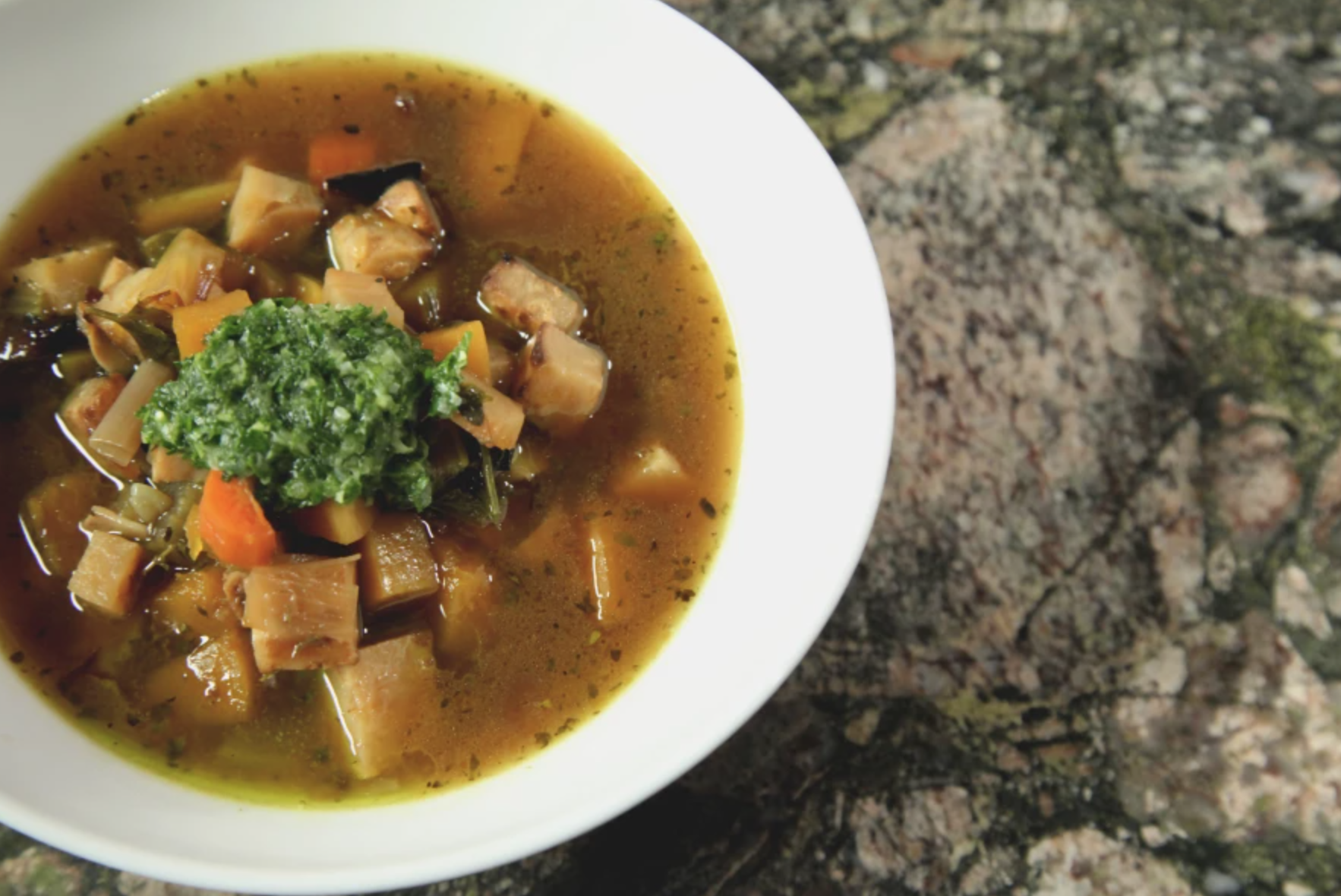 That nip in the air can only mean one thing: time to get #cozy. We're all about layering sweaters, lighting candles and curling up with a hot bowl of soup on chilly nights. This roasted veggie version, adapted from our Simple Soups from Scratch class, has us reaching for seconds!
Roasted Vegetable Soup
Yield: serves 6
Ingredients
3 medium parsnips, peeled and cut into ½" pieces
2 medium carrots, peeled and cut into ½" pieces
One 2-pound butternut squash, or any type of winter squash, peeled and cut into ½" cubes
3 stalks celery, cut into ½" pieces
1 medium celery root (about 1 ¼ pounds), peeled and cut into ½" cubes
3 leeks, halved lengthwise, and cut into ½" pieces
2 shallots, quartered
8 cloves garlic, thinly sliced
Salt and freshly ground black pepper
1 ½ tablespoons chopped fresh thyme leaves, or 2 teaspoons dried
2 ½ tablespoons olive oil
5 cups homemade chicken stock, or canned low sodium vegetable chicken broth
1 bay leaf
¾ cup dry white wine
Instructions
1. Place a rack in the center of the oven and preheat to 450 F.
2. Toss the parsnips, carrots, squash, celery, celery root, leeks, shallots, garlic, salt, pepper, thyme and olive oil together in a shallow roasting pan and bake for 30 minutes.
3. In a large stockpot, combine the broth and bay leaf and bring to a boil over high heat.
4. Remove the vegetables from the oven and deglaze the pan with wine, using a spatula to loosen any bits clinging to the pan. Pour the veggies and liquid from the pan into the pot with the broth. Reduce heat to low and let simmer for 10 to 20 minutes, partially covered. Serve hot.
---
Bonus! Roasted veggie soup gets even more heavenly when you top it with a swirl of parsley pesto. You can make this ahead of time (and feel free to put in on more than just soup if you want).
Winter Parsley Pesto
Yield: ¾ cup
Ingredients
1 packed cup chopped fresh parsley leaves
1 clove garlic, peeled
Salt and freshly ground pepper
½ cup olive oil
¼ cup grated Parmesan cheese
Instructions
1. In a food processor or blender, whirl the parsley and garlic with some salt and pepper until finely chopped.
2. With the motor running, slowly add the oil, making sure not to over-process the pesto. It should remain a little chunky.
3. Pour the pesto into a bowl and stir in the cheese.