Lasagna — the casserole — is without a doubt the most famous use for the unique lasagna pasta shape. But did you know that those lasagna noodles can be used for so much more?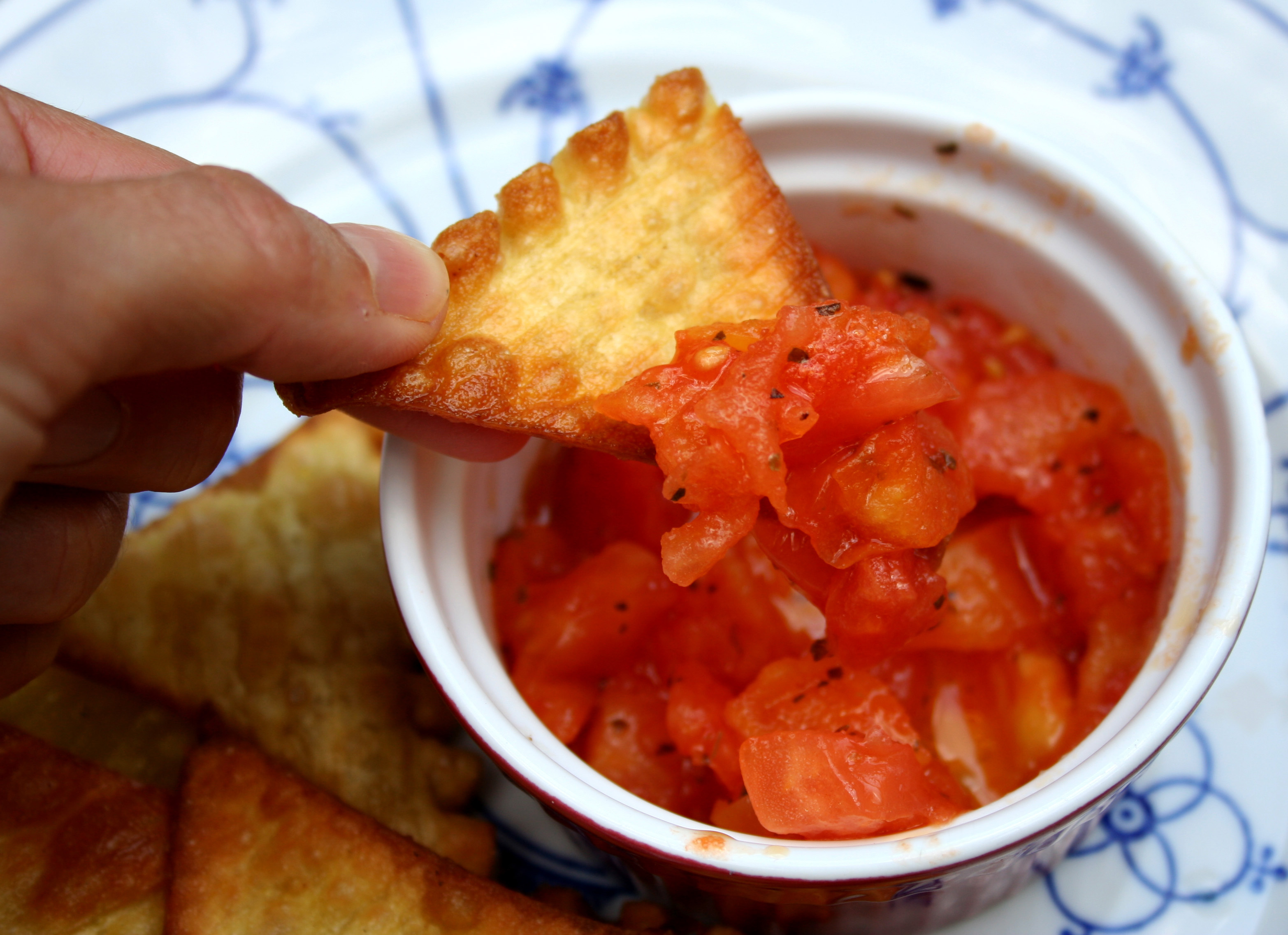 Photos via CakeSpy unless otherwise noted
The unique flat, wide shape of lasagna pasta makes an interesting canvas for culinary creations both sweet and savory. Here are nine out-of-the-box (or casserole dish) ideas for how to use lasagna! 
1. Lasagna roll-ups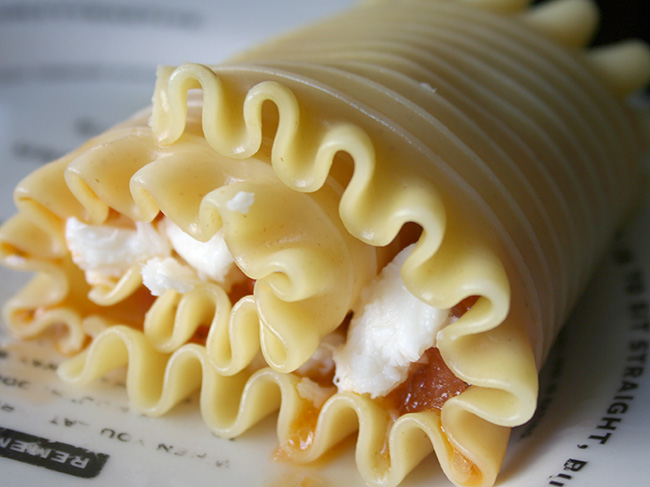 The shape and length of lasagna noodles makes them perfect for rolling up with all manner of fillings.
For a simple variety, roll up tomato sauce and ricotta cheese in your lasagna, assemble in a pan, and bake at 375 F until bubbly. But don't be held back by traditional fixings. You can roll up just about any thick filling you like, from chicken and vegetables to ground beef and cheese. 
2. Lasagna breakfast bake
Lasagna for breakfast? You'd better believe it.
Layer cooked lasagna noodles in a pan, then alternate with layers of scrambled egg, cheese, potatoes and cooked breakfast meat. Bake, covered with foil, at 375 F for about 20 minutes. Uncover and continue baking until it is browned to your liking (usually about 15-20 minutes more). You'll end up with an unexpected yet highly delicious brunch dish. 
3. A non-lasagna casserole
So, lasagna is a casserole. But who says it's the only casserole that can be made with lasagna noodles? Harness your inner foodie and make up something creative!
Perhaps you'll make a retro tuna casserole using lasagna instead of egg noodles, or maybe you'll layer mushroom and kale with cashew cheese between your noodles.
In general, if using pre-cooked ingredients, you can follow the same baking temperature, method, and times listed in #2 above. 
4. Lasagna cups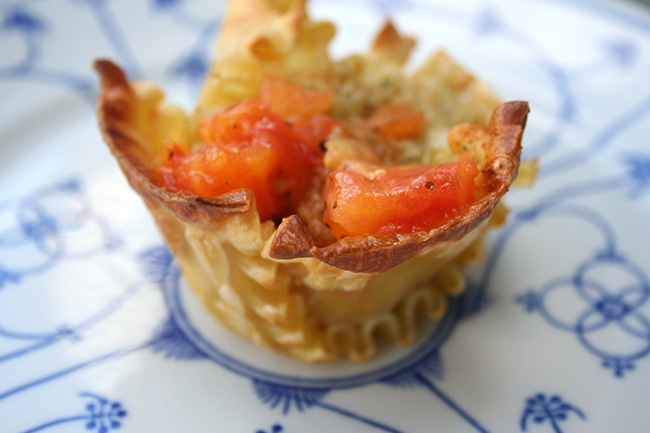 How cute are these cups? They're simple to make, too. Simply cut a cooked lasagna noodle in half, and lay one half in a cupcake liner in one direction; place the second half in the opposite direction directly on top. Fill with your choice of fillings (I used tomato sauce, mozzarella and breadcrumbs here) and bake at 375 F until browned to your liking (the cup pictured took about 15 minutes to bake). 
5. Lasagna soup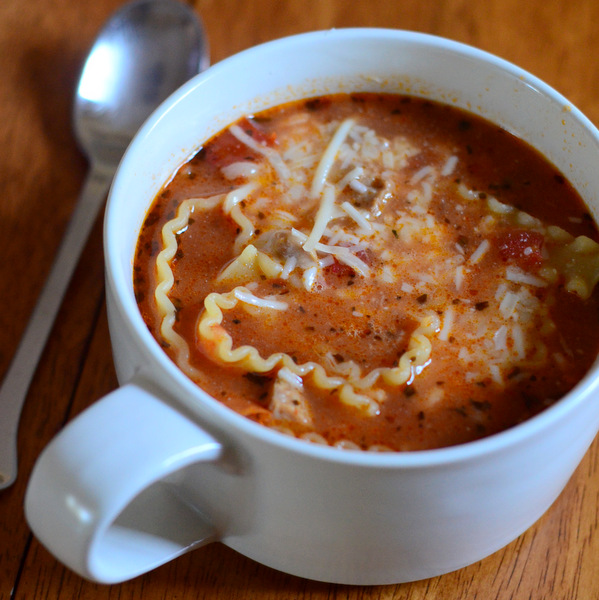 Photo via Craftsy blog
Forget tiny noodles! Lasagna noodles can transform soup into a gourmet and fun to eat experience. The presentation is beautiful when a lasagna noodle is spiraled in the center of a soup bowl, but it tastes even better than it looks.
While our recipe for lasagna soup actually uses thinner malfaldine pasta, I've found that if you par-boil regular lasagna noodles, you can then cut them into strips and use them in this soup recipe with great results.
6. Lasagna chips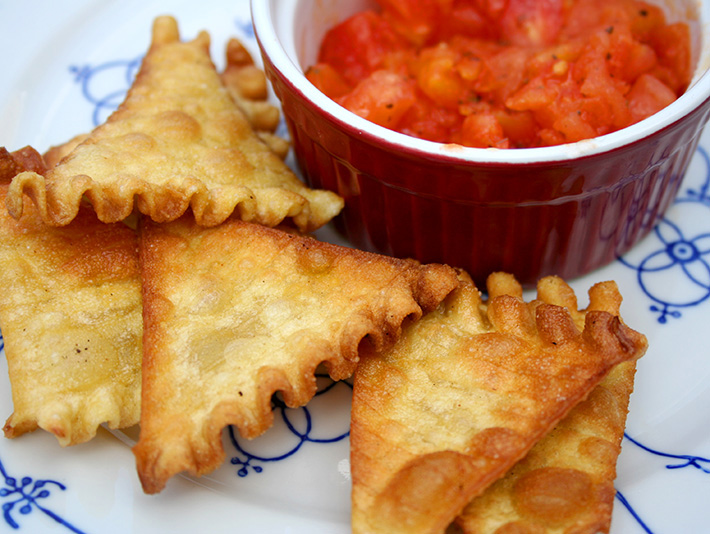 This is undoubtedly one of the most fun and party-friendly recipes that you can make using your lasagna pasta.
Start by cooking and carefully patting dry your lasagna. Next, cut the noodles into triangles or squares. Fry the portions of lasagna in about ½" of oil in a skillet, cooking on both sides. Let cool briefly, and serve with some marinara sauce for dipping. Or, if you feel like getting crazy, make a lasagna chip "nacho" plate! 
7. Mini lasagna tacos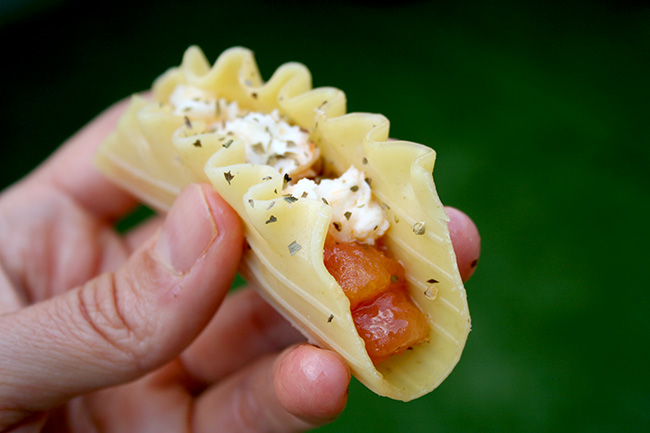 Cook your lasagna, and then cut into squares (I made a few additional cuts to round the edges without removing the ridges). Then, fill these tiny lasagna taco shells with whatever you'd like! What sort of toppings is up to you: You can serve with meatballs, sauce and marinara for a sort of Italian-Mexican fusion food, or you could serve more traditional taco fixings inside of these creative shells. 
8. Dessert lasagna roll-ups
The flavor of lasagna noodles is actually pretty neutral, which means that you don't necessarily need to stick to savory fillings.
For a unique dessert treat, assemble lasagna roll-ups with sweet fillings of your choice (I like a mixture of marshmallow fluff, chocolate morsels and peanut butter), and bake at 375 F until the noodles are toasty and the fillings melty. Enjoy a unique dessert experience!
9. Apple lasagna 
For something sweet and unexpected, try making a sweet lasagna using fruit. This unique recipe — made using cheddar cheese, sweetened apples, lasagna noodles and a streusel topping — makes for a dessert that is somewhat pie-like in flavor but at the same time, unlike anything you've tried! 
If you love pasta, learn more about 20 common types of pasta and how to use them here. Of course, as this post proves, you also have freedom to get creative with pasta pairings!