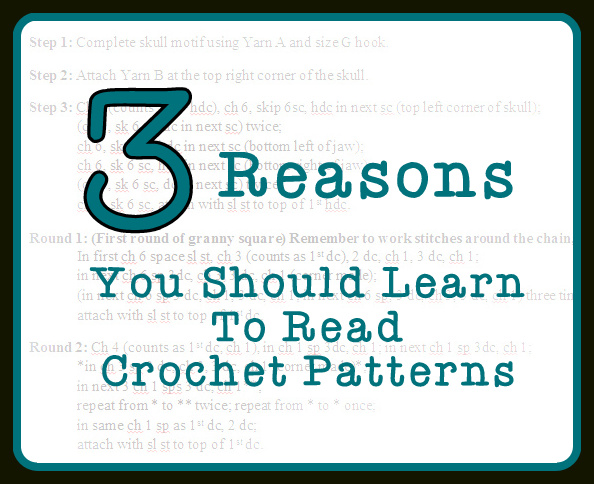 I have met so many capable crocheters who make beautiful things, but have never learned to read patterns! They say, "Oh, I only know a few stitches, I can't make anything complicated!" My response is always, "Yes you can – you already know so much more than you think!" Whether you are just starting or have been crocheting for ages, in this post I'll share three reasons why this is the year you should learn to read crochet patterns.
Reason #1: It's not as hard as you think.
Reading crochet patterns is not hard — really! Like learning anything new, it takes time and practice. When I was getting started I felt overwhelmed because a) I did not know what the abbreviations stood for and b) there seemed to be a lot of punctuation being used in unfamiliar ways. It looked like a secret code. Would I ever make sense of these lines of gibberish? The answer is yes! Crochet patterns are written using standardized abbreviations and punctuation.  Once you learn the language you will be able to read patterns with ease. Using this shorthand allows designers and publishers to include lots of details and size variations in their patterns. You will find (for the most part) each pattern/ pattern book contains an index of abbreviations. Over time you will commit the most frequently used to memory. It's always a good idea to review the index to make sure you are comfortable with the terms you will encounter on each project.
Let's take a look at one line of instructions written without abbreviations.
Row 1: Beginning in the second chain from the hook, work one single crochet stitch into each single crochet stitch across to the end of the row. Now here are the same instructions using standard abbreviations. Row 1: Beg in second ch from hook, work 1 sc in each sc across. You can see how using abbreviations conveys the necessary information in a concise format. Imagine how long and cumbersome patterns would be if every detail of each instruction was written out. Pattern shorthand also assumes that you understand the fundamentals of crochet and know how to work the basic stitches. With practice you will become familiar with the abbreviations and the stitches they represent. You may even be surprised by how much you already know! Take it one stitch and a time and you will be reading your way to amazing new projects.
Reason #2: Imagine all the cool stuff you can make.
For most of us our first project was a potholder or scarf. Flat, small and made with the same repeating stitch. I know several folks who have (happily) been crocheting for years making some variation of their first project. After all, an afghan is just an extra large potholder! But think of all the different kinds of washcloths and afghans you can make when you learn how to read the language. The possibilities are endless! Complex crochet stitches build on the basics. Once you have established your foundation, you will be able to put the stitches you know together in different ways. You will be surprised how quickly and easily your skills will improve.  With each pattern you try, you will be learning something new. The more you practice reading, the easier it will be and the more fun you will have.
Reason #3: There are many resources for learning.
Crochet is popular! It is one of the fastest growing leisure activities and appeals to a wide audience. Because so many people are doing it, there are all kinds of ways to learn about it. Craftsy offers online courses with some of the top instructors in the industry. Crochet: Basics and Beyond with Kim Werker and Improve Your Crochet: Essential Techniques with Edie Eckman both offer lessons on reading patterns in addition to essential information that will improve your crochet experience. Many independent blogs offer the unique perspective of personal experience to your pattern reading questions.  Because they are written by crocheters of varying skill levels, they can offer great hints and advice. And lets not forget YouTube. Many popular designers have entered the world of podcasts and educational vid-clips. A simple search for "how to read crochet patterns" will bring back a bounty of results. You can also find helpful information on the Craft Yarn Council website as well as on most major yarn company sites. Your local library is a resource that should not be overlooked! There are so many outstanding crochet books. Borrowing them from the library will help you decide which books are indispensable and must be added to your personal collection.  When I was learning to crochet I found that titles geared towards children were the easiest for me to understand!  Along with books, you'll find access to magazines. You also might find that your local library hosts a knitting/crochet group and may even offer classes. Our library has a group of yarn enthusiasts (they call themselves the knit-wits) who have been meeting weekly for years. Membership changes, but their willingness to teach, share advice and offer guidance never waivers. Crochet and knitting groups can also be found at the YMCA, your local senior center or council on aging and of course the local yarn store (if your community has one!).