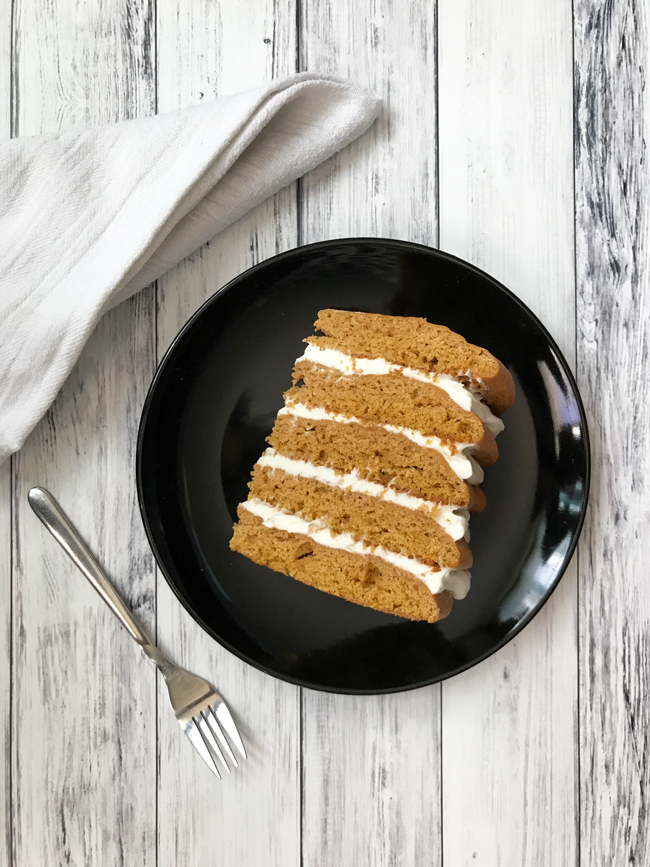 Cookie or cake? Why decide when you can have both? These giant pumpkin spice cookies are stacked high with a cream cheese filling that's sure to satisfy all your holiday dessert cravings.
Pumpkin Spice Cookie Cake
Yield: 1 cake
Ingredients
For the Cookies
4 cups flour
1½ teaspoons baking soda
1½ teaspoons salt
2½ teaspoons pumpkin pie spice
½ cup (1 stick) unsalted butter, at room temperature
1¼ cups light brown sugar
1 cup granulated sugar
2 eggs, plus 2 yolks, at room temperature
2 teaspoons vanilla extract
1 cup pumpkin purée
For the Filling
8 ounces cream cheese, at room temperature
1 cup granulated sugar
1½ cups heavy whipping cream, cold
Tools
Parchment paper
At least 2 cookie sheets
Wire racks (for cooling)
Marker
Instructions
1. Preheat oven to 350 F. Cut five pieces of parchment paper, each big enough to line the bottom of a cookie sheet.
2. Using a round 8″ pan as a template, use a marker to trace a circle in the middle of each sheet of parchment paper. This ensures all of the giant cookies are uniform in size.
3. In a medium bowl, whisk together the flour, baking soda, salt and pumpkin pie spice. Set aside.
4. In the bowl of a stand mixer fitted with the paddle attachment, beat butter and both sugars for 2-3 minutes on medium-high speed. Add eggs, yolks and vanilla. Continue to beat until smooth, another 2 minutes.
5. Add half of the flour mixture into the wet mixture and beat until the flour is incorporated. Scrape the sides. Add the pumpkin puree and beat until the batter is even in color. Add the remaining flour and beat until incorporated, scraping the sides as necessary.
6. Divide the batter into 1-cup portions and place each on a parchment paper circle (the side you drew on should be face down).
7. Spread the batter on the parchment to fill out the circle.
Good to Know: If you want your cookies to be exactly 8″ in diameter, keep your batter within ¼" of the line — that's about how far the cookies will spread while baking.
8. Bake the cookies one or two at a time for 10-13 minutes, or until the edges are golden. Place the cookies on wire racks to cool completely at room temperature.
9. Now begin making the filling. In the bowl of a stand mixer, beat sugar and cream cheese until smooth, about 2 minutes.
10. Scrape the sides and add vanilla. Stir on low speed and stream heavy cream into the bowl. Stop and scrape the sides often during this stirring process. You want to blend the cream cheese and heavy cream slowly to avoid lumps.
11. Once the heavy cream and cream cheese are combined, turn the speed up to high and beat for about 2-3 minutes until medium peaks form.
12. Top one cookie with 1 cup of filling, spreading it to the edge. Top with another giant cookie and repeat until all of your layers are made.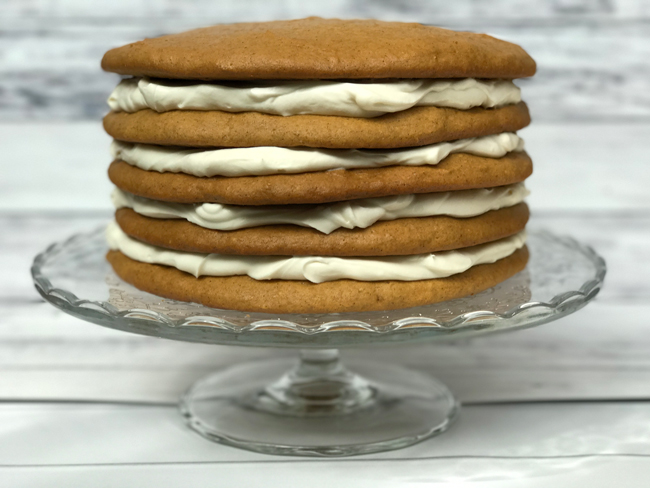 Cut the cake as you would any other and serve!