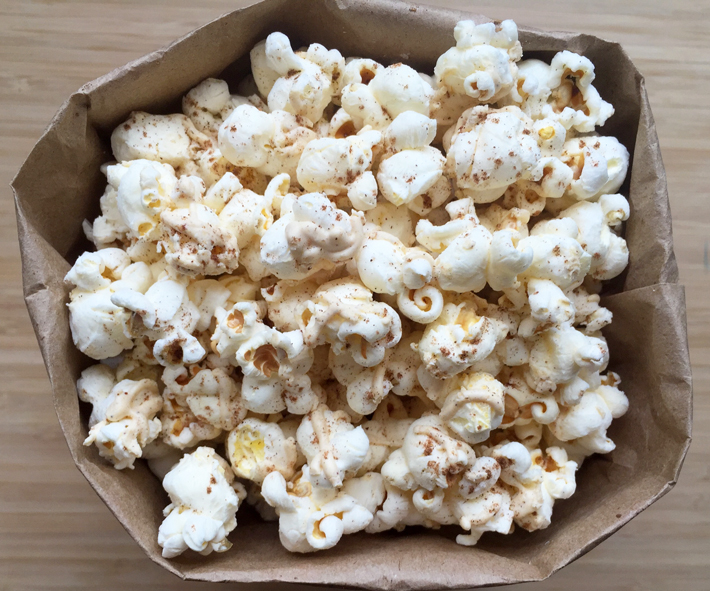 Amp your popcorn up for autumn by drizzling it with pumpkin purée and white chocolate. Yeah, you read that right. Next time you turn on your favorite holiday special or spooky classic, make sure you have a bowl of this on hand.
Pumpkin Pie Popcorn
Yield: about 12 cups
Ingredients
3 tablespoons canola or coconut oil
½ cup corn kernels
½ cup (about 3½ ounces or 100 grams) white candy melts or white chocolate chips
2 tablespoons pumpkin puree (use store-bought or make your own )
½ teaspoon pumpkin pie spice blend, plus more for dusting
Pro Tip: If you don't have a pumpkin pie spice blend, make your own by combining 1 teaspoon cinnamon, ¼ teaspoon ground nutmeg, ¼ teaspoon ground ginger and ⅛ teaspoon ground cloves.
Instructions
1. In a 3- to 5-quart heavy-bottomed saucepan or pot with a lid, add the oil and place it over medium-high heat.
Pro Tip: If you're using coconut oil, make sure the oil is completely melted and fully covers the bottom of the pot before doing the next step.
2. Measure ½ cup of corn kernels and set aside. Add two or three corn kernels to the pot, cover and stand by — you want to wait until you hear these pop. Once they do, the pot is ready.
3. Add the ½ cup of kernels to the pot, making sure they're in a single layer. Cover and remove the pot from the heat for 30 seconds. Place the pot back on the heat — your popcorn should start poppin'!
4. Once it's consistently popping, shift the lid so it's ajar and the steam can escape. Lower the heat to medium. Shake the pot to allow all the kernels to pop.
5. Once the popping subsides, remove the lid and move the pan off the heat. Place popcorn on a parchment-lined cookie sheet.
6. Heat the white chocolate chips or candy wafers in the microwave for 30-second intervals at 50 percent power, until smooth. Make sure to stir between intervals.
7. Add the pumpkin puree and pumpkin spice blend to the white chocolate or candy wafers and stir.
8. Place the chocolate-pumpkin mixture in a small plastic bag. Snip the corner and drizzle it all over the popcorn. You can toss it all together to coat the popcorn or leave it to dry on the cookie sheet, which will keep the drizzle lines in tact. Sprinkle with more pumpkin spice blend if desired.
Then just spoon the popcorn in a bowl, put on a movie and enjoy!