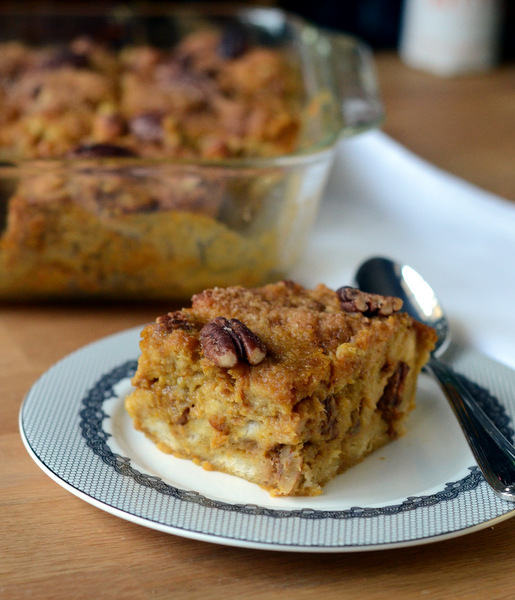 You've probably made pumpkin pie and pecan pie for your holiday dessert table. This recipe takes all the flavor of those two seasonal favorites and puts it in a bread pudding. (Yeah, our mouths are watering, too.) Add some extra pecans on top for a little crunch, and you're looking at a new go-to dessert.
Pumpkin Pecan Bread Pudding
Yield: 9 servings
Ingredients
1½ cups whole or low-fat milk
2 large eggs
1 cup pumpkin puree
¾ cups brown sugar
1 teaspoon vanilla extract
1 teaspoon pumpkin pie spice
1 teaspoon ground cinnamon
¼ teaspoon salt
6 cups cubed bread, preferably challah or brioche
⅔ cup coarsely chopped, toasted pecans
2 teaspoons sugar plus ½ teaspoon ground cinnamon, for topping
Pro Tip: If you don't have a pumpkin pie spice blend, make your own by combining 1 teaspoon cinnamon, ¼ teaspoon ground nutmeg, ¼ teaspoon ground ginger and ⅛ teaspoon ground cloves.
Instructions
1. Preheat oven to 350 F and lightly grease an 8 × 8″ baking pan.
2. In a medium bowl, whisk together milk, eggs, pumpkin puree, brown sugar, vanilla and pumpkin pie spice until smooth.
3. Place the cubed bread in a large bowl and pour the pumpkin mixture over the top. Use a spatula to gently fold the bread cubes until they are well coated. Allow bread mixture to stand for 5-10 minutes to soak up the custard.
4. Pour bread mixture into your baking pan and spread into an even layer. Combine sugar and cinnamon in a small bowl and sprinkle over the top of the bread pudding.
5. Bake for 30 minutes, until the pudding springs back when lightly pressed and a sharp knife inserted into the center comes out clean.
Allow to cool for at least 15 minutes before serving. Leftovers should be cooled completely and stored in the refrigerator.