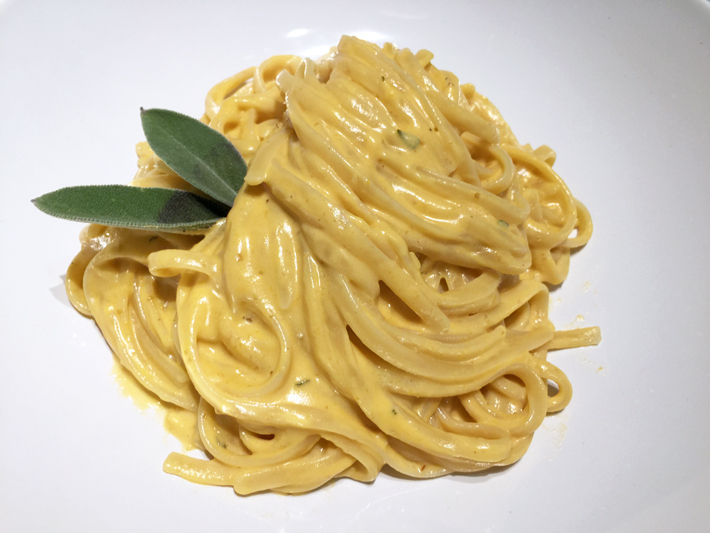 Much as we might like to, one cannot live on PSL alone. Luckily, we've got the perfect concoction to feed your pumpkin craving with actual food: homemade pumpkin alfredo pasta.
This dish brilliantly showcases the popular gourd's savory side, and it's SO easy to make. We're talking under an hour, and even less if you use store-bought pumpkin purée. Buh-bye, boring weeknight dinner.
Pumpkin Alfredo Pasta Recipe
Yield: 4-6 servings
Ingredients
2 tablespoons olive oil
2 tablespoons butter
1 large or 2 small shallots, minced
2 cloves garlic, minced
1 tablespoon fresh sage, chopped finely
1½ cups heavy cream
1 cup pumpkin purée (see recipe below, or use store-bought)
½ teaspoon salt
¼ teaspoon pepper
½ cup Parmesan
½ cup shredded mozzarella
1 pound fettuccine or linguine noodles
Instructions
1. In a large pot, boil salted water with a tablespoon of oil for cooking the pasta. Don't add the pasta until Step 4, so the sauce and pasta finish at about the same time.
2. In a medium saucepan, melt butter and olive oil over medium heat. Add shallots and sauté until soft, about 1 ½ minutes. Add garlic and sage and saute until garlic is fragrant; about 30 seconds.
3. Add heavy cream, pumpkin purée, salt and pepper. Whisk to combine and let it simmer — watch carefully because the heavy cream can cause a boil-over!
4. Once the sauce starts to simmer, reduce the heat to medium-low. Add the Parmesan cheese and continue simmering for 10 minutes, enough time for the Parmesan to break down, whisking frequently. Then, add mozzarella and whisk until melted and creamy.
5. Drain pasta once it's al dente (follow the package instructions for the exact cook time), return to the pot and pour the sauce over. Toss and serve immediately!
---
Roasted Pumpkin Purée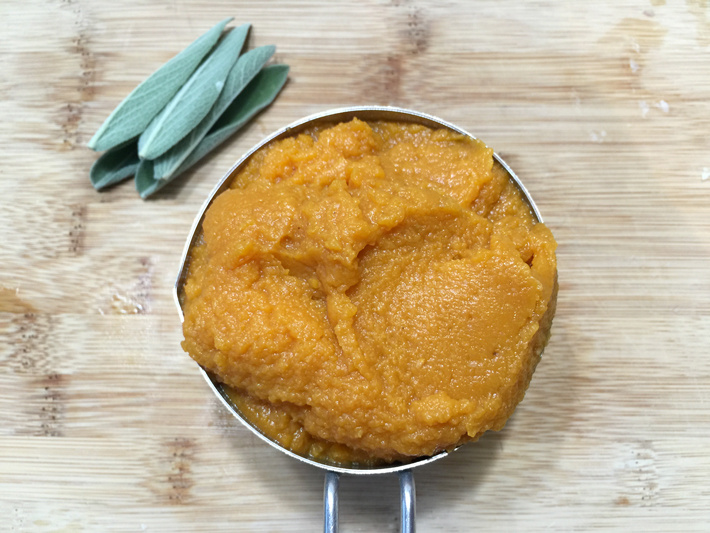 Ingredients
1 medium baking pumpkin
Sea salt and pepper to taste
Olive oil
Instructions
1. Preheat oven to 350 F. Cut off the top of the pumpkin near the stem, then cut the pumpkin in half. Scoop out the seeds and save them to roast later.
2. Cut each half in half again, so the pumpkin is cut into fourths. Place pumpkin pieces on a foil or parchment-lined cookie sheet, drizzle with olive oil and season with salt and pepper. Bake for 45 minutes or so, until it's fork-tender.
3. Let cool and remove skins. Place pumpkin flesh in a food processor and process until smooth.