The best snack for sharing — and dipping — are adorable little pretzel bites. While they've become staple appetizers at pubs and bars, these bite-size snacks are even more delicious when you make them at home.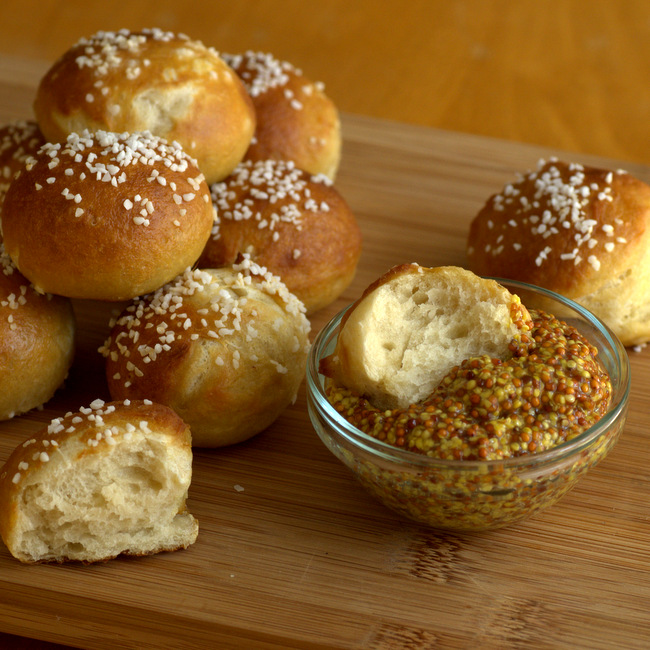 My favorite thing about these pretzel bites is how easy they are to make.
Shaping traditional pretzels into perfect twists can be a hassle, and this recipe eliminates the need for any of that.
The recipe starts with a simple dough (that also makes a good quick pizza crust). If you want to save yourself a little bit of time, you can also pick up a store-bought pizza crust and use the same technique. 
Once the dough has risen, you can preheat your oven and start to shape the bites. I like mine a little bit bigger — about one or two bites each — because it means I can pile more mustard onto each one. On the other hand, smaller pieces are arguably better for sharing with a crowd.
How to cook the pretzel bites
The dough should be deflated on a flat work surface and cut into individual pieces. You'll then very briefly boil pieces in a mixture of water and baking soda. 
Boiling the pretzel bites briefly helps them to begin to puff up before they go into the oven and allows a crust to form on the exterior of the bite, making it taste like a pretzel instead of a piece of bread. The baking soda makes the water very alkaline and the alkaline water causes the crust of the bites to not only take on a chewy texture in the oven, but to turn the deep golden brown color you want a pretzel to be!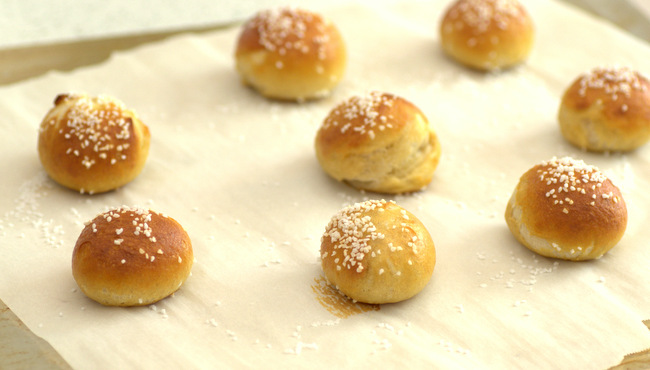 Topping your pretzel bites
I love salt on my pretzels and used pretzel salt to finish these off. Pretzel salt is much coarser than most salts that you might keep in your kitchen. You can see the difference between kosher salt (left) next to some pretzel salt (right) in the photo below:
You can buy pretzel salt online or find it in the spice aisles at particularly well-stocked grocery stores. Or, you can simply substitute the coarsest salt that you have, but I do recommend getting the pretzel salt if you start to make pretzels or pretzel bites on a regular basis — it really gives the pretzels the right finishing touch!
How to serve your pretzel bites
These pretzel bites are good as-is and, to be honest, you're probably going to have a hard time resisting them when they're fresh out of the oven. If you can wait a few minutes, however, you can pair them with any pretzel topping.
Mustard is a classic option, and I prefer coarse-grained mustard. You can make your own honey mustard by stirring together equal parts honey and your favorite mustard.
Warmed up chocolate sauce is a surprising — and surprisingly good — dip for the salt-topped bites, too. 
And of course, you can never go wrong with a good cheese sauce.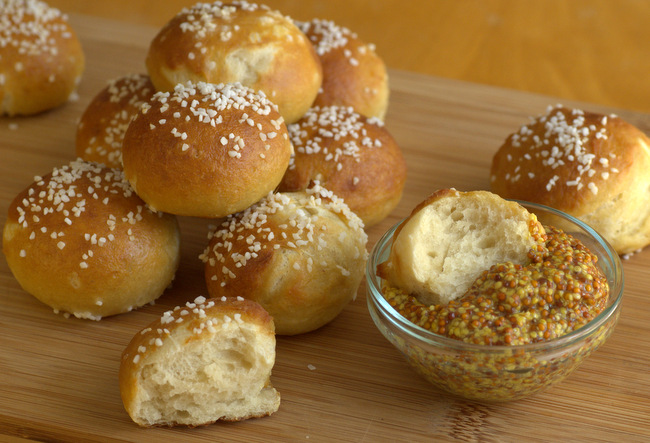 Homemade pretzel bites recipe
Serves 6-8
Ingredients:
¾ cup water, warm (100-110 F), divided
2½ teaspoons (1 envelope/0.25 ounces) active dry yeast
1 teaspoon sugar
2 cups all-purpose flour
1 tablespoon vegetable oil
¾ teaspoon salt
2 cups water (any temperature)
2 tablespoons baking soda
Pretzel salt, for topping
Step 1:
In a small bowl, combine ¼ cup of the water with the yeast and sugar. Stir and allow to stand for 5 minutes, until mixture is foamy.
Step 2:
In the bowl of a stand mixer, combine yeast mixture with remaining ½ cup of water, flour and vegetable oil. Mix with a paddle attachment until dough comes together and begins to pull away from the sides of the pan. If the dough seems extremely wet, add in an additional tablespoon or two of flour. Turn mixer up to medium and beat for 1-2 minutes. (This can also be done by hand with a wooden spoon and a little bit of elbow grease.)
Step 3:
Transfer the dough to a lightly oiled bowl and cover with plastic wrap. Let rise for 60 minutes, or until doubled in size.
Step 4
Preheat oven to 375 F. On a lightly floured surface, gently deflate the dough.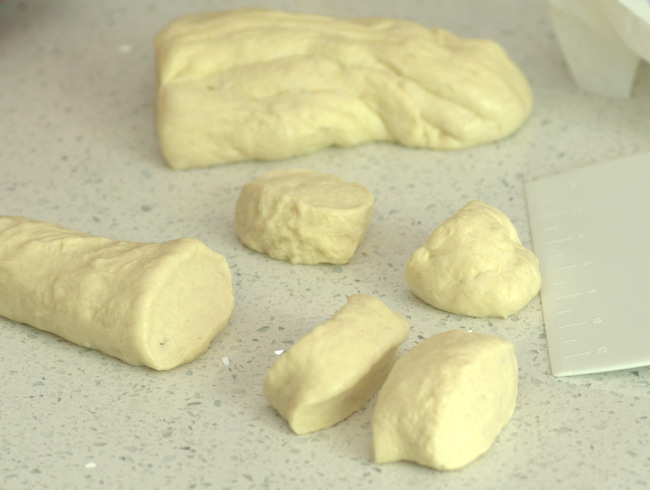 Cut the dough in half shape into a rough log. Cut each log into eight equal pieces. If you prefer smaller bites, they can each be cut into 12 pieces.
Step 5: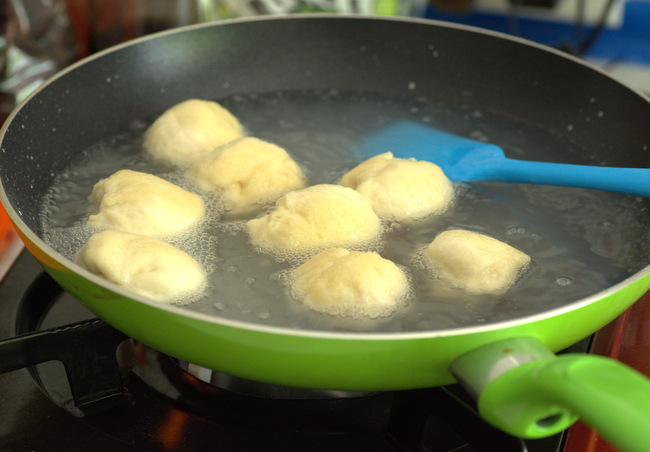 In a skillet or saucepan, combine 2 cups water with the baking soda and bring to a boil. Reduce heat to a simmer and place the dough balls into the water in small batches.
Cook for about 30 seconds, turning once, then remove from the water with a slotted spoon and arrange balls on a parchment-lined baking sheet. Sprinkle with pretzel salt.
Step 6:
Bake for 18-20 minutes, or until browned. Serve warm.