Freshly baked soft pretzels are a favorite snack food of mine. They're popping up on menus at lots of shops and stands, but homemade soft pretzels can be even better. Plus, I've discovered one small shortcut that makes them easier than ever: starting with pizza dough.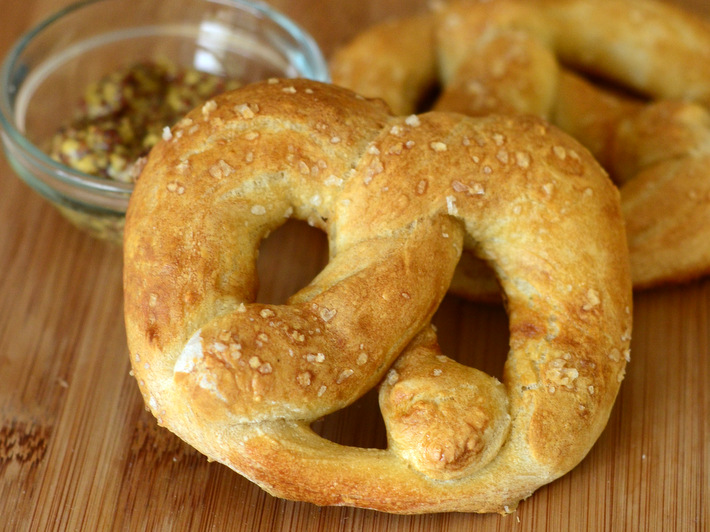 Pizza dough pretzels are not only convenient, but because the dough has an elastic texture, it's easy to roll out and shape. The dough also has a flavor that's similar to what you might expect from a soft pretzel recipe.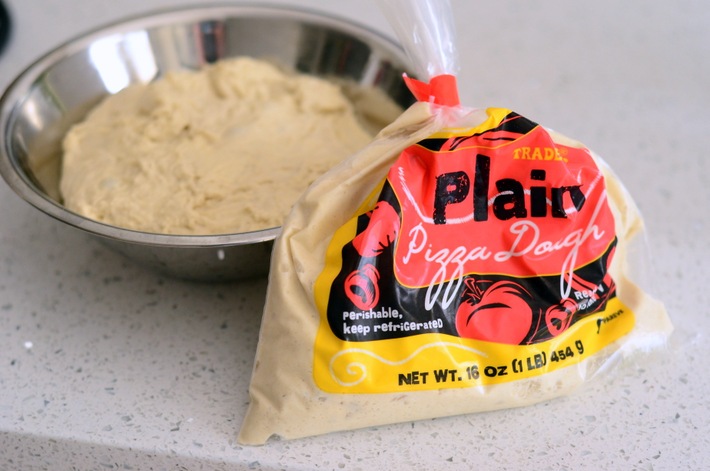 Read on to learn how to make pizza dough pretzels!
Start with high-quality pizza dough.
Of course, you can make your own pizza dough for these soft pretzels, but if you want to save time, start with a store-bought dough. Pizza dough is widely available at grocery stores, both in the prepared food section and in the refrigerated aisle.
For these pretzels, I started with a relatively plain pizza dough, though you can make the same recipe with whole wheat pizza dough or herbed pizza dough, which I've also seen ready-made.
Then, let the dough warm up a bit.
Once you have your dough, take it out of its package and let it come to room temperature. Room-temperature dough is the easiest to work with because it'll be more elastic and will hold its shape better than chilled dough. Roll it, shape it and bake it — and you're ready to eat!
Don't forget these two secrets for even better homemade pretzels.
There are two tricks for making your pretzels a success, and I'm not just talking about practicing the shaping technique until your twists look picture perfect.
One is dipping the pretzels in a mixture of baking soda and water before baking. The baking soda creates an alkaline bath that helps set the exterior of the pretzel, creating a chewier, perfectly browned crust.
The second trick is to brush the pretzels with a beaten egg before baking, which will help salt stick to the pretzels, increase the browning and give the pretzels a slightly shiny finish.
I usually stick to coarse salt when finishing my pretzels, but you can add a seasoning salt, garlic salt or even a cinnamon-sugar mixture, depending on what kind of pretzel you're in the mood for!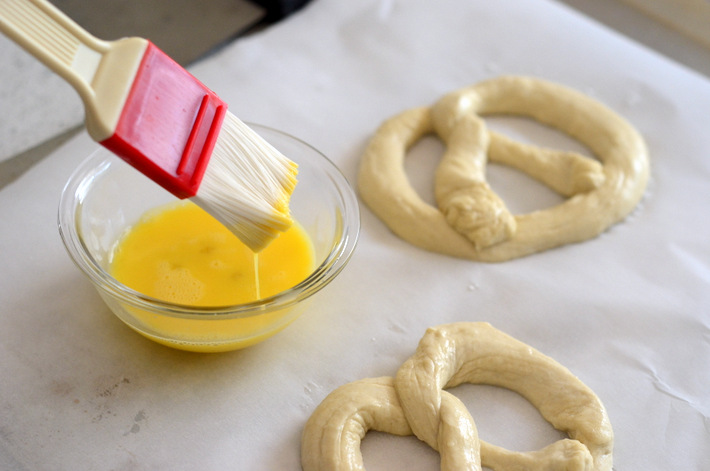 When it's finally time to eat…
Once your pretzels are baked, they are ready to eat right away! You can serve them on their own, with mustard or cheese, or pair them with a custom dipping sauce, like these:
My favorite dipping sauce is simply two parts whole grain mustard to one part honey.
If you prefer things on the sweet side, you can make a dipping sauce that is a little bit like cream cheese frosting by creaming together 3 ounces of cream cheese with 1/2 cup powdered sugar, 1 ½ tablespoon of milk and a touch of vanilla extract. I also suggest adding a generous pinch of cinnamon to the cream cheese dip for even more flavor. 
Soft pizza dough pretzels recipe
Makes 6 pretzels
Ingredients:
16 ounces of pizza dough
2 cups warm water
2 tablespoons baking soda
1 large egg
Coarse salt
Step 1:
Preheat the oven to 400 F. Line a baking sheet with parchment paper. 
On a lightly floured surface (just enough so the dough does not stick to it), divide the pizza dough into six equal portions.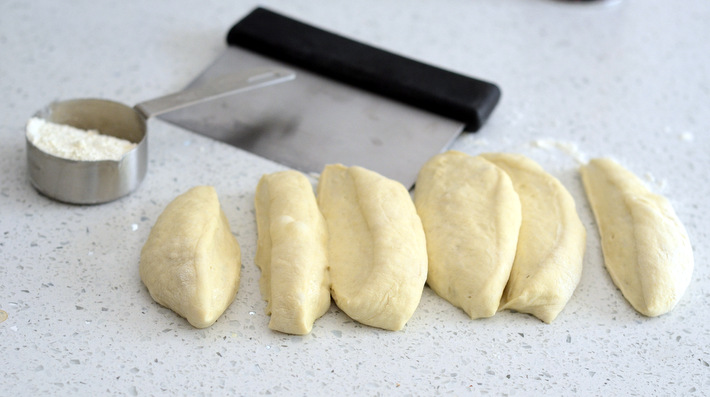 Step 2:
Roll out each piece into a rope about 24″ long. If the dough does not stretch easily or springs back, let it rest for 5 minutes, then stretch it again.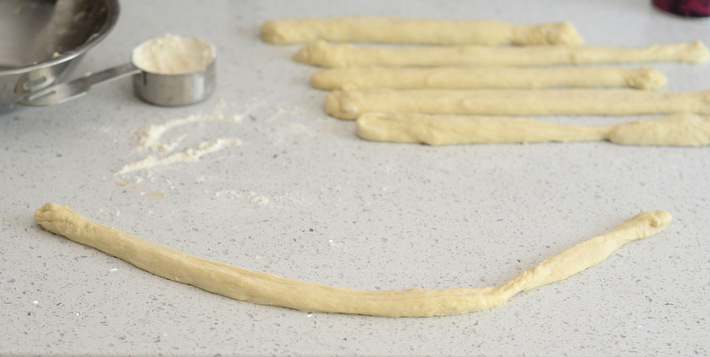 Step 3:
Shape ropes of dough into pretzels by bringing the ends together, twisting them around once, and then bringing the twist down into a pretzel shape.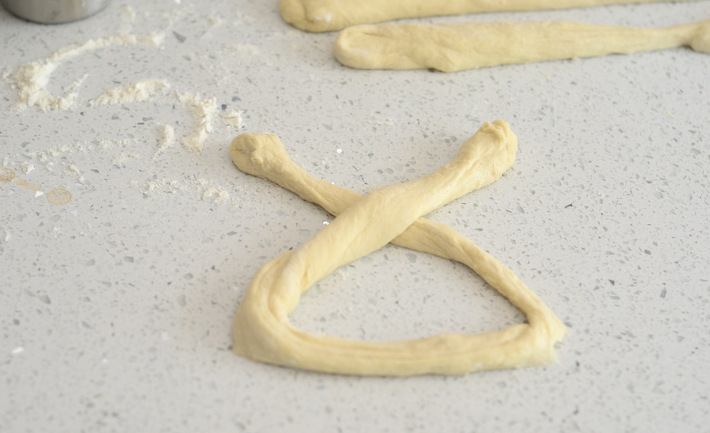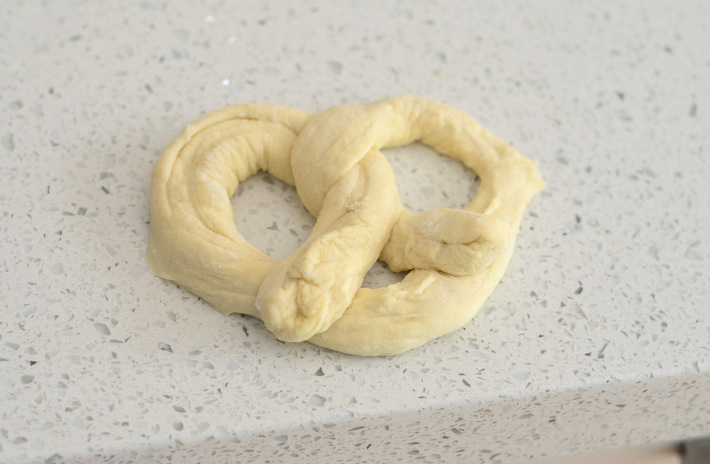 Step 4:
In a medium bowl, whisk together warm water and baking soda (the baking soda will not entirely dissolve). Dunk each pretzel into the water.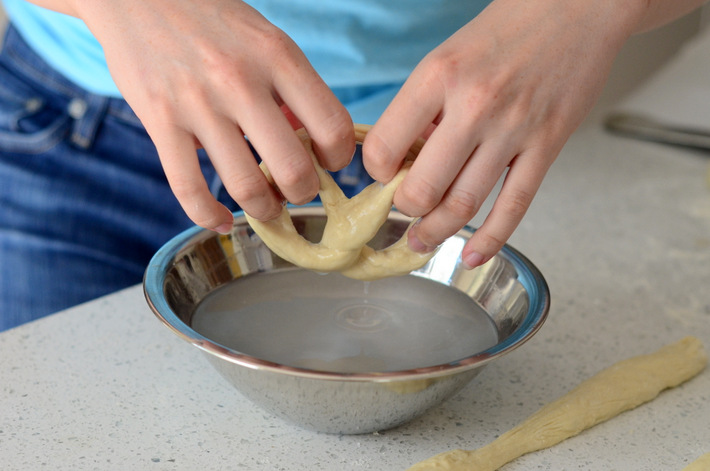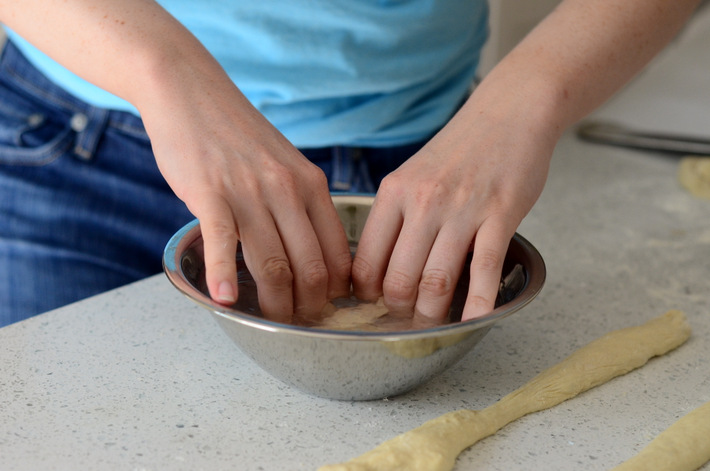 Hold the pretzel dough over the bowl to let any excess water drip off, then transfer to the baking sheet. Repeat with all pretzels.
Step 5:
In a small bowl, beat egg. Use a pastry brush to brush beaten egg over the tops of the pretzels. Sprinkle with coarse salt, to taste. 
Step 5:
Bake for about 20 minutes, until pretzels are deep golden brown. Allow pretzels to cool slightly before serving.

Make Delicious Pretzels From Scratch!
Stop buying and start baking for better-tasting bagels, pretzels and bialys. Balthazar Bakery owner Sim Cass shares his secrets to working with yeasted dough in new ways for your most flavorful results yet. Enroll Now »