Have you ever tried peanut sesame noodles? Sometimes referred to simply as "sesame noodles," this dish can often be found on Chinese food menus. Typically served cold, the dish features noodles in a rich, emulsified peanut butter-and-sesame oil sauce that is as addictive as it is unique. 
Photos via CakeSpy
Many takeaway-style dishes are hard to replicate at home, but that's not the case with peanut sesame noodles.
Your at-home results really will taste comparable to your takeaway favorite. Plus, you have the added benefit of tailoring the spice and ingredients to your preference.
Striking a balance between salty and sweet, rich and bright and fresh, this dish is a keeper. It tastes great as a main dish with chicken, tofu or another form of protein, and it makes for an incredible side dish.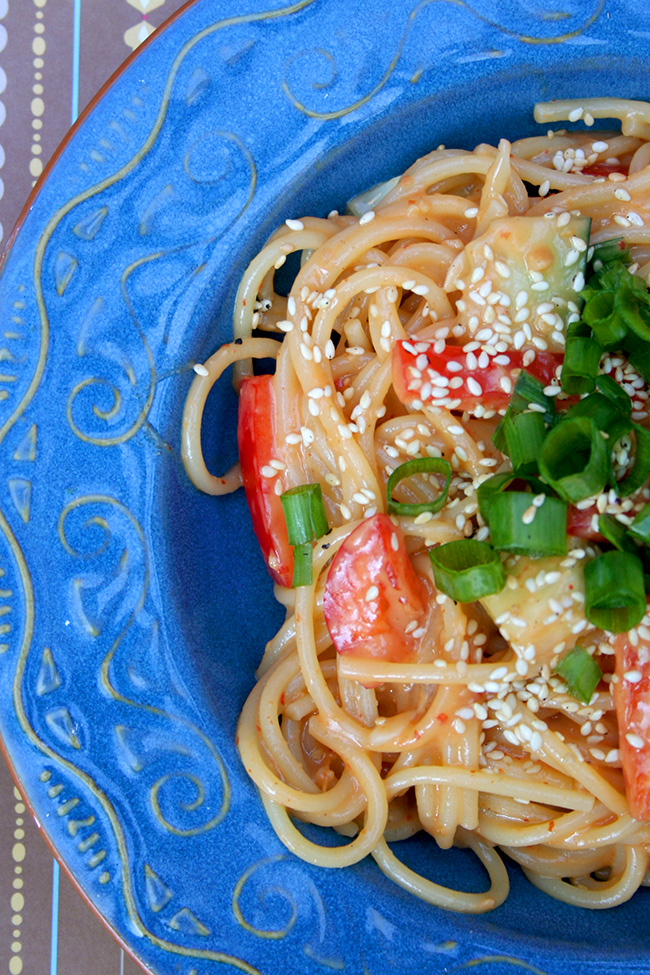 Peanut sesame noodles recipe
Makes about 4 main-dish servings or 6-8 side dish servings 
½ cup smooth peanut butter (see recipe note)
3 tablespoons soy sauce 
¼ cup chicken stock 
1 tablespoon finely minced fresh ginger 
2 teaspoons finely minced garlic (1-2 cloves)
2 tablespoons rice vinegar 
2 tablespoons toasted sesame oil 
1 teaspoon sugar or honey
Chili flakes or chili paste, to taste 
1 pound dried egg noodles (or spaghetti or linguine)
3-4 stalks scallions, sliced thinly
1 bell pepper, cut into small pieces 
½ cucumber, peeled and sliced into small pieces 
2 tablespoons toasted sesame seeds
Step 1:
Combine the peanut butter, soy sauce, 2 tablespoons of the chicken stock, ginger, garlic, vinegar, sesame oil, sugar or honey, and chili flakes or paste in a blender. Puree until smooth, about 1 minute. If you prefer a thinner sauce, add the remaining chicken stock and blend once more to combine. Set aside.
Step 2:
Cook the noodles according to the package instructions. Strain, and then run under cold water. 
Step 3:
In a large bowl, combine the noodles and dressing. Stir to evenly coat. Add most of the scallions (reserving a few for garnish), pepper and cucumber.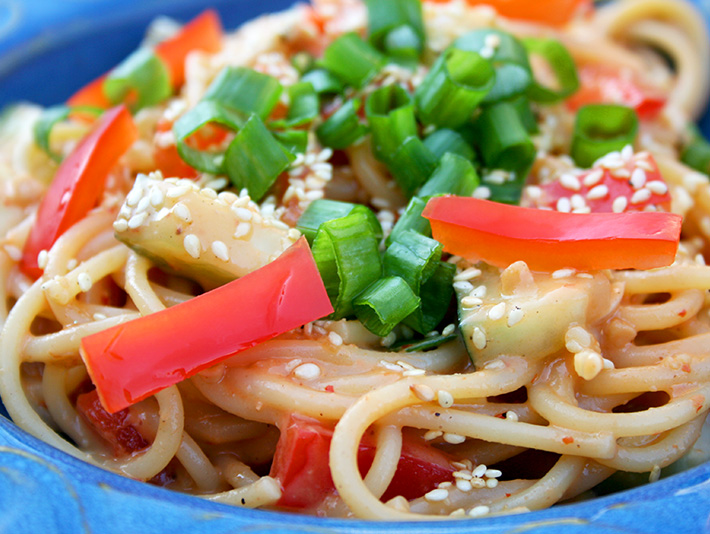 Serve with the sesame seeds and and remaining scallions as a garnish.
Recipe notes 
You can find most of these ingredients at your local supermarket. However, if you have any trouble finding any of the ingredients, here are some notes on substitutions:
Noodles
An Asian egg noodle is most traditional for this recipe. However, if you can't find them or don't want to make an extra trip to the store, linguine or spaghetti also work well. 
Peanut butter
Creamy peanut butter works best for this dish texture-wise, but if you don't have it on hand, don't sweat it. Crunchy or natural textured peanut butter works fine, it just might have a little bit more texture and a slightly less smooth-textured sauce. 
Chicken stock
If you'd prefer to keep this dish vegetarian, you can swap vegetable stock or even just water for the chicken stock called for in this recipe. 
Chili flakes or paste
A little bit of heat really brings out the flavors of these noodles. If you're hesitant to add them to the sauce, you can either go light or hold off entirely and use the chili as garnish instead.