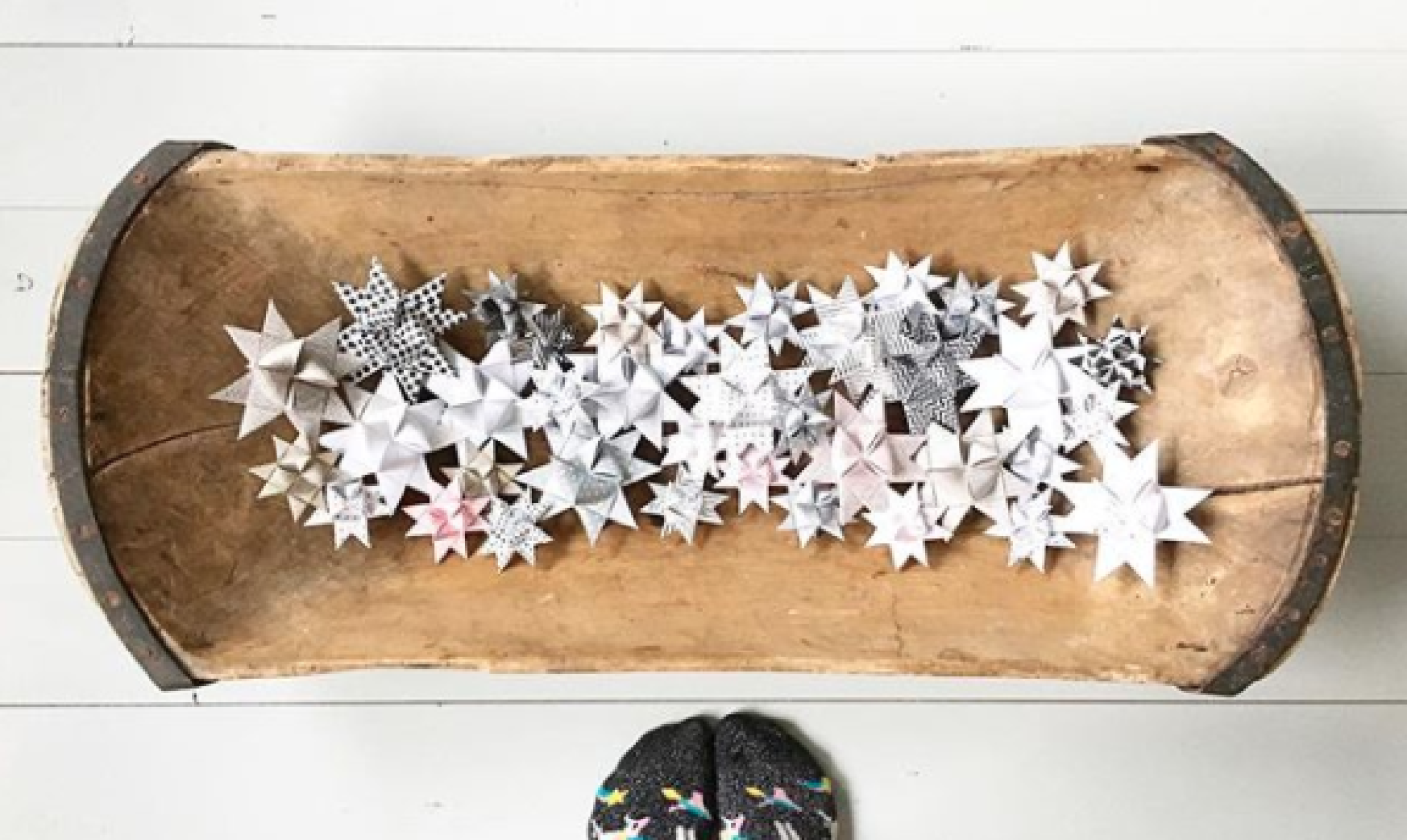 Photo by @knoefdesign
If you love cruising Instagram for decor ideas as much as we do, you're already well aware that the (paper) stars are out and shining! While you can always pick them up from IKEA (fun fact: paper stars have Scandinavian roots), we guarantee it'll be even more satisfying if you try your hand at crafting your own.
Making paper stars can be as simple as trace-and-cut, or you can get fancy with origami versions. Either way, we can't think of a more enchanting way to spend an afternoon at home. And with tips from the pros on making and displaying your creations, you're on your way to a home dec win for the holidays and beyond.
1. Stellar Sweetness
Photo by @whitewoodandlinen
Home décor stylist Helen Moore of Whitewood & Linen knows a thing or two about making things look pretty — without days and days of effort. "I love simple, quick wins like the star garland, and enjoy gifting them to friends and family," she says.
Helen's Tips
These stars are extra-special because they begin with authentic vintage paper. "I made these from a book dating back to the 1900's," Helen says. "I simply created a template, cut out stars from the book pages, then took a length of nylon wire and glued stars back-to-back with the wire running through the middle. I repeated the process until I had the length and look I needed."
Of course if you don't have a vintage book handy, you can make this craft your own with whatever paper strikes your fancy. Display the garland entwined with fairy lights, as shown here, for extra sparkle.
2. Bold Brightness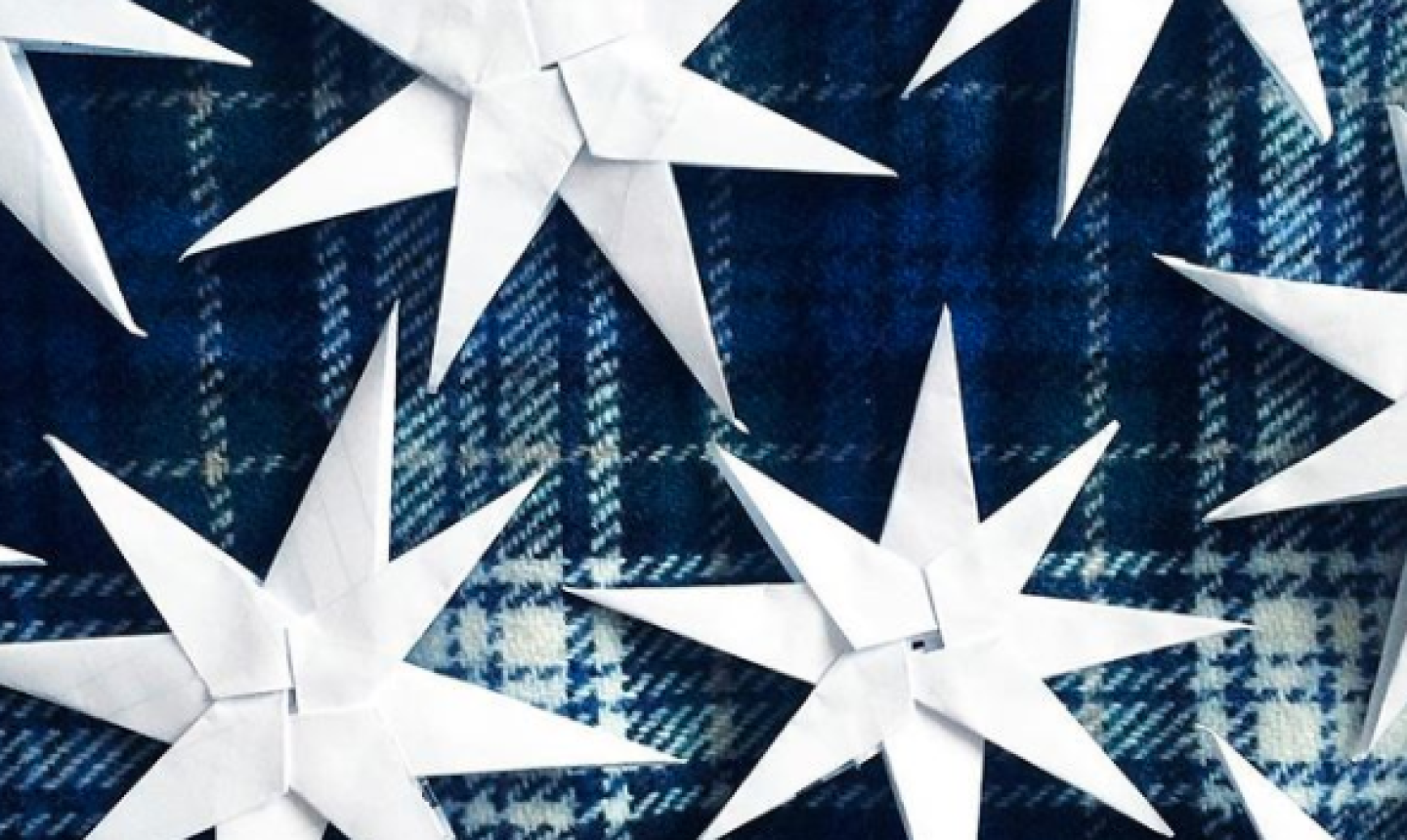 Photo by @thepaperstarstudio
Stars abound in Virginia E. Fulford's Etsy shop, The Paper Star Studio, which she runs as a sideline to her job as a medical illustrator. "Creating them is something that can be done meditatively after a day of more intense illustration projects," she says.
Virginia's Tips
The stars pictured here are surprisingly simple! "All you need are scissors, paper and glue," Virginia says. "I usually use hot glue because it sets fast. I found a few tutorials for eight-pointed and Moravian paper stars online and modified the steps a bit to create my own process. Each star is created from four base squares that are folded into double-pointed shapes. These four pieces are then glued together at their bases to form the star. A hole can be punched in the top of one of the points for a ribbon to create an ornament."
If you're patient, you can make a huge statement with these little stars: Virginia folded about 200 for her wedding! But they have lots of potential on a smaller scale, too. "These make great holiday ornaments and garlands to hang over a doorway, couch, bed or window," she say.
3. White Wonder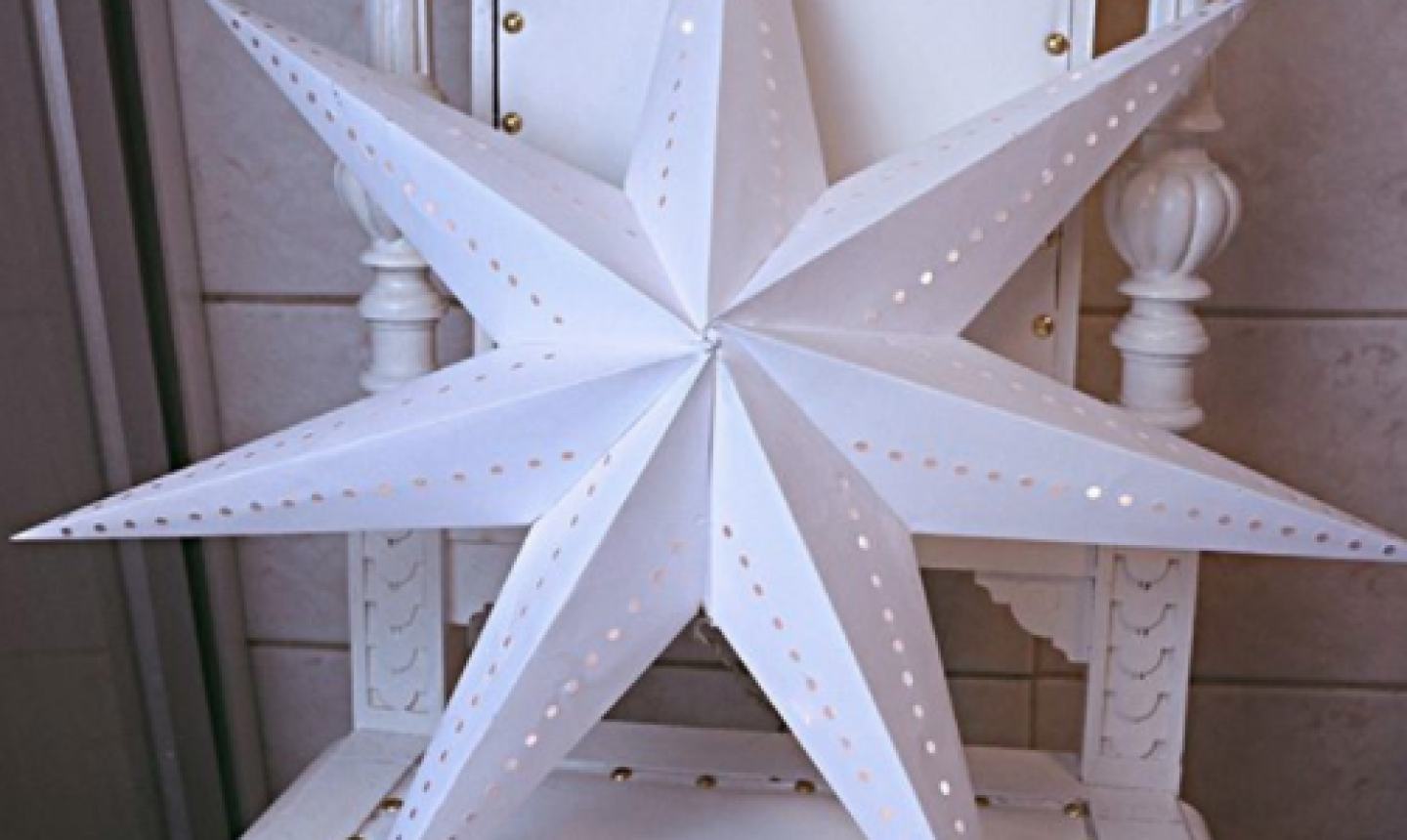 Photo by @sibetkatten
Anna-Maria Törnblom lives in Sweden and has a blog that's all about cooking, crafting and painting. As a designer, she says that she's always liked the challenge of creating beautiful things with ordinary materials — like this bold white paper star!
Anna-Maria's Tips
Lucky for the rest of us, Anna-Maria shared a blog post with a full tutorial for this sparkly piece. For this, or any larger paper star craft, she's a big fan of including an LED light inside. "They shine so beautifully, and they look nice from the inside and the outside," she says. "They make the darkness of Swedish winters more bearable."
4. Seasonal Stars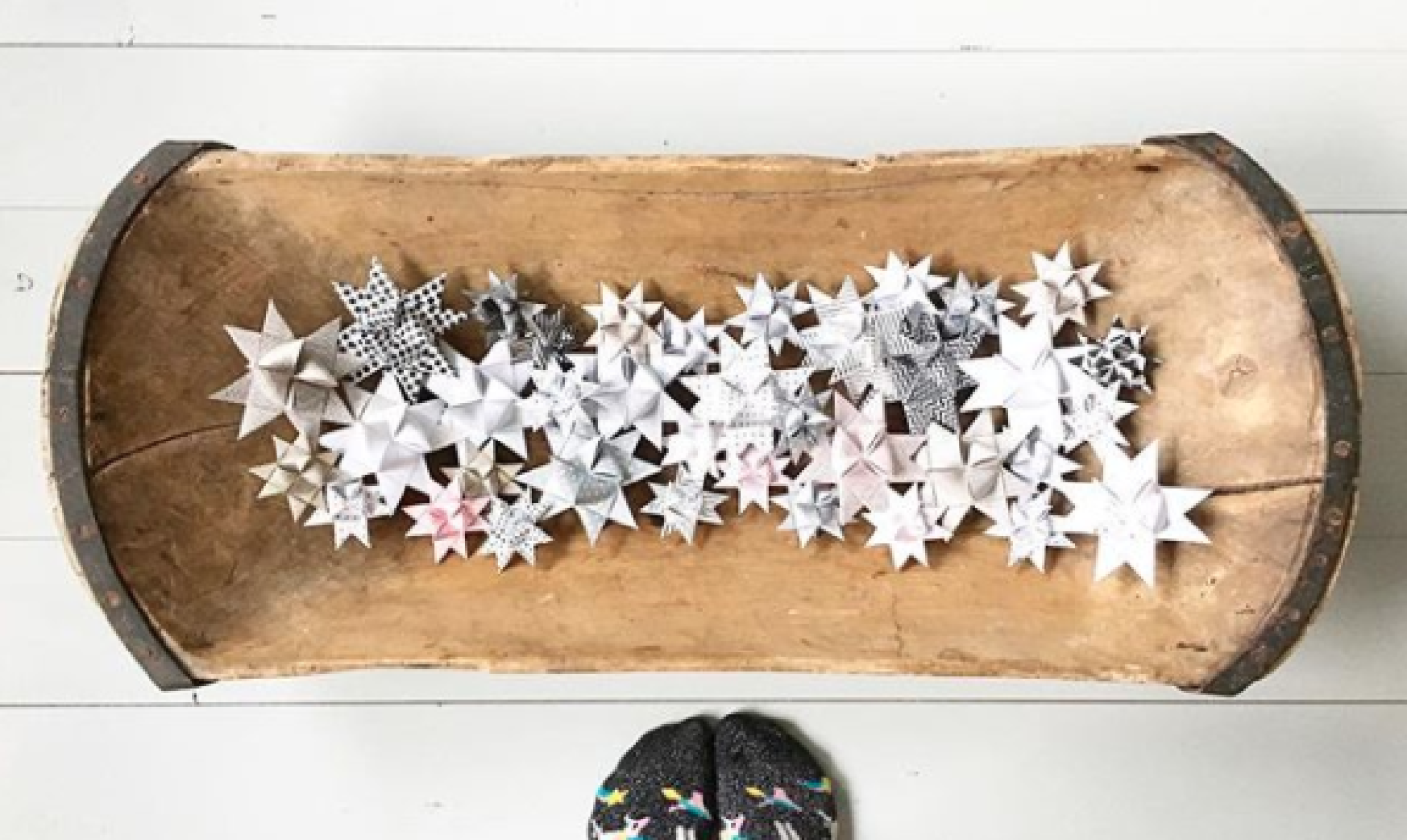 Photo by @knoefdesign
Artist and Etsy-seller Stefanie leads a bit of a double life. By day, she's an engineer in the automotive industry. By night, she's the owner of a screen-printing shop and sells her products online. She says that she has "this thing with paper" — especially making paper stars at Christmas, which she refers to as "creative yoga."
Stephanie's Tips
The twinklers pictured here are made using a traditional German weaving technique called "froebel stars" (you can peek online for tutorials). Froebel stars are a little complex to make, and Stephanie recommends thinking of the process as a meditative exercise for your brain. if you're not up for a folding challenge, don't worry — her star decor ideas work just as well using a simpler paper star pattern too (or even purchased stars).
Once you've made a big batch of stars, pile them in a bowl as Stephanie does, scatter them at festive holiday place settings, drop into a clear vase as a centerpiece, or attach them to a wreath.
5. Tiny Twinkles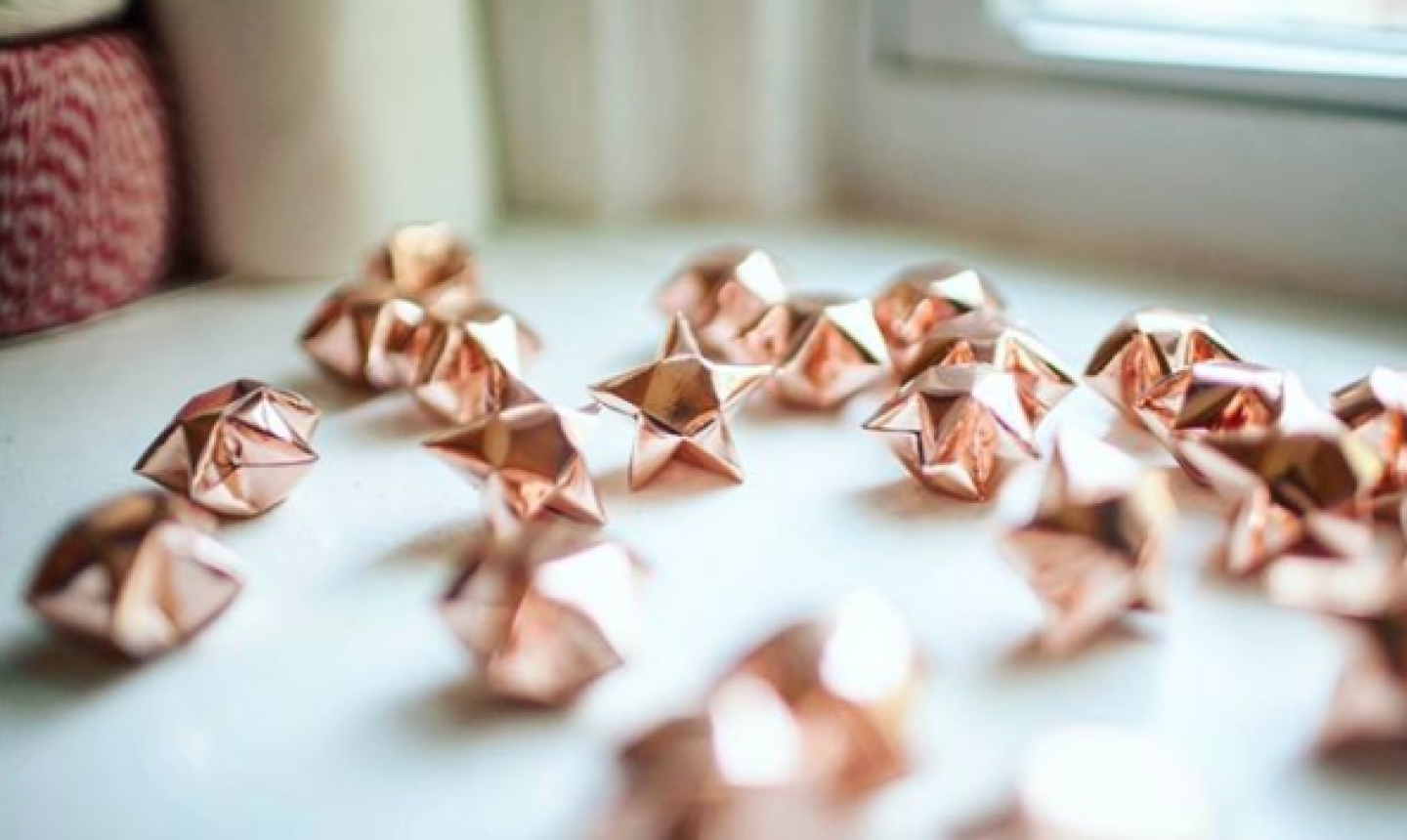 Photo by @sghandmade
Paper artist Swan says that growing up in an Asian-American household, "origami was almost a necessity, since everyone in the family knew how to fold something." As the owner of Etsy shop S.G. Handmade, she lovingly makes the teeniest of paper stars for her customers and fans.
Swan's Tips
"Though you can make paper stars out of most paper types, there's a certain art involved in finding the right paper, in the right pattern, in the right weight and in the right color combination. I go through rolls of wrapping paper, paper sheets and square origami paper that I'll cut up into strips. Or I'll find 12×12 loose sheets of paper from craft stores that I cut up. I fold every strip tightly into a pentagon. the most rewarding part is to pop the sides in until they look puffy, like a Lucky Charms marshmallow."
Swan loves combining stars in a bunch of colors in a jar as a cute, colorful holiday gift, and she's also begun weaving them into her wall hangings. "I think they'd look awesome as a photo booth backdrop," she adds.