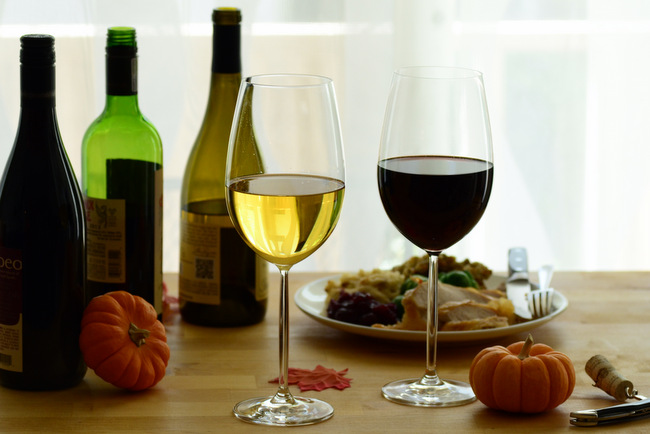 Thanksgiving dinner can feel a little extra, in the best possible way. There's the turkey, the stuffing, the side dishes and the cranberry sauce — not to mention the dinner rolls, cornbread, appetizers and desserts. With so much food, it's no wonder that choosing the right wine is a little complicated.

Of course, you need your wine to play nice with the star of the show — the turkey, in this case — but that's only one part of the equation. It's important to make sure that the wines (yes, plural) work with the entire meal, and not just part of it. Your best bet is to go with a bottle of both red and white.
Red Wines
Pinot Noir
At a glance: Classic light-bodied Thanksgiving wine that won't overpower your meal
Origins: Originally from the Burgundy region of France, now more widely spread
Flavors: Ripe red fruits (strawberry, cherry and cranberry); earthy elements (mushroom)
How to serve: At, or slightly below, room temperature
Extras: Look for budget-friendly bottles out of California and Oregon
Beaujolais
At a glance: Easy to drink, and light-bodied
Origins: Burgundy region of France
Flavors: Fresh and fruity with mild tannins (not too dry)
How to serve: Slightly chilled
Extras: Seasonality for the win: New crops of this wine are released on the third Thursday of November, just in time for Thanksgiving
Grenache
At a glance: Dramatic red that's bold and easy to drink
Origins: Spain, France, Italy, California, and more
Flavors: Herbs and spices (think cinnamon, pepper, oregano and tobacco); red fruit flavors
How to serve: Room temperature
Extras: If you accidentally buy too much, the leftovers make a killer sangria
White Wines
Chardonnay
At a glance: Popular white with wide range of flavors, available as oaked, or unoaked
Origins: Originally from Burgundy region, but now widely produced
Flavors: Unoaked is herbacious and acidic, great for cutting the richness of a big meal
How to serve: Chilled, then allowed to warm slightly (don't serve too cold)
Extras: Avoid oaked Chardonnays and test your wine before the meal: there's a lot of variety in this category
Riesling
At a glance: Dry rieslings are aromatic and not sweet with high acidity that contrasts well with heavy, flavorful meals
Origins: Germany
Flavors: Orchard fruits (think apples, peaches and pears) balanced with high acidity
How to serve: Just below room temperature
Extras: Not all rieslings are sweet! Look for dry rieslings to pair with your meal
Don't Forget Rosé!
At a glance: More white than red in character, with bright, acidic flavor
Origins: Depends on the bottle; can be made from a wide variety of grapes
Flavors: Varies, but generally dry with bright acidity, and pronounced red fruit notes
How to serve: Chilled
Extras: Consider serving a sparking rosé earlier in the day to go with cheese, crackers, and other nibbles
Dessert Wines
If ever there's a meal to pull out all the stops, it's Thanksgiving — so go ahead and bust out that dessert wine. A Late Harvest Chardonnay or Sauternes will do the trick nicely. While the tasting notes will vary from wine to wine, the common flavors of honeyed citrus, baked apple, vanilla and raisins go with pretty much anything you'll find on a Thanksgiving dessert table.
Just remember, sweet wines should be chilled and poured in relatively small portions due to their richness (you don't want a full glass of this stuff, trust us).
But what if you want to end the meal on a sparkling note? Go for a Moscato d'Asti, a sweeter sparkling wine. Avoid dry sparklers, which won't play as well with the fruit in most desserts.
How Much Wine Will You Need?
There's not really a magic answer here: how many people are coming over? How many people will drink wine? If you know your guests fairly well, you can probably get a pretty close guess. If you're dealing with strangers (or let's call them new friends!), anticipate about two glasses of wine per person for just the meal. If you think your guests will linger long before the meal or after, maybe grab an extra bottle or two.