Summer is a perfect time for painting flowers from life. Whether you sit outside in your own garden for a plein air session or grab a fresh cut bouquet from the farmers market, you have an opportunity to study the shape and color of individual flowers and their relationship.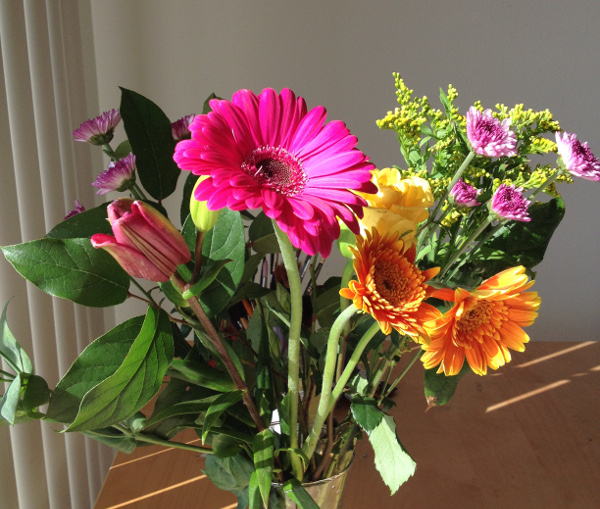 For this tutorial, I picked up some assorted flowers in varying shapes and colors. One of them, a pink gerbera daisy, is bigger and brighter than others, so it'll be easy to determine the focal point of the painting. 
Before we get started with the step-by-step tutorial, read over these crucial tips
Top tips for painting flowers from life
Make sure your flower arrangement has definite light and shade. The shadows will add dimension to your painting. Consider working with a limited palette to achieve color harmony.
Don't just copy the reality — you're free to play with the color and composition. Try to capture the shape and character of the flowers rather than focusing on individual petals and leaves. Don't miss a chance to tilt individual flowers at different angles and sketch them in various perspectives. Combine lost and found edges. 
When drawing flowers, look at them as simple geometric forms they represent. Note that flowers have depth. Some of them are cup-shaped, while others look like tubes or elongated spheres.
Keep it simple: paint from big to small.
Step-by-step tutorial for painting flowers from life
Materials
For this painting, I chose a tipped, medium-sized round brush and four colors:
Opera rose
Perylene maroon
Phthalo blue
Nickel azo yellow
Step 1: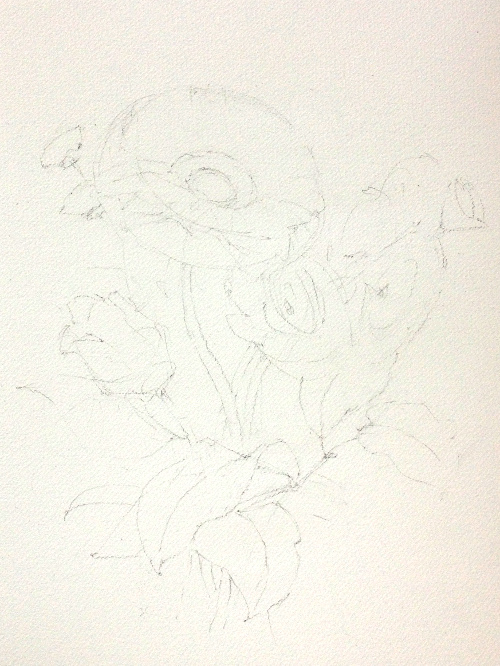 Study your flowers. Observe how they are lit. Examine the angles at which they are held, as well as the posture of the stems. Make a subtle preliminary sketch.
Step 2: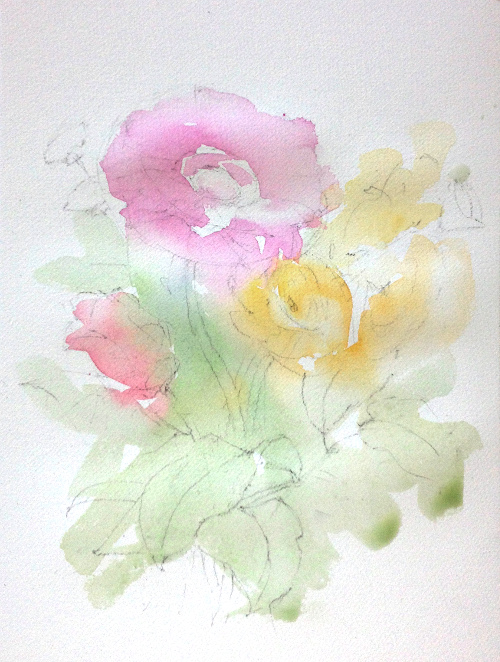 Do a light underwash of the main colors — some yellow, pink and green. Let the colors flow and mix on the paper. 
Note that with a bright light source like this, some parts of the flowers and leaves facing the light appear almost white. Determine those areas and don't touch them any more.
Step 3: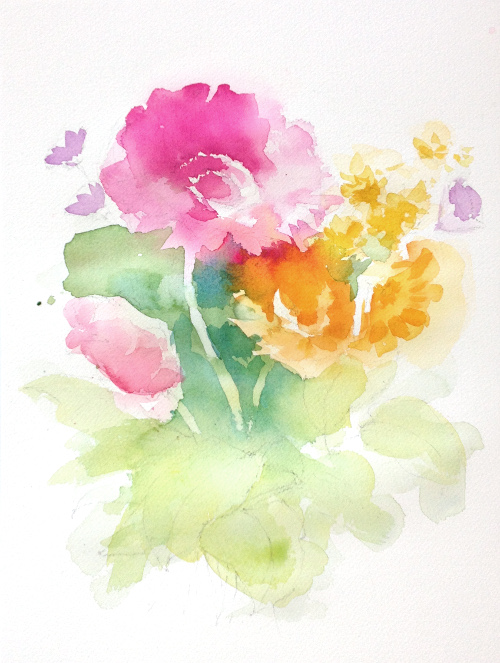 When the underpainting is dry, add some darker values to the shaded parts of the flowers. I used a mixture of perylene maroon and opera rose for pink gerbera daisy. For orange-colored flowers, add a bit of perylene maroon to yellow.
Next, use a negative painting technique to define the stems. Let this thoroughly dry before moving on to the next step.
Step 4: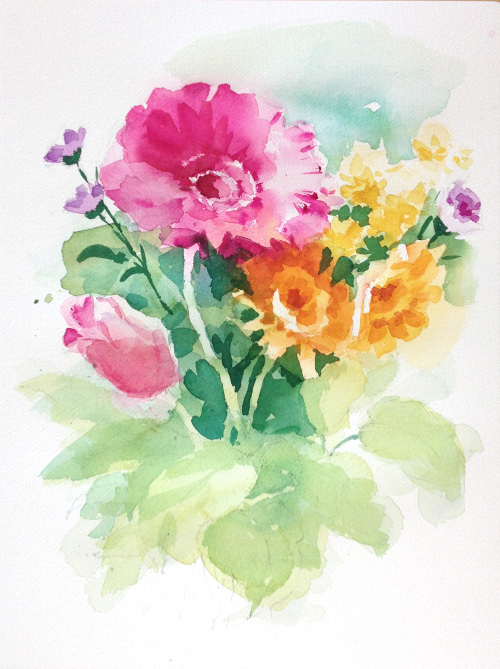 Add some darker shapes that suggest the stems and leaves in the depth of the bouquet. Avoid outlining the flowers and stems, and vary the direction and intensity of your brush strokes. Continue adding form shadows to the flowers. Paint a few thin stems and a watery background to define the outside shape of the yellow flower heads. 
Once again, dry thoroughly.
Step 5: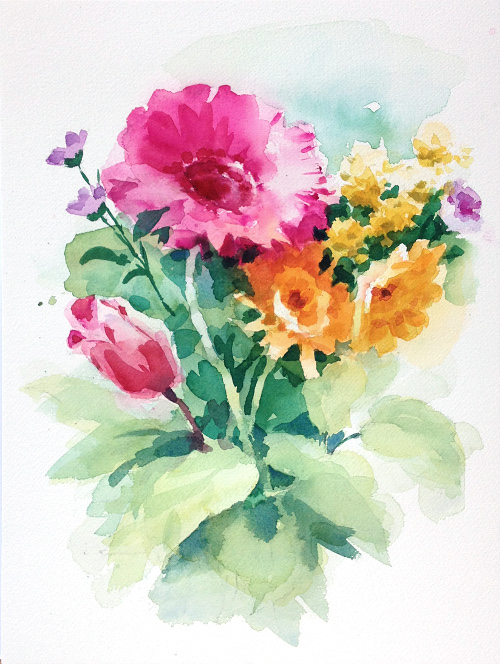 Paint the darkest glaze to emphasize the areas where you want the eye to look, and work on the remaining details and shadows on the foreground. There's no need to over-define the leaves — let your painting have a bit of mystery to it.
Add any last details to finish the painting.