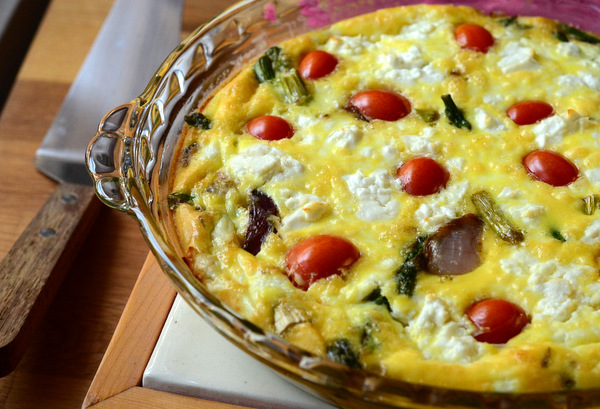 Create your brunch centerpiece with a baked frittata, an omelette-quiche hybrid that's healthy, crustless and oh-so-customizable. While most frittata recipes start on the stovetop, this method is even easier — just put your ingredients in a glass dish or pie pan, pop it in the oven and relax with your morning coffee.
Asparagus, Tomato, Pancetta and Feta Cheese Frittata
Yield: serves 4-6 people
Ingredients
3 ounces cubed pancetta or chopped bacon
1 tablespoon olive oil
2 cups chopped asparagus
½ cup chopped red onion
6 large eggs
¼ cup heavy cream
1 cup small cherry tomatoes
½ cup feta cheese
Salt and pepper, to taste
Pro Tip: For a vegetarian version, leave out the pancetta. If you want to go meat-heavy, add chopped, cooked breakfast sausage to the mix.
Instructions
1. Preheat your oven to 350 F. Lightly grease a 9-10″ pie plate and set aside.
2. In a large skillet, combine pancetta and olive oil. Cook over medium heat for 3-5 minutes, until browned. Add in the asparagus and onion and cook for 3-4 more minutes, until vegetables just begin to become tender. Remove from heat and transfer vegetables into prepared pie plate.
3. In a large bowl, whisk together eggs and heavy cream until well-combined. Pour over vegetables in pie plate.
4. Arrange and sprinkle feta cheese generously over the top of the egg mixture.
5. Gently arrange tomatoes in the egg mixture. Smaller tomatoes are better than large ones for this dish, though you can always chop large tomatoes and arrange just like the small ones.
6. Bake for approximately 30 minutes, until the frittata is lightly browned around the edges and set in the center.
Let cool for 10 minutes before serving, but serve warm.