A frittata is a wonderful brunch dish that's always a hit with family and guests. This crustless dish is baked whole and sliced to serve — making it the perfect healthy hybrid between omelette and quiche. The name derives from the word "fried," however there are better ways to cook up a frittata than slaving over a hot stove first thing in the morning.
This Oven-Baked Frittata recipe showcases an easy method of making a fantastic egg dish, ideal whether you're entertaining or simply want something special on an easy Sunday morning.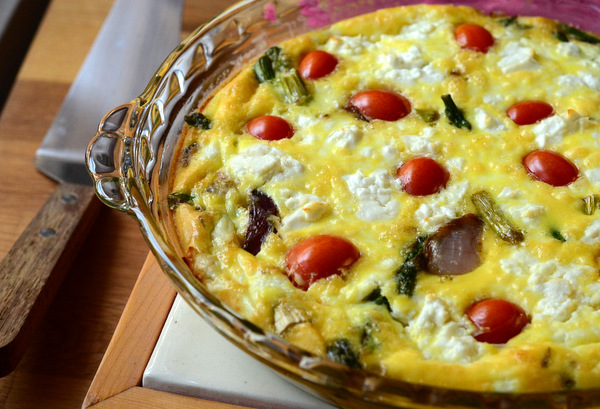 Most frittatas start on the stovetop. Some are cooked start to finish on top of the stove, while others are transferred to the oven for part of the cooking time. The first method requires a lot of hands-on cooking time while you wait for the thick egg dish to cook all the way through. The second method requires both a fair amount of hands-on time and a pan that can be placed directly into the oven, which is something that not everyone has on hand.
This version, however, is even easier. You can assemble almost any combination of ingredients that you have on hand (even leftovers!), pour everything into a pie pan and wait for it to cook in the oven while you relax. It couldn't be any easier.
Plus, it contains some of my favorite spring flavor combinations: asparagus, red onions, tomatoes, pancetta and feta cheese. The cheese and pancetta add a nice saltiness, while the veggies intensify in flavor while they bake.
Chef's tip:
For a completely vegetarian version, you could leave out the pancetta. For an even meatier version, you could mix in chopped, cooked breakfast sausage along with the pancetta or bacon.
Asparagus, Tomato and Pancetta with Feta Cheese.
Serves: 4-6 people
Ingredients:
3-oz cubed pancetta or chopped bacon
1 tbsp olive oil
2 cups chopped asparagus
1/2 cup chopped red onion
6 large eggs
1/4 cup heavy cream
1 cup small cherry tomatoes
1/2 cup feta cheese
salt and pepper, to taste
Step 1:
Preheat your oven to 350 F. Lightly grease a 9 or 10-inch pie plate and set aside.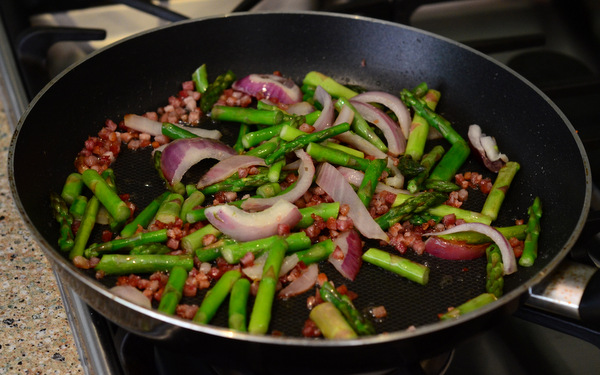 In a large skillet, combine pancetta and olive oil. Cook over medium heat for 3-5 minutes, until browned. Add in asparagus and onion and cook for 3-4 more minutes, until vegetables are just begin to become tender. Remove from heat and transfer vegetables into prepared pie plate.
Step 2:
In a large bowl, whisk together eggs and heavy cream until well-combined. Pour over vegetables in pie plate.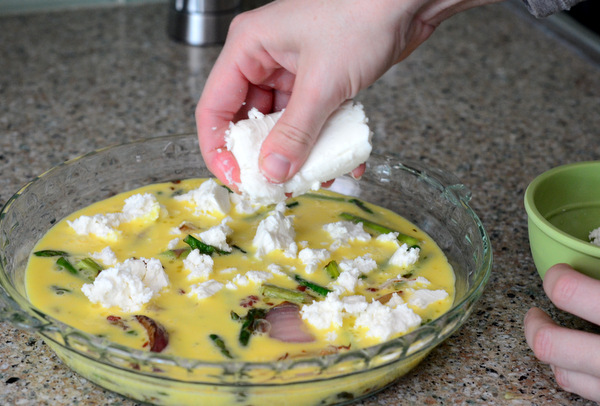 Arrange sprinkle feta cheese generously over the top of the egg mixture.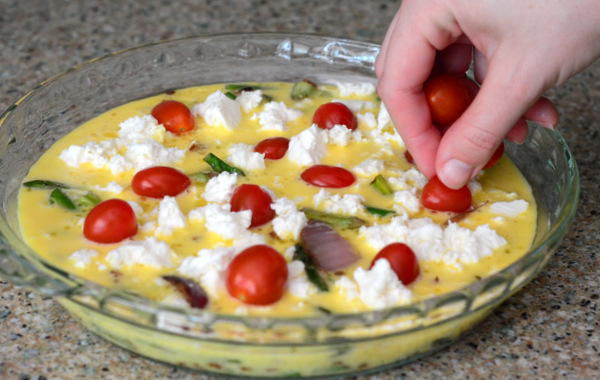 Gently arrange tomatoes in the egg mixture, as well. Smaller tomatoes are better than large ones for this dish, however if you have large tomatoes you can chop them up and arrange them just like the small tomatoes.
Step 3:
Bake for approximately 30 minutes, until the frittata is lightly browned around the edges and set in the center. Allow to cool for 10 minutes before serving. Serve warm.