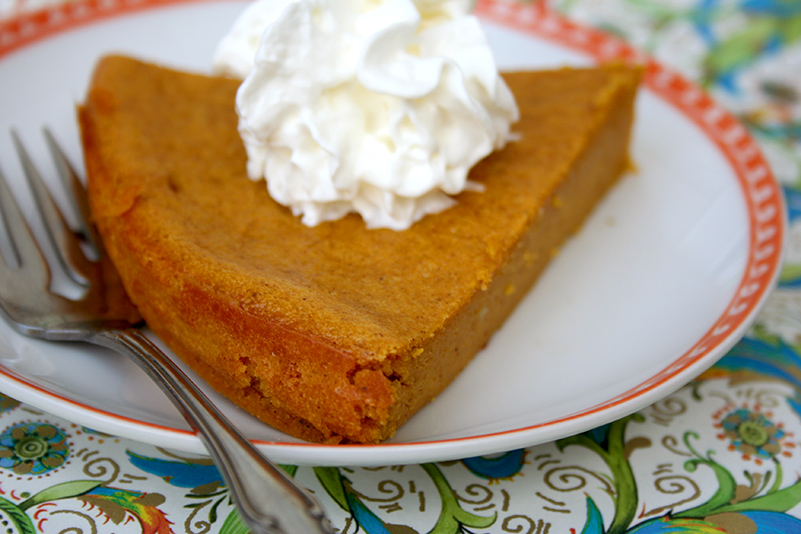 Some pie eaters are all about the crust, while others live for the flavorful fillings. If you're in the latter camp — or you just want to lighten up dessert after a heavy Thanksgiving meal — this no-crust pumpkin pie is for you.
With this recipe, you'll essentially make a traditional pumpkin pie, just with a little extra flour and baking powder. Both help form a natural crusty edge around your dessert, making it sturdy enough to stay upright and easy to cut and serve. Dig in!
No-Crust Pumpkin Pie
Yield: 1 pie (8 servings)
Ingredients
½ cup all-purpose flour
1 teaspoon baking powder
15 ounces pumpkin puree (homemade or store-bought)
1 can (14 ounces) sweetened condensed milk
2 tablespoons unsalted butter, melted and slightly cooled
1 teaspoon vanilla extract 
2½ teaspoons pumpkin pie spice 
¼ teaspoon salt 
2 large eggs, room temperature 
Instructions
1. Preheat your oven to 350 F. Generously grease a pie pan or a 9″ springform pan.
Good to Know: This recipe can be made in a traditional pie pan, but a springform also works. It'll allow you to enjoy the pretty crust-free edges of the pie, and can make serving super easy. Use whichever you have on hand.
2. In a small bowl, sift together the flour and baking powder. Set aside.
3. In the bowl of a stand mixer fitted with the paddle attachment, combine the pumpkin puree, sweetened condensed milk, melted butter, vanilla extract, pumpkin pie spice and salt. Mix on medium speed until the mixture is creamy and free of lumps.
4. Add the eggs and beat on low speed until fully incorporated.
5. Add the flour mixture and mix on low speed until the mixture is smooth. Scrape the sides of the bowl with a rubber spatula if needed.
6. Pour the mixture into your prepared pan. Bake for 35-50 minutes, rotating the pan after about 20 minutes.
Pro Tip: The baking time is a large range because different types of sweetened condensed milk bake at different speeds. You'll know that your pie is done when it has a matte finish, set edges and just a little jiggle in the middle.
7. Remove the pie from the oven and let cool on a wire rack to room temperature. Wait until the pie is completely cool before putting in the refrigerator to prevent "sweating" or condensation. Keep the pie refrigerated until it's ready to serve.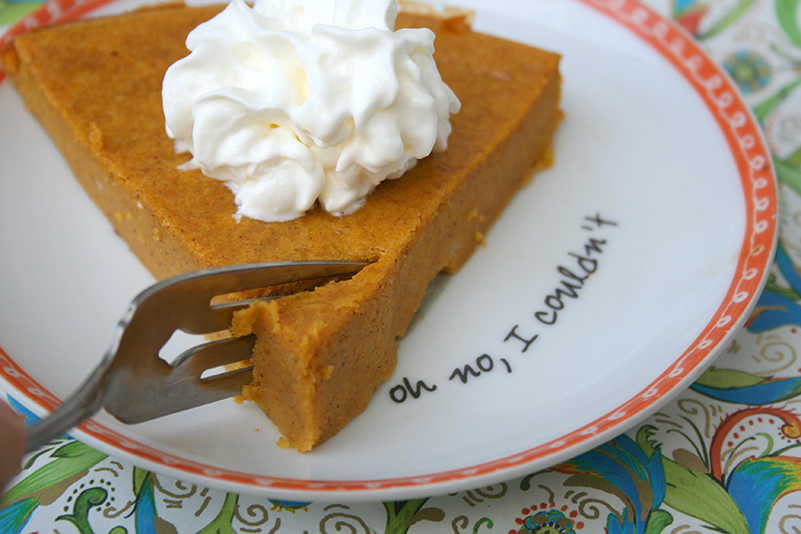 Serve in wedges (as you would a traditional pumpkin pie) and, if desired, topped with whipped cream.
Photos via CakeSpy