Crochet patterns for newborns are among the sweetest and cutest of all crochet patterns. A cute, tiny hat is perfect for a handmade baby shower gifts, and it's guaranteed to elicit a resounding "awwwww" from fellow shower guests. We've rounded up some links to patterns for our favorite designs.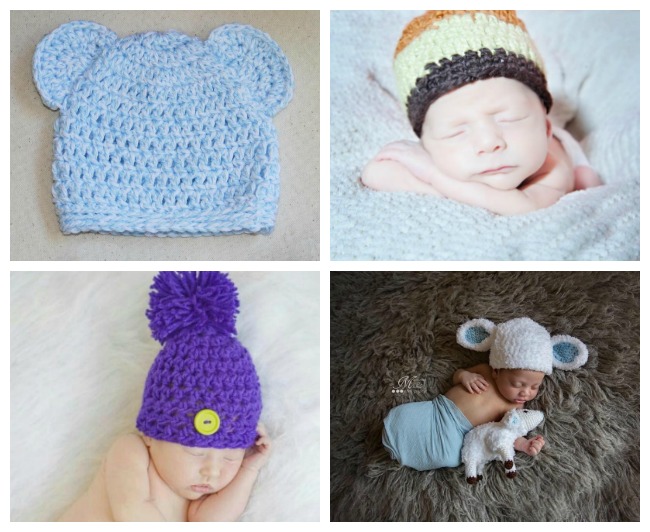 Stitch one of these adorable newborn crochet hat patterns.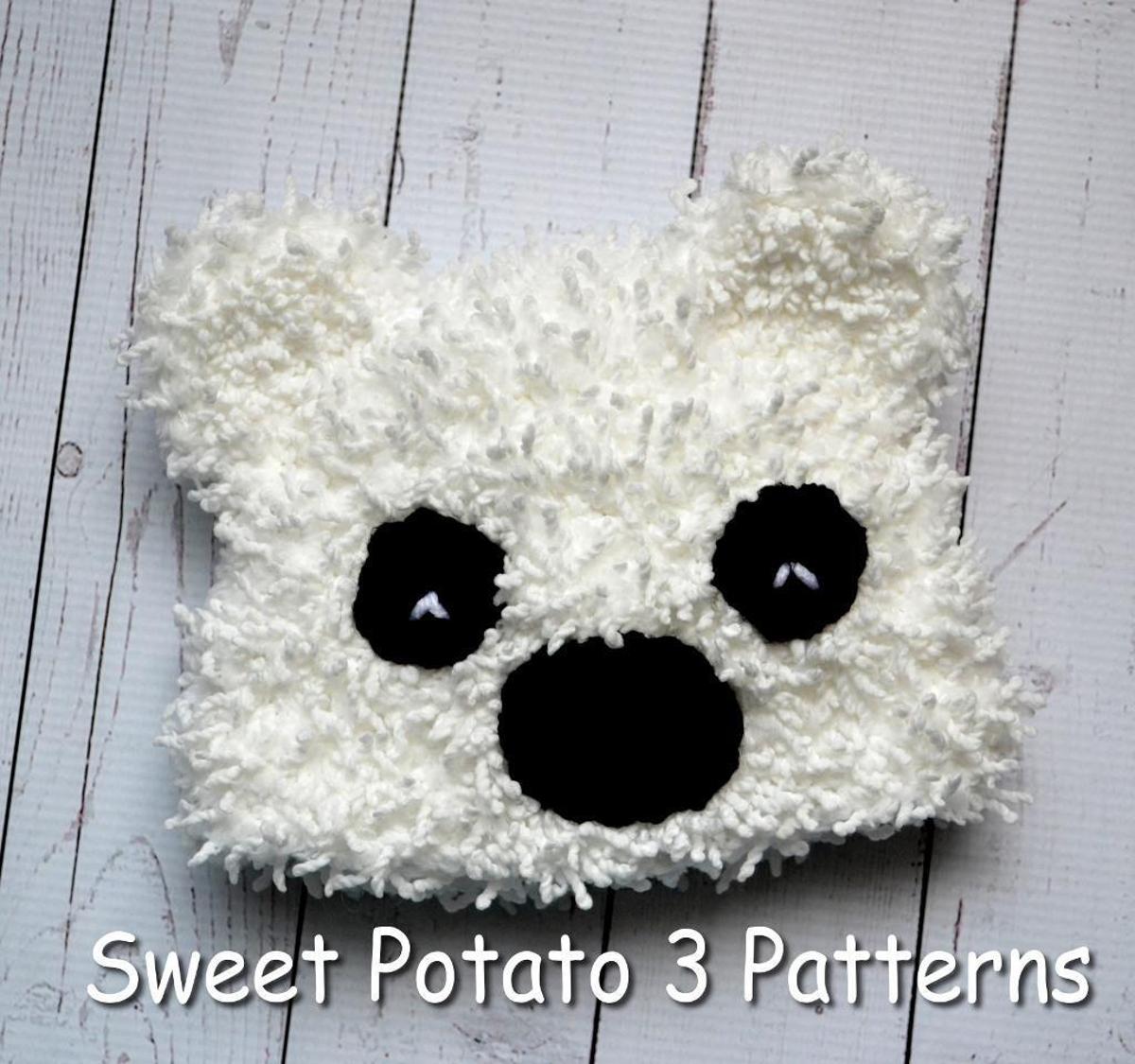 Photo via My Sweet Potato 3
1. Cuddly Polar Bear Newborn Hat
This unique yarn is cute and fuzzy, sure, but it's also super warm. It's ideal for newborns who are going to be out and about in freezing temperatures. You can use scrap yarn for the eyes and nose, and you can even change up the colors for a less traditional-looking bear.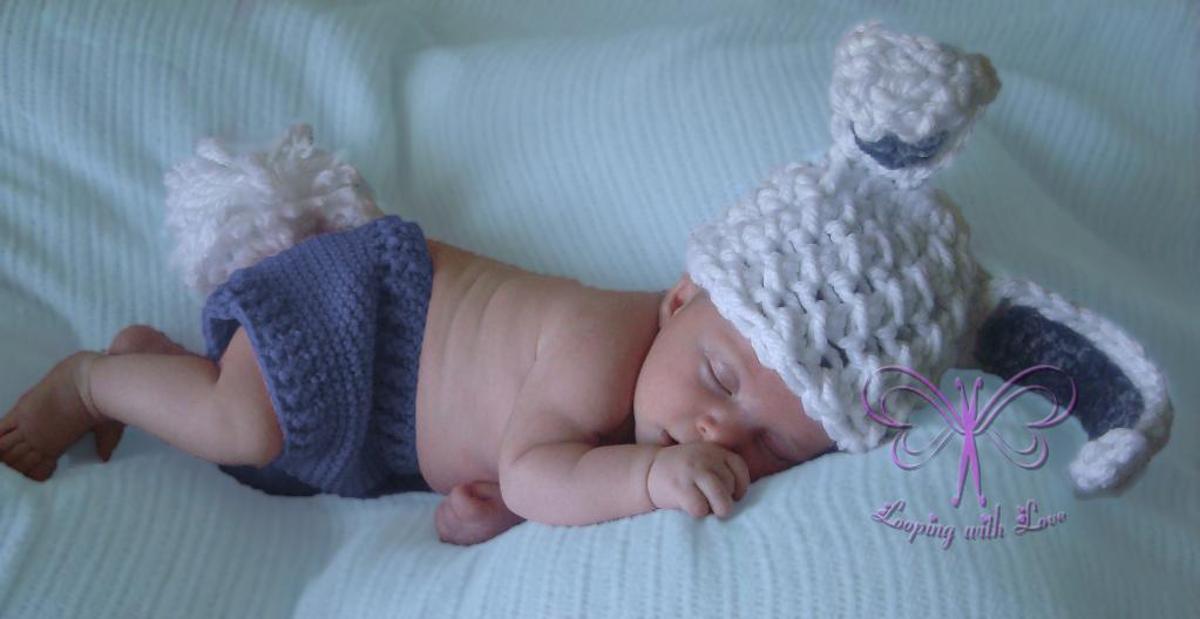 Photo via Looping with Love
2. Some Bunny Loves Me Beanie
This hat fits babies newborn to 6 months old. The super bulky yarn paired with a P hook means you'll stitch it in no time. If you don't have any super bulky yarn, you can also use worsted-weight yarn held double.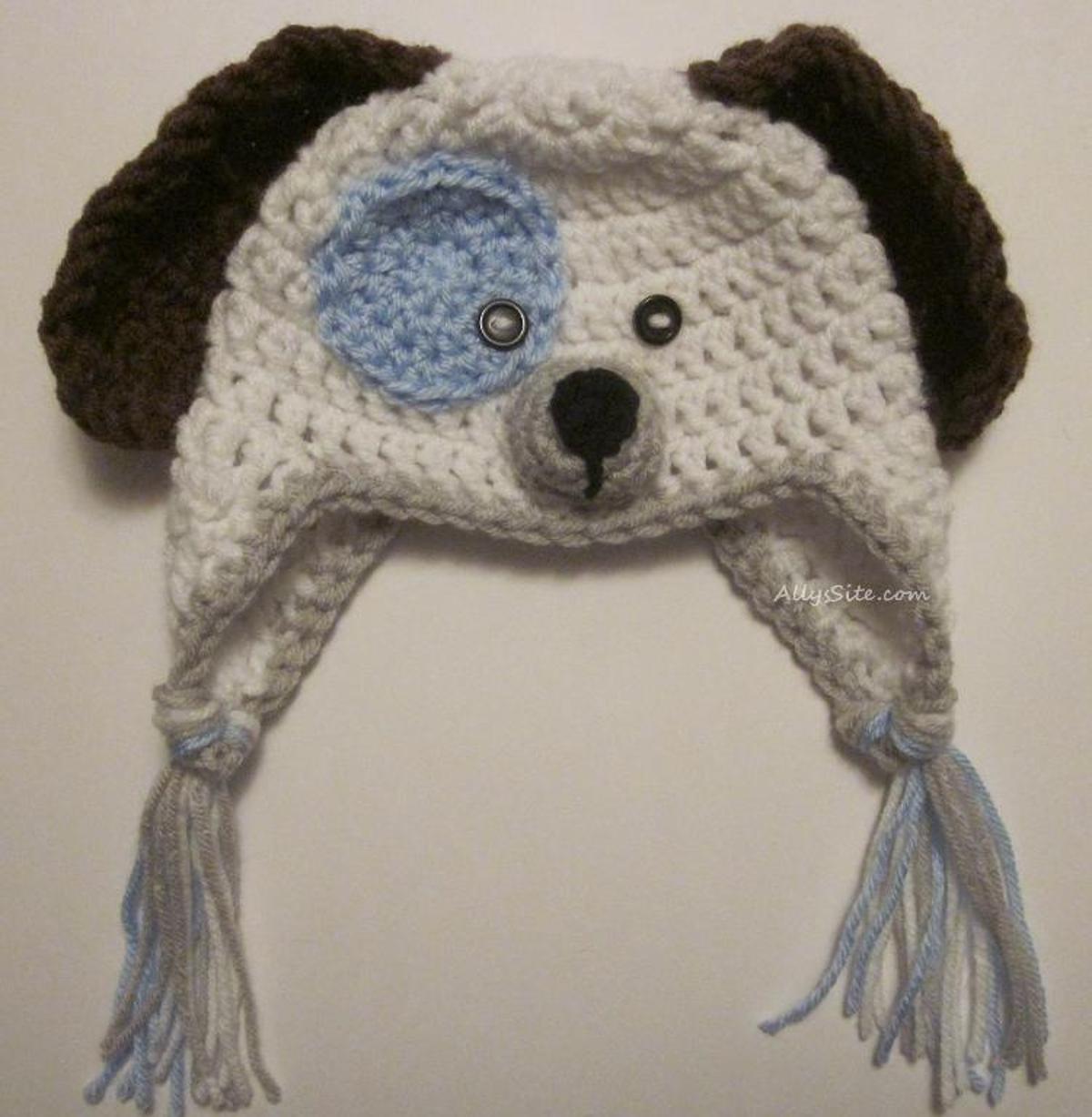 Photo via Crochet Photo Props Pattern Shop
3. Crochet Puppy Dog Hat
This hat was designed to be used as a photo prop, but the hat also does a great job of keeping baby's head and ears warm when it's chilly, thanks to those cute ear flaps. Scrap yarns can be used for the smaller features of the dog, like the ears and the eye patch.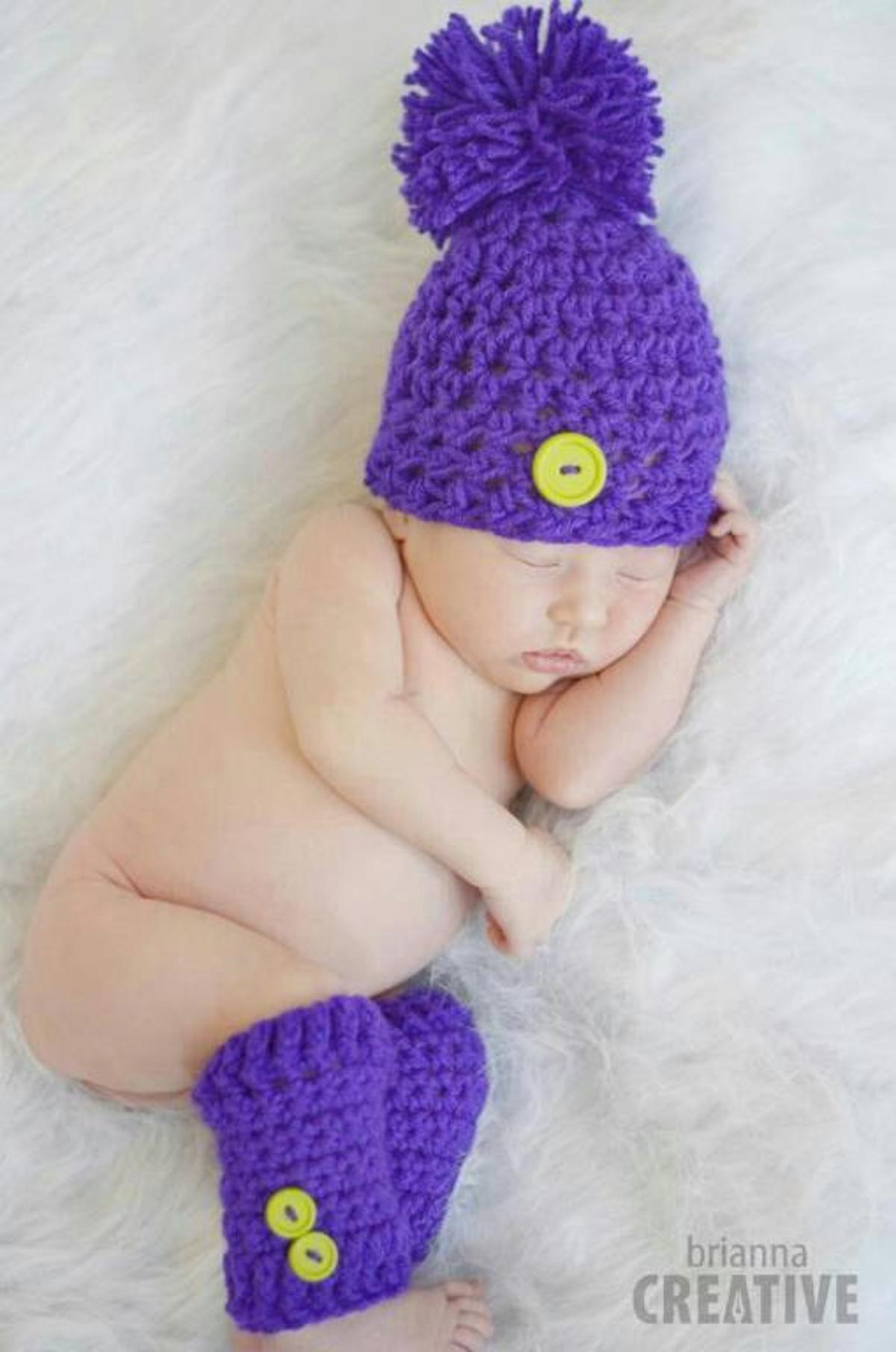 Photo via B.hooked Crochet
4. Newborn Button and Lace Hat
In addition to the cute hat with a pom-pom almost as big as the baby, this pattern set comes with a simple pattern for leg warmers. Just add a few buttons for a finishing touch!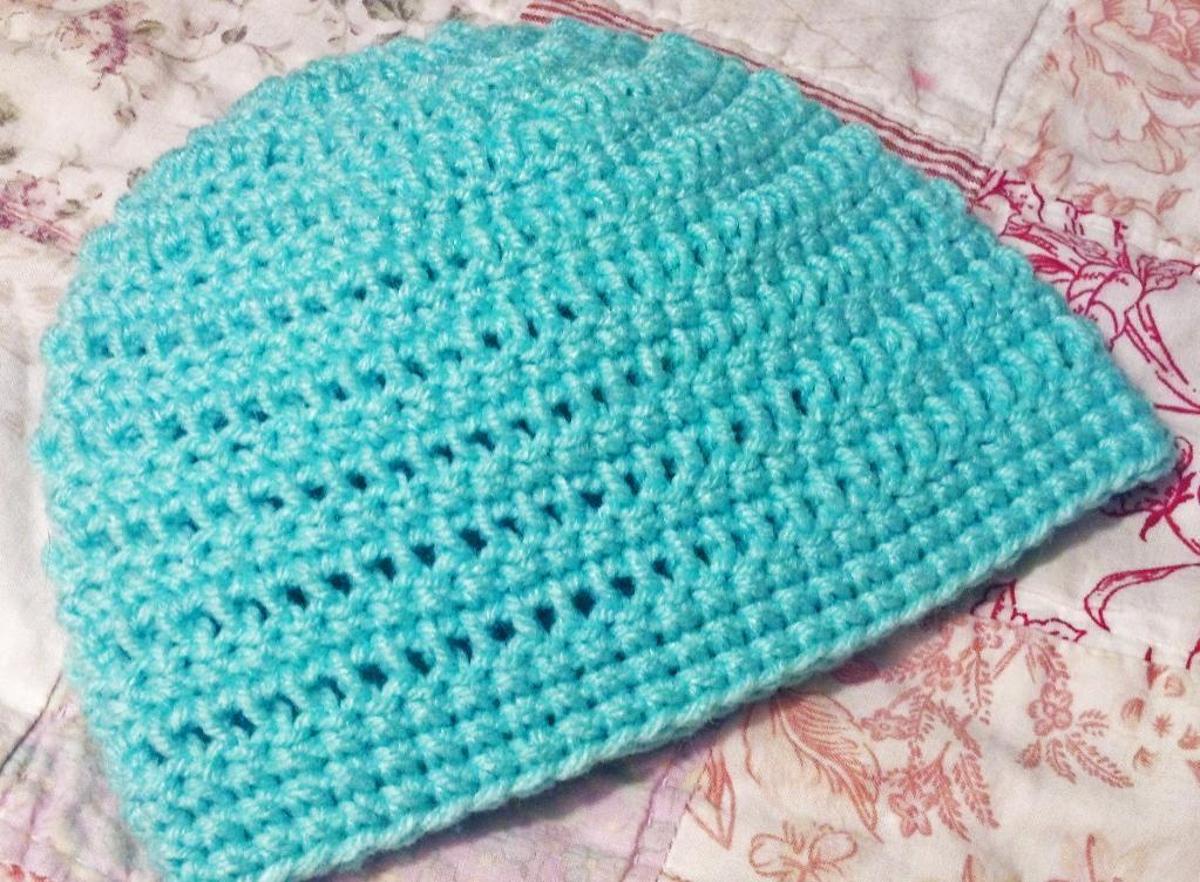 Photo via Mama Bear
5. Simple Baby Hat/Beanie
Even beginner crocheters can create newborn hats. This hat pattern is simple as can be: You only need to be familiar with single and double crochet to stitch it. According to the designer, this hat can be stitched in about half an hour, making it a perfect last-minute gift.

–> <!–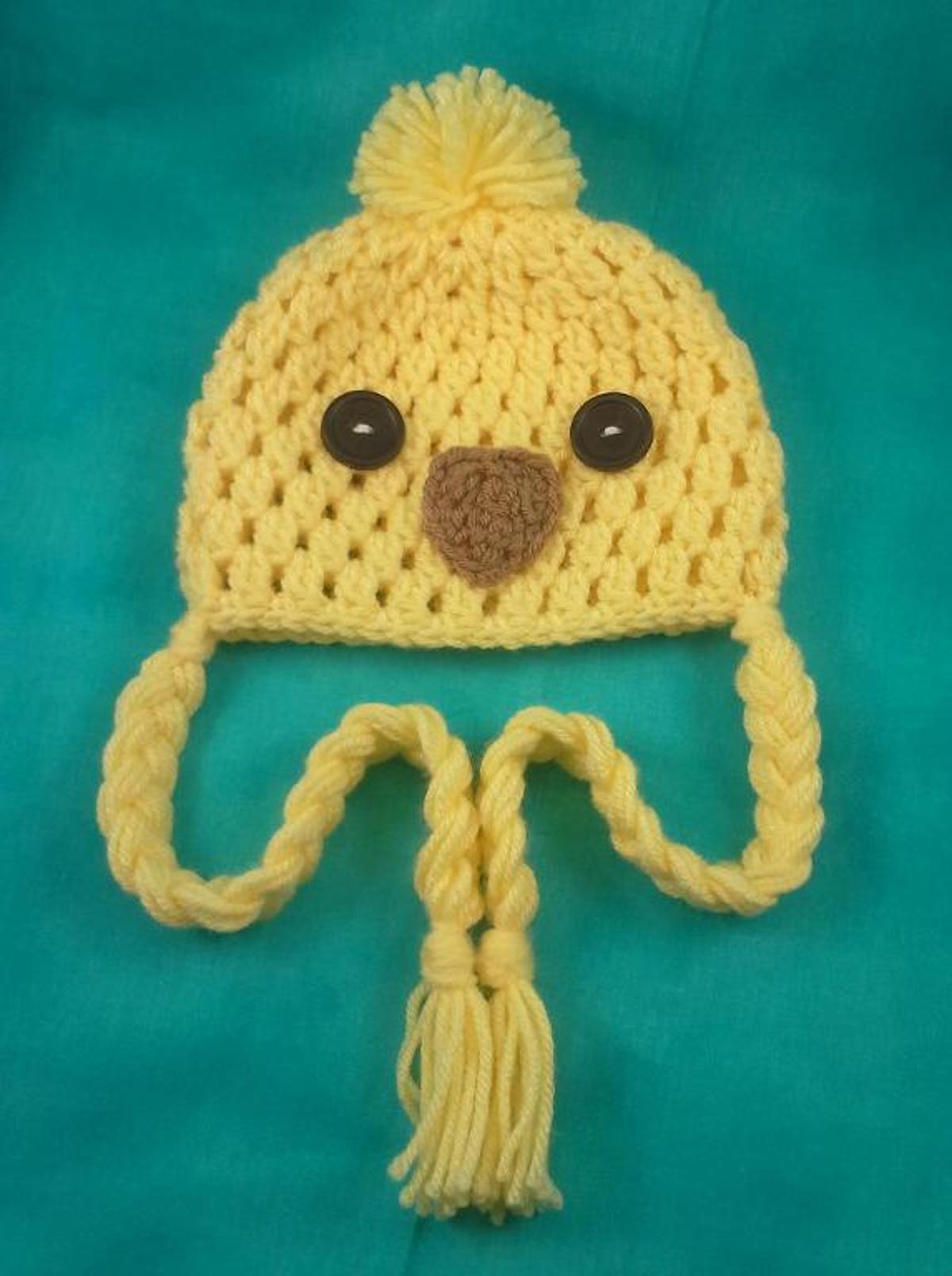 Photo via Treasures & Trinkets by Tiffany
5. Newborn Baby Chick Hat
Know someone who's expecting a spring baby? This hat would be the perfect gift. If you're concerned about the baby grabbing or pulling on the button eyes, we suggest stitching crochet circles for eyes instead. Check out our tutorial on how to crochet a flat circle here.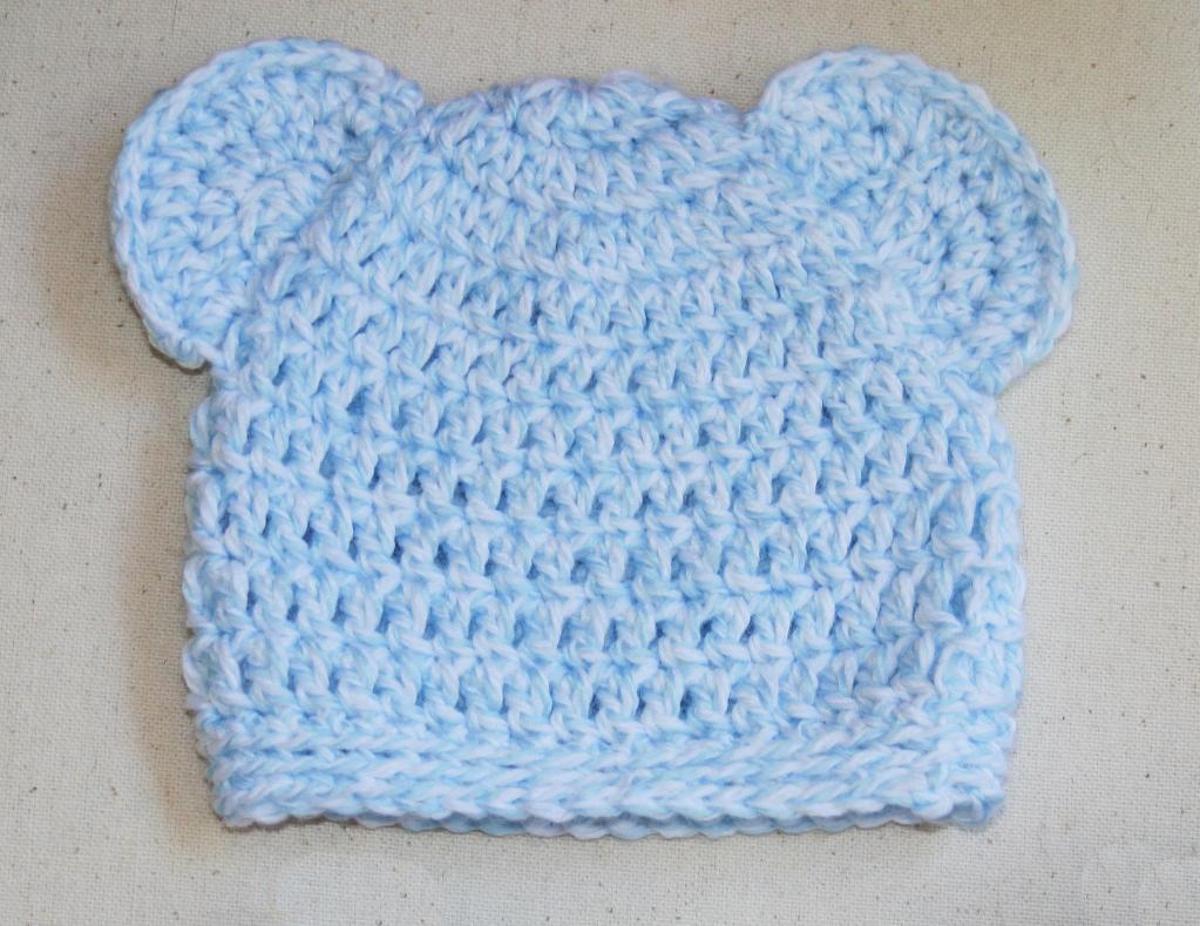 Photo via Tampa Bay Crochet
6. Newborn Baby Bear Hat
Maybe you want to make a cute animal hat without all the extra embellishments. This cute hat is simple but still gives a nod to the animal kingdom thanks to the adorable ears. The edge has stretchy ribbing, ensuring that the hat is super comfortable on baby's head.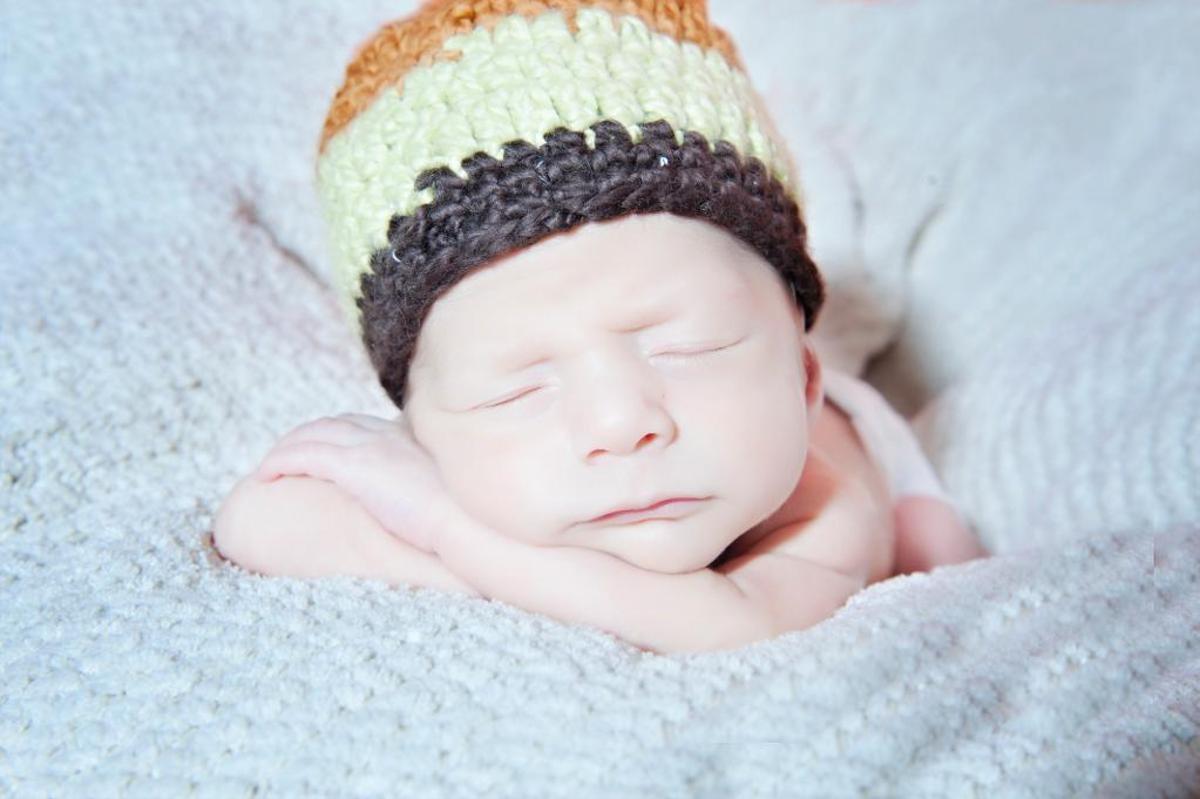 Photo via DaisiesCrochet
8. Baby Beauty Hats
Two different sizes are included for these simple yet precious hats. This is a good opportunity to play around with color, whether you want to stitch a pretty new hue you saw in the yarn store or just try out a color combination you've been thinking about.

–> <!–
Photo via Bella Bean's Crochet
9. Newborn Granny Stitch Hat
This hat matches perfectly with a granny square baby blanket. You can add little embellishments to the hat, too. Check out the designer's other photos to see an example of that plus inspiration for different color combinations.

–> <!–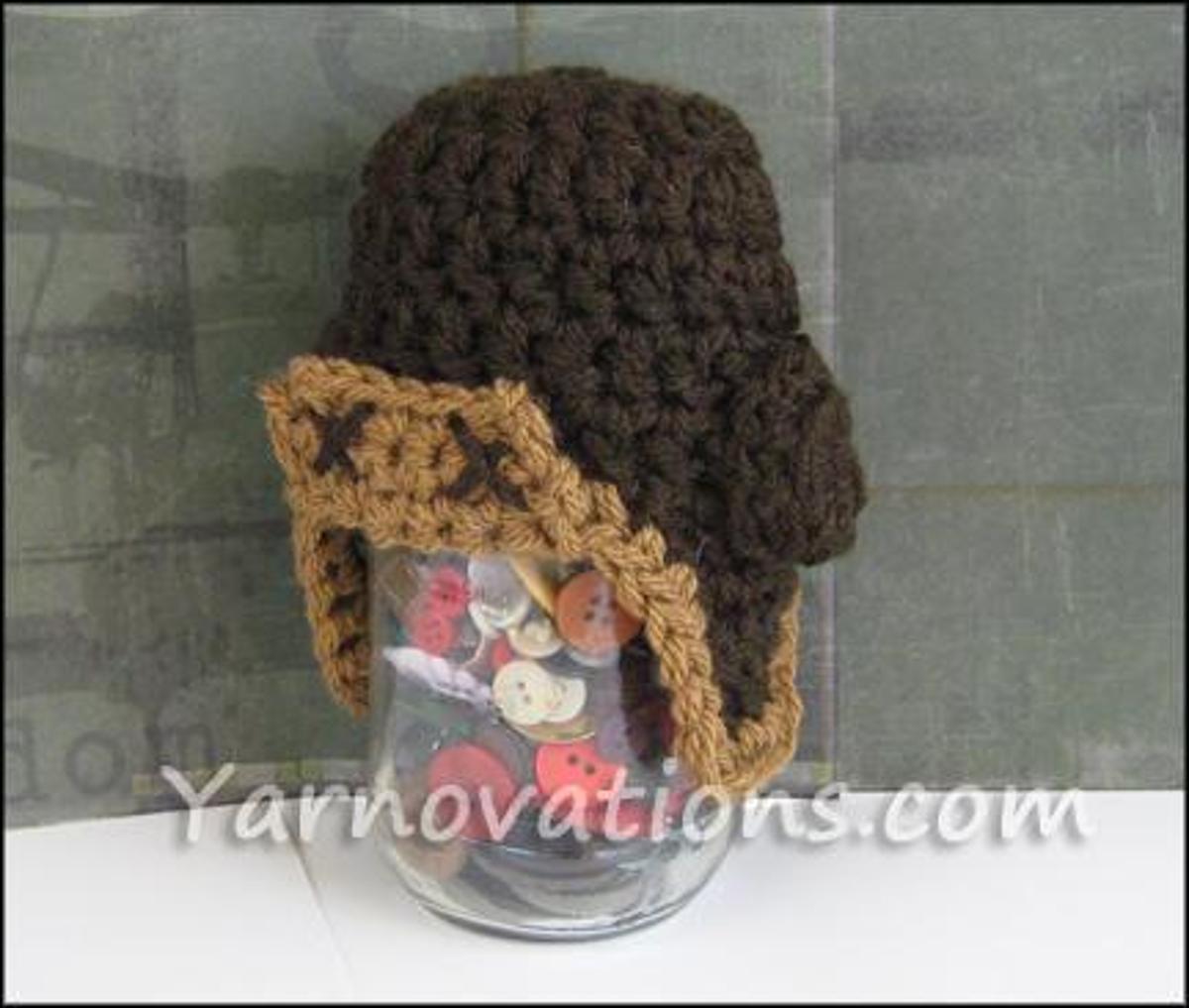 Photo via Yarnovations
7. Newborn Aviator Hat
Here's another option for keeping baby's ears super warm. If you want to give even more handmade, check out the designer's matching adult version with goggles so that parents and baby can be aviator twins!
Photo via AMKCrochet
8. Newborn Lamb Hat with Matching Plush Toy
This sweet little hat comes with instructions for a matching lamb toy. The main body of the hat is worked up in a bulky yarn, so you'll complete the project in no time. The designer warns that it's a bit difficult to see the stitches in this type of textured yarn, so it's recommended for intermediate crocheters.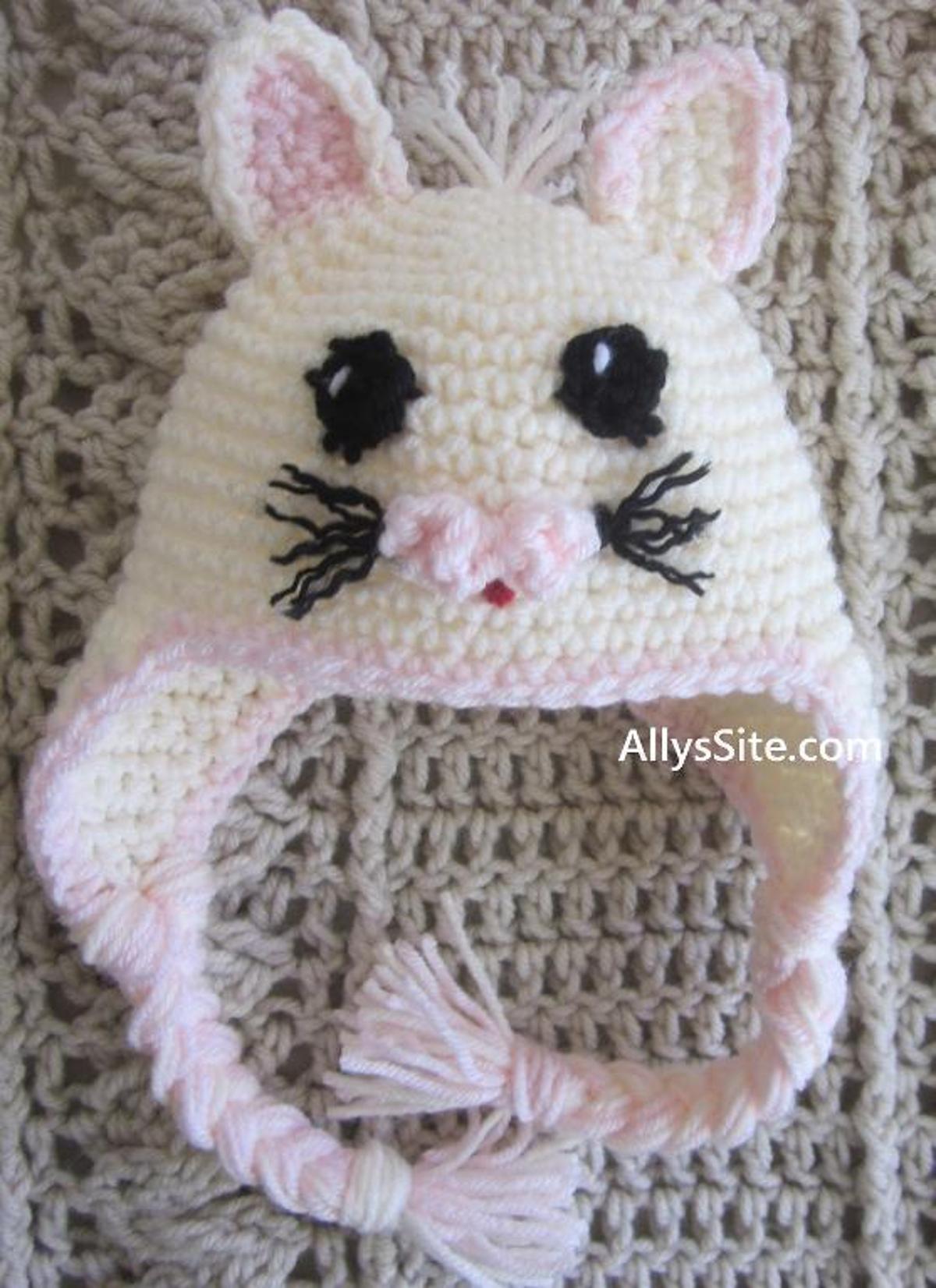 Photo via Crochet Photo Props Pattern Shop
12. Crochet Kitty Cat Hat
The facial features for this kitty are crocheted separately and then sewn on, so it's super safe for babies. The features are also a great way to use up even your tiniest scraps of yarn, so check your stash before you buy supplies for this cute topper.

<!–
Get Started With Crochet Today
Learn how to crochet a chain, single crochet & double crochet.Get My FREE Guide »
Free Bag-Making Sewing Class!
Learn how to make a stylish reversible tote & zipper pouch.Enroll FREE Now »

–>