Have you ever shopped for a mid-arm quilting machine? If you don't have the budget or the space in your home for a longarm quilting machine, but want to upgrade from quilting projects on your domestic sewing machine, a mid-arm quilting machine may be just the answer for you!
Priced in the general range of $5,000 to $10,000 new, mid-arm quilting machines have a few differences from both longarm machines and home sewing machines.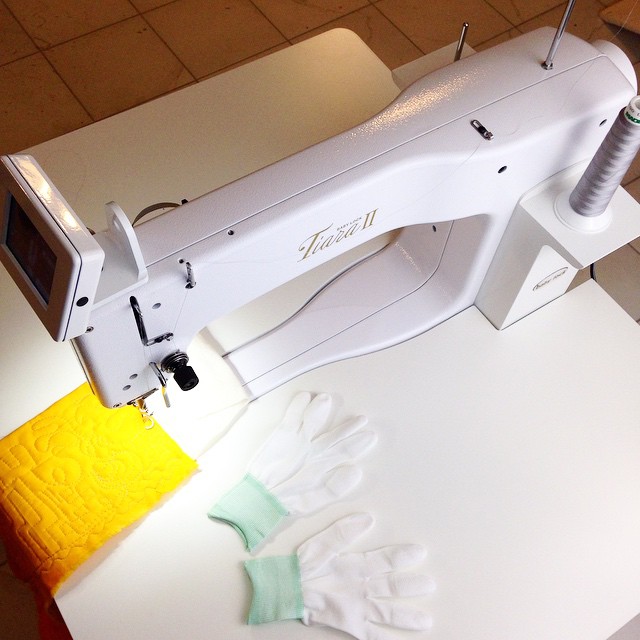 Specifically made for quilting
Home sewing machines have many functions, from straight and zigzag stitches to button holes and even specialty stitches. But mid-arm and longarm quilting machines are made specifically for quilting. Many mid-arm machines come with their own table, and the sole purpose of the machine is to do free-motion quilting. Mid-arms can also be called sit-down longarm machines, because you typically sit at the table to do your quilting.
Generous throat space
In my research, mid-arm machines have somewhere in the range of 16″ to 22″ of throat space, which is two or three times as much as many home sewing machines. There is also a generous amount of vertical quilting space, which allows you to easily maneuver any size quilt, from a lap to a king, under the needle. This is a very attractive feature of mid-arm quilting machines.
Stationery needle
Unlike a longarm machine, where you move the needle over the quilt, mid-arm machines allow you to freely move the quilt under a stationery needle. This takes some getting used to, but quilters who are used to finishing projects on their home machine already have experience with this.
Front-on or sideways orientation
Mid-arm machines can be situated in one of two ways. When the neck is positioned in such a way that the quilter is looking at the needle straight on, the machine's body is perpendicular to the quilter. This orientation is more similar to a longarm machine and more ideal for quilting large projects, because the entire workspace is visible right in front of you. This is different from home sewing machines, in which you must do quilting with the machine sitting sideways.
Two bobbin sizes
Mid-arm quilting machines can come with two options for bobbin sizes. The L-size bobbin is the same size used in a standard home sewing machine, while the M-size bobbin holds about three times as much thread and is found on many longarm machines. Which is better? While the larger bobbin needs to be changed less often, a smaller bobbin can be better for detailed quilting work. Mid-arm machines typically come with the bobbin located under the table, so you don't have to remove the quilt to change a bobbin.
Optional stitch regulation
Stitch regulation is an option on many mid-arm quilting machines, from the Baby Lock Tiara II to the Handiquilter Sweet Sixteen. This allows for more speed control and accurate stitching. Although you can find stitch regulation on longarms and even some home sewing machines, this add-on is something that many quilters choose to do without, preferring to let their own rhythm determine the outcome of the stitches. Stitch regulation modules may add around $1,000 to the price of a mid-arm quilting machine.
Other features
Additional bells and whistles on today's mid-arm quilting machines range from color touch screens to powerful motors that stitch up to 1,500 times per minute. A needle up-down button is a popular feature, as are additional feet to aid with quilting visibility. Besides those we've already mentioned, some mid-arm machines on the market include the APQS George, the Gammill Charm, and the Pfaff Powerquilter 16.0.