It's taco night! Tonight we're putting away the meat and instead we're digging into the crisper. That's right, meatless tacos! 
I'm certain my husband wouldn't cap that last sentence with an exclamation point but hear me out. I love steak, pork and fish tacos and they too have their place at our table but sometimes vegetables, beans and grains win out and I assure you they are just as festive and satisfying.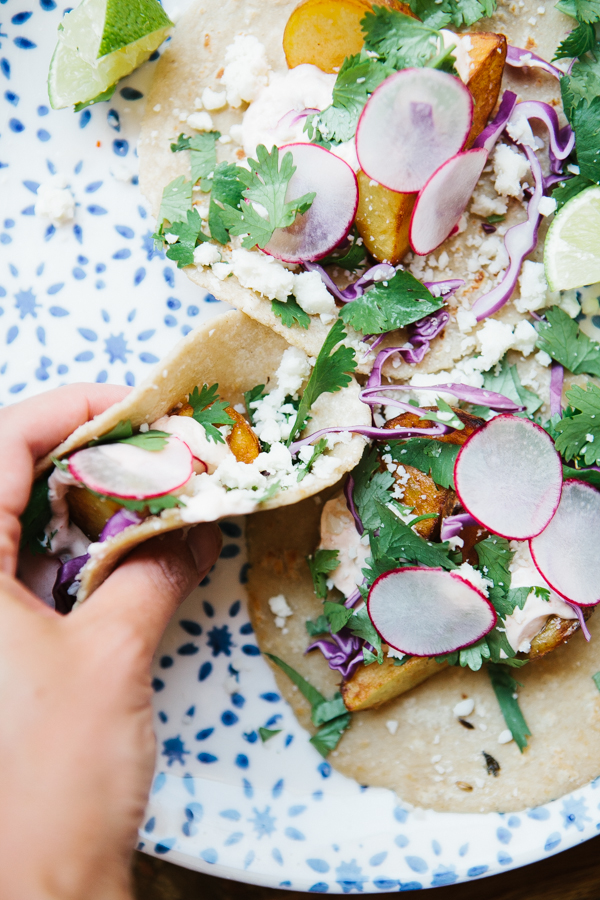 1. It's all about the sauce!
That is my latest kitchen motto and it could not be more true when it comes to meatless tacos. Even simple pan-fried vegetables get a kick with a flavorful sauce. Blend up a fresh salsa, add chunky guacamole or simply chop up a chipotle pepper for a real kick.
Taste your sauce often and add just a bit more lime, heat and salt than you normally would. When you blend it with your meatless filling and tortilla it will all balance out. With a flavorful sauce your taco will sing, with or without meat.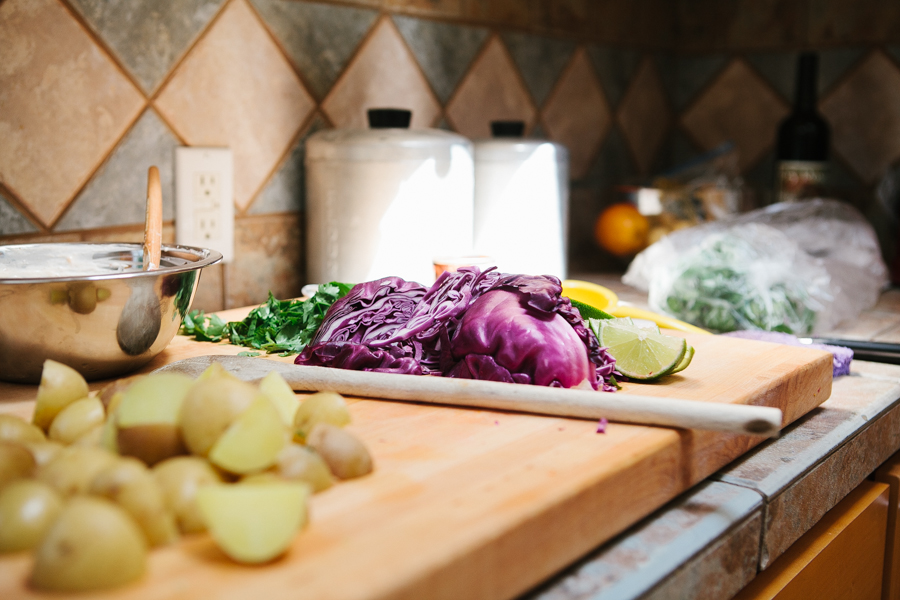 2. Keep it fresh
Finish your taco with a bit of freshness like thinly sliced radishes, fresh cilantro, cabbage and lime. That fresh crunch will give your taco loads of flavor and great texture. 
3. Stick to what's in season
To get maximum flavor out of your vegetables cook what's in season. Buying fresh and local gives your taco a great flavor boost as freshly plucked produce still maintains its natural sweetness. Grilled or pan-fried zucchini tacos in the summer with a tomato and corn salsa?
These potato tacos won't have you missing the meat one bit. Crisp potatoes are smothered in a creamy and spicy sauce then topped with fresh lime, cabbage, cilantro and radish. Crumbled cotija adds a nice salty bite.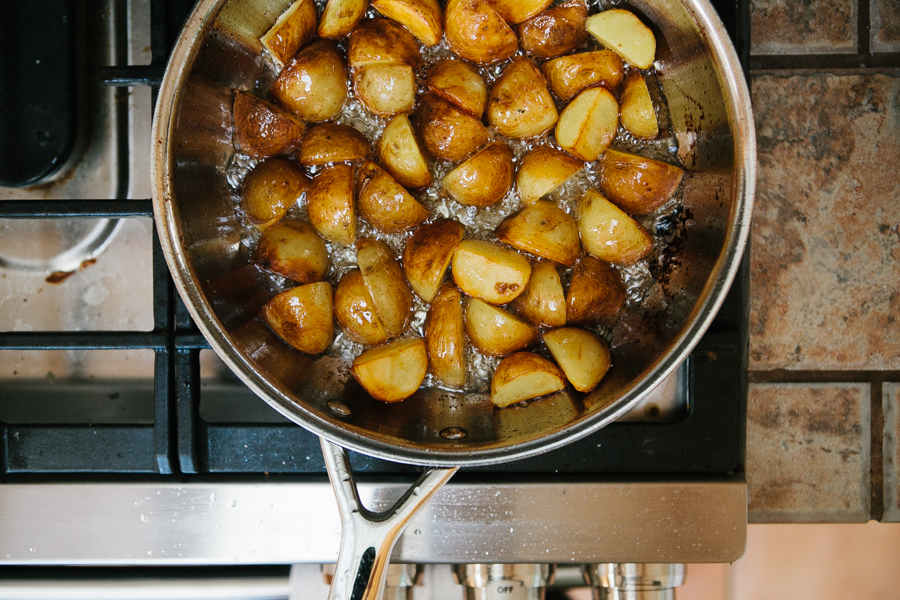 Crispy Potato Tacos with Chipotle Cream
Serves 6 to 8
1 pound baby new potatoes
3 tablespoons oil
1/2 teaspoon cumin seed
1 cup sour cream
1 chipotle in adobo, finely minced
Juice from 1 lime
1/2 tsp garlic powder
1/2 tap onion powder
Pinch salt
12 – 16 corn tortillas
For serving:
Thinly sliced cabbage
Thinly sliced radish
Crumbled cotija
Fresh cilantro
Step 1:
Boil the potatoes in salted water until tender. Drain and cool slightly then cut the potatoes into quarters.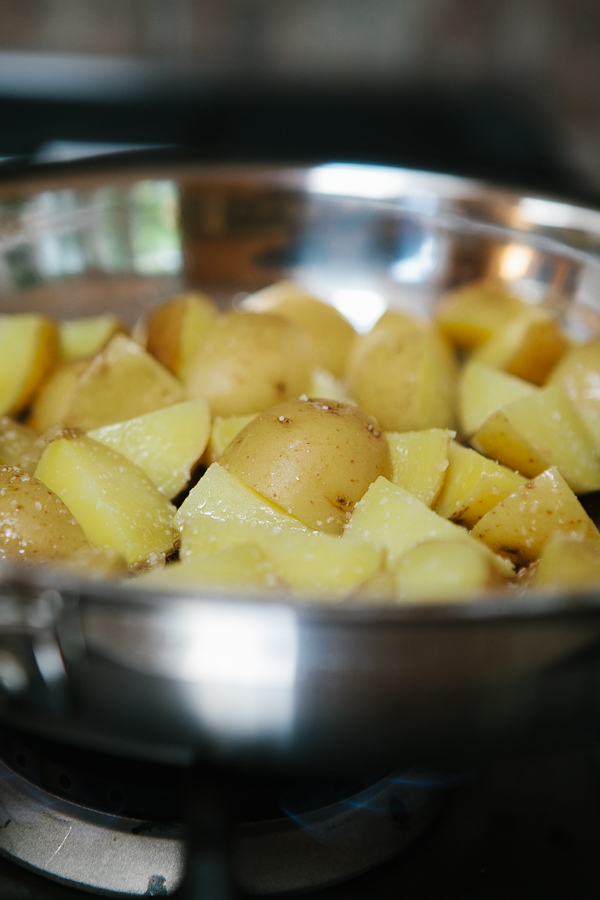 Step 2:
In a large skillet add 3 tablespoons oil to a pan and heat until shimmering. Carefully add the potatoes and cook until crisp, about 5 to 7 minutes. Stir them around occasionally so they crisp evenly.
Step 3:
Turn off the heat then sprinkle in 1/2 teaspoon cumin seed.
Step 4:
In a small bowl combine the sour cream, chipotle, lime juice, garlic powder, onion powder and salt. 
Step 5:
Warm the tortillas in a skillet.
Step 6:
Add a few potatoes to a tortilla, top with some of the cream sauce, then finish with sliced cabbage, cilantro, radish, cotija, and lime. 
Serve immediately.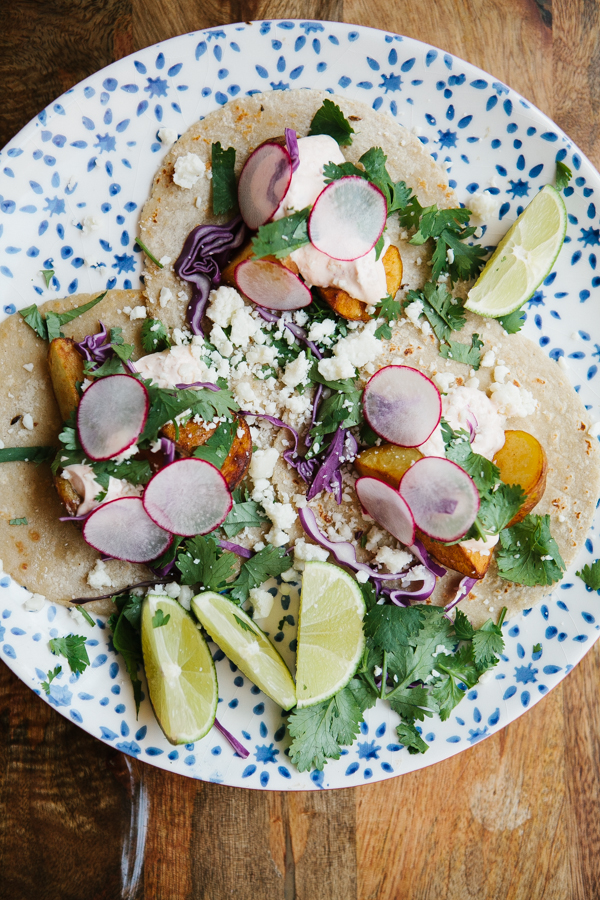 Still looking for more taco ideas? Check out this great recipe for a vegan taco. It also uses a bit of chipotle in adobo for heat along with black beans and peppers. It's capped with creamy avocado.