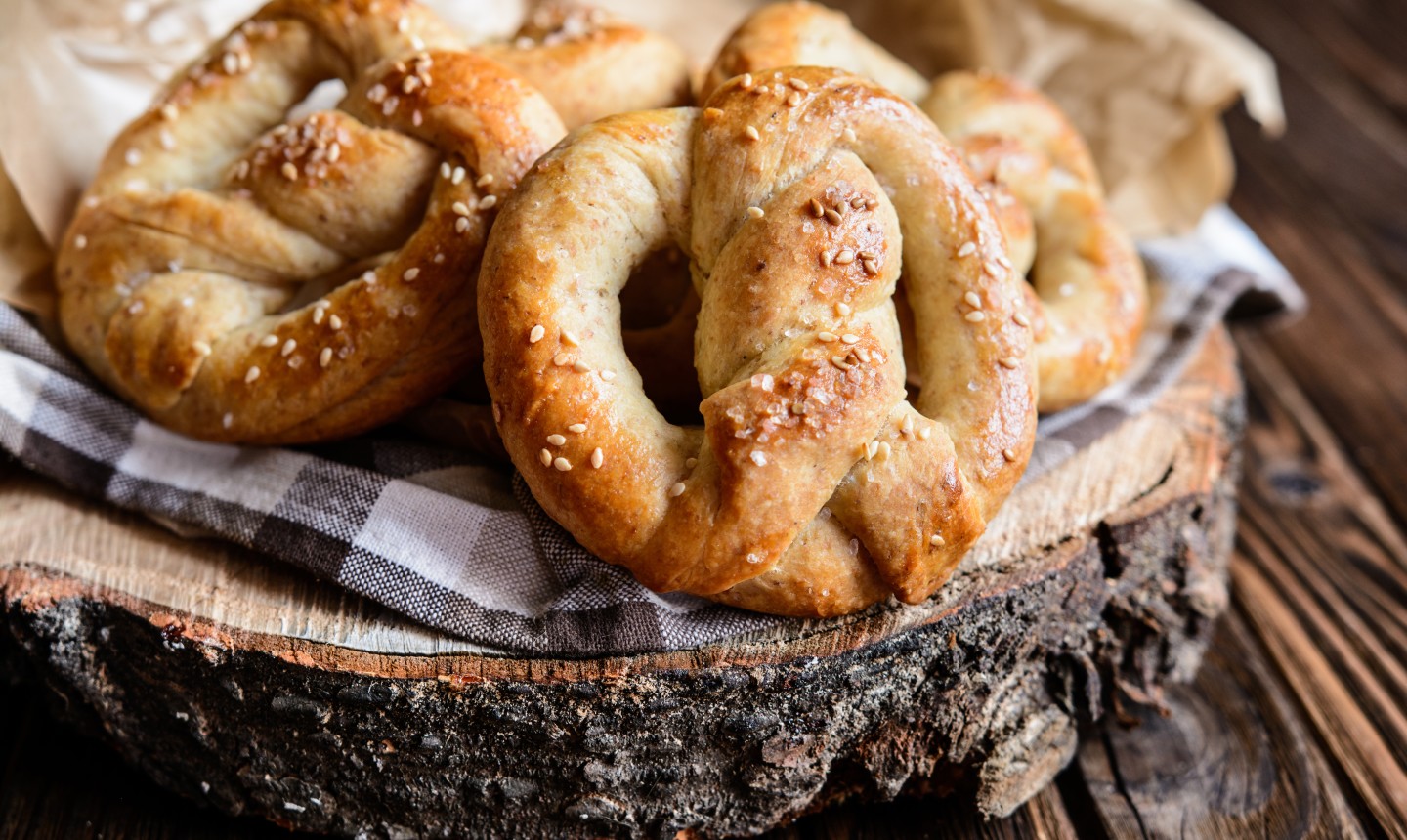 The best thing about making your own pretzels isn't the simplicity (though they are pretty dang easy), but how you can customize 'em to squash your specific cravings. Jonesing for something savory? Sprinkle with salt, dip in spicy mustard and serve with pickles. Sweet tooth screaming? Opt for cinnamon and sugar. Wanting a more unique lunch? Use pretzels to sandwich lunch meat for the ultimate midday meal.
Whatever you decide, this recipe is sure to become a go-to. And yeah, it proves that homemade is way tastier than store-bought.
Homemade Soft Pretzels
Yield: 12 large pretzels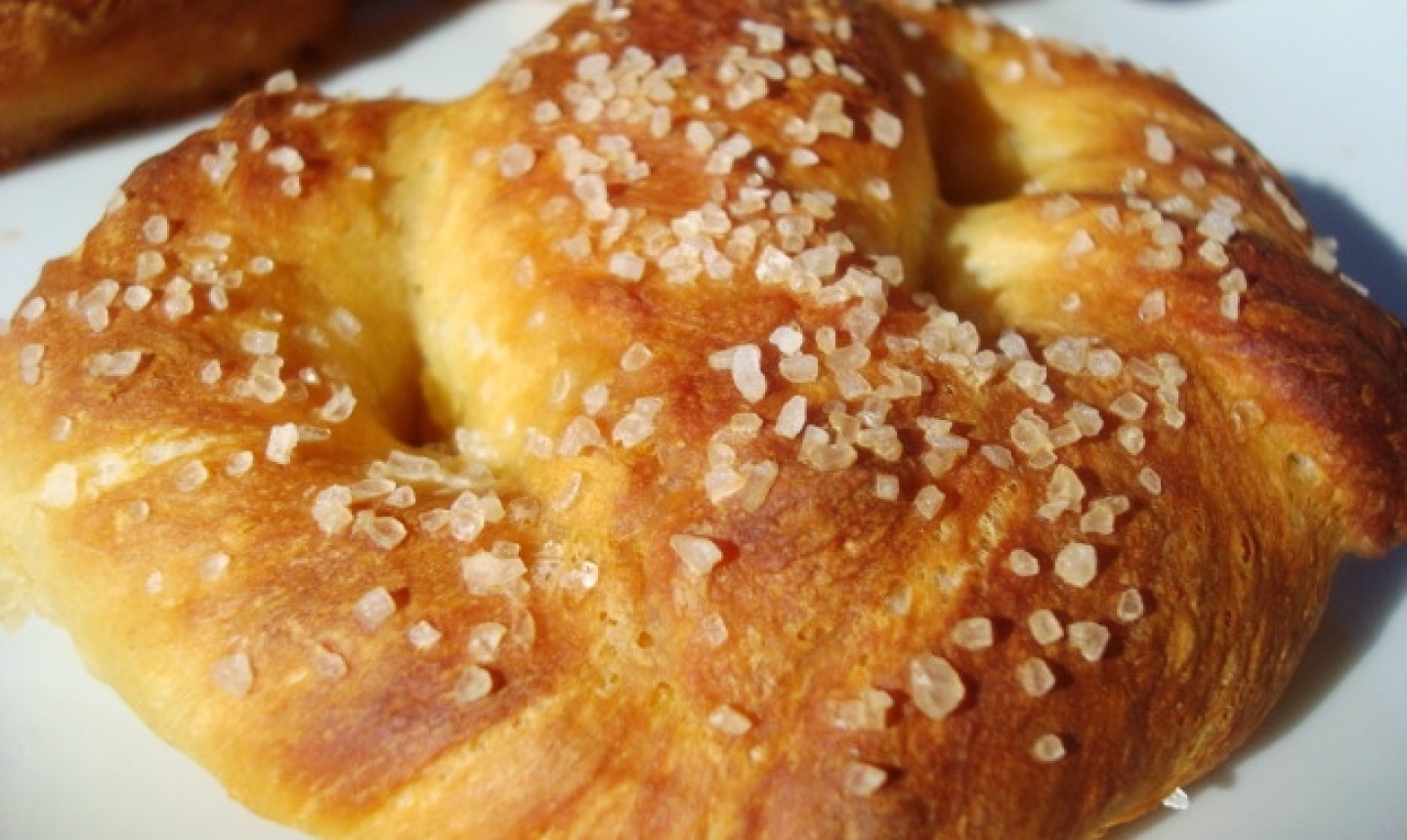 Ingredients
6¾ cups water
1 package active dry yeast
1 tablespoon sugar
1 teaspoon salt
3½ cups flour, plus ¾ for kneading dough
½ cup baking soda
Egg wash (optional)
¼ cup coarse kosher salt (optional)
Instructions
1. Combine 1¾ cups of warm water, yeast, sugar and salt. Mix well and allow to sit until foamy.
2. Pour the mixture into a large mixing bowl. Add the flour a little at a time to form the dough.
3. Once the dough doesn't stick to the sides of the mixing bowl, turn it out onto a floured work surface and knead by hand for 5-10 minutes. Add flour as needed to prevent the dough from sticking.
Pro Tip: As you knead, you may incorporate up to ¾ cups of flour. Be sure to add it slowly so you can feel when the dough is no longer sticky (and therefore no longer calling for more flour).
4. Form the dough into a ball and place it in an oiled bowl. Cover with a dish towel and allow it to rise in a warm place until it's doubled in size. This will take about an hour.
5. Heat the oven to 450 F. Line two baking sheets with parchment paper and set aside.
6. Divide the dough into 12 equal parts.
Pro Tip: Divide the dough evenly by splitting the ball in half, dividing each piece in half again, then dividing those pieces into thirds. If you lightly oil your hands, the dough will be easier to handle.
7. Roll and shape the pretzels (get a detailed how-to below).
8. In a deep pan, heat the remaining 5 cups of water and the baking soda. Place the pretzels in the water and poach for about 30 seconds.
Good to Know: Poaching causes the dough to form a slightly gummy texture, which helps achieve a chewy interior while keeping a firm exterior. It also helps the outer crust brown while baking.
9. Remove the pretzels from the pan, let any excess water drip off and transfer them to the baking sheets.
Pro Tip: When placing the pretzels onto the baking sheets, they'll be a little unwieldly from the poaching, so work with care. Be sure to leave space around each pretzel — they'll spread out as they bake.
10. If desired, apply an egg wash and sprinkle the pretzels with salt.
11. Bake for 15 minutes, or until browned.
12. Remove the pretzels from the oven and let cool for 5 minutes before transferring to a wire wrack to cool completely.
---
How to Shape Pretzels
Give your pretzels a classic shape with this easy tutorial.
1. Roll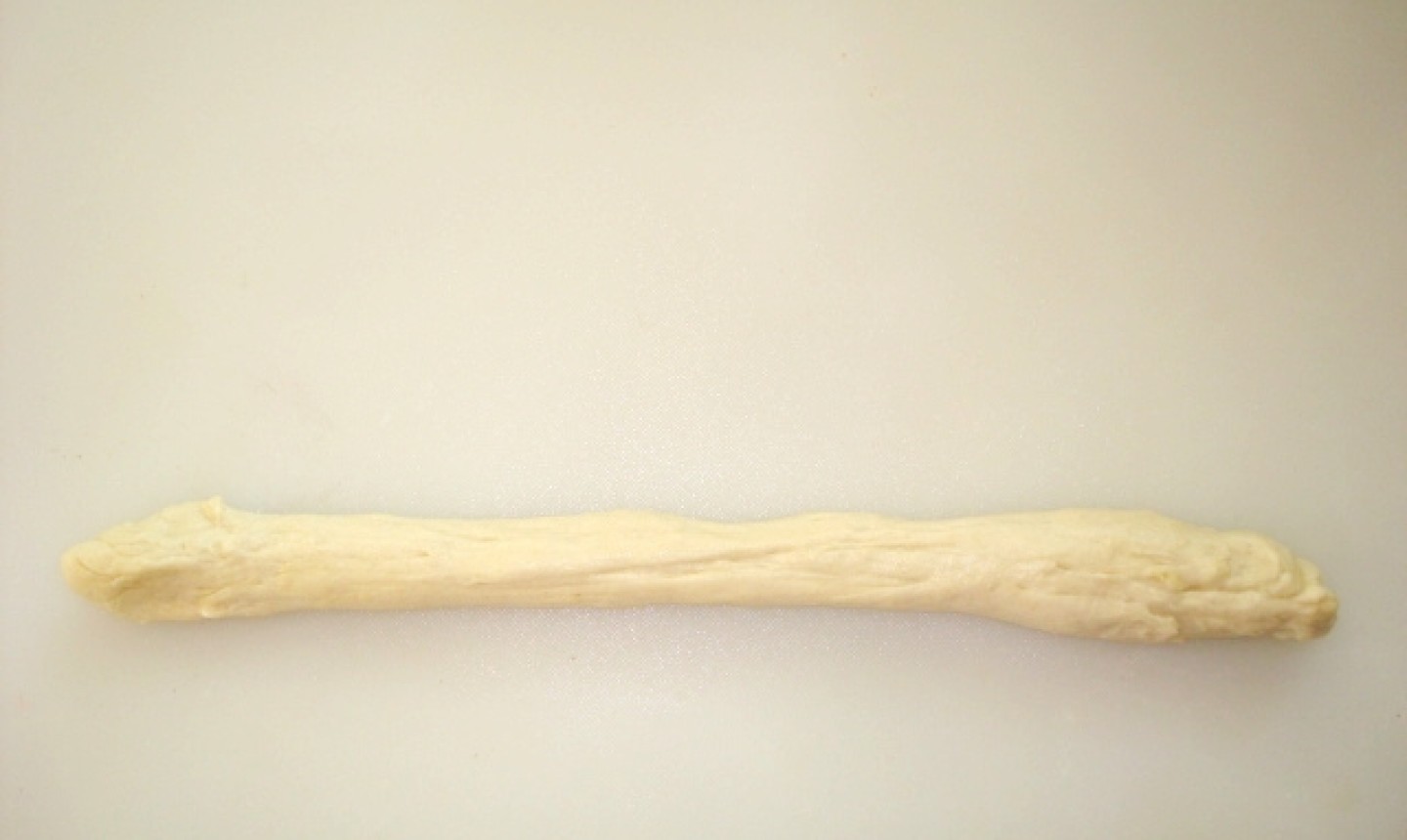 Roll out the dough into a long, slender log. About 14″ is a good length for this recipe.
Pro Tip: To help "stretch" the dough without breaking it, twist it gently as you roll.
2. Make a U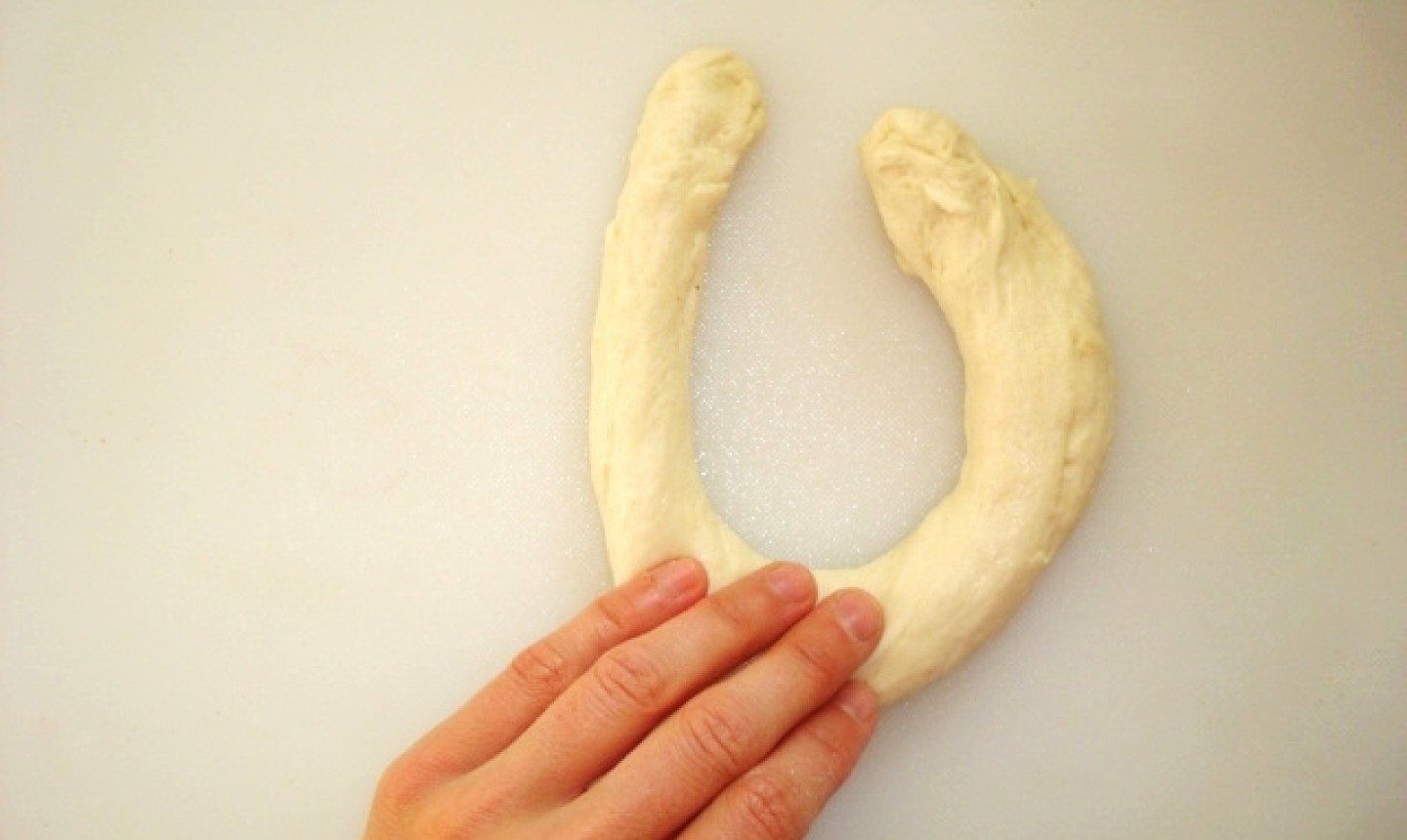 Gather the dough into a horseshoe shape, with the ends of the "U" pointed up.
3. Twist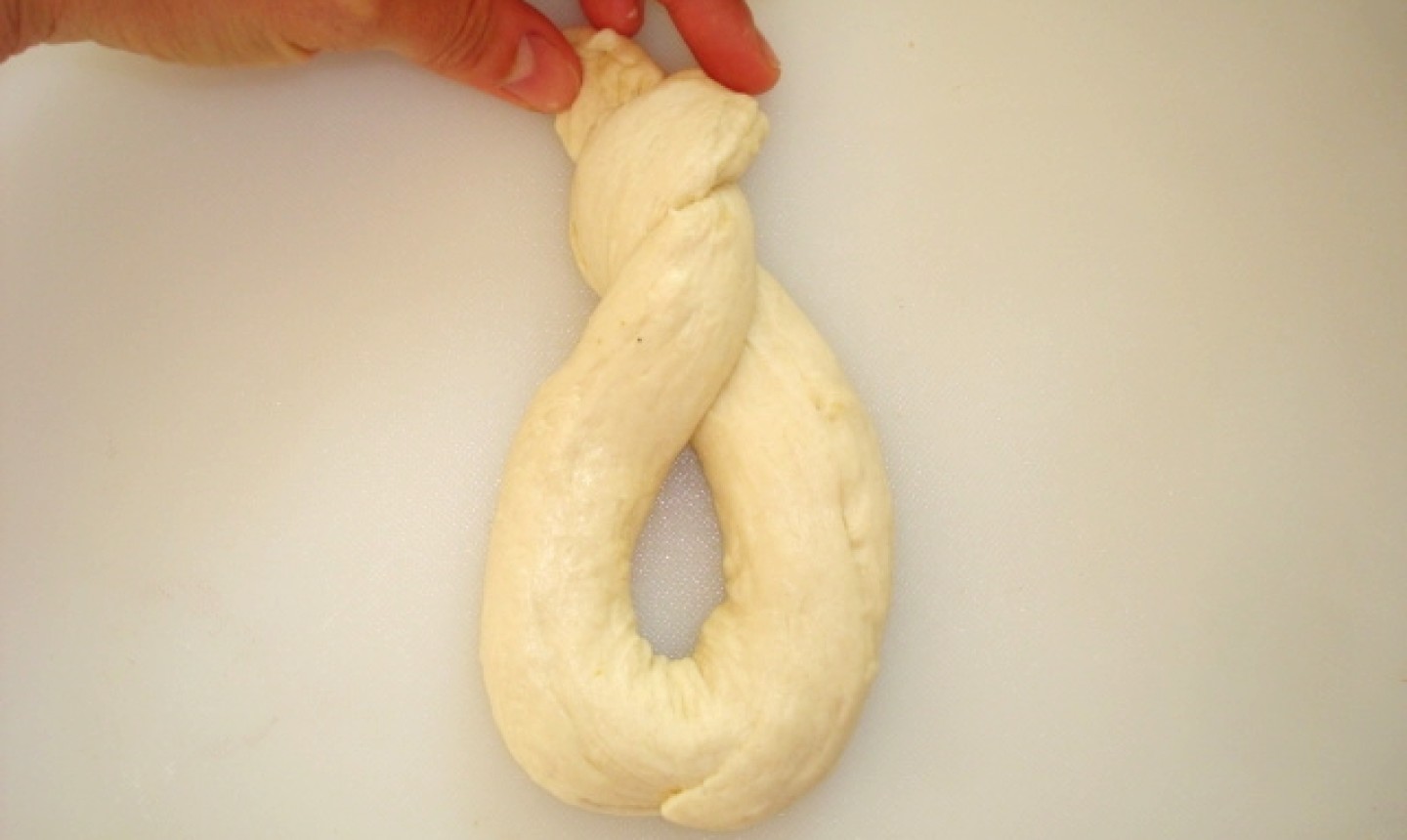 Overlap the ends, leaving approximately 2″ tails. It should look like a ribbon symbol. You can coil the ends together once or twice more, if desired.
4. Flip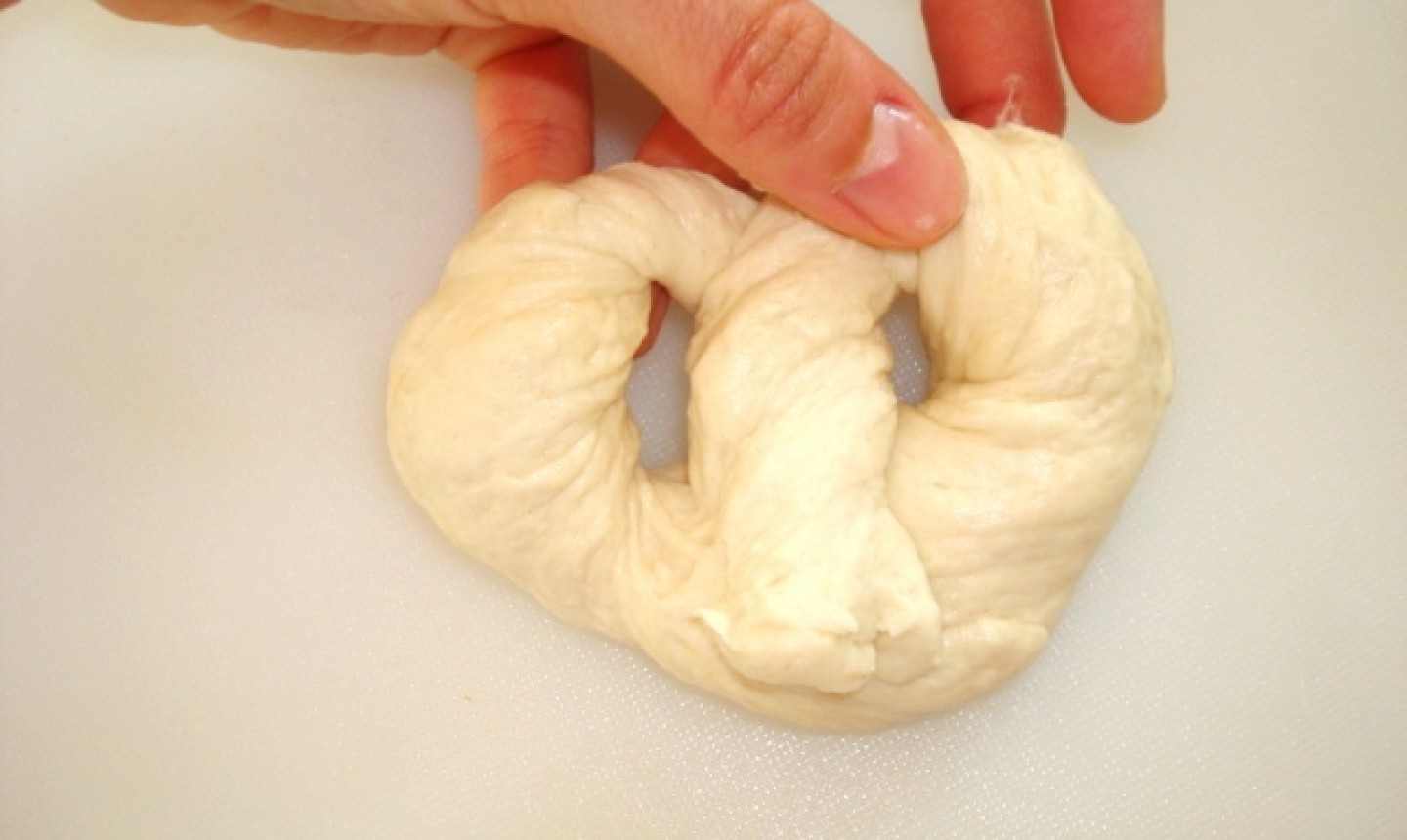 Flip the overlapping ends down so they meet the rounded bottom. If the holes are too small, simply use your fingers to widen and shape the circles. That's it — you've perfected the familiar pretzel shape!