Does the idea of making pretzels at home tie you up in knots? Well, fear not, because while it looks complicated, it's actually quite an easy way to learn the basics of how to make bread. With a simple dough that comes together in minutes, the rest of the process resembles that of making bagels at home: shape, boil, bake, snack.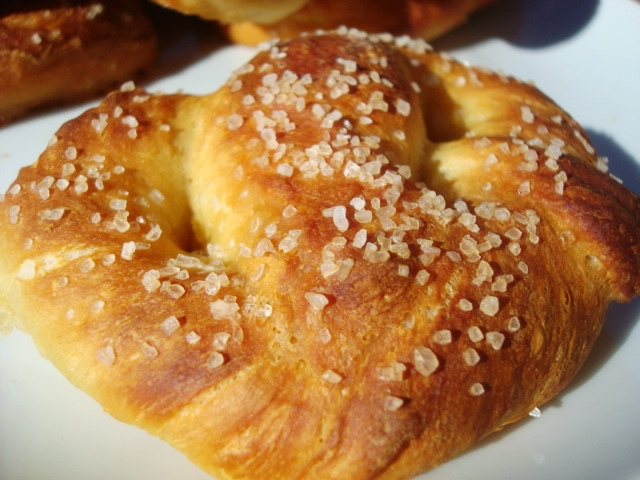 Photos via CakeSpy
It's the perfect time to give homemade pretzels a try. These soft, pillowy pretzels with a crunchy coating of coarse salt are snacking at its best, a feat of food and cooking that is equally tasty with all sorts of bounty from your kitchen, including spicy mustard, homemade pickles or preserves, or for the grownups, a full-bodied beer. A satisfying snack indeed.
How to shape pretzels
It may look like a complicated, origami-esque folding technique, but really, shaping pretzels couldn't be simpler. Here's how to do it in four easy steps.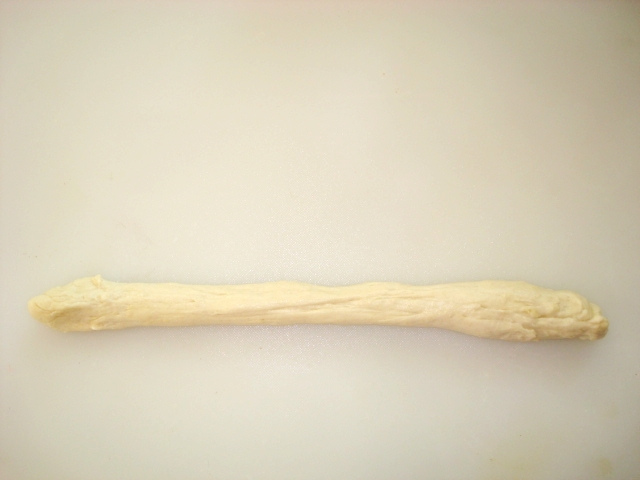 Step 1:
Roll out the dough into a long, slender log. About 14 inches is a good length for this recipe. To help "stretch" the dough without breaking it, twist it gently as you roll.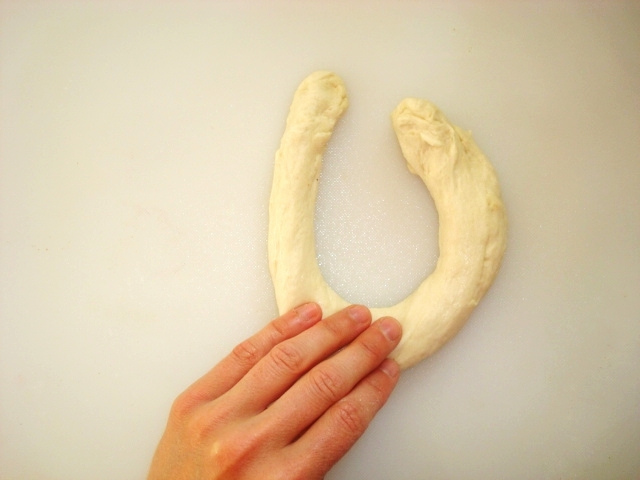 Step 2:
Gather the dough into a horseshoe shape, with the ends of the "U" pointed up.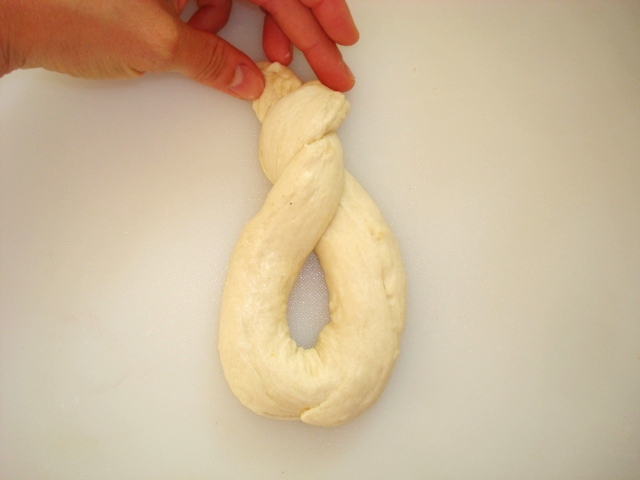 Step 3:
Overlap the ends, leaving approximately 2-inch "tails," so it kind of looks like a ribbon symbol for a moment. You can coil once or twice more if desired.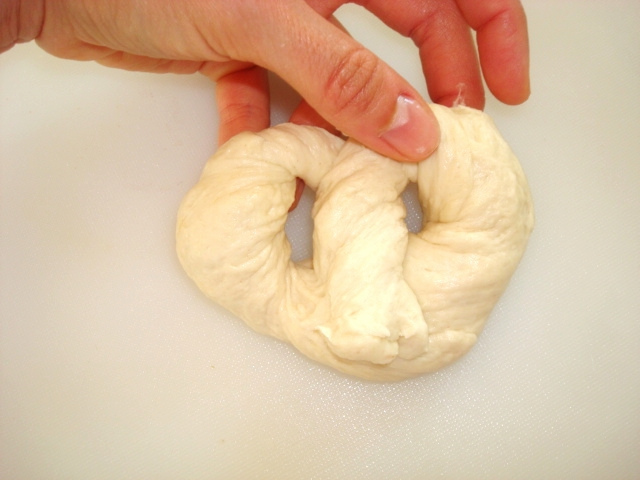 Step 4:
Flip the overlapping ends down, so that they will meet the bottom of the rounded part. You'll see the familiar pretzel shape take hold! If the circles are too tight, use your fingers to widen the holes for a nicer pretzel shape. Make any other adjustments as desired to make them visually pleasing.
Recipe notes
Equipment:
For the most part, the equipment in this recipe should be readily available in most kitchens. A deep sauté pan makes poaching the pretzels much easier, and a slotted spoon will make your life far easier when you're removing the pretzels from said poaching liquid to transfer to the baking sheet.
Why poach?
Poaching the pretzels before baking in a water and baking soda mixture may sound funny, but it has a purpose. The alkaline water actually causes the dough to form a slightly gummy texture, which is unusual before you bake, but once you do, it helps to ensure a chewy interior with a firmer exterior, and also helps the outer "crust" brown to perfection.
Want your pretzels to lightly shine?
Make an egg wash by beating one egg with 2 tablespoons of water. Lightly brush the pretzels before adding the salt. This is not necessary, though, and the photos shown are made without an egg wash.
Not feeling salty?
These pretzels will bake just fine without the salt, so it can easily be omitted from the recipe to meet dietary standards or personal preferences. The pretzels could also be sprinkled with cinnamon and sugar before baking for a sweeter outcome.
Variation: pretzel rolls.
Instead of shaping the pretzels, form the dough into rounds about the size of golf balls. Poach and bake as specified in the recipe. Now, you've got yourself some tasty rolls for sandwiches or to serve alongside a hearty soup.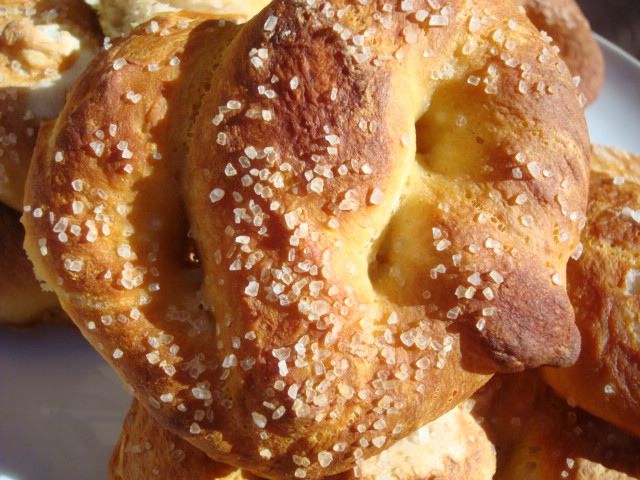 Homemade soft pretzels recipe
Makes 12 large pretzels
For the pretzel dough:
1 3/4 cups warm water
1 package active dry yeast
1 tablespoon sugar
1 teaspoon salt
3 1/2 cups flour, plus 3/4 cup for kneading dough
For the poaching mixture:
5 cups water
1/2 cup baking soda
To finish:
egg wash, if desired
1/4 cup coarse kosher salt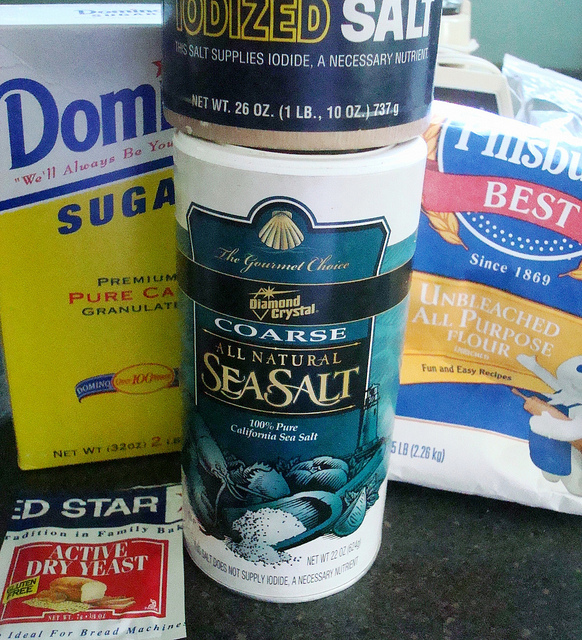 Step 1:
Make the dough. Combine warm water, yeast, sugar and salt; mix well and allow to sit until foamy.
Step 2:
Pour yeast mixture into a large mixing bowl and add flour, a bit at a time, to form a dough. Once the dough does not stick to the sides of the bowl, turn out onto a floured work surface and knead for 5 to 10 minutes, adding flour as needed to prevent the dough from sticking. You may incorporate up to 3/4 cup of flour; don't worry, it is not too much. But be sure to add it slowly, so you can "feel" when the dough is no longer sticky and calling for more flour.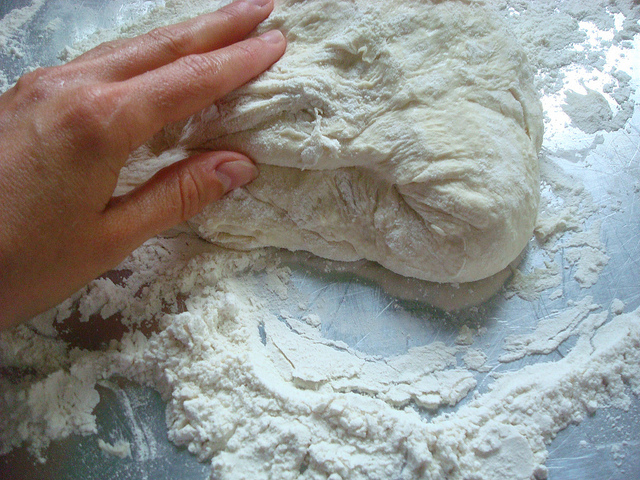 Step 3:
Form the dough into a ball, place in an oiled bowl, cover with a dish towel and allow to rise in a warm place until doubled in size (about an hour).
Step 4:
Heat oven to 450°F. Line two baking sheets with parchment paper; set to the side for the moment.
Step 5:
Take the dough from its resting place, and divide it into 12 equal parts (divide first in half, then each piece in half again, then each piece into thirds). You may find it easier to handle the dough if you lightly oil your hands.
Step 6:
Roll and shape the pretzels (see "how to shape a pretzel" above). Once again, lightly oiled hands can make handling the dough much easier.
Step 7:
Heat the water and baking soda in a deep sauté pan. Poach the pretzels for about 30 seconds, or until they have turned slightly firm. (The texture will be weird and slightly gummy. Wait it out, you will be rewarded once they bake)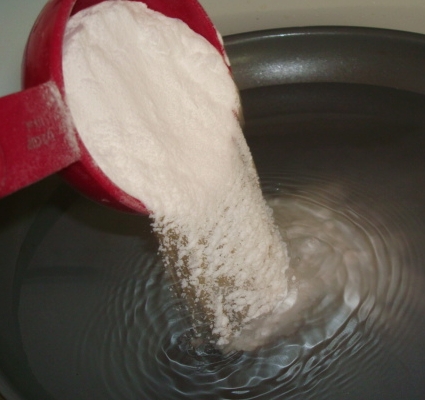 Step 8:
Gently remove the pretzels from the poaching liquid. Let any excess water drip off. They will be a little unwieldy. Transfer to the prepared baking sheets, leaving a little space around each pretzel to allow for spreading while baking. If you like shinier pretzels, apply an egg wash. Sprinkle with coarse salt to taste.
Step 9:
Bake for for 15 minutes, or until browned to the point you'd like.
Step 10:
Remove from the oven and let cool on the sheets for 5 minutes before transferring to a wire rack to cool completely. Cooling them on a wire rack is ideal, as the bottoms can get a little gummy from the residual moisture of the steam if placed right on a plate.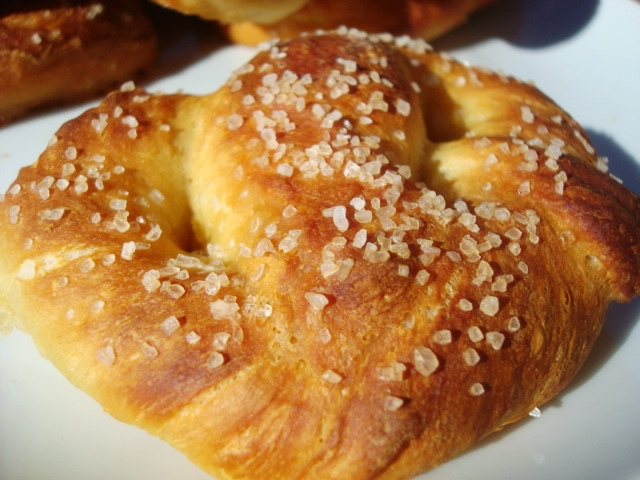 Learn more about the art of bread making in the Craftsy classes Artisan Bread Making, taught by award-winning cookbook author Peter Reinhart, and Classic Croissants at Home, taught by executive pastry chef Colette Christian.
Do you prefer soft or hard pretzels?