Mother's Day is coming up soon, it's teacher appreciation season, and weddings are in full swing! The spring is filled with opportunities to give away cards. Save the $4, by making a pop-out card at home this year. This simple version of an awesome pop-out card is easy enough to whip up before you head out to the party, and it will make your guest of honor feel incredibly important.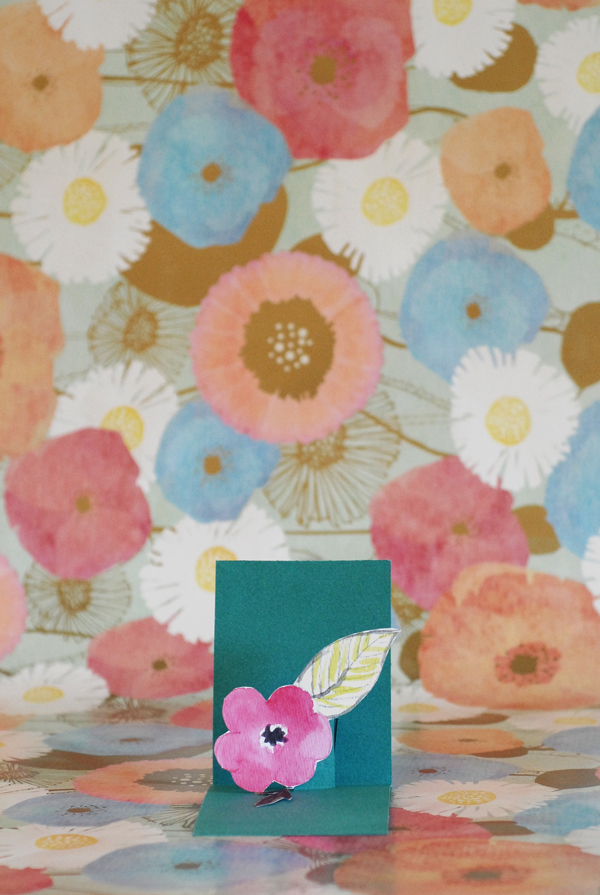 A pop-out card is often thought of as way to intricate of a project, but it doesn't have to be. Follow the couple steps below and see how simple this paper card craft really is. The great thing about this pop-out card design is that you can re-create the concept if making a pop-out card for just about anything! Printed letters will make mom blush with joy, a painted and cutout flower will make the card appropriate for any spring gift, and really any color and design could be used for this project. This is a card making craft you'll certainly turn to time and time again!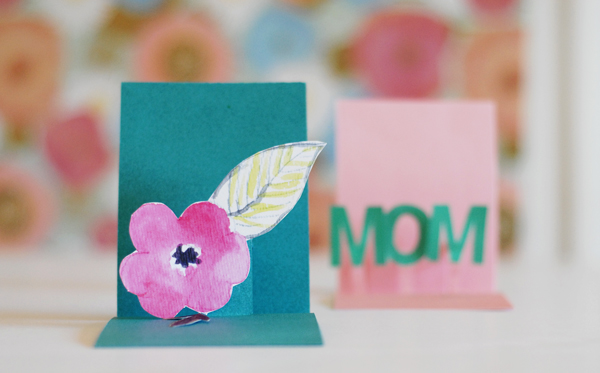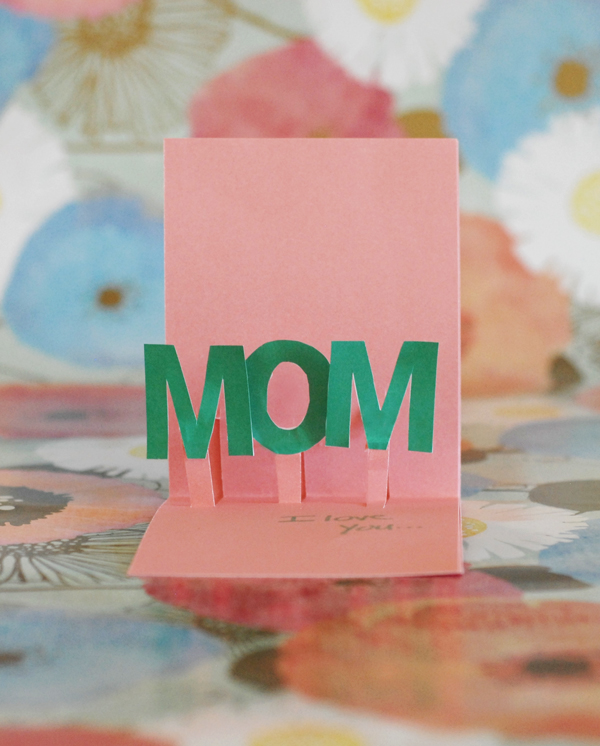 How to make a pop-out card:
You will need:
One piece of scrapbook paper for each card
A second piece of paper or art illustration to cut a design from for each card
Scissors
A glue stick
A paper cutter (you could do the project with scissors, but a cutter helps a lot!)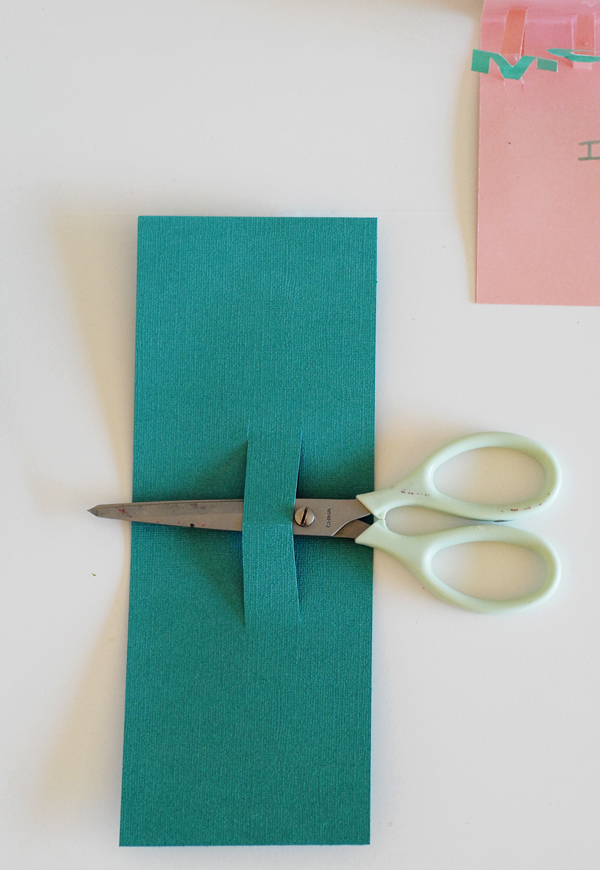 Step 1:
Start by cutting the scrapbook paper down to card size. We used one 12″ x 12″ piece of scrapbook paper and used a paper cutter to cut it down for a 4″ x 5″ card. You will need two pieces of the paper for every card. So from a 12″ x 12″ piece, cut out two long rectangles 4″ x 10″ each to get started.
Fold both rectangles in half and set one aside.
Step 2:
Take one folded rectangle and cut slits straight down the middle, about 1″ deep. You will need a slit for any pop out on the card. We made one slit for the flower and three slits for the lettered card.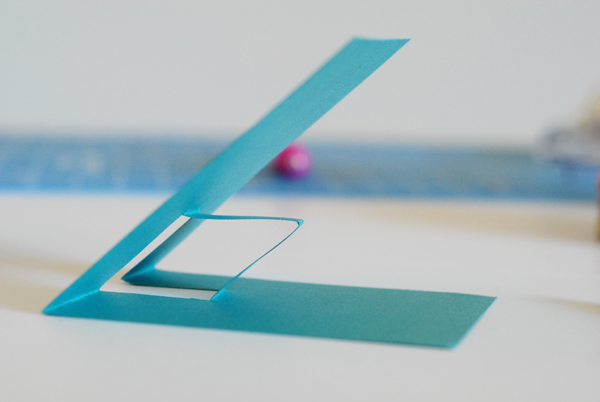 Step 3:
Fold the slit the opposite way of the card. Be careful to not tear the slit when folding. Gently fold it in so that when the card lays flat the slit is completely inside the card.
Step 4:
Use a glue stick to adhere your pop-out design. I found it the easiest to place my design upside down where I wanted to see it pop out before attaching. Apply glue to the cutout slit and fold the card down to adhere it to the pop-out.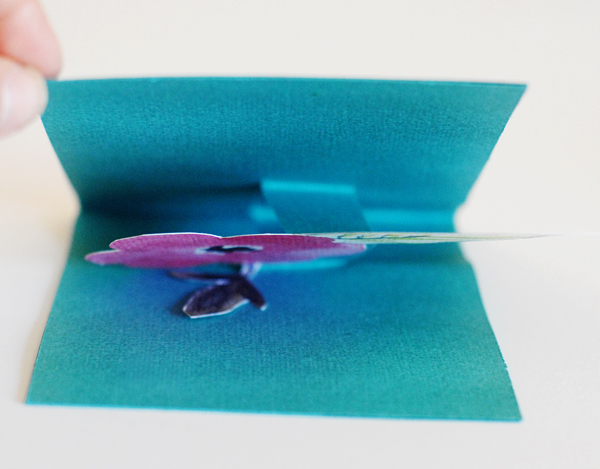 Step 5:
Pop the card up to see your creation in action. I tried each of the cards when the glue was still wet to ensure proper placement — the pop-outs are easy to move while the glue is still wet. Once it is in the perfect spot, allow the glue to fully dry.
Once the glue is dry. Take the second rectangle you cut out, cover it in a thin layer of glue and attach it to the back of the card. That will allow the pop-out to show, and the card to not look cut from the outside. The result is a gorgeous gift that is perfect for mom, for your favorite bride, for anyone you'd love to send a handmade greeting to!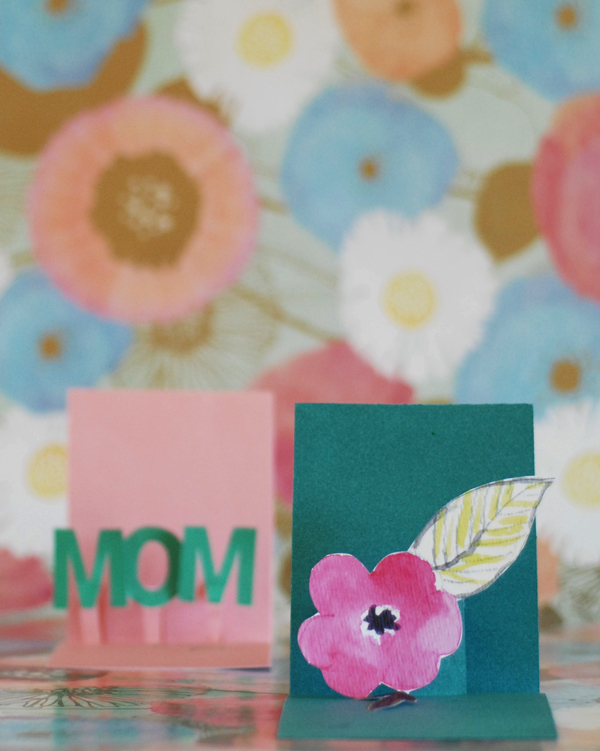 Once the pop-out is set into place, write on the card or add other decorative details as desired. Use this simple process to create new pop-out cards for every occasion!
What will your card say?