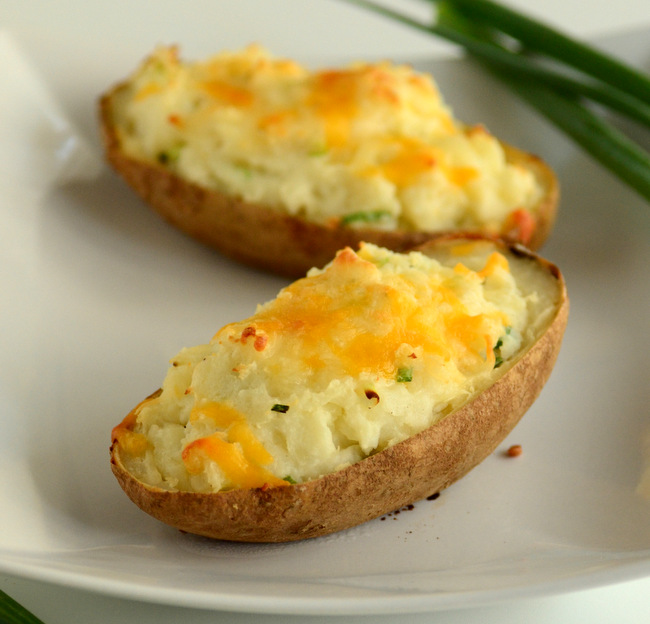 There are so many reasons to love twice-baked potatoes. Because they're baked twice (yep, the name gives it away), the skin is roasted to crispy perfection. And once the mashed insides are piled high, they can be mixed with anything you want! Plus, this steakhouse favorite is super easy to make at home. Call it a win-win-win!
Twice-Baked Potatoes
Yield: 5 servings
Ingredients
3 large russet potatoes (about 1¼-1½ pounds)
½ cup sour cream
¼ cup milk
2 tablespoons butter, room temperature
⅓ cup cottage cheese
1 teaspoon salt, or to taste
¼ teaspoon ground black pepper, or to taste
3-4 tablespoons finely chopped green onions
½ cup shredded cheddar cheese (optional)
Instructions
1. Preheat oven to 400 F. Roast potatoes whole on the oven rack until tender. Allow potatoes to cool for at least 15 minutes.
Pro Tip: To test for tenderness, insert a knife into the center of a potato. If it slips in and out easily, the potato is done.
2. Cut potatoes in half lengthwise. Using a spoon, scoop out the center of the potatoes to form a boat, leaving a ¼" thick layer of roasted potato against the skin. Place the scooped out potatoes in a medium bowl and discard one of the six potato boats.
3. In the medium bowl, mash the potatoes with sour cream, milk, butter, cottage cheese, salt, pepper and green onions.
3. Spoon the mashed potato back into the potato boats, piling it above the rim of the potato skin. Top each potato with shredded cheddar cheese, if desired.
4. Arrange stuffed potatoes on a baking sheet and bake at 400 F for 20 minutes, or until the cheese is melted and the tops of the potatoes are lightly browned.