Cute and cuddly as they may be, baby quilts are also a great surface for trying out new quilting techniques. Because of their small size, they offer a forgiving and ideal canvas for experimenting with machine quilting. If you are interested in perfecting your straight-line quilting or going wild with free-motion designs, there are plenty of machine quilting designs for baby quilts to try.
How will you finish your next baby quilt? Check out these examples of machine quilting designs from the online quilting community! You just might find the perfect match for your next small-scale project.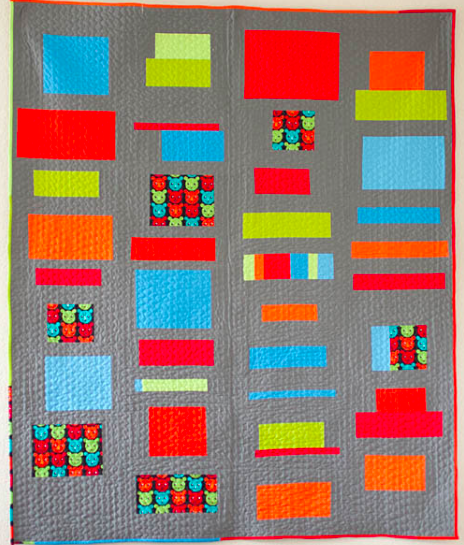 A wavy line quilting stitch is a simple and effective way to add texture when machine quilting a baby quilt. Adrianne of Little Bluebell shares her Squares and Rectangles baby quilt, which mixes a novelty print and coordinating solids for a modern, retro vibe. The curves of the quilting add a nice contrast to the sharp angles of the blocks. If you are using an allover quilting pattern such as the wavy line, the quilting tends to blend in, making the patchwork the star.

Squared Straight is a modern baby quilt that is quilted with large, overlapping squares in long connecting lines. Angela of Cut to Pieces designed the baby quilt and decided to machine quilt it "Pac-Man" style. The wide-set quilting echoes the size of the actual blocks, but you can also recreate this quilted squares design on a smaller scale. This machine quilting design is great for a baby quilt you'd like to finish up for a quick gift!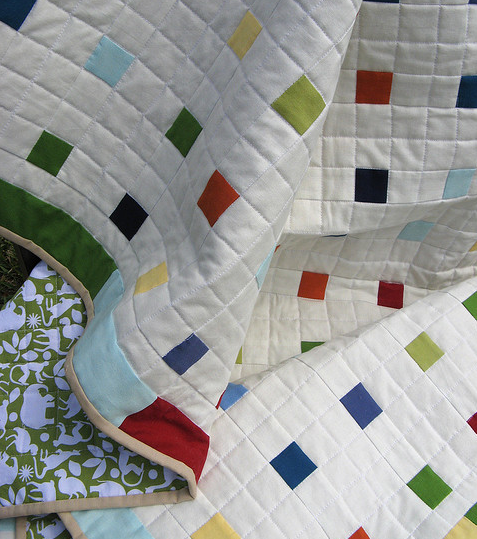 Color Play, also by Angela of Cut to Pieces, is a baby quilt that is machine quilted with straight lines, echoing the patchwork squares as well as the lines she quilted between them. With dense quilting lines that are 1" apart, this machine quilting design for baby quilts gives a nice bit of texture. Thankfully, it's still approachable for quilters who are afraid of free-motion designs.
Who says baby quilts need to have simple quilting? The Stretched Star Baby Quilt by Sarah of Fabric Seeds utilizes free-motion swirls, flowers, and leaves as an allover quilting design. Providing a great contrast to the sharp angles of the triangles, this soft and flowing machine quilting design makes for a gorgeous baby quilt.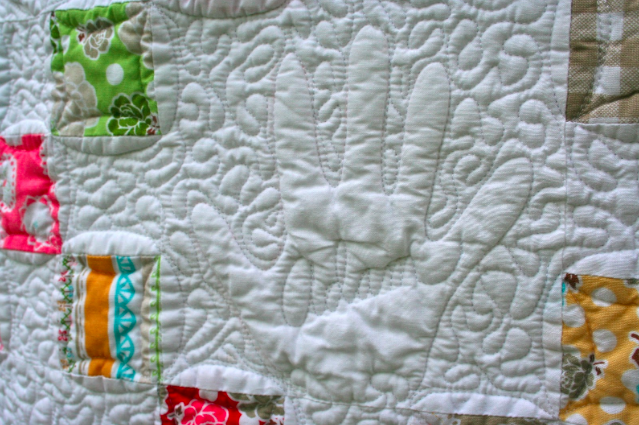 Another really creative machine quilting design for baby quilts is to utilize handprint quilting and free-motion filler designs. This piece blogged by Kim at My Go-Go Life and quilted by Laurie Tigner was created by a classroom of students for their teacher who is undergoing chemo. But, just think of how this idea could be carried out by a group of family members or friends joining hands to celebrate the birth of a new baby.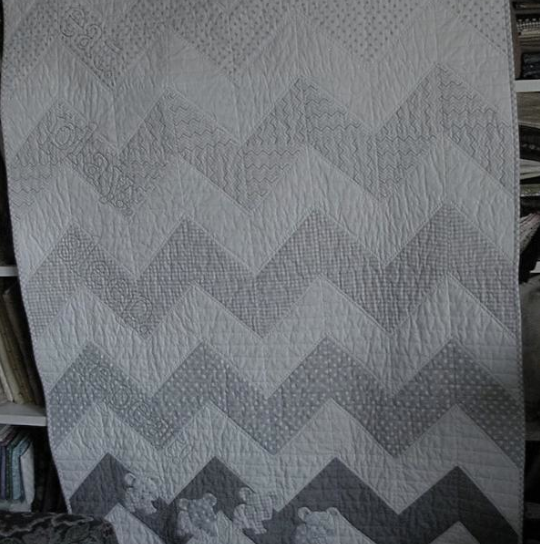 Machine-quilted words are another great idea for making a unique baby quilt. Notice how this Chevron Baby Quilt from Beardie Lover has the words "Eat, play, sleep, repeat!" quilted into the left side. You could personalize a quilt with your own font by printing out letters and tracing them onto the fabric with a quilting marker, or try out your own freestyle script to add personal quotes, sayings, and names.
What's your favorite machine quilting design for a baby quilt? Come back to the Craftsy blog tomorrow to discover adorable boy baby quilt patterns.