What's the secret to getting great results on your longarm quilting machine? For many quilters, the trick is to use a variety of longarm quilting rulers. Also called quilting templates, these tools can help guide the machine to make straight lines straight and curved lines curved.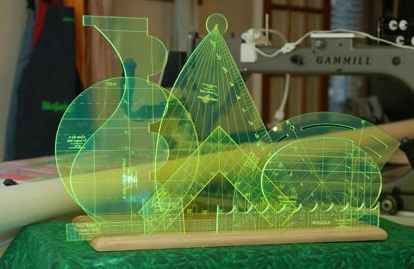 Photo via The Gadget Girls
Longarm quilting rulers are 1/4" thick plastic, unlike rotary cutting rulers which are only 1/8" thick. Quilting rulers can be used along with most any mid-arm or longarm quilting machine to help guide the needle during quilting.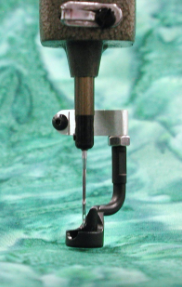 Photo via Anderson's
To use rulers for longarm quilting, you'll just need to make sure you have the right foot for your machine, which is called a hopping foot. A hopping foot, or ruler foot, has a taller base to rest against the edge of the ruler.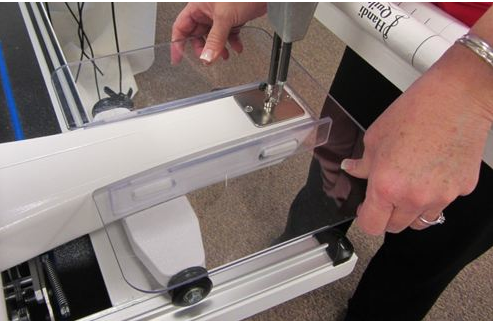 A ruler base like this one from Handi Quilter is a tool that is installed around the base of the hopping foot, to give the longarm quilting ruler more stability during use. It is important to stitch very slowly and with a longarm ruler or template, so it does not slip and hit the needle under the hopping foot. For more tips on how to use longarm quilting rulers to create specific patterns, refer to this presentation at Handi Quilter.
The types of quilting rulers or templates vary by brand, but the most common types are:
Straight edge or stitch-in-the-ditch
Right angle
Waves or clam shells
Half circles or full circles
Nesting shapes (circles, stars, etc.)
Combination rulers offering different shapes on each side
Because longarm quilting rulers can be pricey, costing around $20 to $60 each, many longarm quilters recommend buying a few basic rulers at a time to see how often you end up using each one. Many quilters like to get a straight-edge ruler when they are starting out, adding a few curved longarm templates as they grow their collection.
This video from Vanessa Wilson of The Crafty Gemini demonstrates how to use a Stitch-in-the-Ditch ruler on a longarm machine. This ruler has a groove cut along one straight edge, which makes it easy to hold the ruler at the seamline and accurately stitch in the ditch during quilting. The video also shows a ruler base and hopping foot in action.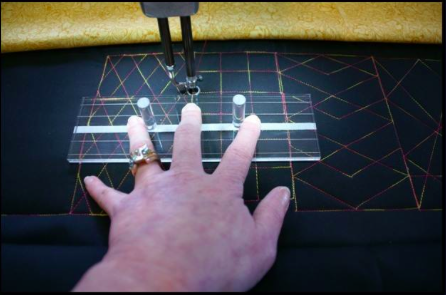 A straight edge ruler like this one from Heartbeat Quilting can be used to create a variety of grid designs, including squares and diamonds. Look for accessories that fit comfortably in your hand while you quilt. Right angle ruler can help quilters stitch in the ditch around sashing and corners, as well as create triangle designs.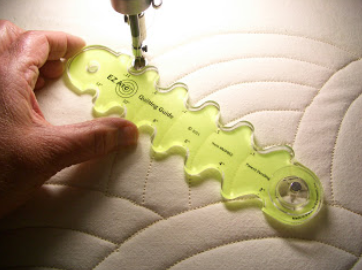 This longarm quilting ruler from Top Anchor Quilting, is unique in that it rotates around a stationary anchor point, gliding across the quilt top as you sew.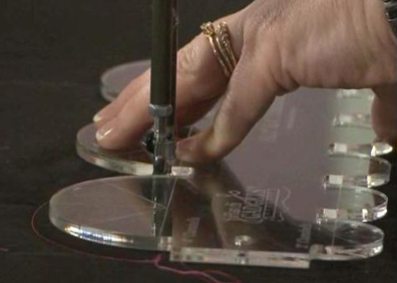 Clamshell rulers like this one demoed by Debby Brown for Quilt It come in handy for tracing a clamshell design with perfect curves.
A set of nesting circle longarm quilting rulers can create a design similar to this sample by Kimmy Brunner. For more ideas on how to use quilting rulers or templates in your longarm projects, check out Kimmy Brunner's online class Machine Quilting with Templates: Creating Design Perfection. Or check out the blog post Machine Quilting Designs for Borders to put your rulers to use.
If you use longarm quilting rulers, what's your favorite one to use in projects?