After spending so much precious time creating a beautiful quilt top, the actual process of quilting can be daunting! Many quilters find this to be the most difficult part of quilting, particularly if they are creating a large quilt top. When it comes to quilting, which is the actual process of sewing the three layers of a quilt together (top, batting, backing), there are a few options. You can quilt by hand or on your home machine, which many people love to do. Another option is to send it your quilt to a longarm quilter.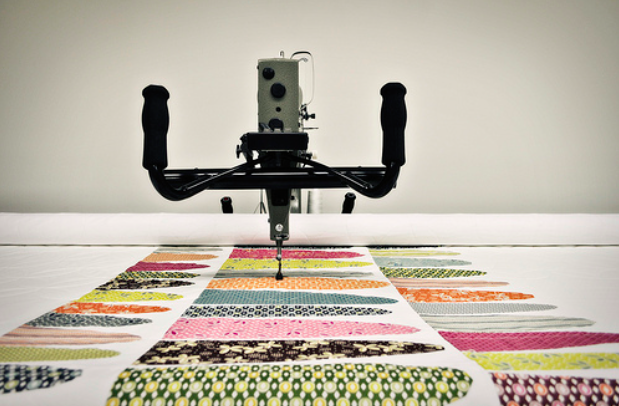 Photo via Eileen Quilts
Longarm quilting is when a professional longarm quilting machine is used to sew together the three layers of a quilt together. This machine is very different from your regular home sewing machine. It is a large piece of equipment that consists of several parts. First is the head, which is a metal piece that is attached to rollers, allowing it to move over the entire quilt. There is also a frame that is used to hold all of the quilt layers together. With this longarm machine, the quilt is stationary while the sewing machine head moves. It is like a pencil drawing on a piece of paper. This is opposite of how we quilt on our home machines! Our machines stay in one spot while we move the quilt underneath the needle.
Longarm quilting machines can be run by hand or computer. When the quilter is working by hand, they trace a pantograph (a long design) or they work free hand. If the machine is run by computer, the quilter chooses the design right there on the computer. The sewing machine head is hooked up to the system, and the computer starts and controls all of the quilting on its own.
Why pay to have a project quilted on a longarm machine by a professional rather than just sewing it on a home machine? One of the most common reasons is size. Many quilters are not comfortable wrestling their larger quilts on their own machine. Another reason is basting. When you take your quilt to a longarm quilter, you do not have to baste! The quilter loads the three layers into the frame, so traditional floor basting is not necessary here. This is really helpful for quilters who do not have a large open space in their house or for those who have trouble crawling around on the floor.
Yet another reason to hire a longarm quilter? Lack of time. Some people struggle with having enough time for their hobbies, and they can save a lot of time by cutting out the basting step and the quilting process.
If you are ready to find a longarm quilter, but don't know where to start, ask people you know for advice and recommendations. Family members, friends, and fellow bloggers will be more than happy to help you find the right quilter. For more tips on finding a longarm quilter read more here. If longarm quilting isn't for you, check out these Bluprint classes! They will help you take your machine quilting to the next level: Beyond Basic Machine Quilting and Quilting Big Projects on a Small Machine, both with Ann Peterson.