Adding quilt borders can be an effective way to frame a quilt top and make it feel more complete. But then when it comes time to quilt your project, you might wonder, "How do I quilt the border?" Sometimes an all over design works great—like a stipple or straight lines. Other times it's best to give the border a distinctive pattern to set it apart from the inner blocks and sashing.
If your quilt has multiple borders, should you quilt them each differently? When quilting a patchwork border, should you echo the pieced design or create something more fluid that glides over the border?
With the many design possibilities, you'll be glad to know that there are really no rules when it comes to machine quilting! If you are a sketching kind of quilter, by all means, sketch out your designs first. If you'd rather freehand it, dive in. With practice, you'll become more confident in what border designs you like and which ones you probably won't repeat. Here are some tips and examples to help you out the next time you get the chance to machine quilt a border.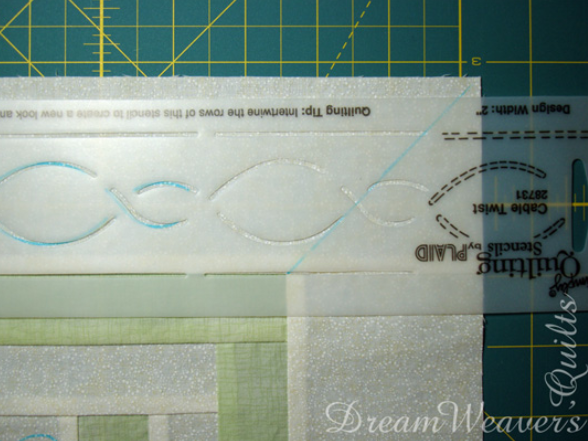 If you choose to mark your quilt border, you can use a stencil and a quilting marker to trace the design that you will later quilt. When marking a quilt border, Nadine of Dream Weaver's Quilts recommends marking a diagonal line through each corner, and another line in the center of each border. You can use these marks to make sure the lines you trace are centered along the quilt border.
Tip: Learn how to quilt circle borders using templates with a video tutorial from Craftsy instructor Kimmy Brunner. You'll be surprised at how easy it is to create a complex-looking quilting design that's actually very doable.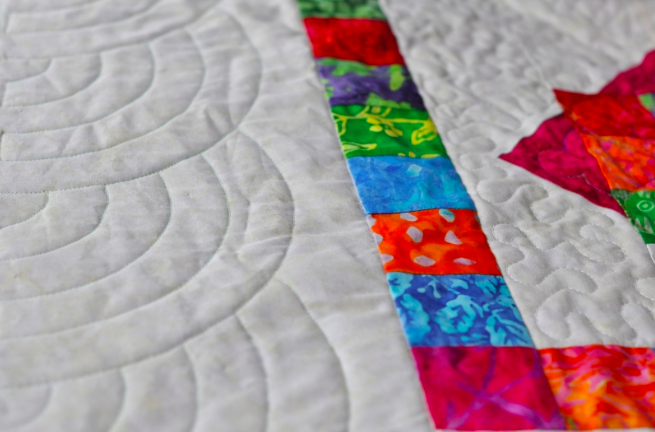 Machine quilting designs for borders can be simple or elaborate. Lynn Harris of The Little Red Hen finished quilting a piece for a customer, which included a pieced border as well as a solid border. She stippled the inner quilt, and then outlined the pieced border by stitching in the ditch. For the wide outer border, she quilted with a Baptist fans design.
Tip: You may choose a design that naturally points inward and draws your eye to the quilt center like the Baptist fans pictured.
Margaret of Quilts of Love shared a quilt with three borders that she finished with longarm quilting. She chose an edge-to-edge quilting pattern for the first border, which makes it blend into the quilt center. For the second border, she quilted feathers and for the third border, she used straight lines.
Tip: Notice how the quilting on the white border is denser than the quilting on the outer border, but not so much that one looks completely bare. Varying the density of your quilting is a good way to add interest to your next quilted project.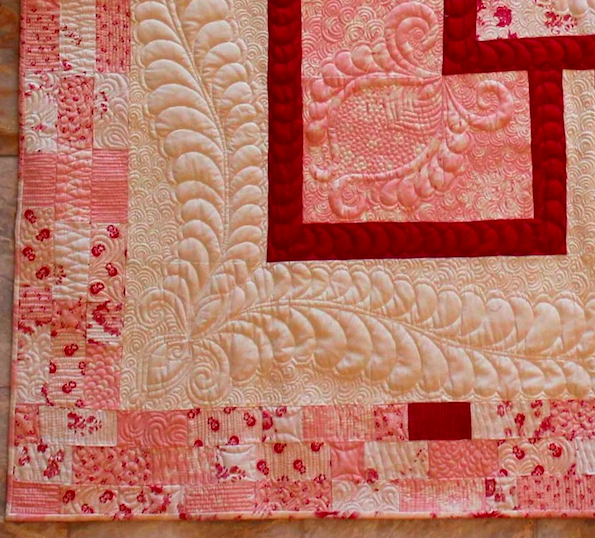 If you are machine quilting a pieced border, don't feel limited to just one design. For example, Angela Walters shares her Picnic Quilt, which features designs from figure-eights and wavy lines to swirls and paisley florets in each of the brick-like blocks composing the border.
Tip: Varying your quilting pattern from block to block takes practice, and a good tip is to do plenty of sketching with a pen and paper beforehand until you get comfortable drawing the free-motion shapes.
Judi Madsen shares a customer quilt she longarmed, called Dragonfly Part 1. After filling the quilt center with beautiful dragonflies, diamond shapes, swirls and more, she machine quilted the border with swirls, diamonds encrusted with circles and more.
Tip: One tip when quilting elaborate borders is to remember to first stitch in the ditch to outline each section you'll be quilting. This way, you can mark a defined section and tackle the quilting one square at a time.
What's your go-to machine quilting design for borders? Do you prefer an allover quilting design or something that stands out?
If you liked this post, you might enjoy the Craftsy online class Free Motion Fillers, Vol. 1 with Leah Day.