Who'd've thunk it? Knitted shorts seem like the punchline to a joke — at least if I'm going by the number of times a non-knitting friend has sent me a picture of some ill-fitting yarn-made shorts for a laugh.
It may, therefore, come as a surprise to find knitted shorts that are clever, daring and stylish. As the weather gets (almost uncomfortably) warm, I find myself longing for a soft pair of knitted cotton shorts for sleepwear. But knitted shorts aren't just for pajamas — you could wear them out and about, too! Here are half a dozen knitting patterns that prove "cute knitted shorts" isn't an oxymoron!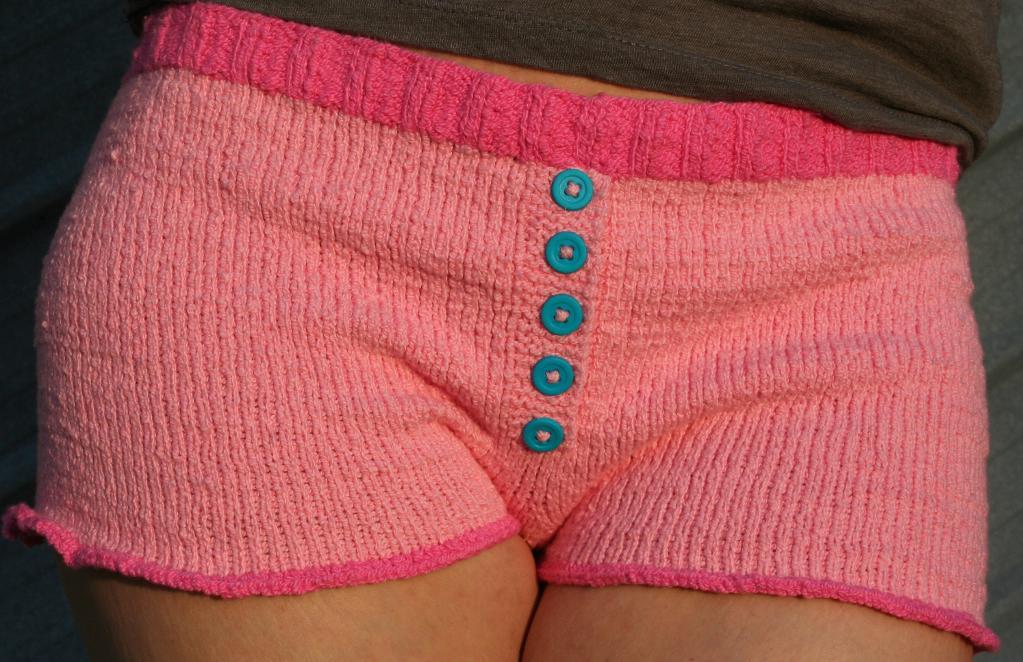 Photo via Bluprint member Amanda Lilley
Fixation Boy Shorts
Made with a cotton-elastic blend, these cute boy shorts would make adorable swim bottoms! Until the the introduction of elastic fabrics in the mid-1930s, swimwear was commonly knitted. Elastic in yarns makes for a resilient, stretchy fabric that retains the best of both worlds.
Get the pattern »
Photo via Bluprint member MissMarnie
Assets of Evo Hot Pants
Another great use of an elastic blend, the Assets of Evo shorts feature a flutter edging and a duplicate stitch motif reminiscent of a branching tree. Knit with negative ease for a curve-hugging look, these are the perfect shorts for a hot day at home.
Get the pattern »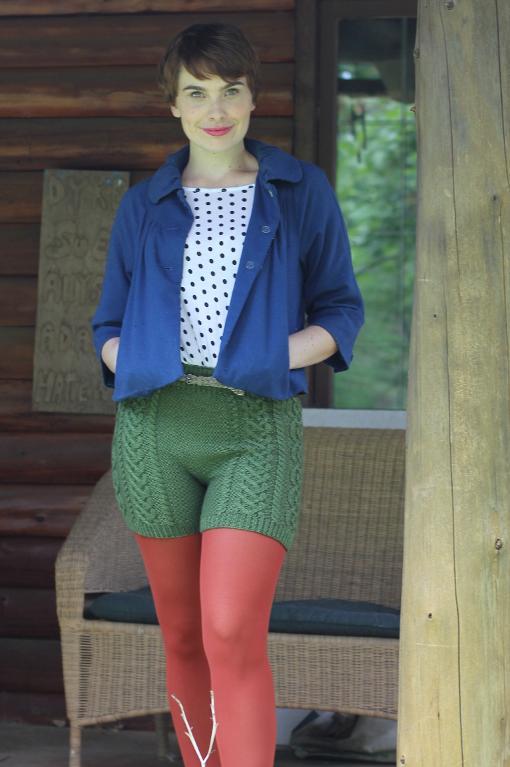 Photo via Bluprint member KatieCanavan
Bombshell Shorts
The Bombshell Shorts combine modern fitted shaping and cables reminiscent of a classic fisherman sweater to make something that feels old and new at the same time. Knit in DK wool yarn and paired with bright tights, they're perfect for a chic fall ensemble. Solids or tonal kettle-dyed yarns would work best to make the cable pattern pop. I'd love to see these in a deep red-purple!
Get the pattern »
Photo via Bluprint member ArmyofKnitters
Tanzanite Shorts
Inspired by 1920s tap shorts and paired with the matching Tanzanite Stockings, the Tanzanite Shorts are unapologetically sexy. The cables in these shorts are simple, but act to draw the eye along curves, like the lines in whalebone corsetry. In fingering weight yarn, these shorts will be light and airy despite their structure.
Get the pattern »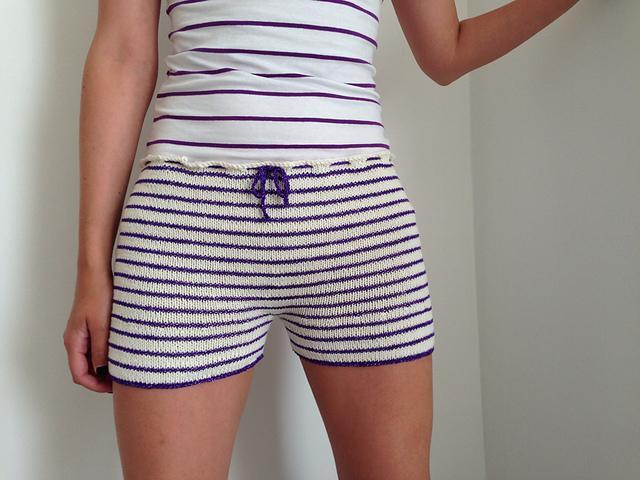 Photo via Bluprint member MissSmart
Hipster Glitter Shorts
Another pair of fingering weight shorts, the Hipster Glitter Shorts go mod with stripes and a comfortable drawstring. Like the other patterns on this list, they are knit in the round for minimal finishing and built-in shaping. These look a lot like the sleep shorts I'm searching for!
Get the pattern »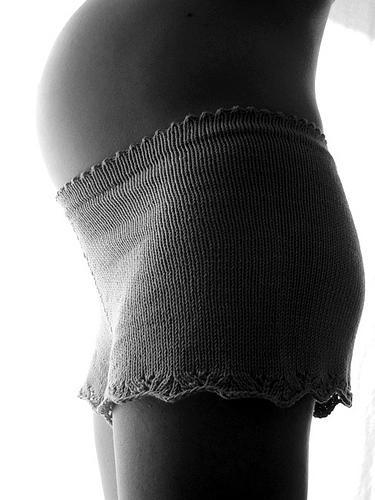 Photo via Bluprint member Mind of Winter
Vaguely Reminiscent Shorts
I love these elegant shorts so much. The delicate lace edging, the picot hem at the waist, the gentle built-in shaping — I love all of it! The yarn is a DK bamboo blend, which makes a breathable fabric that will wear well in hot months. Try them in Universal Yarn's Bamboo Pop! A rich green or a cool blue would be perfect for a pair of summer lounge shorts.
Get the pattern »
The Knitter's Guide to No-Fuss Finishing
Learn essential finishing techniques you can use to bring out the true beauty in any knitting project.Get My FREE Guide »