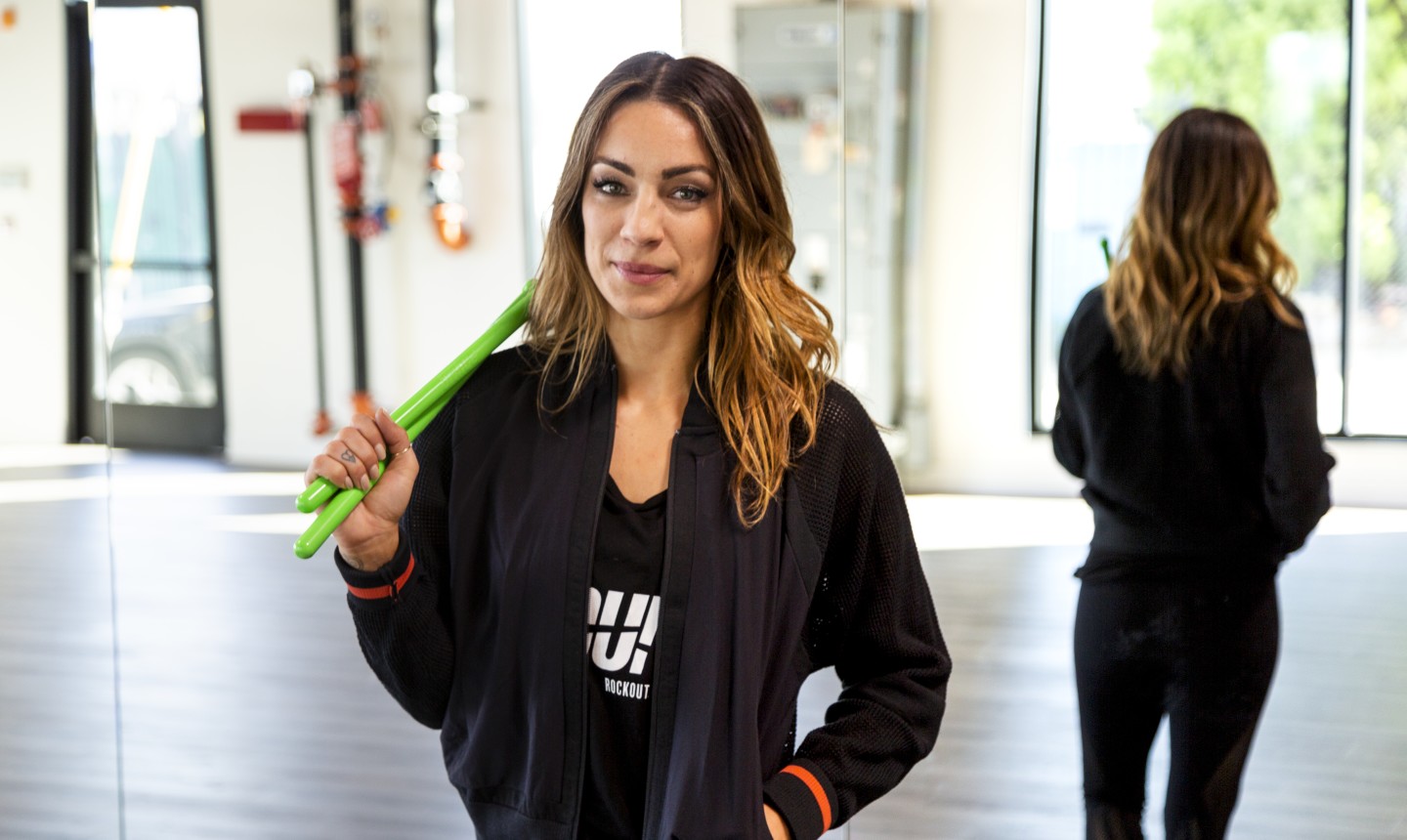 Photo by Tremendous! Entertainment
POUND has been described as "the world's first cardio jam session inspired by the infectious, energizing and sweat-dripping fun of playing the drums." So you might be surprised to learn that its co-creator and CEO, Kirsten Potenza, is a self-described introvert who grew up on farm. We caught up with her to learn how she makes it all fit together.
You're a city girl these days. How did growing up on a farm shape your view on wellness?
My parents bought an old farm and a school house in upstate New York when I was a kid and renovated it, and we were surrounded by farmland. I get introspective looking back, because it wasn't always easy. But it was amazing being able to play outside so freely and also eat out of my mom's gardens all summer long. Now, you have to look to bring those things into your life, whether it's shopping at farmer's markets or going on hikes. Those are the places that I feel most myself, but you really do have to seek them out.
How do you think fitness and wellness relate to creativity?
Anytime you need to get your creative juices flowing, I think moving is the best way. I grew up in athletics, and fitness was just built into my life. When I left that realm, I quickly realized how turned inside yourself you get when you don't move. The gym was not a place that made me super happy before POUND, but being fit and active is so important not just for the body but for the mind.
POUND sounds like a super-extroverted experience. Are you naturally outgoing?
I'm so happy that you asked that question because most people have no idea about this, but I am an extreme introvert. Anyone who knows me knows I love people and truly believe there's something to learn and give and receive with everyone, but I'm also introverted and have a hard time in certain social situations. But at POUND, we create this womb-like environment that makes you feel comfortable enough to be yourself. We wanted it to be welcoming and easy to pick up, but when you're doing it you feel like you're a rock star.
You've also described yourself as "stubborn and headstrong."
My whole life I've had visions for things. I see things that I want to create, and there's something about me that says, GO. Don't let anybody stop you, don't let anybody tell you it's a bad idea, just GO. Being stubborn and headstrong helps me get to the next step. Anybody can have an idea, but action makes them happen.
Your motto is "Be Good, Do Good."
My dad started saying this. When I started hearing it and listening to it, it just was so simple. What makes me happy is simply being good, and doing good. It simply means living with intention and trying to make the world a better place, which is such a vague and general saying, but it simplified everything for me and it really made my purpose in life clear.
This interview has been edited and condensed for length.