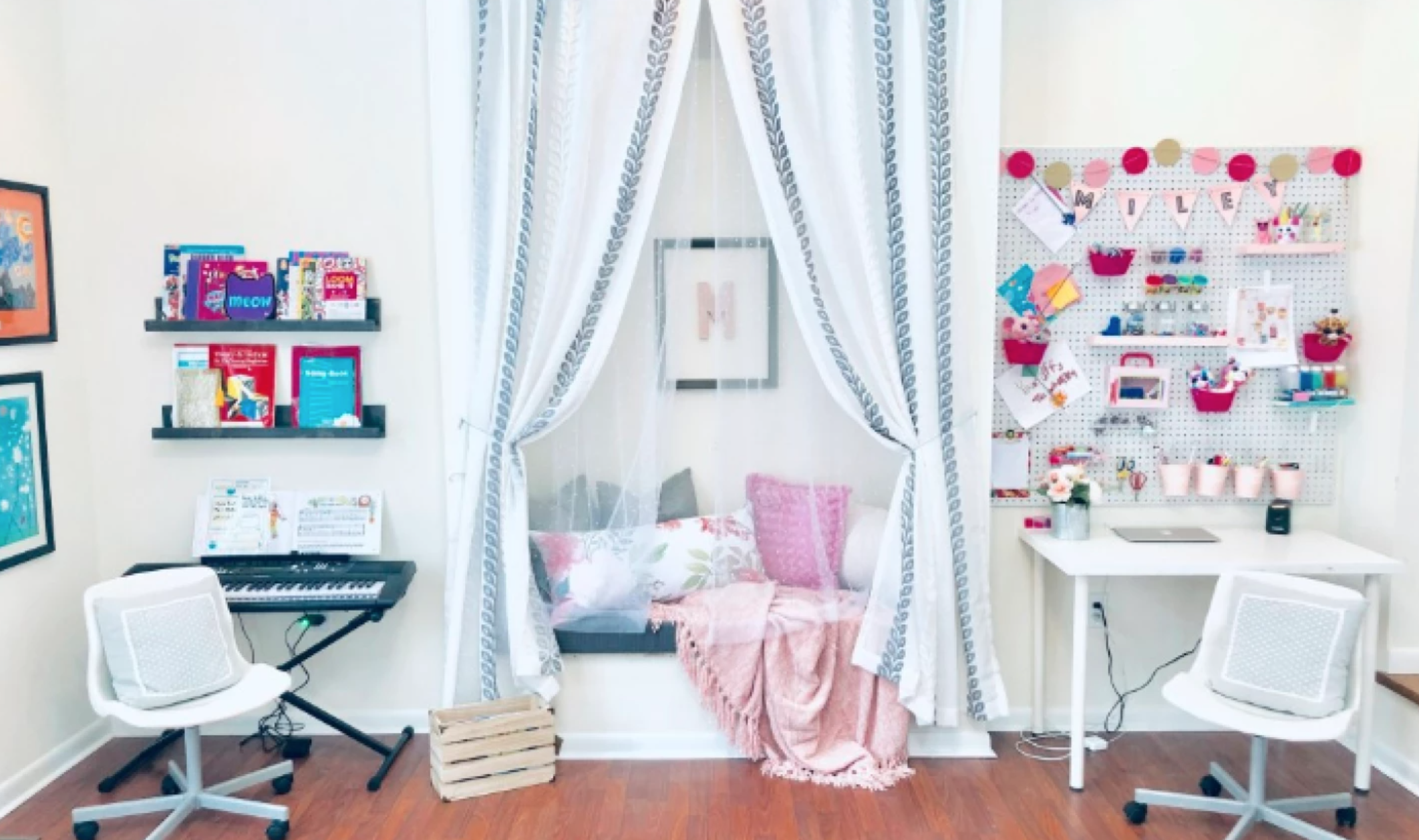 If your little's room could use a little tune-up, look no further. These five kids' rooms are loaded with one-of-a-kind-ness and imagination — just like kids themselves.
A Cubist Creation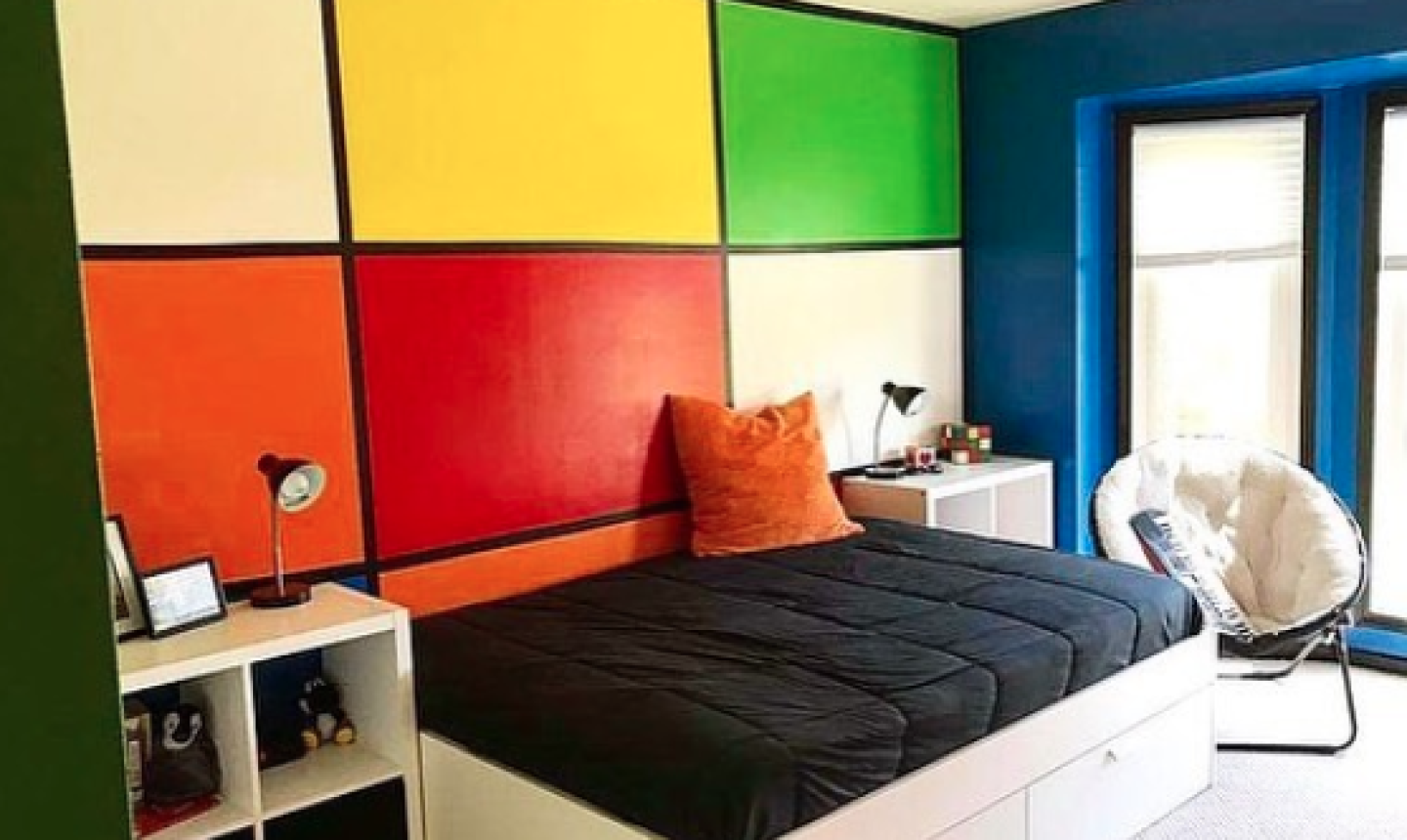 Photo by @happydaisy1211
When Pam's son needed a room revamp, a life-size Rubik's Cube was the obvious choice, since her son regularly competes in Rubik's Cube competitions. And they didn't just imagine it… they actually based their design on a real toy!
"We partnered up to come up with the colors for the three solid walls and figured out how they would be placed on a solved cube," Pam says. "He then did a few scrambles on a cube until we found a pattern we liked for the main wall of squares."
Get the Look
The Rubik's Cube accent wall required precise taping and lots of paint (and plenty of time waiting for all those colors to dry).
"Let your kids bring their ideas to you for their room, and then find ways to bring it to life that you both agree on," Pam says. She also emphasizes the importance of thinking through your design before you start. "Having to redo parts because you didn't envision it beforehand is a huge time-waster."
A Space for Every Hobby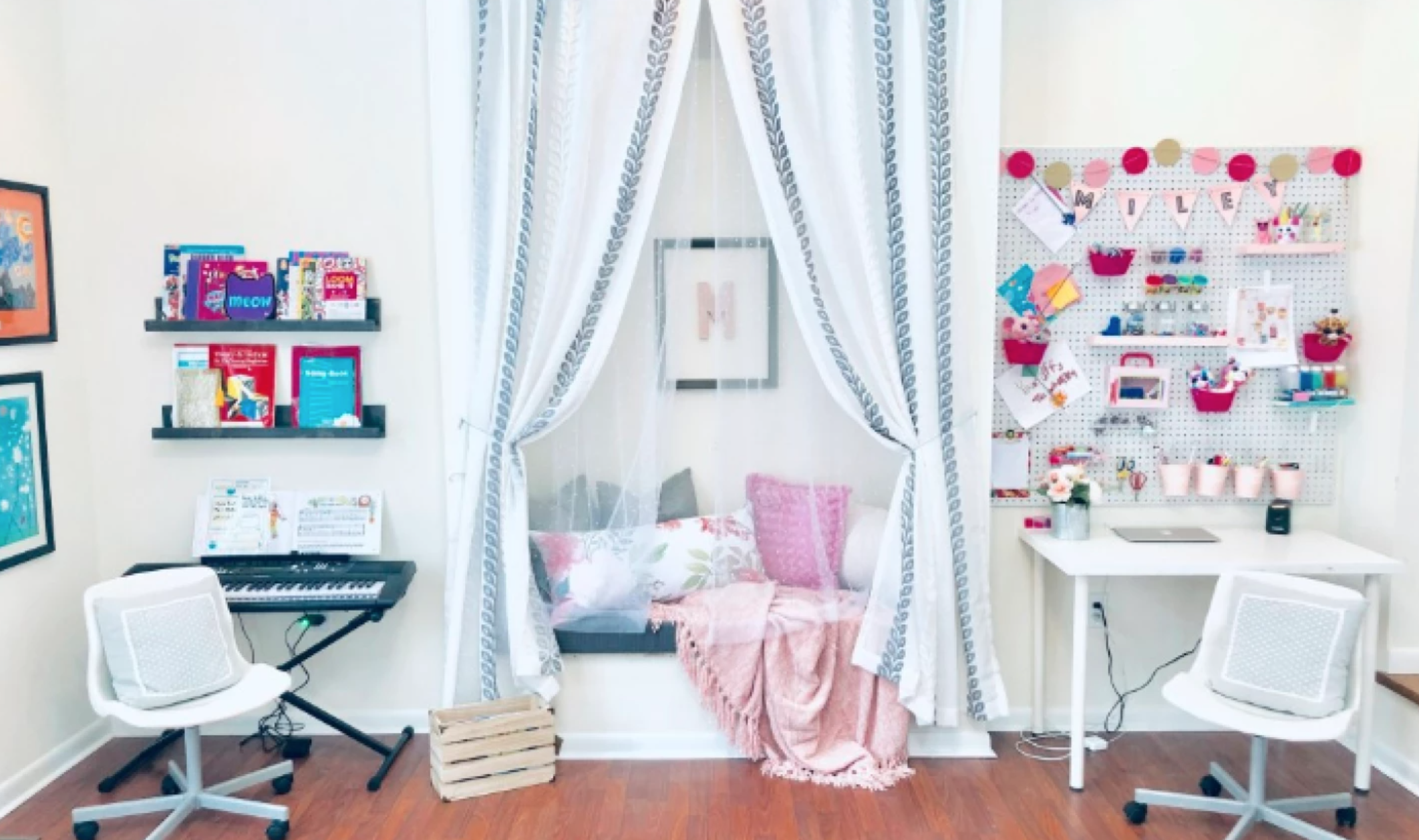 Photo by @eyeinthedetail
Friends Jessie and Jen, who run a DIY blog called Eye in the Detail, created this colorful hideaway for a little girl who has a lot of hobbies.
The pair knew they needed to create a fun and playful space where creativity can thrive. Plus, Jessie wanted to incorporate as many pink touches as possible, since that's the the kiddo's favorite hue.
Get the Look
There are several DIY elements in this room, from the pegboard above the crafting area to the cushioned reading nook and the shelves for music and school books.
Jessie says the pegboard was simple to make (and you can get the detailed DIY here). For the reading nook, she used ready-made curtains and a tension rod to create a draped, whimsical hideout. She even made the bench cushion by hand from foam padding, batting, upholstery fabric, a piece of plywood and a staple gun (no sewing required!). The pair also assembled the bookshelves on the wall to create functional storage that doubles as a visual focal point.
A Lofted Hangout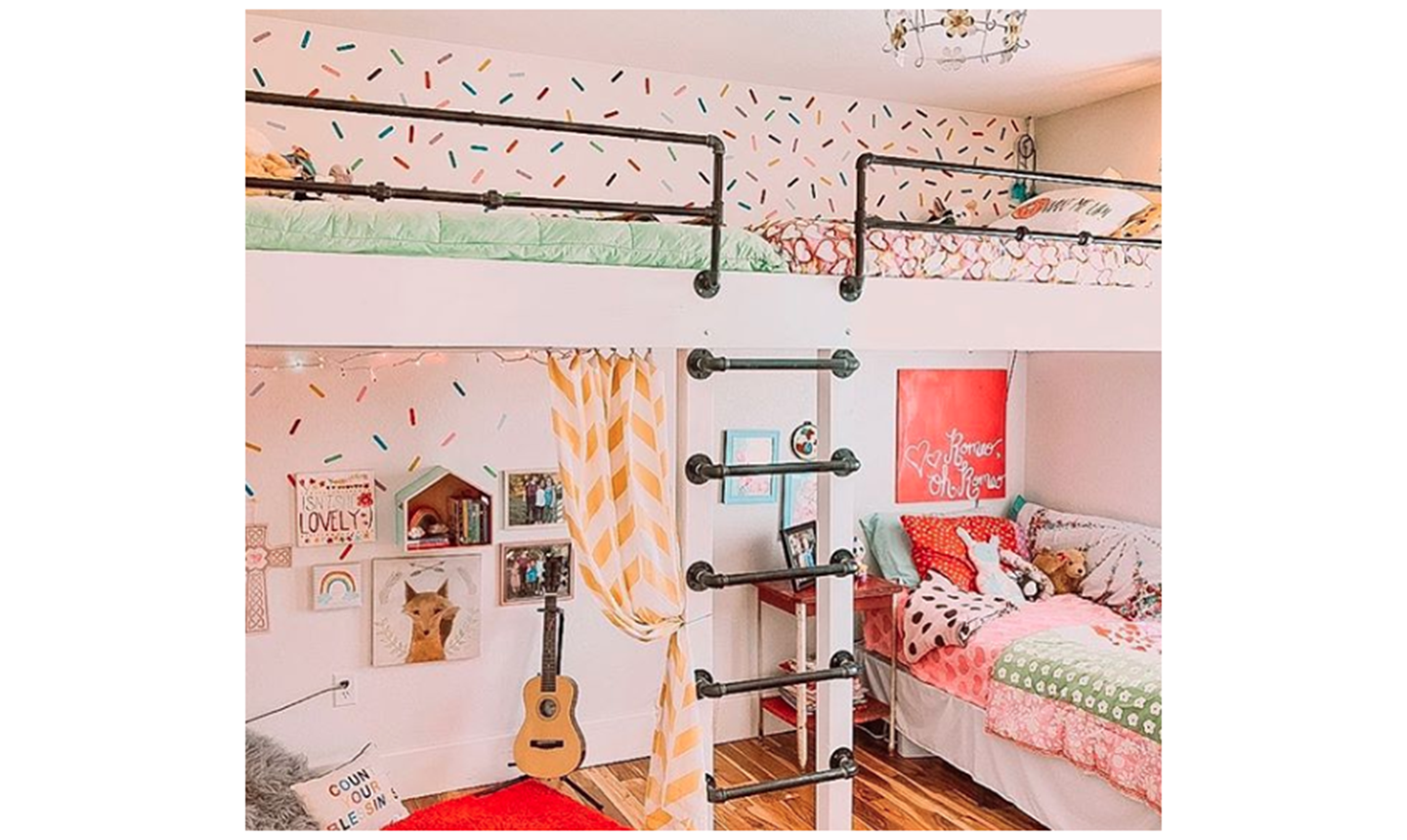 Photo by @maggiedaniel
Crafty mom and home design aficionado Maggie Daniel wanted to create a space for her girls where they can giggle and have their own sleepovers — so she built a double loft bed.
"Seeing your kids' faces when they see such a project come to life is seriously the best. We always strive to show our kids that hard work pays off, and that big change doesn't take lots of money."
Get the Look
Maggie shares her DIY secrets on how to make this loft bed in a YouTube video, but to sum it up, you'll need two twin beds placed end-to-end and plenty of lumber. Maggie built a box frame from 2×12 boards with added support underneath from 2x4s, then bolted the frame into the wall to secure it. She added plywood for the mattresses to rest on and built a ladder from 4×4 posts and pipes.
The look is completed with sprinkle wall decals, and Maggie hand-painted a couple signs for the room as a sweet finishing touch.
Rustic, Yet Modern2>
Photo by @sylviap007
Sylvia Petersen brought a rustic, Scandinavian feel into her son's room, complete with toys, décor, furniture and a mural all sporting a black, white and brown color palette.
Sylvia says that she wanted to transition her son's "baby room" into a "real cool boy room," which meant keeping things creative, but not too young.
Get the Look
Sylvia painted the mural herself by laying a white background, placing a hand-drawn template and painting the mountains a shade of dark brown.
Along with the mural, Sylvia used her DIY magic to create the wood stools at the table. "They were cut from a tree trunk and then I used sandpaper to smooth them," she says. She also created the reindeer seat by repurposing an old reindeer rocker from IKEA. She removed the poles, painted it black and made eyes from wine corks.
Stylish and Sweet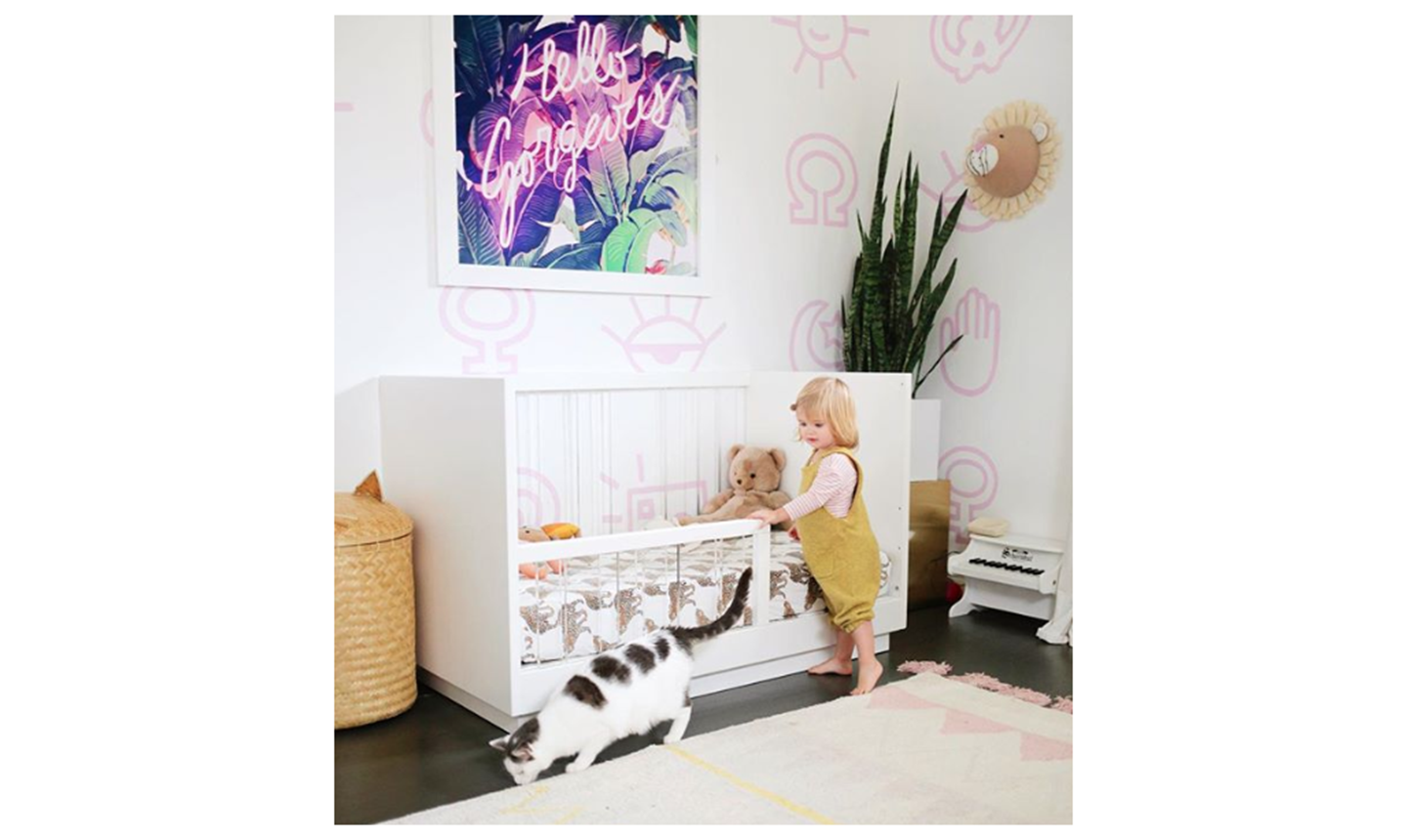 Photo by @gummergal
As a lifestyle writer, Laura Gummerman frequently applies her DIY know-how to her own home. She designed her daughter's room and shares all the deets on her blog, Gummer Gal.
"I think DIY projects in kids' rooms add such a personal touch that you just can't quite get with a mass-produced item," she says. "It's so uniquely personal to that kid, and it was made with love just for them."
Get the Look
Laura created the hand-painted walls in this chic nursery herself. "I drew out the designs I wanted for the wallpaper, scanned them into Photoshop so I could arrange them in the order I wanted, printed out the designs in full-size at a copy shop onto blueprint paper and then traced them onto the blank walls so I could hand-paint over the tracings," Laura says. "One of my favorite designs in the wallpaper is the soft pretzel drawing — it was my top craving while pregnant with her, so I just had to include it!"