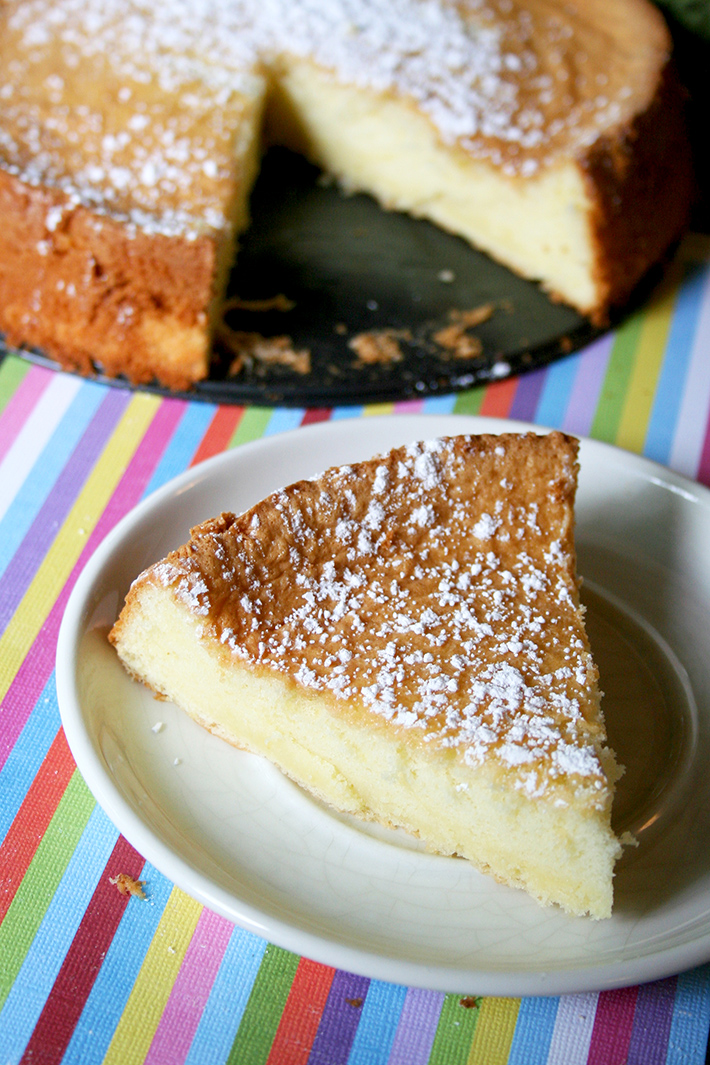 If you've ever gawked at the display case at a Japanese bakery — all those magically perfect cakes and pastries! — you won't believe how easy it is to make some of them at home. And if you've never been to a Japanese bakery, get ready to be blown away.
Why Japanese Cake is So Awesome
You wouldn't guess there's anything extra-special about Japanese cake just by looking at the ingredients: mainly butter, sugar, flour, and eggs. So, what's the deal? It's all about the texture. Sure, the flavor is delicious — buttery and sweet with a tinge of vanilla — but the cotton-fluff feel is what makes these cakes totally unlike others.
In a Japanese cake recipe, you whip egg whites into a meringue and fold it into the batter at the last moment before baking. That's how you get that light airiness, a full-bodied texture that seems impossible for such a rich-tasting cake. The closest comparison is to an angel food cake or a chiffon cake, but a Japanese cake is definitely its own thing.
If you search for "Japanese cake recipes" online, you'll notice that pretty much all of them, from sponge cakes to cheesecakes, use the same meringue method. You'll also see the "cotton-soft" description pop up everywhere. It's no lie: These cakes do feel like cotton fluff, and they're insanely addictive.
How to Serve Japanese Cake
You won't want to weigh down this cake with super-heavy or thick toppings, but it's still an incredibly versatile dessert. Here are a few ways to enjoy it:
Split the cake horizontally and fill it with whipped cream, or slice it and serve each piece with whipped cream and maybe some fresh fruit on the side.
Go for a no-fuss presentation, with just a dusting of powdered sugar or a simple glaze.
Decorate the cake with candied citrus peel.
Poke the surface of the cake with a toothpick or a fork, and drizzle it with your favorite syrup to infuse the flavor all through the cake.
Toast slices of the cake and serve with ice cream.
Top the cake with a thin layer of homemade ganache.
Cotton-Soft Japanese Sponge Cake:
Makes 1 cake
Adapted from Yin Bakes
What You Need
⅔ cup all-purpose flour
¼ teaspoon salt
4 tablespoons unsalted butter, melted and slightly cooled
⅓ cup whole milk
5 eggs, separated
1 teaspoon vanilla
⅛ teaspoon cream of tartar
⅔ cup granulated sugar
Instructions
1. Prep
Position an oven rack in the center of the oven. Preheat to 350 F. Generously grease the bottom and sides of a 9-inch springform pan. Line the bottom with a circle of parchment paper and grease the top of that, too.
2. Mix the Ingredients
In a medium bowl, sift the flour and salt together. Set aside.
In a separate large bowl, mix the butter and milk until combined. Stir in all five egg yolks and mix in vanilla.
Whisk the flour and salt mixture into the wet ingredients, and stir until everything is combined and lump-free.
3. Get It Foamy
In the bowl of a stand mixer fitted with the whisk attachment, whisk the five egg whites and cream of tartar until foamy. Add the sugar and whisk until firm peaks form.
4. Put It All Together
Fold a third of the egg white mixture into the egg yolk mixture, and gently incorporate it until you don't see any more streaks. Now do the same for another third of the egg white mixture, and repeat with the final third.
5. Bake
Turn the batter out into your prepared cake pan, smoothing out the surface before you bake.
Bake for 10 minutes, then reduce the heat to 325 F. After 10 more minutes, rotate the pan. Bake for 20 more minutes or until the cake is golden and a toothpick inserted in the center comes out clean.
6. Let It Cool
Remove your cake from the oven, and let it cool for a couple of minutes. Run a sharp knife around the perimeter of the pan to loosen the sides, then remove the springform sides. Let the cake cool completely before you serve it.
Congrats, you've made your first Japanese cake. Already hooked? Yeah, we thought so!
Want to engage in some more international cake education?
Check out Craftsy course Beyond Vanilla: Flavors From Around the World.