There are several different knitting techniques that involve stranded or multi-color knitting. One style, the style least often used in hand-knitting, is the jacquard knitting technique.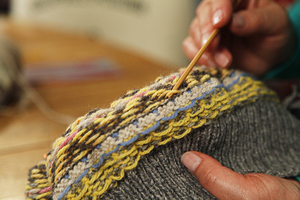 Jacquard knitting is recognizable by its reversibility, either because the fabric is truly double-sided or because the back side does not show those floats we expect from stranded knitting. Instead, a project knitted in the jacquard knitting technique will have a dotted effect on the back side. A true double-sided jacquard knit will have pattern on both sides and will be double thick. The floats created by the color switches will be confined to the inside of the finished project. The other characteristic feature of jacquard knitting is that it involves far more colors than other styles of stranded knitting. This post shows some classic examples of the jacquard knitting technique.
Jacquard knitting is most easily done on a machine. Indeed, the technique was developed by people wanting to knit on a Jacquard loom. On a knitting machine, you can program a jacquard knitting pattern and use as many colors as you like. While most stranded knitting focuses on only two colors, the jacquard knitting technique on a machine can incorporate a variety of colors. Those well-versed in machine knitting recommend that someone new to jacquard knitting should use pre-punched cards, at least until you get the hang of it. (I highly recommend the linked pamphlet if you really want to try the jacquard knitting technique.)
While true jacquard knitting with its multi-colored work is incredibly difficult to do by hand, you can do a double-sided, stranded knitting project that is a close approximation. A double-sided project creates the jacquard knitting look and leaves you with a reversible fabric with stockinette stitch on either side. With a double-sided project, you work the two different fabric sides at the same time with all the stitches on one needle. The stitches will alternate: first you'll work the stitch for the front side and then you'll work the stitch for the back side. If you're working in stockinette, this means you are constantly alternating between knit and purl stitches as the stitch for the side facing you is always knit and the stitch for the side facing away is always purl.
Some things to keep in mind when trying out jacquard knitting. It's not something you can just do for part of a project. Once you want to start a project with jacquard knitting, you're committed to maintaining the technique throughout the project. This is because jacquard knitting is thicker than regular knitting and because of the way the background colors bleed through to the frontside of the project, almost providing part of the pattern.
Because you're working with a double-sided fabric, it's not well-suited to a chunky or bulky yarn as that will produce a very thick, inflexible fabric.
Jacquard knitting is not for the feint of heart. But if you're up for it, you can create a fabulous, colorful piece unlike anything else you've ever knitted.