Have you ever wondered how crocheters create that trendy, loopy braid in their projects? It's an interesting stitch technique called Jacob's Ladder.
Jacob's ladder crochet creates a flat braid on top of your crochet project.
The technique is typically executed on double crochet fabric, although it can be worked on other stitches as well. You can make one or more columns of Jacob's ladders, each separated by the double crochet stitches.
Jacob's ladder is really easy to learn, so it's a nice technique for crocheters who want to add something to their work that looks fancy but isn't hard to execute.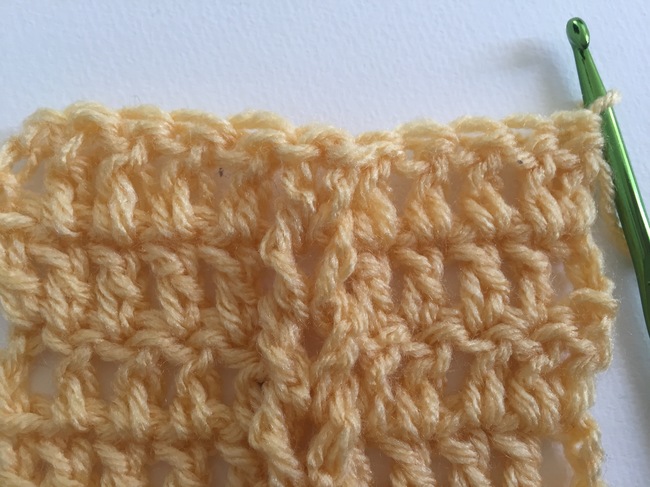 Tutorial photo by Kathryn Vercillo of Crochet Concupiscence
How does Jacob's ladder crochet work?
It helps to understand what the stitch is all about before you begin. To create this braid, you'll start with rows of a regular stitch, such as double crochet. Within those rows, you'll going to create long chains that leave gaps in the row.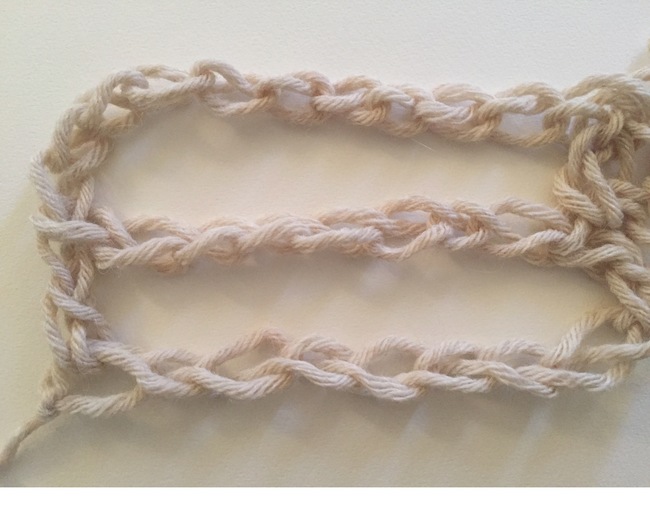 The chains can vary in length but are often a length of 7 chains. Whatever number you use, the chains will be the same length in each row. The chains are stacked one on top of another, row after row. Eventually, these chains will be turned into Jacob's ladders.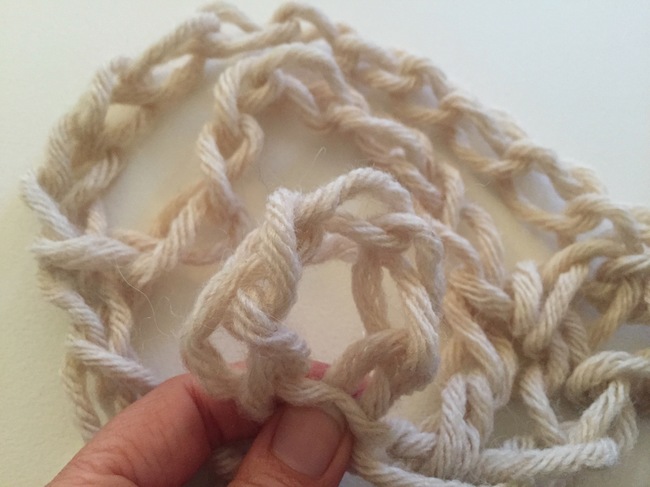 When you're ready to create the ladders, you'll begin with the very bottom chain. Then you'll use your fingers to twist that chain into a knot that looks like a normal crochet chain. Simply bend the chain over itself so that the right side crosses over the left and makes the knot.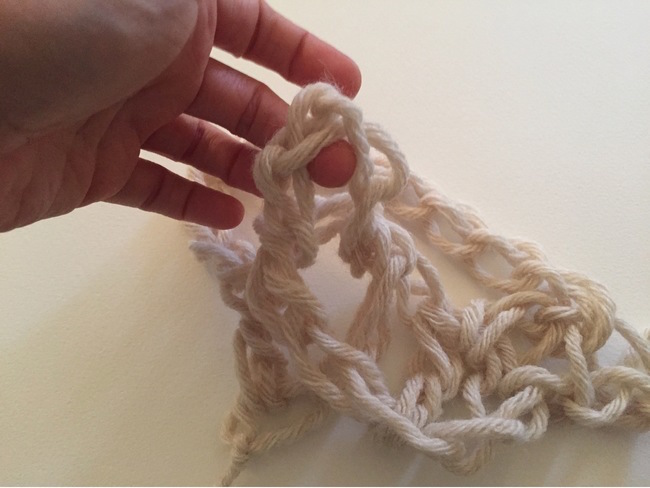 Next, you'll move your fingers up to the next chain in the row above. Simply pull it down underneath your knot and then pull it back up through the knot, making sure it doesn't twist in the process. This creates the next "chain" in your ladder. Continue moving up, row by row, adding chain to your ladder.
In many ways, creating a Jacob's Ladder crochet column is like creating the chain for a finger crochet project!
Jacob's Ladder tutorial
Let's crochet a swatch that uses this technique to get a better understanding of how this technique works in a project.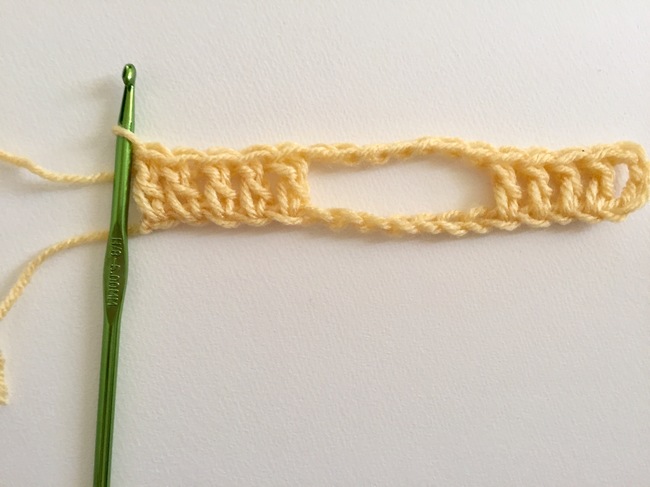 Row 1: Chain 19. Double crochet in fourth chain from hook and next three stitches (total of 5 dc). Chain 7, skip 7. Dc in each of next five stitches.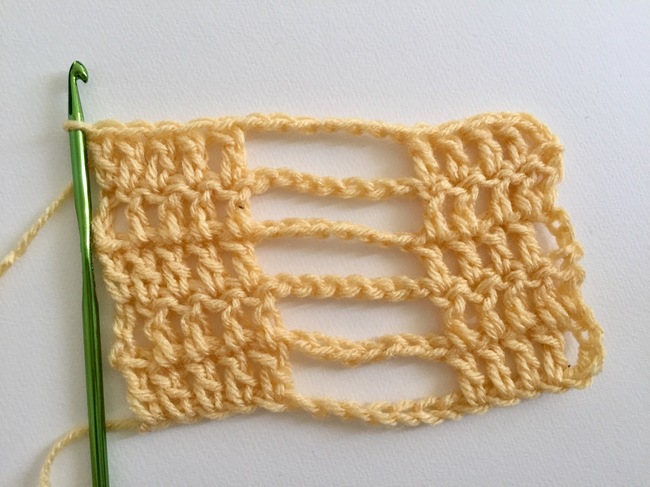 Row 2: Turn, chain 3. Dc in next 4 stitches. Chain 7, skip 7. (All that you're doing here is creating a chain above the chain in the previous row.) Dc in each of next five stitches.
Rows 3 – 5: Repeat for another three rows so that you have a total of five rows.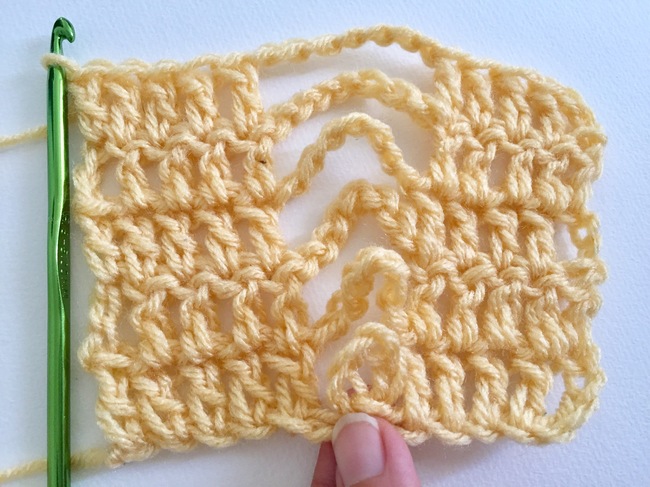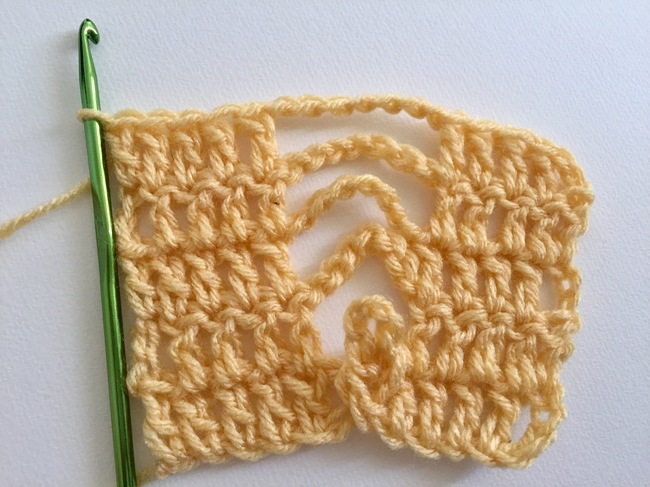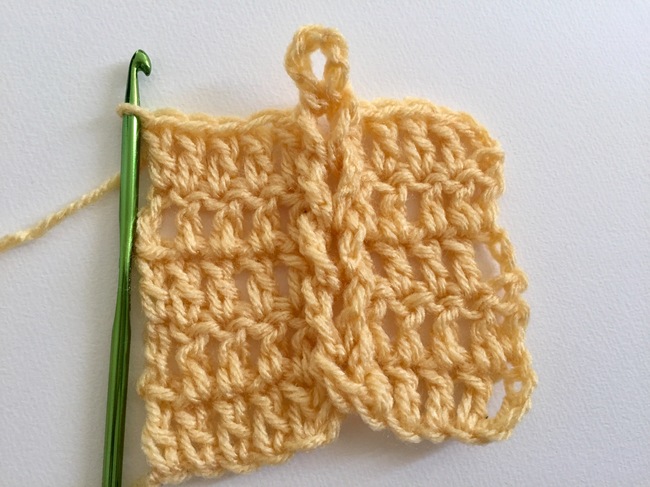 Making the Jacob's ladder: Leave your crochet hook in the last stitch. Use your fingers to create the Jacob's ladder in the chains area. As shown in the guide above, you'll take the following steps:
Start with the bottom row of chains. Twist the chain into a loop by bringing the right side over the left with your fingers.
Hold that in place with your left hand. Move your right hand to the next row of chains. Without twisting that chain, pull it through the loop you created in the first row, bringing it up from underneath to create the second chain in the "ladder".
Continue to repeat the previous step until you have pulled each chain through into the ladder.
Notice that the technique brings the two sides of double crochet in toward each other. When you reach the top, the final chain will not be attached to anything (yet).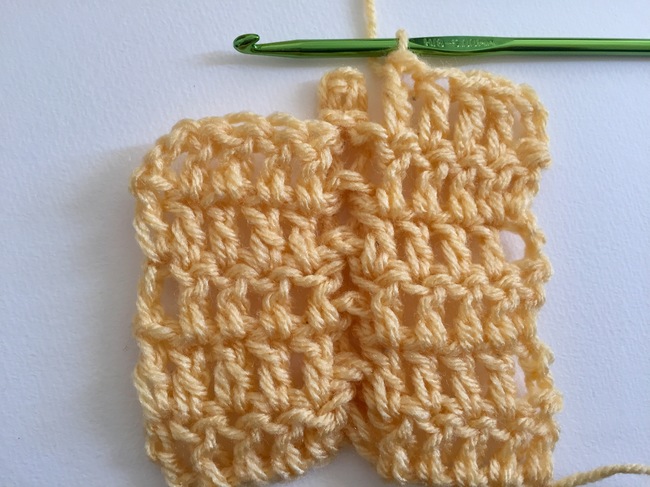 Row 6: Turn, chain 3. Dc in next 4 stitches. This brings you to the loose chain at the top of the Jacob's Ladder.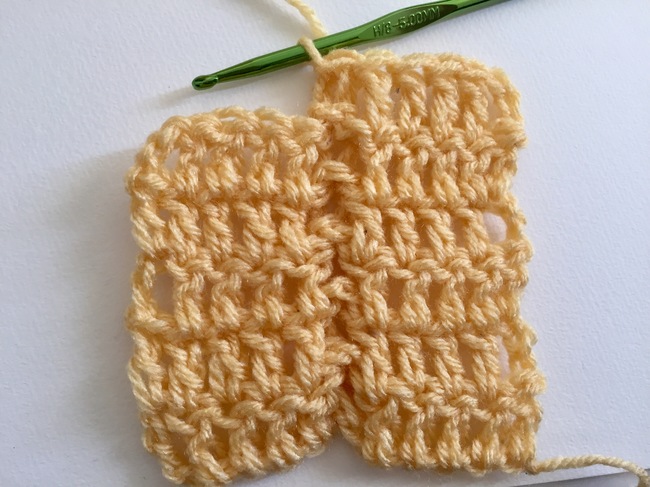 Slip stitch through the loose chain. This secure the Jacob's Ladder shut.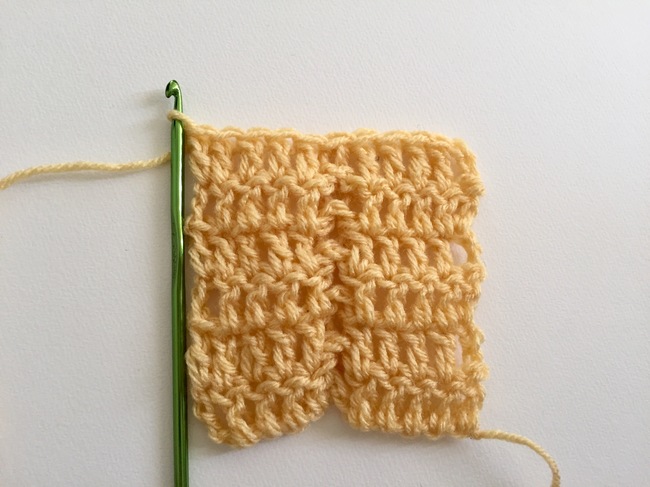 Dc in next five stitches. Fasten off.
Variations on Jacob's ladder crochet
The swatch shown above is just one example of how to work this stitch. Jacob's Ladder crochet is really a technique, not a specific stitch. There are many ways to vary the design, including:
Change the base stitch. While double crochet is common, you can work it in rows of other stitches, such and single or half-double crochet.
Change the number of stitches in the chain. Our swatch uses seven chains, but you can use fewer or more. Play with different options to see the design differences.
Change the number of stitches between the chains. Our swatch uses five double crochet stitches on either side of the Jacob's ladder; you could use more or fewer.
Add more Jacob's ladder stitches in each row. You can have more than one column of stitches, which would be likely in a wider project such as an afghan.
Give it a try with these patterns featuring Jacob's ladder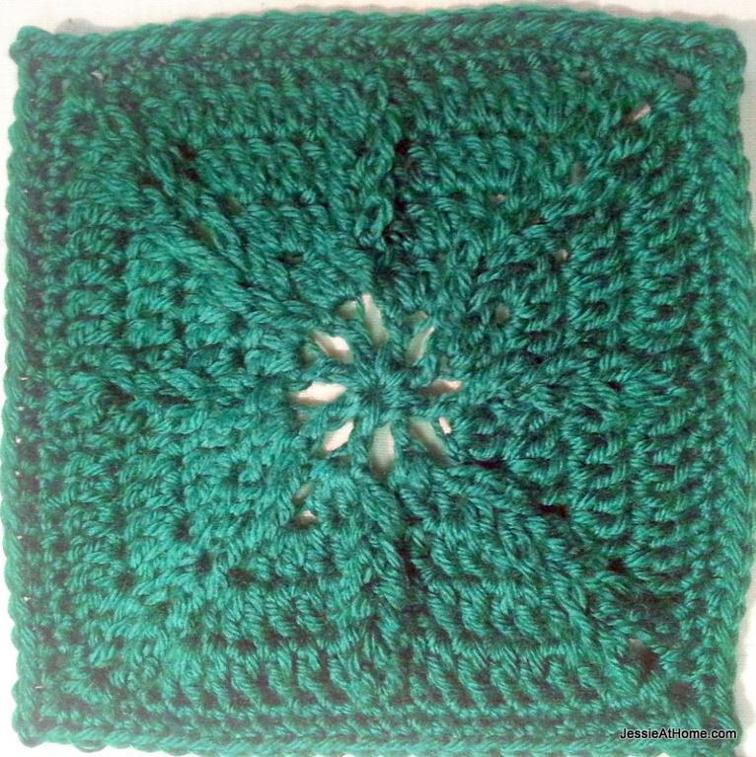 The Jacob's Square free crochet pattern from JessieAtHome shows you how to work the ladder on each edge of a square worked in the round.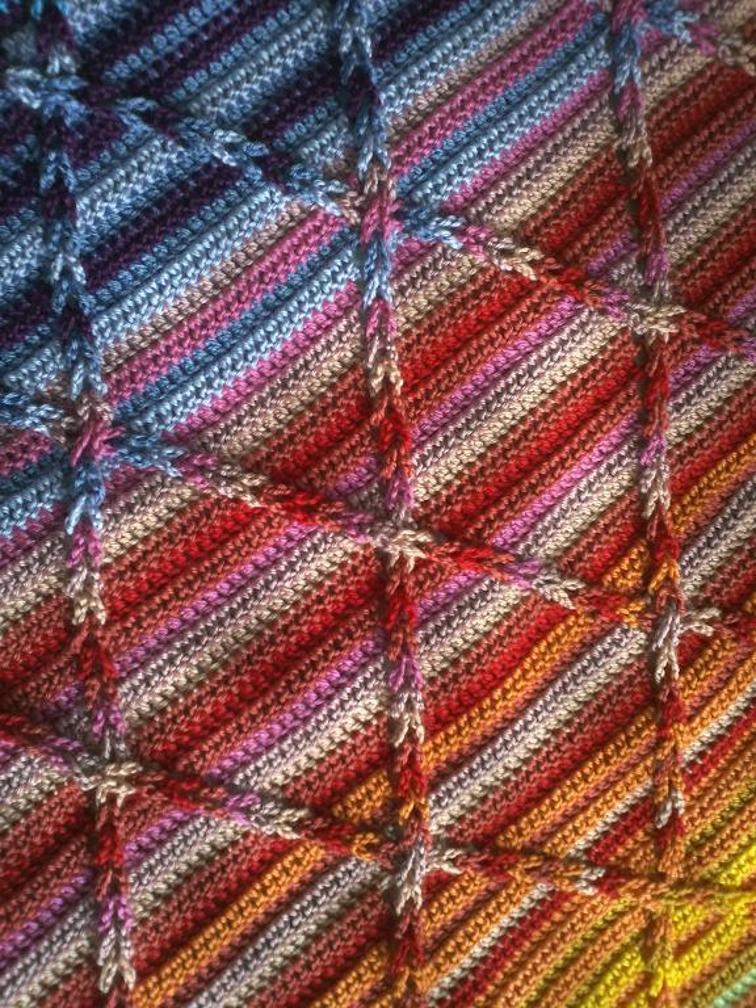 Jacob's Snakes and Ladders Blanket crochet pattern by Fantasticmio.com shows how the technique can be worked on the vertical to create a more cabled, textured design.