It's always amazing how creative you can be when creating custom cards. Many times we run to the craft store for more products, but ideas for card making may be closer to home. Why not try thinking outside the box a little? Take a look around your house to see what you might already have on hand. You'll be amazed at all creative possibilities you can find.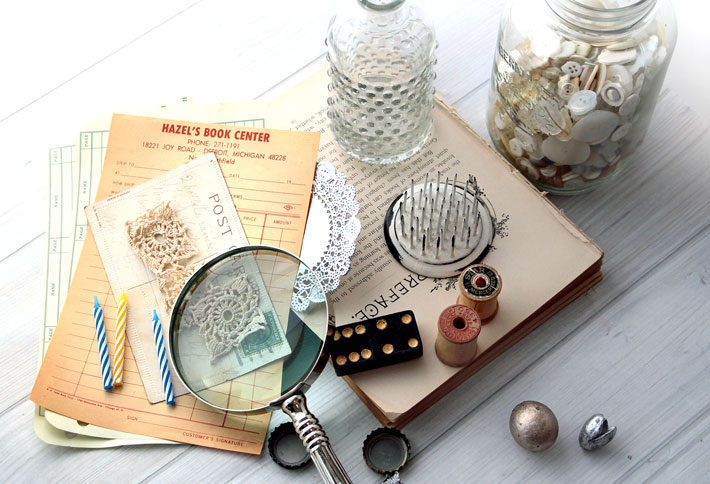 Images via Julia Stainton
To provide you with a little inspiration to get you started, check out these fabulous ideas!
Bandages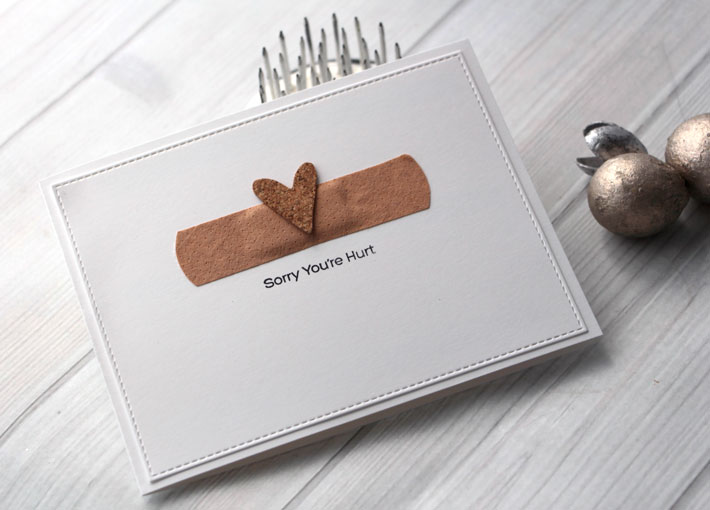 Don't overlook the mundane. Even bandages can make fun and unique card designs. A simple little bandage on the front of a card makes a quick, fabulous get well card. It even comes with its own adhesive!
Bubble wrap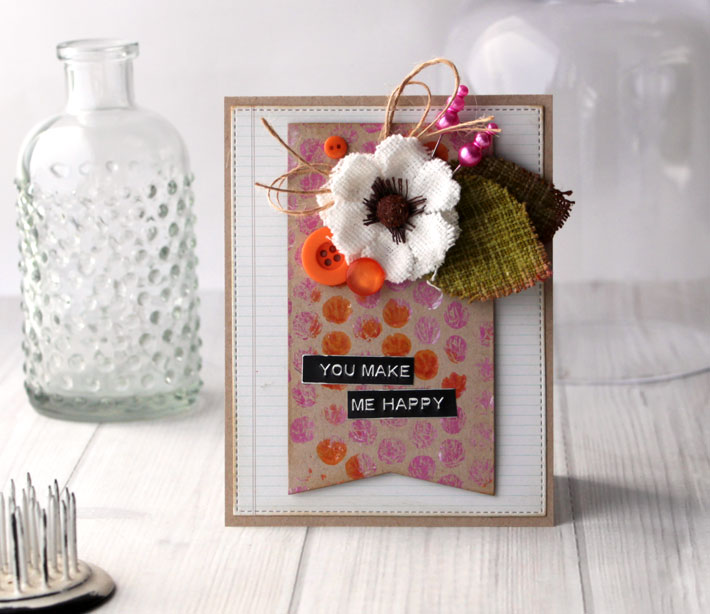 Bubble wrap can be addictive to pop — but don't use it all up. Save some to create a stunning background! Just brush some paint onto the bubble side of the wrapping sheet. Flip it over and press the painted side onto some card stock to create a lovely, dotted background. Allow the paint to dry well and then start creating.
Book pages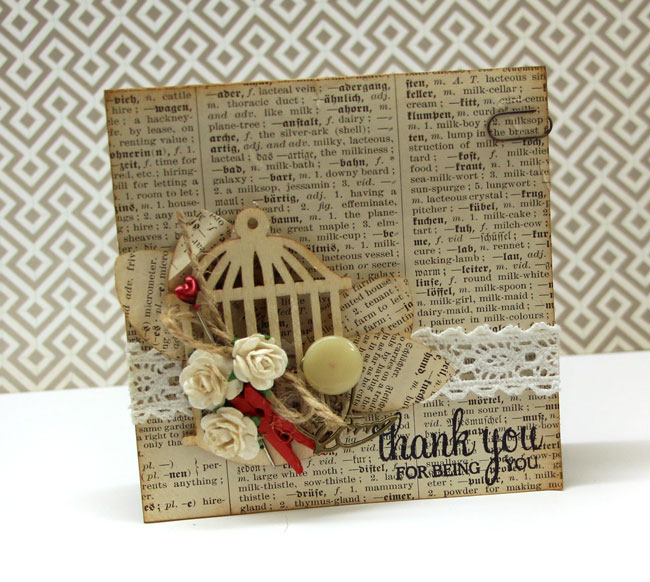 Old books make fabulous vintage-style paper layers. Don't throw out those old books; re-purpose them into something wonderful. Text is a classic pattern used in patterned paper, and you can use it in almost any design. Books, sheet music, dictionaries and even phone book pages make beautiful layers. These papers can be stamped, die-cut, painted, inked and punched for limitless possibilities. When using vintage papers, be careful as you handle the pages, as they become more fragile as they age.
Ephemera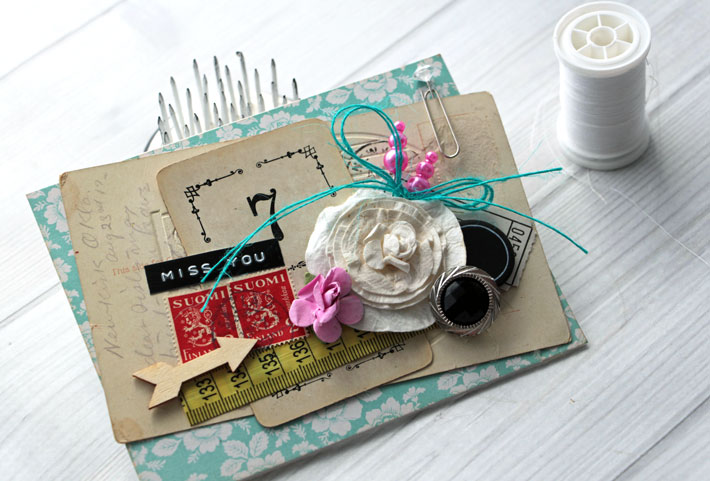 Ephemera is simply a collection of paper items that are not meant to be kept for a long time. Think: postcards, tickets, brochures and letters. All these items make interesting details on any paper crafting project. You can purchase ephemera at antique stores or printed ephemera in packages that coordinate with specific paper lines. Finding it yourself among your stash of kept items is even better, as it won't cost you a thing and makes your card design so much more personal.
Candles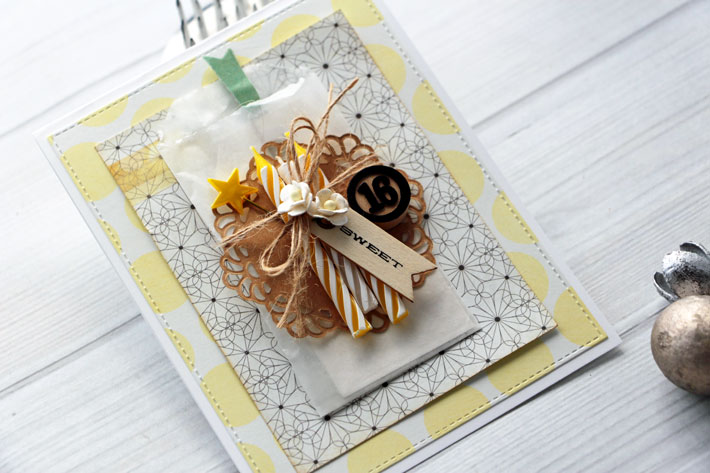 Need to make a quick birthday card? Pull out a birthday candle and you're on your way to a sweet birthday card design. Be sure to keep the candles small so that the card design is not too bulky to mail. A hot glue gun is a great way to hold these items in place.
Make Birthday Cards They'll Remember!
Learn how to create 4 birthday cards your loved ones will adore! It's all in this FREE Bluprint mini-class.Enroll FREE Now »
Photos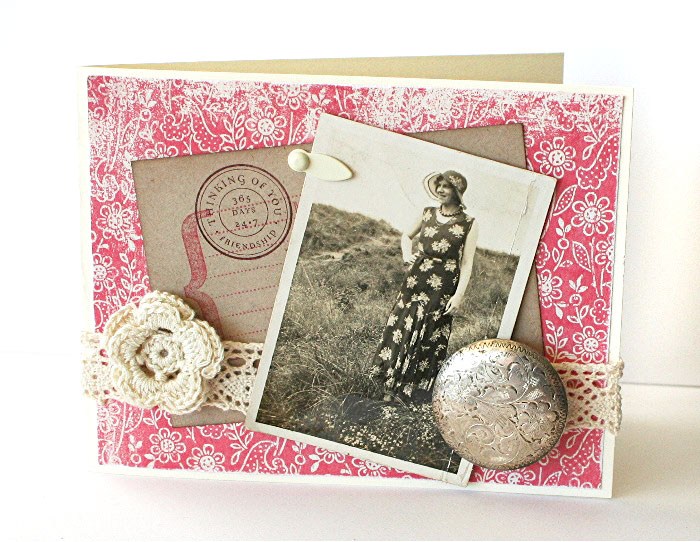 Photos are a wonderful way to personalize a card project. Old photos make beautiful additions to a vintage-style card design, while recent photos of the recipient make great themed designs for weddings, birthdays or other special occasions. Photos can be layered onto the design and carefully adhered, or you can create a photo pocket style design so that the photo can be removed and kept. If you want to use a treasured photo on a card, take the time to make copies.
Packaging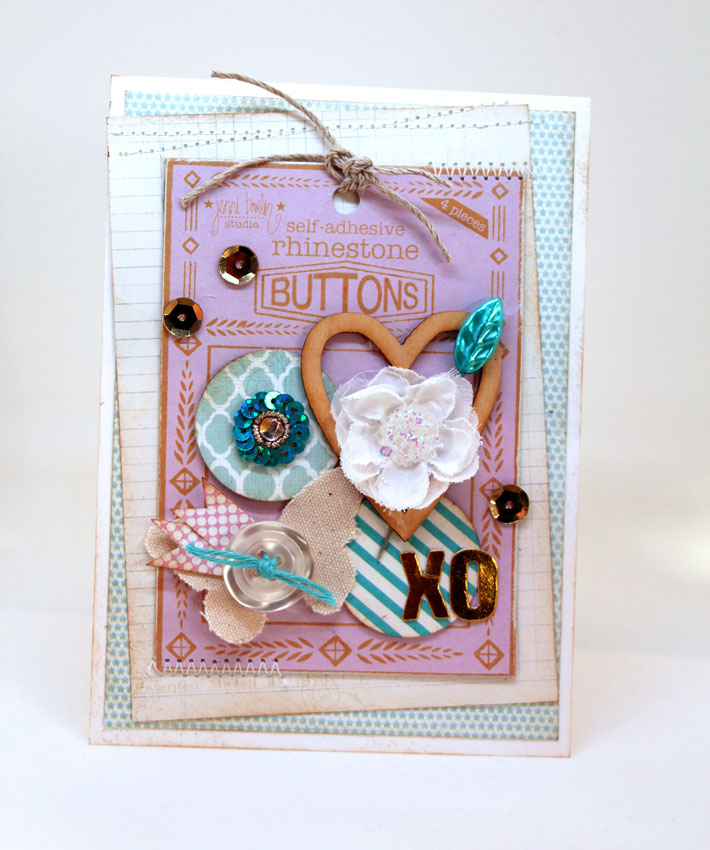 Product packaging is often pretty and eye catching. Make the most of your crafting dollar by using  every little bit of the product, including the packaging. Cardboard inserts can make lovely layers and embellishments on a design. Blister packs can be die cut to make pretty plastic embellishments or a window shaker card. The old adage "Use it up, wear it out, make it do, do without," is well worth keeping in mind when crafting on a budget, and making the most of your packaging is a great way to do that.
Buttons
Buttons may be one of the most versatile embellishments for cards. You can purchase them, but you can also collect your own. Cut them off old, worn-out clothing and keep them in a jar. Most clothing also comes with extra buttons that you rarely need. Save these as well. You never know when they'll make the perfect finishing touch to your design!
Some of the most beautiful and creative card designs are created using unique products. Open your mind to creative re-purposing and your projects will take on an entirely new dimension.
Make Birthday Cards They'll Remember!
Learn how to create 4 birthday cards your loved ones will adore! It's all in this FREE Bluprint mini-class.Enroll FREE Now »