Gelatos are creamy sticks of acid-free, odorless water-soluble pigment color. They blend beautifully wet or dry, can be used with stamps or stencils and can be mixed in with just about any other medium such as modeling paste or gesso. They can also be used for watercoloring and spritzing or spraying. No matter the technique, you can be assured the results will be vibrant and beautiful.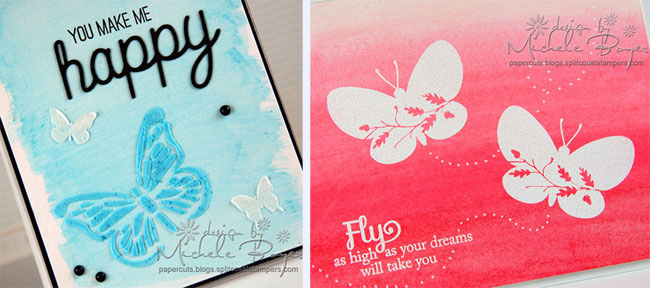 How to use Gelatos for card making
FREE Guide: Innovative Ideas for Creative Paper Crafts
Try these four trendy techniques for stunning projects that shine.Download your FREE guide »
Supplies you'll need:
Gelatos (I used Faber Castell Cotton Candy, Guava, Metallic Melon and Red Cherry)
Card stock or watercolor paper (I used Sweet Tooth card stock by My Favorite Things)
Paint or water brush  (I used a 3/4″ or 1.9 cm brush)
Small bowl of water
Paper towel
Stencil
Embossing paste
Palette knife
Loving this tutorial? Download this easy, printable PDF, and enjoy it anytime, anywhere, forever!
Get Your PDF Here! »

How to create an ombré background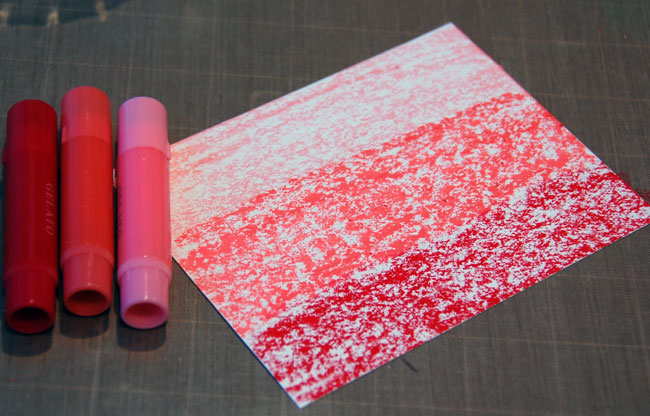 Step 1:
Apply Guava (light pink) gelato to top one-third of card stock. Apply Metallic Melon to center, slightly overlapping Guava. Apply Red Cherry to bottom one-third of card stock, slightly overlapping Metallic Melon.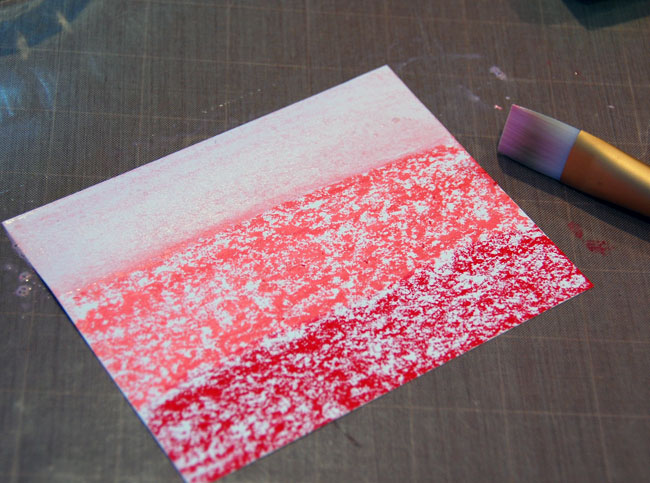 Step 2:
Dip brush into water and apply over Guava gelato. Continue to brush and add water, as needed, to break down pigment and evenly spread color. Note that lighter weight card stock will begin to fall apart or "ball" if too much water is applied, so cautiously add water as needed.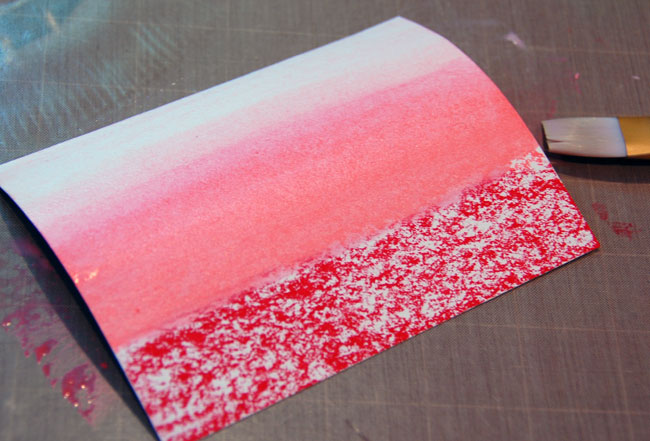 Step 3:
Apply water to center Metallic Melon section. Once pigment is broken down, clean brush on a paper towel, dip in water and blend into lighter Guava section.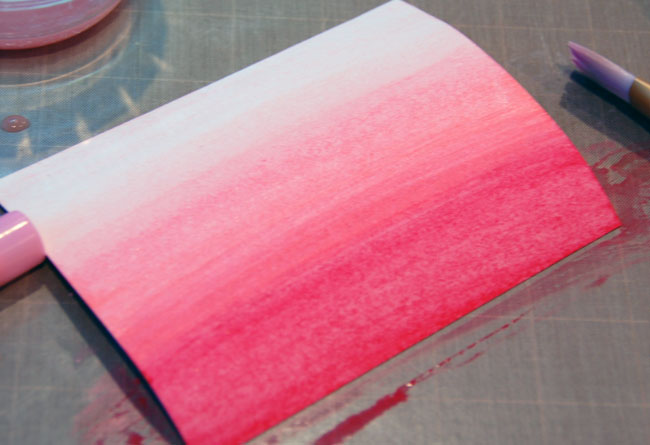 Step 4:
Apply water to Red Cherry section until color is fairly evenly spread. Clean brush, dip in water again and blend upper edge of Red Cherry into Metallic Melon.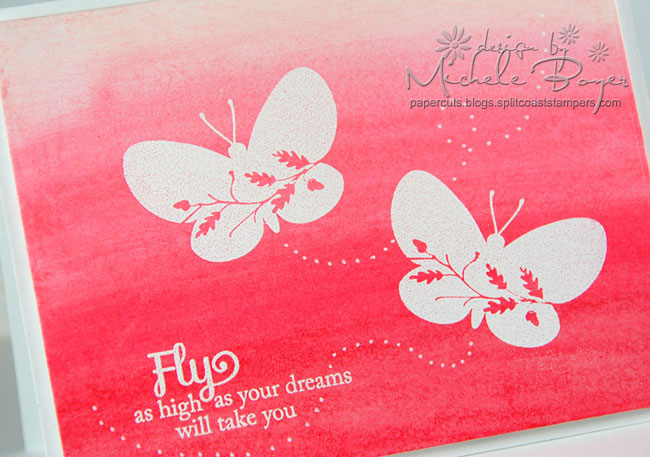 Step 5:
Allow card stock to thoroughly dry then embellish as desired. I white embossed butterflies and a sentiment from Blissful Butterflies stamp set by My Favorite Things. Once embossed, I used an opaque white marker to add dotted flight trails.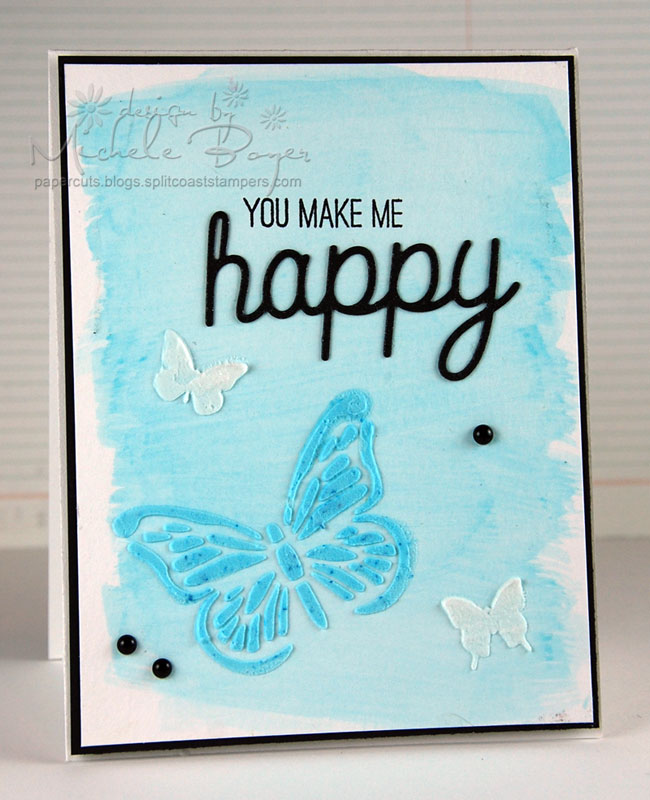 A smooth, paint-like appearance results when gelatos are mixed with water before applying to paper.
How to create a color wash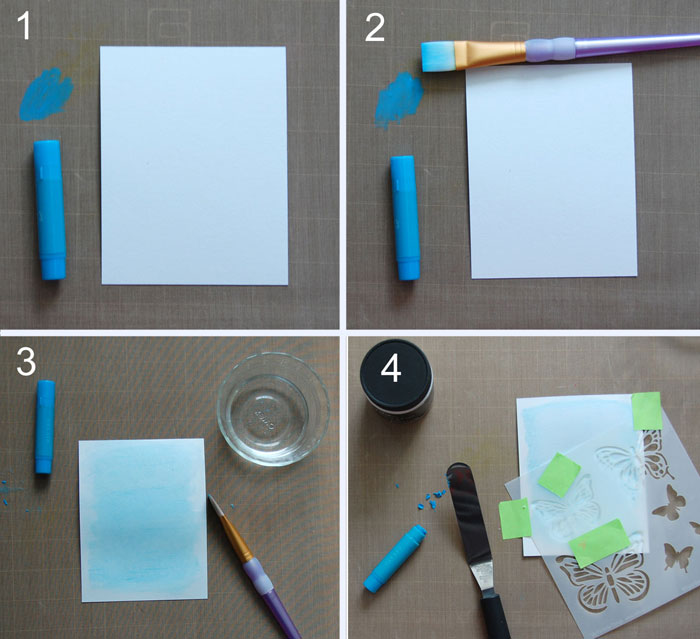 Step 1:
Scribble Cotton Candy gelato onto craft sheet.
Step 2:
Using a brush, add water to gelato, mixing to break down pigment.
Step 3:
Brush color across card stock leaving edges white for a watercolored appearance. Additional color can be added if desired, Simply scribble more gelato onto craft sheet, wet and apply.
Step 4:
Using removable tape, secure card stock to craft mat. Cover any extra open areas of stencil with tape and secure in position over card stock. Using palette knife, "shave" a few pieces of gelato onto craft sheet.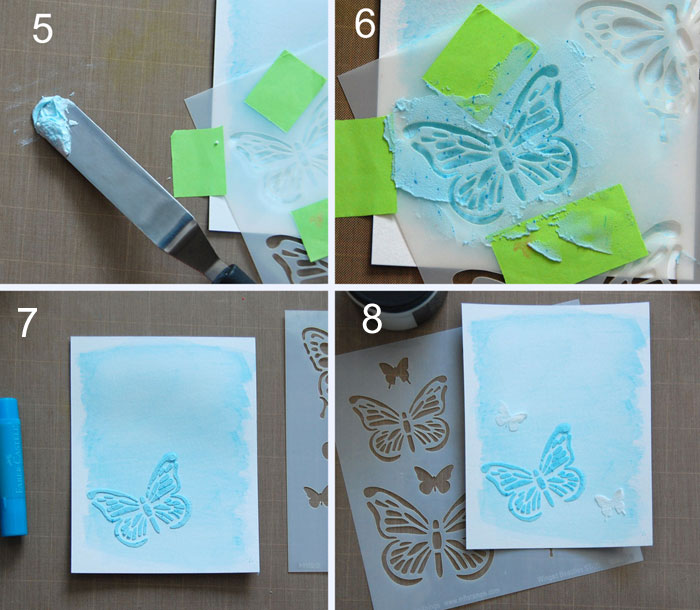 Step 5:
Scoop a small amount of embossing paste from container and mix into gelato shavings. The pigment will dissolve with mixing or small particles can be left undissolved as I did here. Be certain to recap the embossing paste as soon as possible as it will dry out very quickly.
Step 6:
Spread tinted embossing paste over open areas of stencil.
Step 7:
Carefully lift stencil from card stock and allow paste to dry. Wipe stencil and palette knife clean right away or place into a bowl of water for later cleaning.
Step 8:
Once tinted butterfly is dry, additional paste images may be added. Finish as desired. I stamped a partial sentiment over the dried gelato background and added a die-cut "happy." (Partial sentiment is from Totally Happy stamp set and happy die is from Happy Trio Die-namics, both from My Favorite Things.)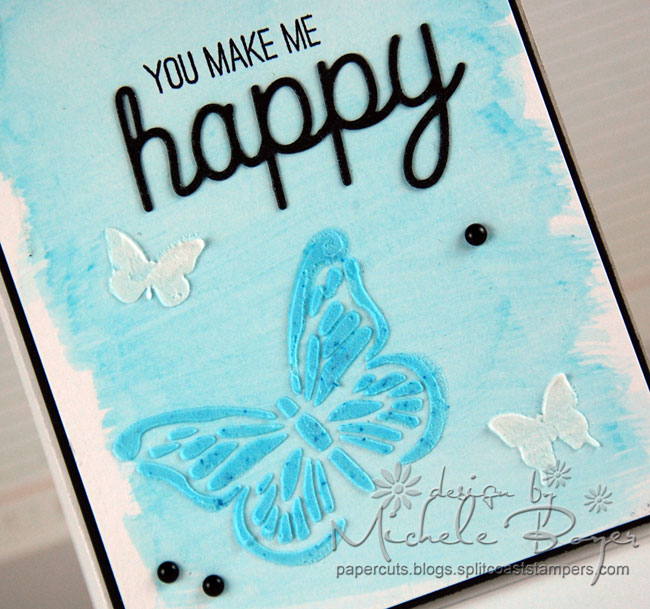 FREE Guide: Innovative Ideas for Creative Paper Crafts
Try these four trendy techniques for stunning projects that shine.Download your FREE guide »