When I first started sewing, my mom gifted me a sewing basket full of supplies. Of all the supplies, the one that intrigued me the most was the tracing wheel. What in the world was I supposed to do with that thing?
Once I figured out that I could use the tracing wheel to transfer patterns to fabric, the tracing wheel and I became best friends. Don't be jealous, seam ripper! With the tracing wheel by my side, my sewing became much easier, not to mention more accurate. Here's how I use that reliable tracing wheel to transfer patterns and markings to fabric.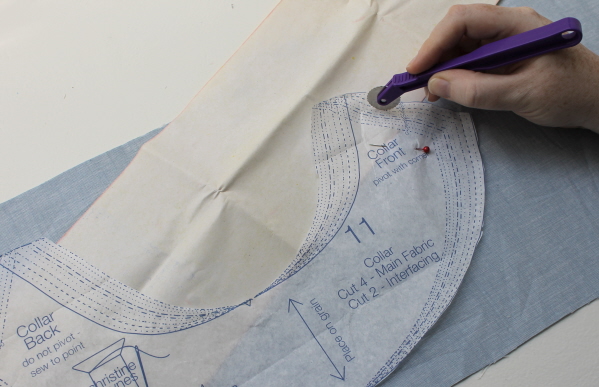 How to use the tracing wheel
What you'll need:
Cutting mat
Blunt tracing wheel
Dressmaker's carbon paper (available at any craft supply store)
Fabric
Pattern pieces
Directions
1. Place your fabric on the cutting mat to prevent scratches on the work surface once you get rolling.
2. Align the pattern piece on your fabric as usual, being sure to align the grainline. Hold the pattern piece in place with pattern weights or pins placed inside the pattern piece, a few inches away from the size you are tracing.
3. Choose a carbon paper color that contrasts your fabric, so that you will be able to see the lines you trace. If you're not sure which one to use, just test a few different colors on a fabric swatch. Slip the carbon paper, color side down, under the pattern piece.
4. Roll your tracing wheel along the pattern piece, rolling it along the line for your size. If you're working with a larger pattern piece, you'll need to maneuver the carbon paper around the edges, working one section at a time.
5. Trace the pattern markings, like notches and darts. You may have to move the pins around a bit to get to any markings that go into the center of the pattern piece.

6. Remove your pins or pattern weights. You should now have a nice outline of your pattern piece right on the fabric. I've shown you on a white interfacing above so the lines are easier to see.
Note: If you can't see the marks clearly, you can also use chalk or an air erase fabric marker to reinforce the lines for cutting.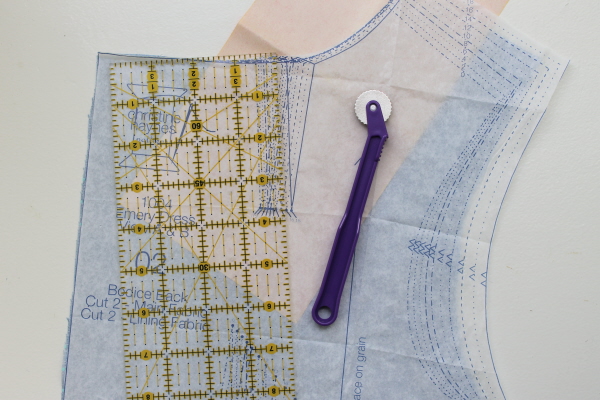 When to use the tracing wheel
To transfer markings
Pattern markings like dots and darts can be a real pain to transfer. The tracing wheel makes the process much easier and ensures that all the marks go in the right place. For notches, I just use the tracing wheel to mark a line about 1/4″ long from the pattern piece edge into the seam allowance.
For transferring darts, try using a double-faced tracing paper. This saves time since you only have to make the mark once, plus it ensures the dart is the exact same on both sides! I also like to use a ruler, as pictured above, to mark darts. Some tracing wheels can be wobbly, and a ruler ensures you're making a clean line in the right spot.
To transfer entire patterns
Some patterns, like bags and home decor projects, don't require any fitting or adjustments like a garment does. A tracing wheel is super helpful in this case because you can transfer the pattern onto the fabric, then just cut it out.
The tracing wheel isn't totally out of the picture when it comes to transferring garment patterns to fabric. I also use the tracing wheel for garment patterns that don't require a lot of adjustments, like full skirts.
To transfer patterns to paper
Sometimes you're dealing with a vintage pattern that's ripped and torn, and you need to create new pattern pieces to preserve it. Other times, you might have a pattern that includes several sizes with pattern pieces overlapping one another. In both of these situations, you can use a tracing wheel to transfer the pattern to paper.
Wondering what lovely pattern I was tracing in the photos? It's the Emery Dress, the latest pattern from Craftsy instructor Christine Haynes! If you love Christine's designs, be sure to check out her Sassy Librarian Blouse class where you can put those new tracing wheel skills to work.
How do you use your tracing wheel?