Are you still looking for that perfect gift idea? If no quilt pattern is really speaking to you these days, you can always create your own design from a photograph.
Even if you've never drafted your own quilt pattern before, Craftsy instructor Caro Sheridan has created an easy-to-follow system for transforming your image into a meaningful and stunning gift. Check out her FREE online class Pictures to Pixel Quilts for step-by-step instruction on how to turn your digital photos into an eye-popping quilt pattern.
The photos below offer tips on how to turn a photo into a quilt pattern. You'll see just how versatile this quilting technique can be! You can choose a black-and-white photograph, a famous piece of architecture, a symbol or something from wildlife to make your design.
Photos via Craftsy members Anne Rita, Anfirind, Kady and kristinthornton
Keep these things in mind when turning a photo into a quilt pattern.
Photo via Craftsy instructor Caro Sheridan
1. Consider the scale
If you'd like to tackle a manageable project (especially if you're in a rush and are giving the pixel quilt as a gift), consider making the pixels a larger size. Caro Sheridan's Everybody Loves Hypnotoad is a great example of a cartoon image that translates well into a picture quilt, even using large-scale squares cut to 2 ½".
When you choose large blocks, every color choice counts. Notice how the lime green squares highlight the eyes, and the bright red suggests a neckline?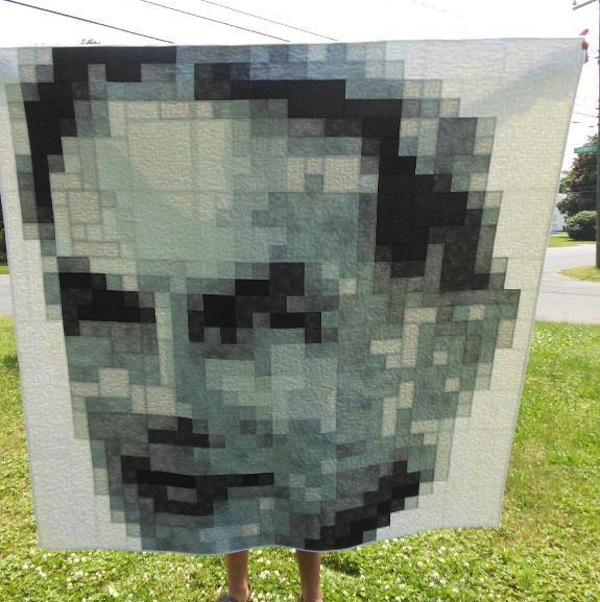 Photo via AKendra
2. Choose a high-contrast image
No matter what scale you choose for your blocks, the key to successfully turning a photo into a picture quilt is to choose the right photo. When considering your options, look for an image that has high contrast between the lights and darks.
The Gibbs Quilt by Craftsy member AKendra is a great example of a high-contrast image turned into a portrait quilt. You can change a color photo black and white to see the contrast more clearly. If the photo looks muddy with the same tones of gray, it's probably best to move on to another photo.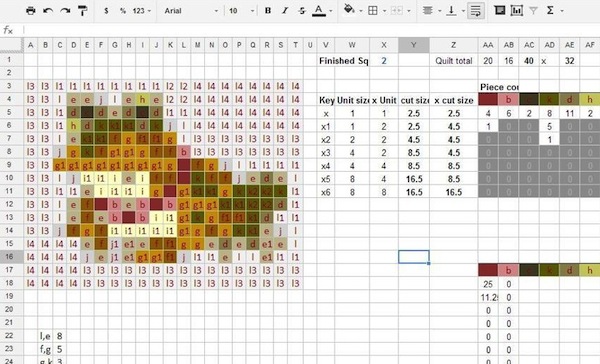 Photo via Crafstsy instructor Caro Sheridan

3. Get organized
When it comes to cutting your colored squares, you can avoid some frustration by getting organized. This spreadsheet system is one method taught in the Pictures to Pixel Quilts class. You can use a normal Excel spreadsheet to keep track of each single unit, larger rows of the same color, and the number of squares and other shapes to cut in each color. Whether you use graph paper or design your photo quilt via the computer, it's important to find a system that works for you!
Photos via Craftsy members: QuiltDude, Rosmarie, Caraline2 and HeatherIsaacson
4. Play with color
Did you turn your image to black and white to measure the contrast? Try turning it back to color for a picture quilt that really pops. You can use any basic photo editing program to adjust the color saturation, as well as the tint and temperature (cool or warm) of the colors. You can start shopping for fabric at this point, or select some matching solids from your stash.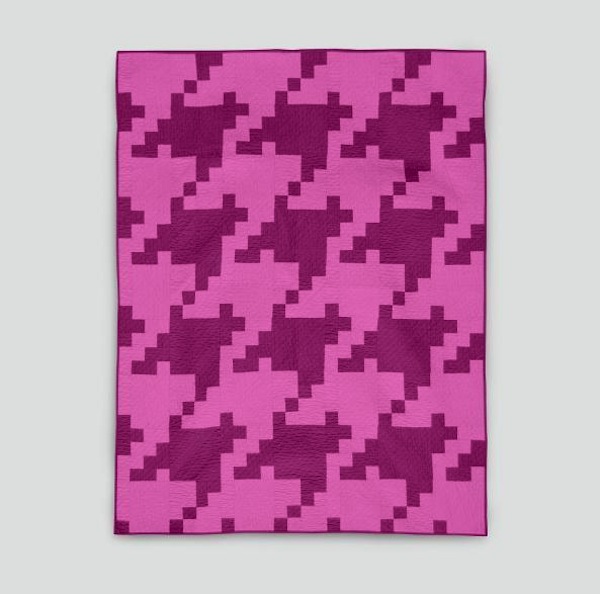 Photo via Craftsy member Kyndra
 5. Branch out
Once you start seeing your world in pixels, you may be tempted to turn other types of images into picture quilts. I love this Pixelated Houndstooth quilt pattern from Craftsy member Kyndra. Though it uses only two colors, the simplicity of the design makes a really stunning picture quilt!
If you could make a quilt from any photo, who or what would be your ideal subject?