It's the holiday season! It's gift-giving time! Why not use your carefully practiced watercolor painting skills and give the gift of art this year?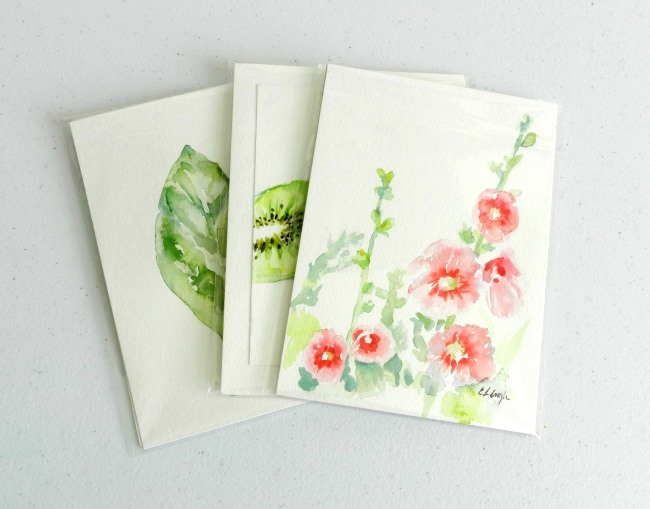 If your loved ones don't live near you, you will need to know the basics of how to successfully ship a watercolor painting. Because watercolor paintings are painted on paper (not canvas), you need to make sure that you can send them without having them get bent, ripped or exposed to moisture.
Shipping methods: envelope vs. parcel
What's the best method for sending your artwork cross country? There are two main options, and one far outweighs the other.
Envelope
Mail that's shipped as an envelope must be non-rigid because it goes through rollers during the sorting process. Although envelopes are cheaper, this is not a good way to ship a watercolor painting. You do not want your painting rolled! You want it to stay completely flat during the entire shipping process.
Parcel
Shipping a watercolor painting as a parcel means that it will not be sorted with rollers. It will be sent with other boxes and rigid packages that are not meant to be bent. This is the best method for shipping a watercolor painting. Trust me!
Size categories
Small: This includes any painting that measures 11″ x 14″ or smaller. These can be shipped flat in a cardboard mailer.
Large: This includes any painting that is larger than 11″ x 14″. These are better to ship rolled up in a cardboard mailing tube.
How to ship a small painting
Materials:
Clear seal-able plastic bags

Archival cardboard backing

Rigid cardboard mailers

Mailing labels

Clear packing tape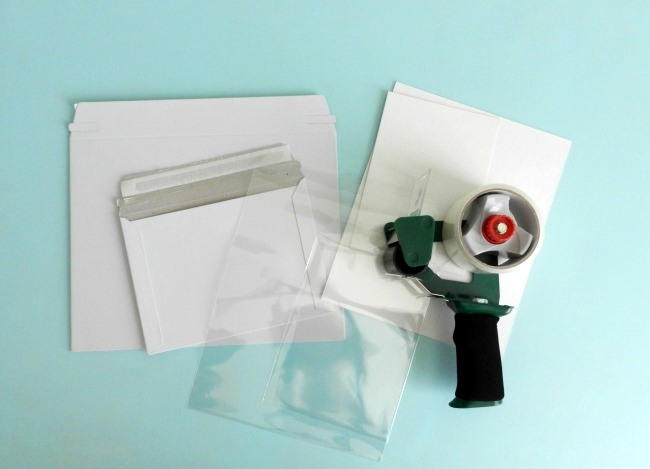 Step 1:
Use cardboard backing the same size or slightly larger than the size of your watercolor painting. Insert the painting with the backing into a seal-able plastic bag that's slightly larger than the backing. Seal it tight so that moisture doesn't penetrate your bag and damage your painting.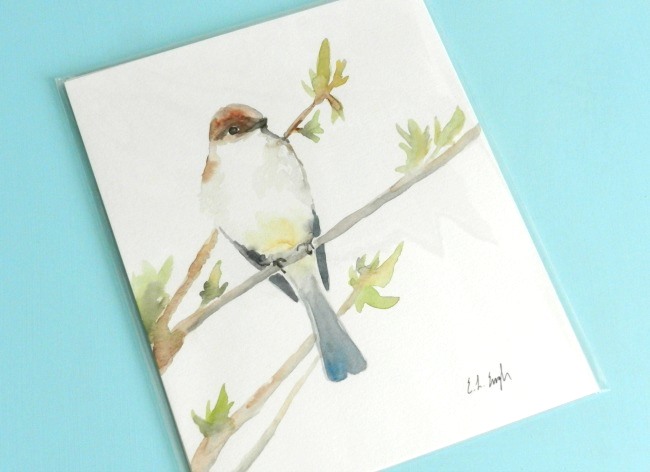 Step 2: 
Place your backed and bagged painting into a rigid cardboard mailer that is slightly larger than the backing. Carefully slide your painting all the way in, then fold over the flap and seal it.
It's always a good idea to tape the flap down as well to make sure it doesn't get ripped up during shipping. Apply clear packing tape all along the edge of the flap to stick it down to the rest of the mailer securely.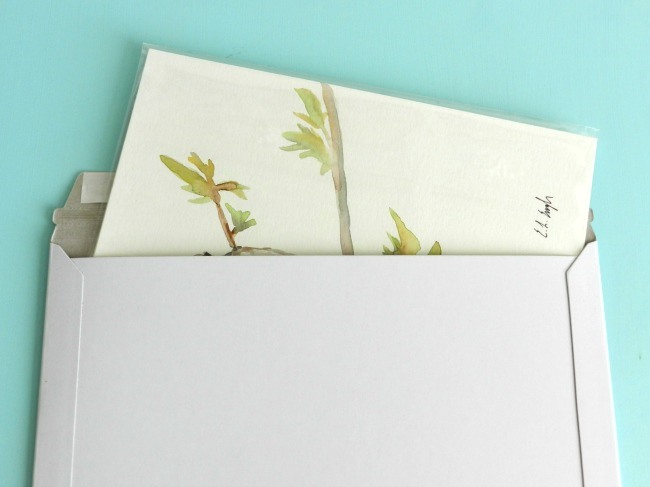 Step 3:
Apply mailing labels on the front of the cardboard mailer. You can use fancy sticker labels or, if you want to be more economical, you can print the addresses on computer paper and then tape them down with clear packing tape.
Make sure you cover any computer-printed labels with tape so they don't get ripped or smeared from moisture. Never write your labels on with a marker or pen unless you also cover those with tape. They can easily smear during the shipping process and you want to keep your addresses legible!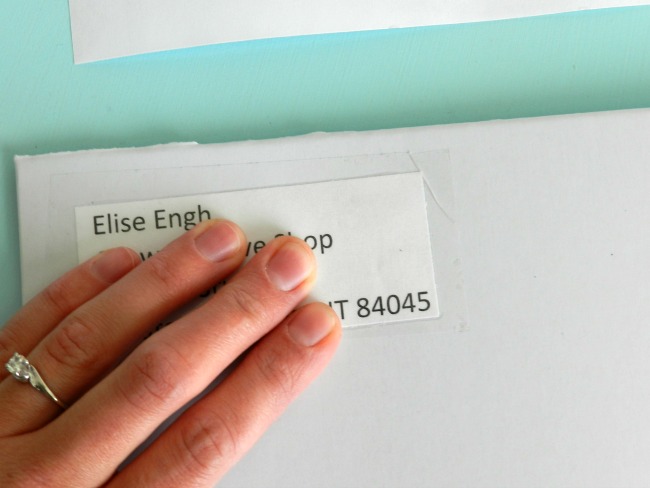 How to ship a large painting
Materials:
Rubber bands
Large clear plastic bag
Mailing tube
Clear packing tape
Mailing labels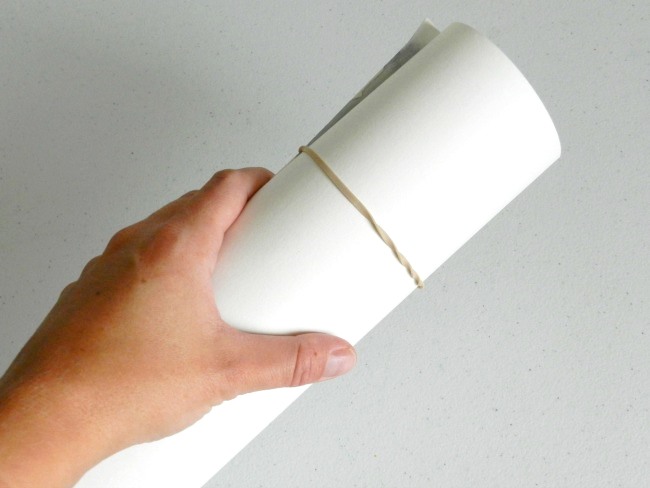 Step 1:
Very carefully roll your watercolor painting and secure with rubber bands. Usually one rubber band on each end does the trick. Then place your painting roll in a clear plastic bag to ensure it doesn't get wet.
Step 2:
Place the rolled painting into a mailing tube. I find that triangular cardboard mailing tubes from the USPS work great! You just need to make sure to seal all the seams and ends really well with packing tape.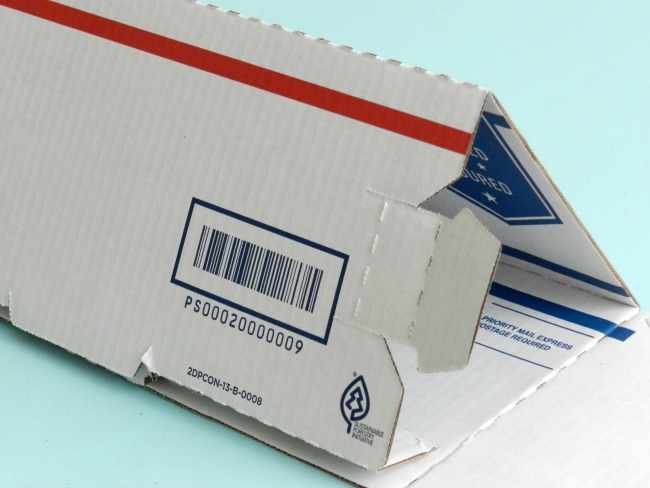 Step 3: 
Lastly, place your labels on the outside of the tube securely with tape and you are set to go!