If I had to think of one of nicest ways to get acquainted with the watercolor medium, I would say that painting a snowman could very well be the perfect way.
Besides being easy to draw and always looking adorable in the end, no matter what your skill level is, these points for how to paint a snowman translate the same when color is applied. Whether you are new to painting, especially to working with watercolors, or more adept, you can almost always be sure it will make a pleasing project.
Preparing your snowman drawing
Here I have drawn a simple snow scene with few details because I want my snowman to be the main feature.
As you can see, I have added a few snowflakes which I have applied masking fluid to keep the these few flakes nice and white after all is finished and I remove the dry masking medium. After this, I will add as many more snowflakes as I want/need with some white gouache for the final touch.
Painting realistic snowflakes
A little trick for making snowflakes look more realistic is to make them different sizes to create background and foreground in the scene and don't make them all evenly white. The flakes further away always blend a little into the background. Try it! It will make the painting more interesting for you to work on, and make it more interesting to look at when you are done.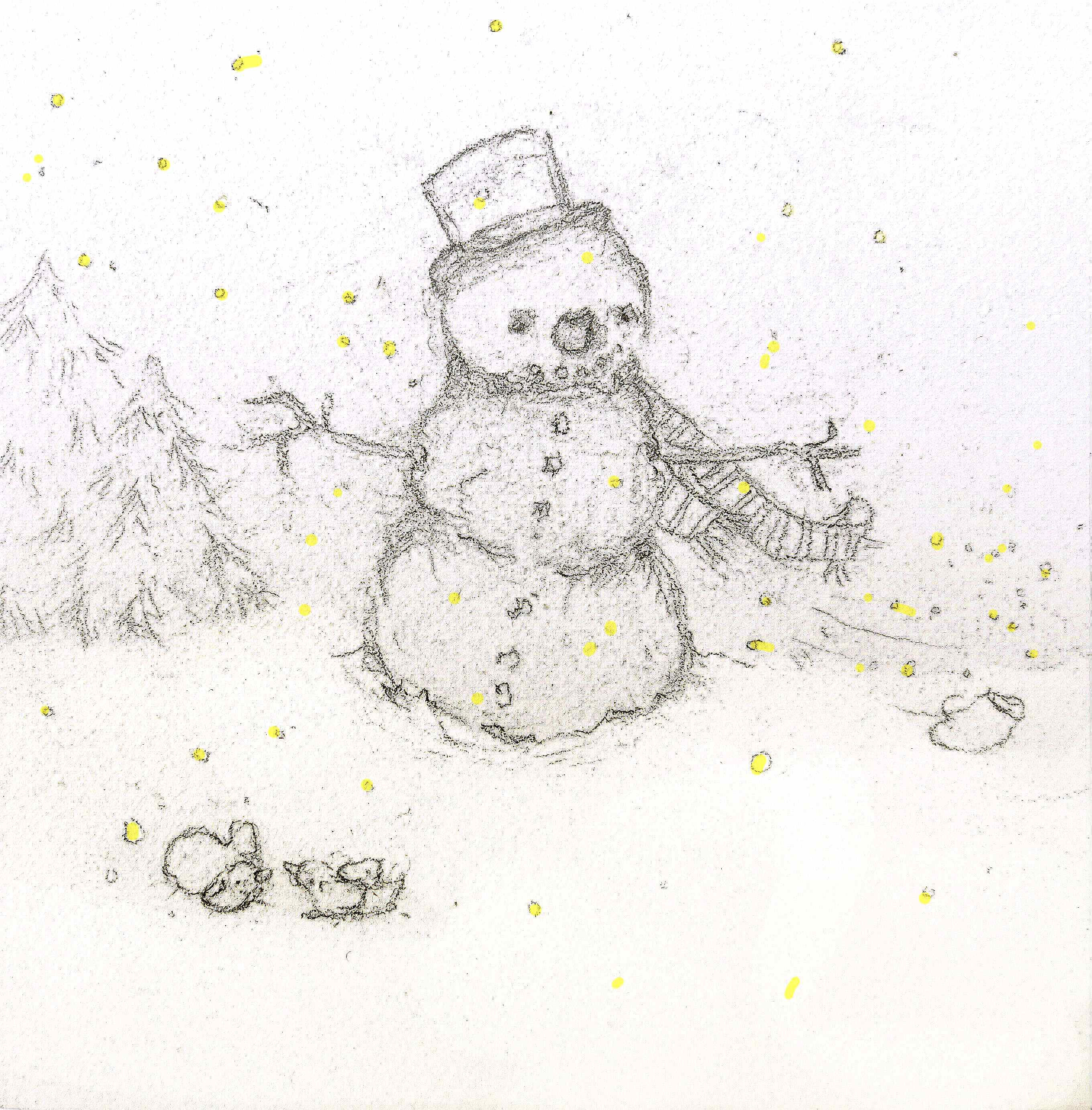 Adding a blue wash
This is, of course, subject to the mood you want to create here. Using a wash of your favorite blues will have a mild monochromatic effect and will simplify your work compared to painting each part and parcel separately. For a lot of your work after a wash is complete, simply finish by adding some shading in areas of your composition. This saves time for the areas that need more consideration.
No matter how you choose to execute your work, the desired result will be that you create pleasing art. There are many ways to get there.
You can see I saturated my wash in varying amounts to differentiate the sky from the snow-covered land and also while my surface was wet, I was able to lay a base of the shadowing.
Note: You can see here that there is texture to my surface. It is a clay-coated, pre-cut hardboard. It will add the the fluffiness of the snow. Whatever surface you choose will work just as well for a snowman.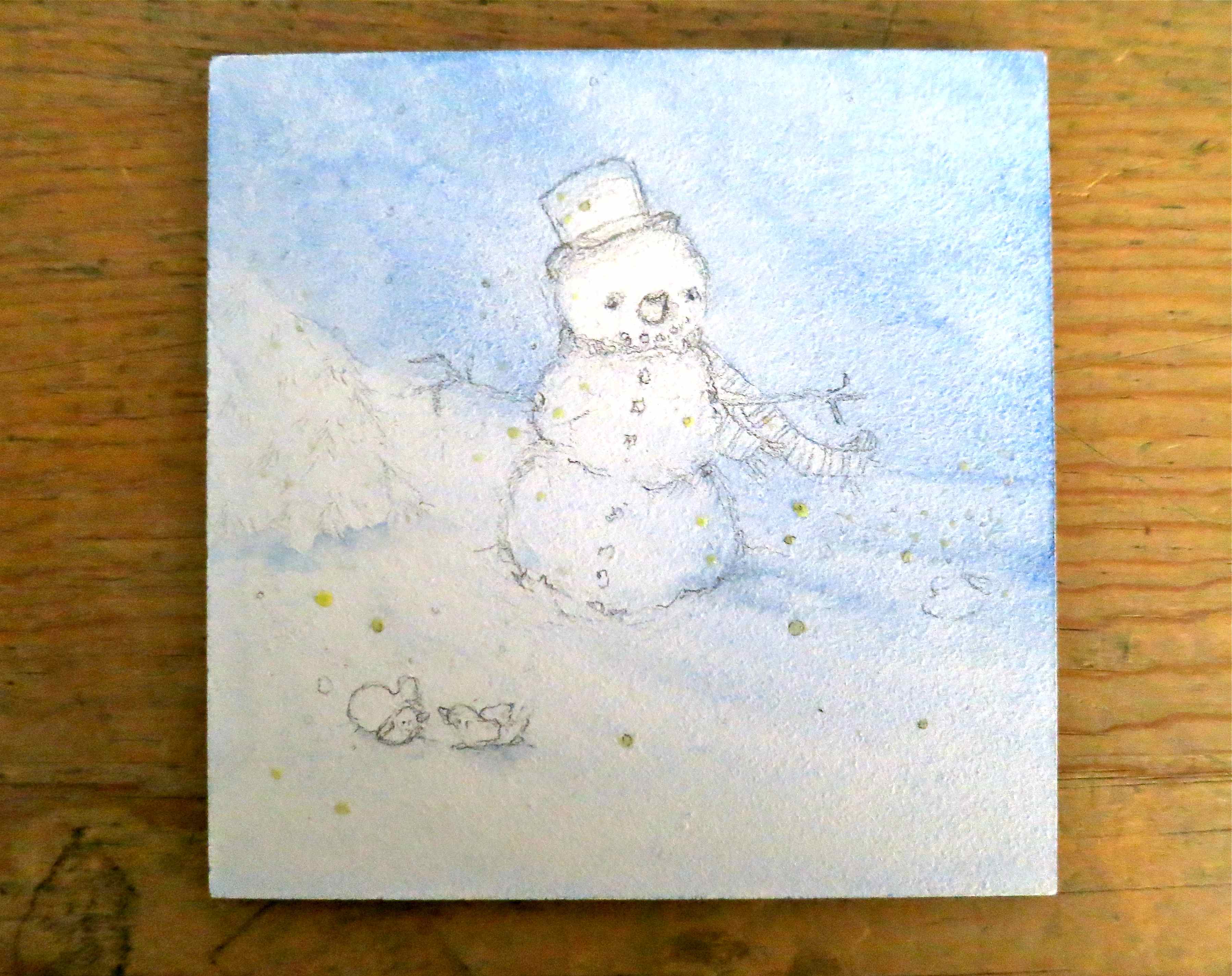 Paint your snowman 
Now the fun part begins! You can work on all the sweet details that make a snowman truly endearing. The blue base to my piece makes it easy and faster to finish the artwork.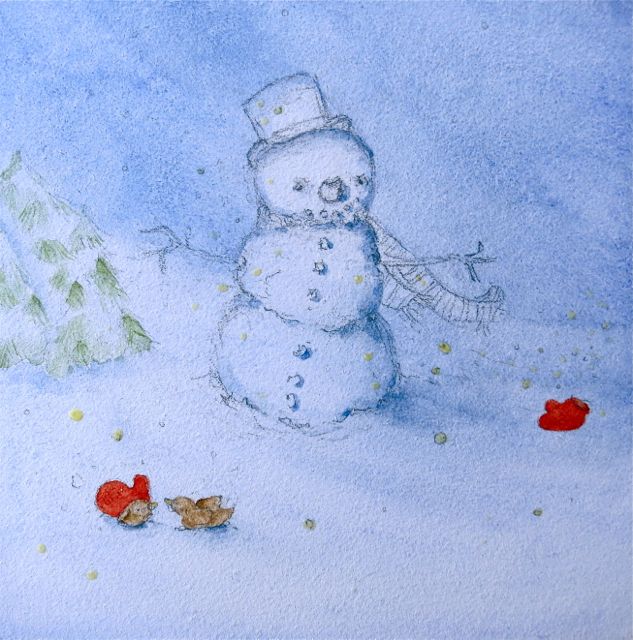 It is best to just add shadowing the in the recesses of your snowman — around his buttons, carrot nose and hat. You want the rest of the snowman to have the light blue wash and no more. Your shading will enhance the white snow.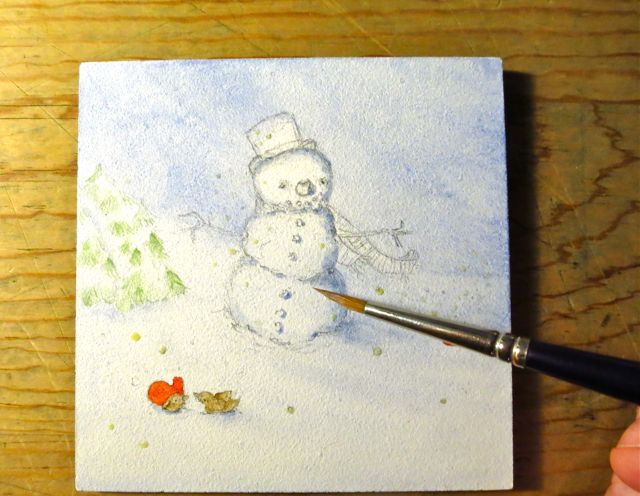 Finishing touches
Gently erase or remove any masking medium. Step back and decide if and where you want to add more snow. I used white gouache to create more snowflakes on my piece. Now it is complete!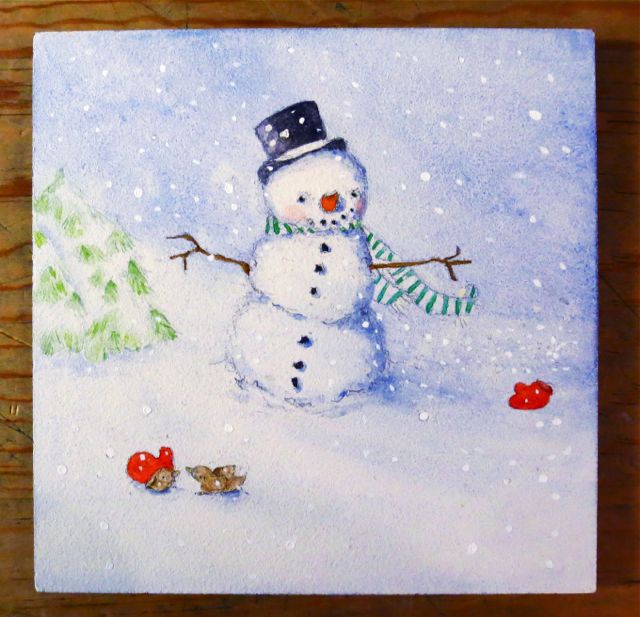 Do you have any special techniques to create a winter snow scene?