Can you ever have enough bunny rabbits in your life? The twitching button nose, big gazing globe eyes, long ears and soft fur are all rolled into one adorable creature.
Bunnies are the close second (if not first) to teddy bears in the toy and children's book world. For that reason alone, it is good to be prepared to portray a bunny in your artwork.
Follow along to learn how to paint a bunny!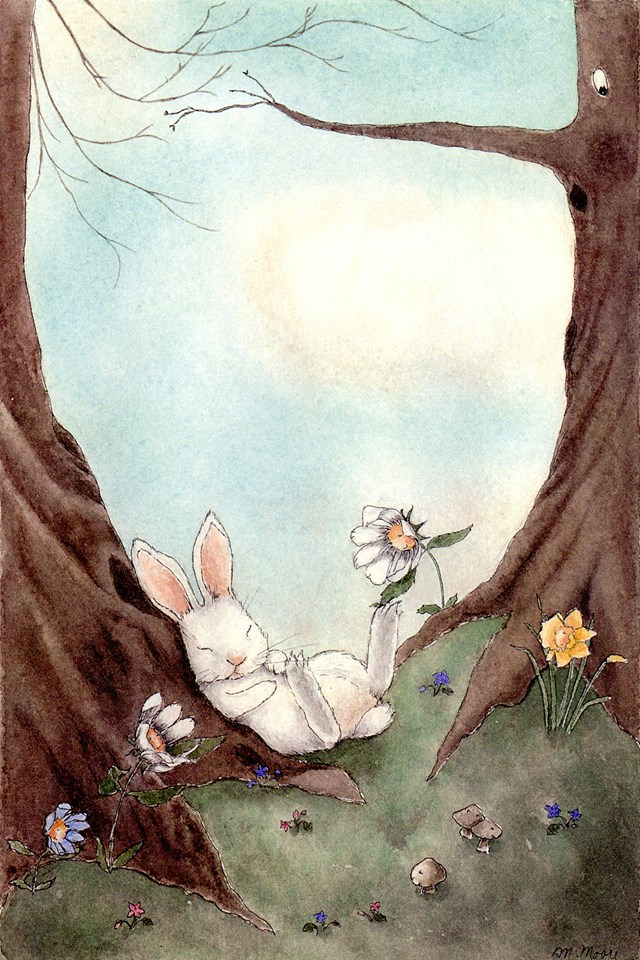 Though this tutorial will deal mainly with tips on painting a bunny, your sketch is where the magic begins. If you are fairly new to drawing, here is a little help with structuring a rabbit form:
Figure out how you want your rabbit to look, choose a pose and work up your sketch.
Any rabbit pose is sweet, so have fun and choose whatever appeals to you. Use a stuffed toy as a model or use photographs. If you are lucky to have a real rabbit for a pet, study it.
The ultimate reference for me is Beatrix Potter. Her animals are anatomically perfect and I do believe she has covered every possible rabbit pose there is. Her work has been a great source of inspiration for me, especially since I am self taught. In short, she has been (and still is) one of my teachers!
Learn How to Draw Better Animals
Get insider tricks for drawing realistic animals, including cats, dogs, cows & horses.Get My FREE Guide »
Here are several rabbit poses ranging from active to resting: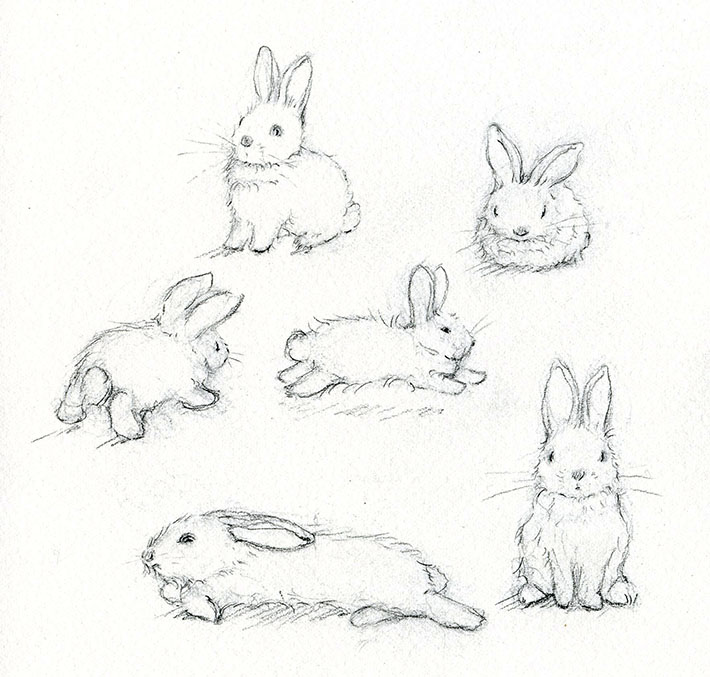 If you need a little more help with drawing, I have traced over the above sketches to show you how to lay the basic lines for each pose. From here you can fill in the details to make it your own.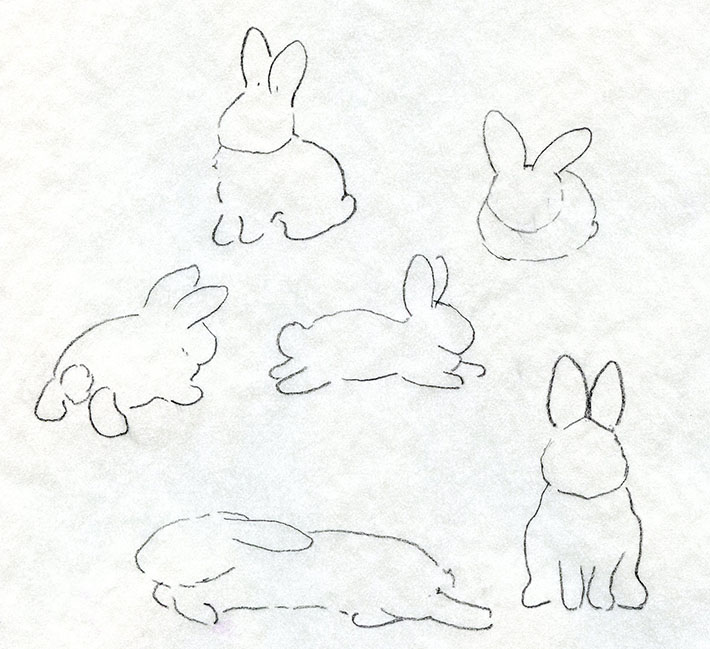 For my piece, I am choosing a sweet resting pose.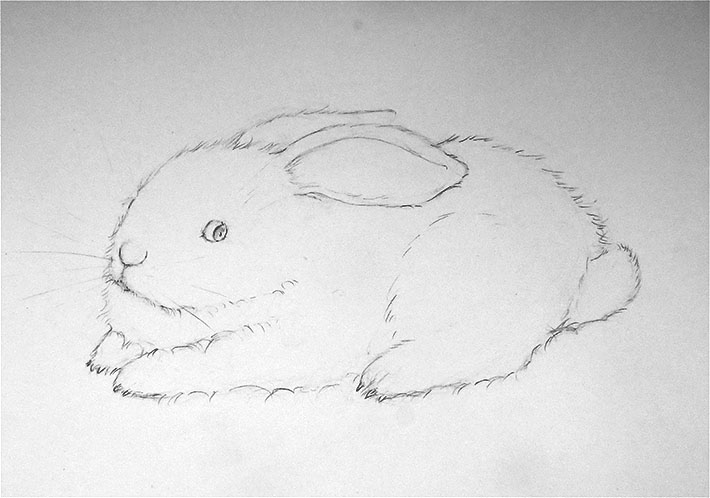 Start to paint the bunny:
I am going to keep my painting simple in order to focus on the details and shading. So I will paint a "white" rabbit.
Step 1.
Starting with a wash of a pale beige shade, wet the whole bunny and apply your wash lightly and unevenly. This is so it is not one flat hue. As you can see, my saturation is heavier where I want some shading to begin: under where the ears fall, where his dewlap falls over his front legs and so on.
My color mix for this is sepia, a tiny bit of cadmium yellow and a tiny bit of ivory black with a lot of water until it is a pale, slightly warm beige.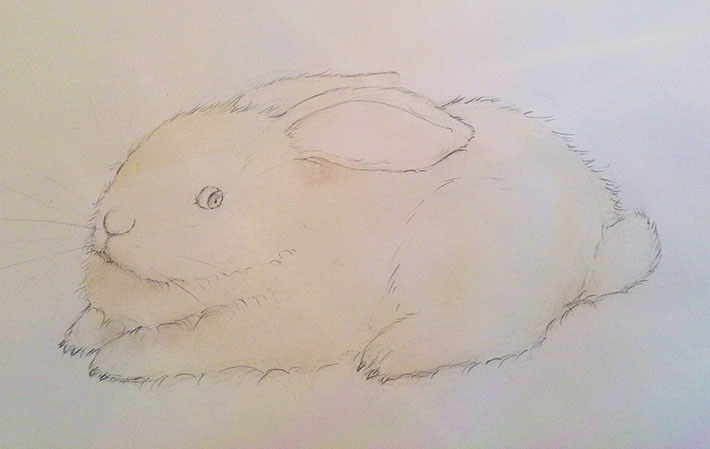 Step 2.
When you paint inside the ears, wet the whole inside and around and in between some of the fur. This creates the relief effect to bring out the fur detail.
A pointed round watercolor brush is your best bet here.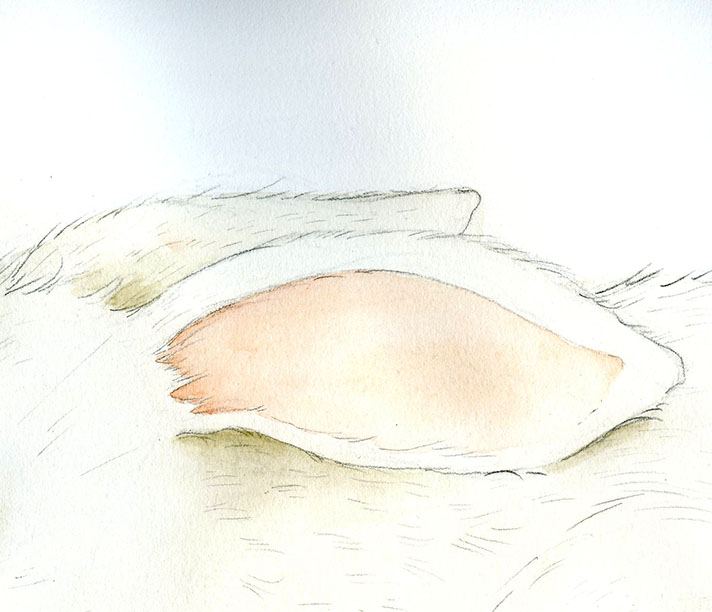 Step 3.
Paint the button of the nose graduating to more saturation at the lower edge and shade under and around the nose area.
Tip: My shading mix is the same as the beige mix used for the overall wash on the bunny. If you let it dry on your palette, it becomes a nice concentrated version of the same hue. You only need a slightly wet brush to use it… Just make sure to wet the area you will be using it on first so you can blend it without hard edges.
Add some shading under the mouth to give it a little depth as well as bring the dewlap a little forward as it should be.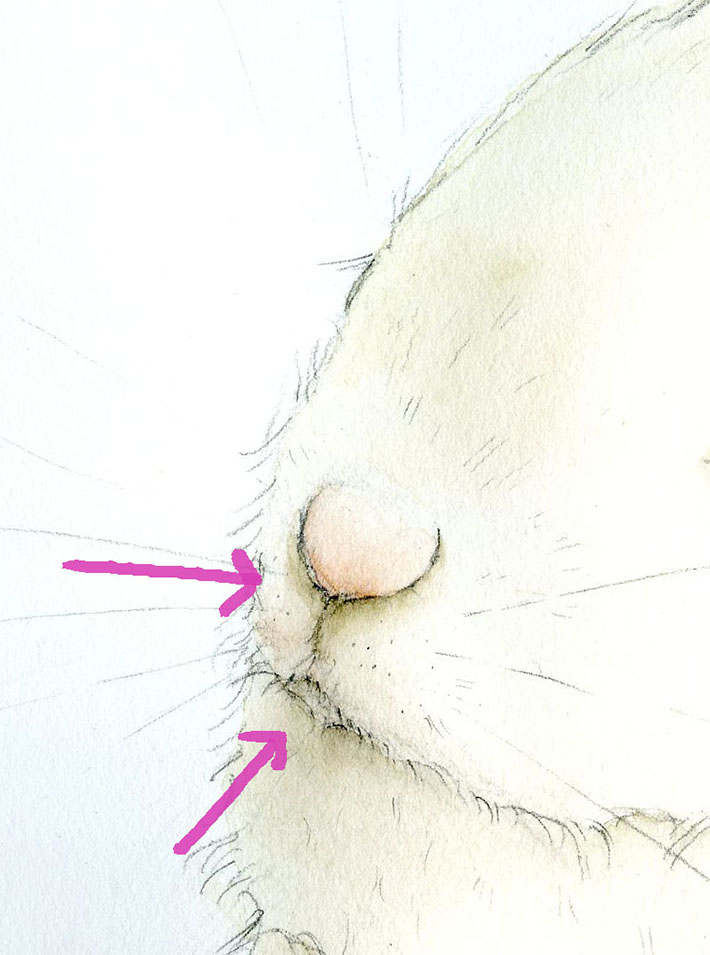 Gently apply shading to and area where the fur or limbs overlap.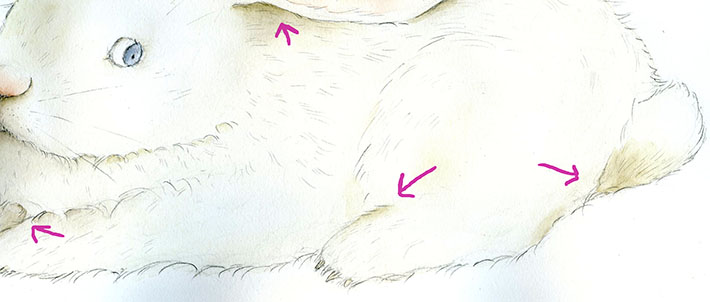 Some blue for the eye and a dash of black watercolor for the pupil.
It is hard to see, but there is a little bit of shading (barely) on a portion of the fur just outside of the eye.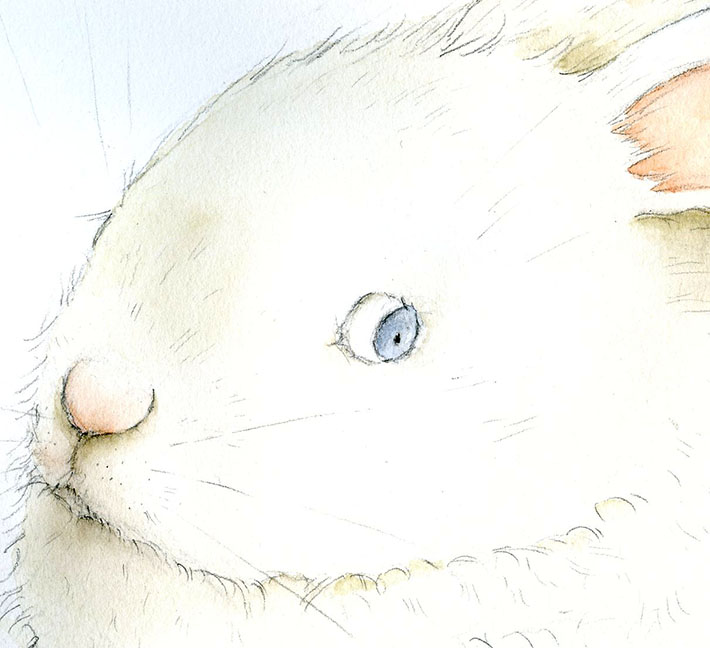 Step 4.
Some whiskers have been added with a sharp pencil. They look best when you can stipple the line here and there (you'll get better at whiskers with practice).
I also used a sharp pencil to add some "fur" all over. Try to follow the direction(s) a rabbit's fur moves in, since it varies with each pose.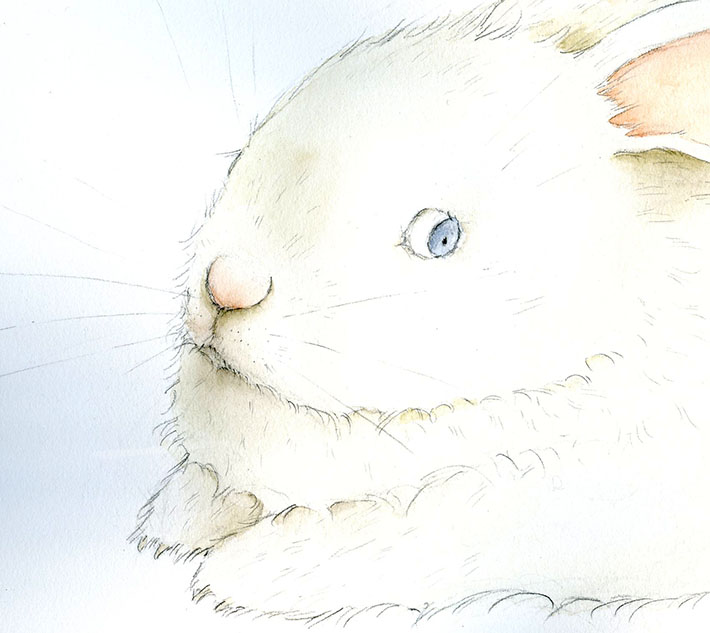 Step back and see if you think you need more detailing. When done, you have started the basics of creating a beautiful bunny painting!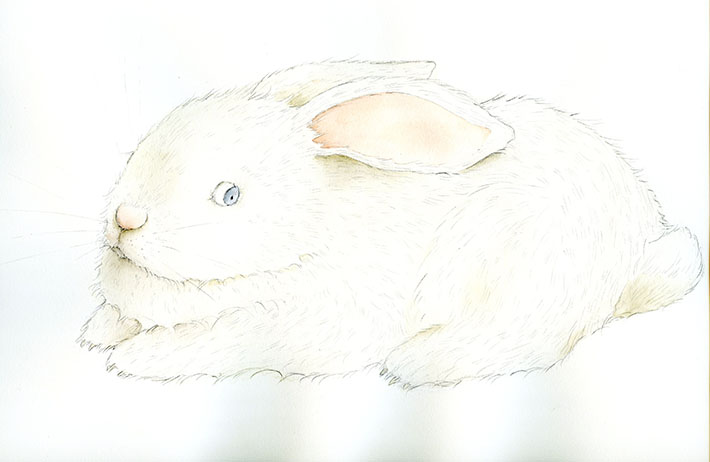 Have you ever tried to paint a bunny? What is your method?
Learn How to Draw Better Animals
Get insider tricks for drawing realistic animals, including cats, dogs, cows & horses.Get My FREE Guide »