The sea may have its fish, but the sky has its birds. I love birds and love to draw them, though I still find them a little tricky to master.  But it's not necessary to create an Audubon-quality bird rendering to have a beautiful finished bird painting.
Starting simple is the key; then, you can develop from there until you reach the style or detail level you wish.
To get started and learn how to paint a bird, follow along here.
Step 1: Pick your bird.
Start by choosing the variety bird you would like to work on.  Unless you need to draw a specific species of bird, it will be the most fun to draw a bird you especially like or think makes good art subject.I have chosen to draw a small tropical bird. He was just too sweet to resist!
Create a sketch of this bird to guide your painting. If you need some guidance on drawing a bird with realistic proportions, check out Drawing Birds in Brush & Ink.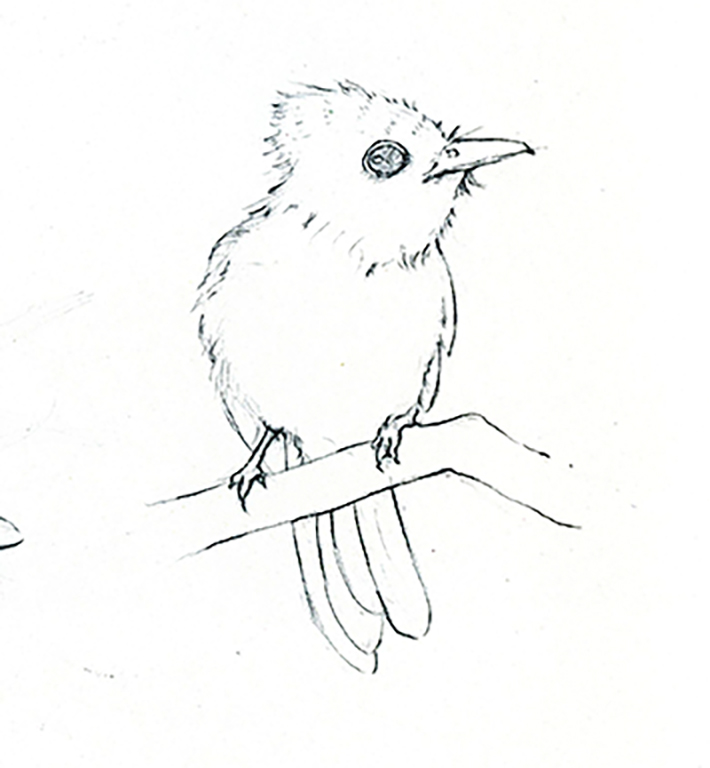 Step 2: Start with the base colors.
Paint your bird's head, wings and body. Keep the saturation a little uneven (meaning lighter in a few places) to reflect light. 
If your bird has multiple colors, it is easier to paint one part of the bird at a time. My bird is mostly blue with orange wings, so I painted all the blue sections first before taking out my orange paint.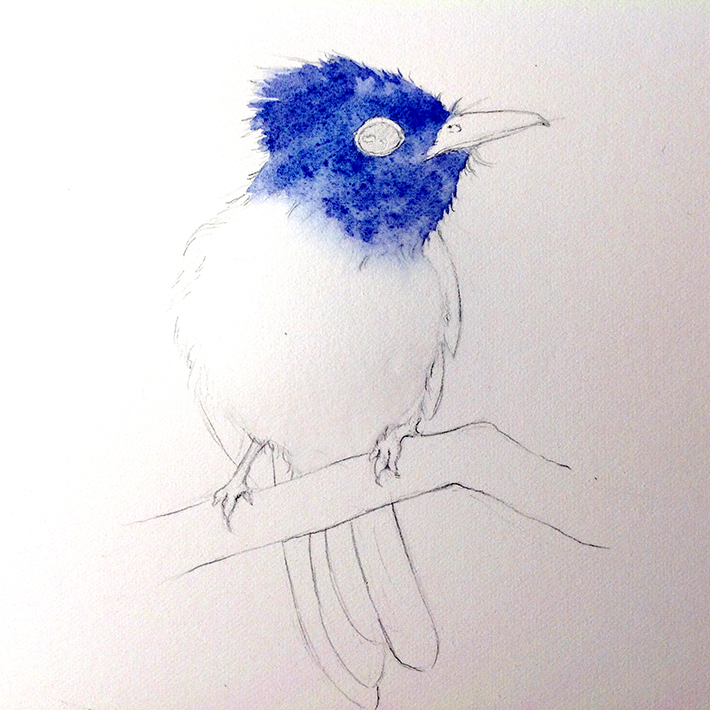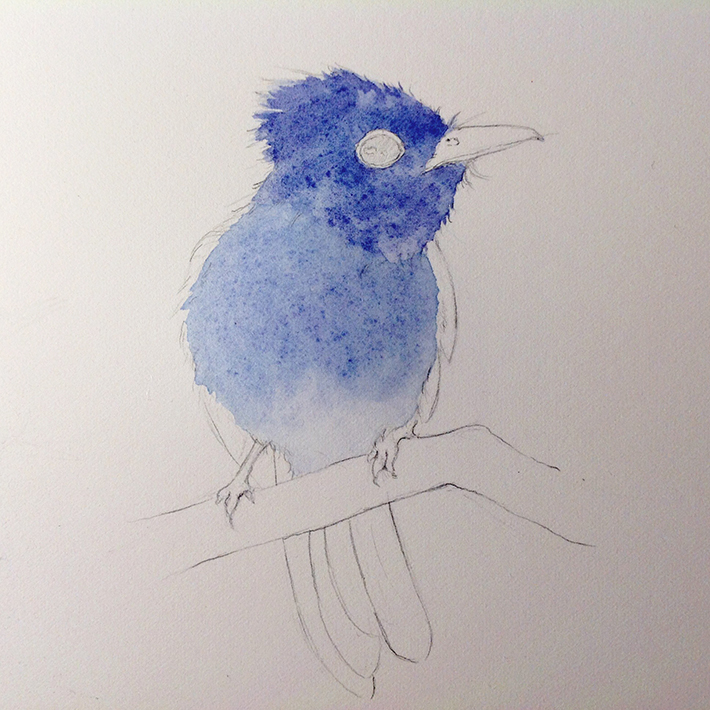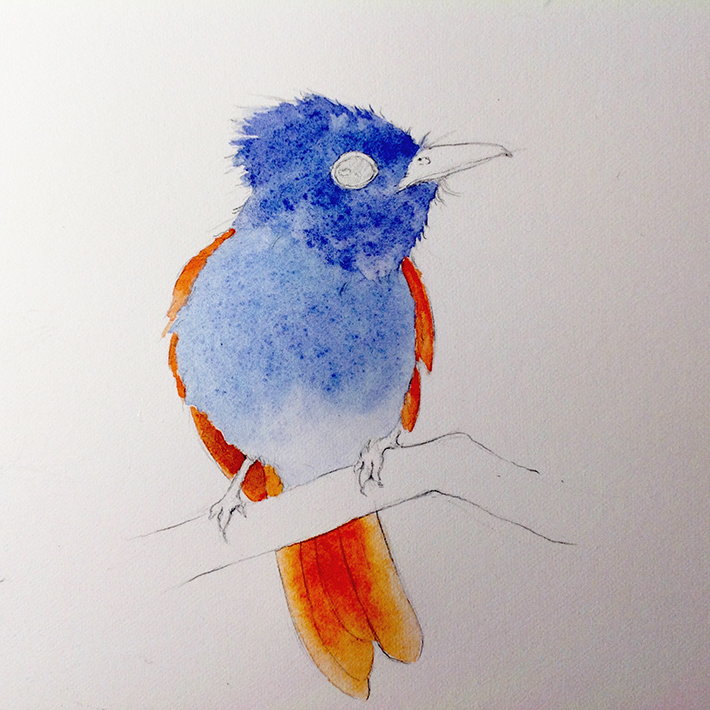 Step 3: Add detailing.
After adding my wing color, I'm ready to move on to the detailing stage. Now, we'll draw the feathers, eyes and more.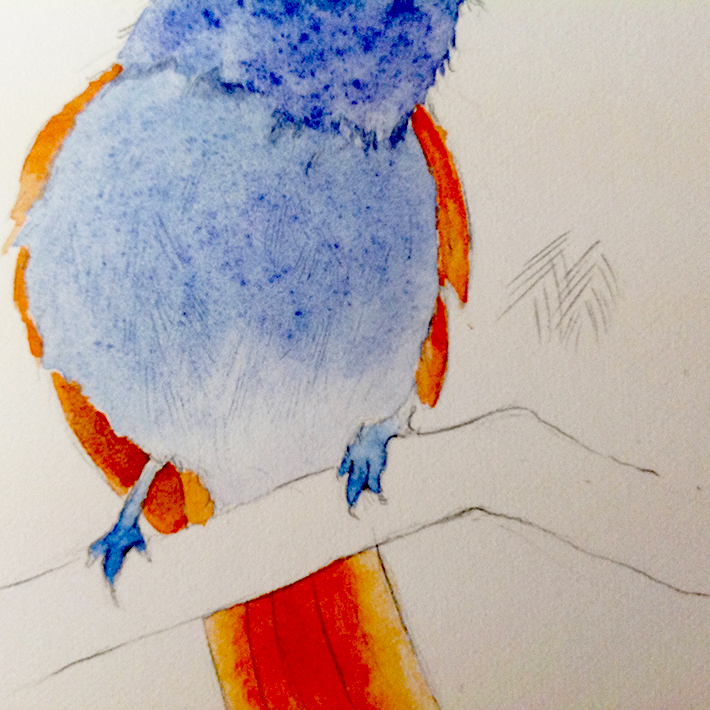 Sweet and soft feather details make for a fluffy bird effect.
Using a fine-pointed paintbrush or colored pencil tip, draw fine lines in arrow shapes cascading down the bird's chest. You can do just a few clusters of them or fill in the whole chest area. I like to keep it a little more simple and add just enough of this detailing.
Give your bird life by painting the eyes.
Use a dark color to paint the bird's eyes. Leave a few white catchlights to give him expression and eye focus. Paint a ring around his eye in white or another light shade (or just leave it white).
The beak finishes the bird's face.
My little bird's beak is blue, my approach works with whatever color you're painting your bird's beak. Lightly saturate the beak with color. Paint a line of a darker shade to the under-beak. Paint the nostril a dark color that lightens toward the outer edge.
Don't forget the feet.
Take note of the color of your bird's feet. Add deeper color or shading near the insides of his toes.
Add shade where the head meets the body.
This is a nice way to give strength to your painting. Just a little can be enough — too much shading might make your bird look truncated.
With a very pointed brush tip, I wetted little notch shapes where the head feathers meet the body. Then, I saturated in a deeper shade of the same hue. I painted these unevenly in size and spacing so they look natural.
Last but not least — the wing feathers! 
When you next see a feather on the ground, pick it up and look at it. See the bony center that holds the strands of feather? When adding feathers to your bird, try to keep this spine noticeable but not overwhelmingly noticeable by darkening the color on both sides of it.
Notice in my orange tail feathers how I painted the whole feathers the orange hue and then further darkened along the sides of the feather spines.
Keep some of the feather edges light for a sheer effect, and shade under where one feather overlaps the other.