Remember how, in kindergarten, you learned that blue and yellow make green and that red and blue make purple? Mixing colors may seem elementary, but learning how to mix watercolors is a crucial part of improving your watercolor painting.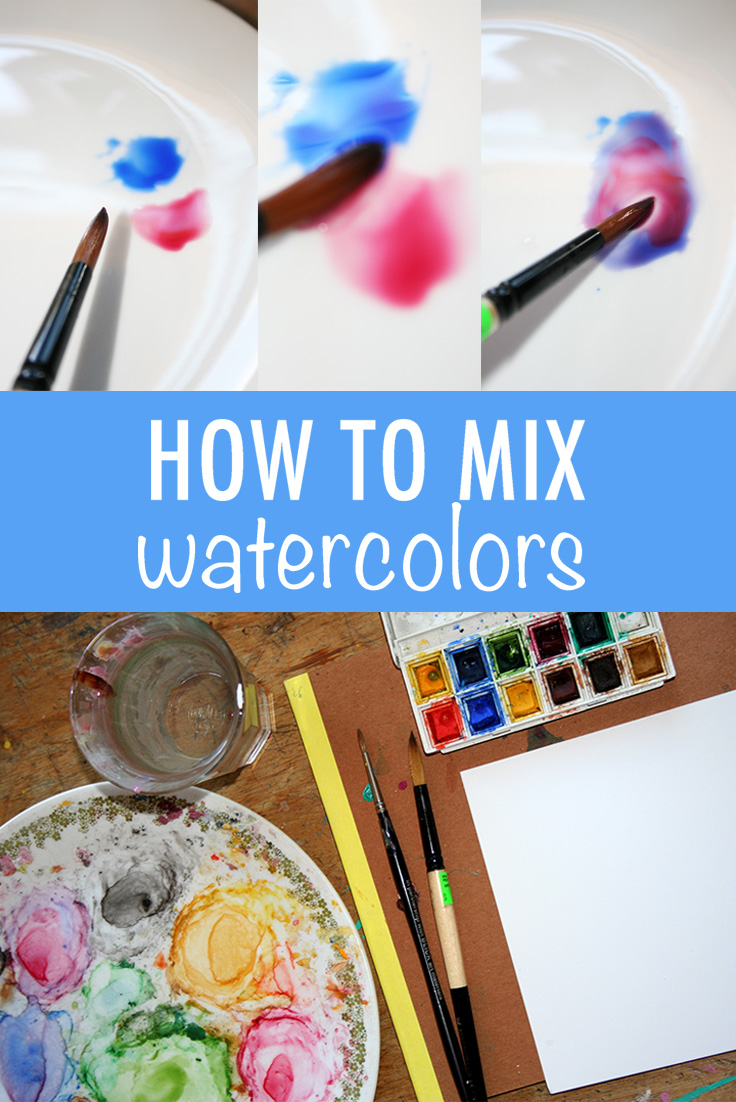 Photos via CakeSpy
Mixing watercolors is a key skill in building a foundation for watercolor painting. And, happily, it's an easy process, provided you have the proper supplies and setup. Here, we'll guide you through the process so that you can mix watercolors with confidence and ease.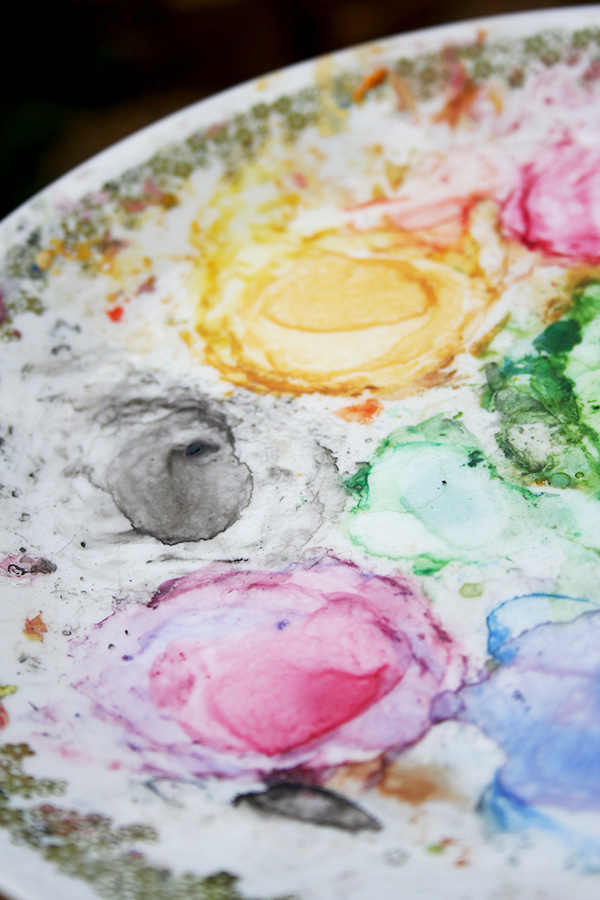 What you need to mix watercolors 
Set yourself up for success by assembling the proper supplies. Here's what you'll need:
A palette 
A palette is where you can mix different colors. Plastic palettes with vessels for different colors are readily available in art supply stores. Or, you can simply use a treated surface with plenty of space for mixing colors. For instance, I personally use an old dinner plate (pictured above).
Watercolors 
You'll need watercolors, of course! Typically, watercolors come in either pressed cakes or in tubes. You can use either type for mixing colors according to the steps in this post. 
Water
Water is vital to bring the paint to life and give it a consistency where it can easily be mixed. Water can also be used as a means of adjusting the color, making it lighter if you add more water, or darker if you use just a little water. 
You can keep water in a jar or water glass near your palette. Don't fill the vessel all the way to the top, as you'll be dipping and swirling the brush in the water and don't want it to slosh onto your painting. 
A brush 
The type of brush that you use is up to you and will depend on the effect you're after. Check out our guide to watercolor brushes for information on what types of brushes might be best suited to the painting you're working on. 
Scrap paper
It's nice to keep a neutral sheet of scrap paper nearby to test the colors you're mixing to see how the colors look before you apply to your final work surface.
A white sheet of paper or one tinted the same color as your work surface is best, as it will give you the best indication of how the color will look on your work surface. 
A work surface
Have your work surface at the ready so that you can use your colors once they're mixed.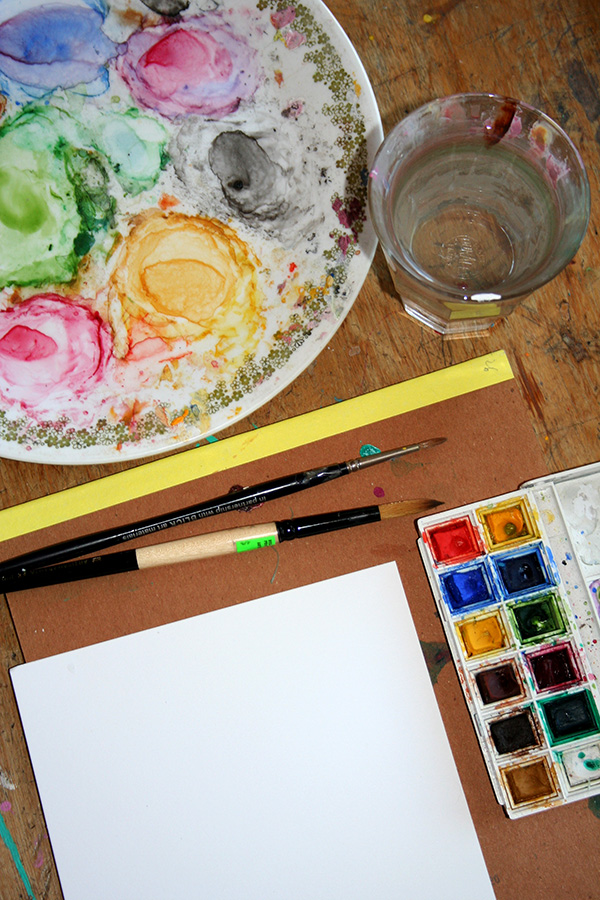 Mixing watercolors 
Believe it or not, assembling your materials is far more work than actually mixing watercolors. To mix watercolors, follow these easy steps:
Step 1:
Decide what color you'd like to mix. For instance, let's say it's violet, which is a mixture of red and blue.
Step 2:
Dip your brush in water and load it up with one of the colors you'll need to make the desired hue. Some people like to start with the more dominant tone, but with a color like violet, both red and blue are fairly dominant, so it doesn't really matter which color you start with.  Dab the paint onto your palette, adding more paint depending on how large an area you'll be painting.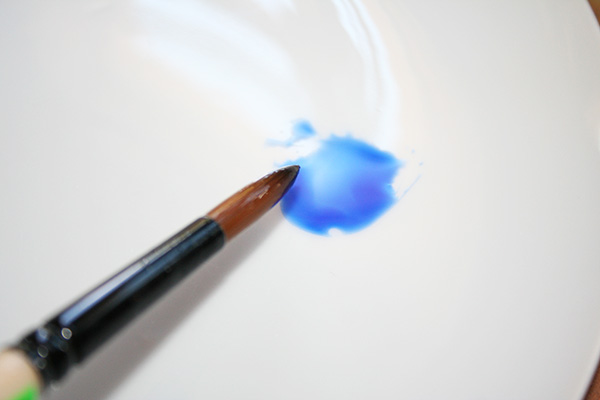 Step 3: 
Clean the brush with water. Repeat the same process with the second color, but don't dab the second color right into the first. Instead, dab the second color right next to the first one. This way, you can be sure that you're adding an even amount of each color. 
Step 4:
Clean the brush, re-wet, and then mix both of the colors together.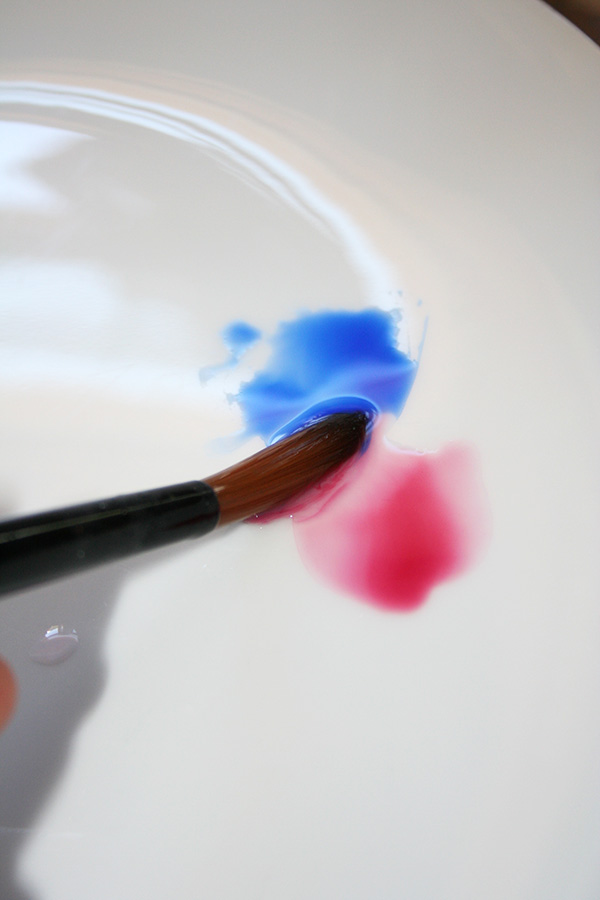 As the color comes together, evaluate. You can even paint a small amount on your scrap paper to gauge the hue.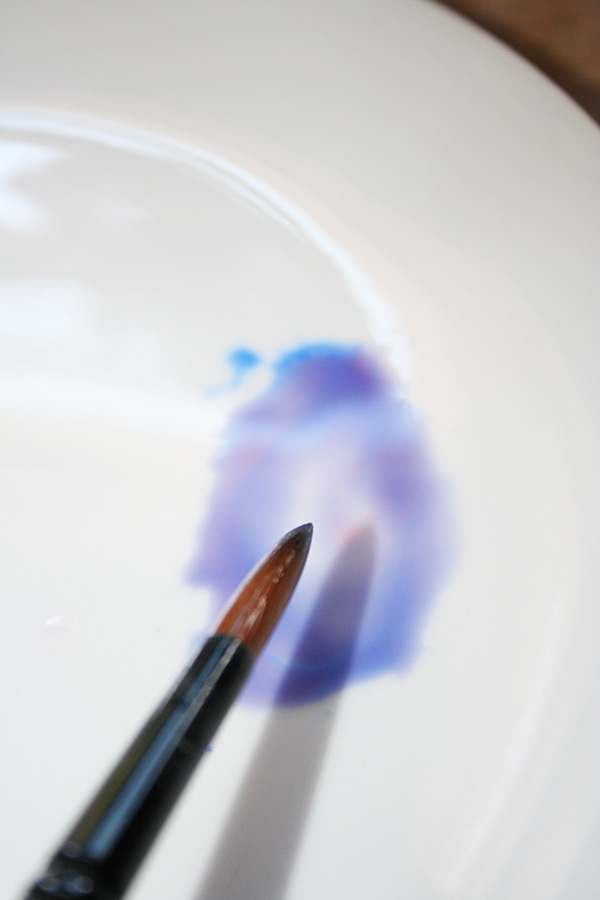 In this case, the mixed paints look more blue than red. To make the color more balanced, you can clean the brush and add a little more red paint to the mix. Make any additional adjustments as needed to create your ideal color.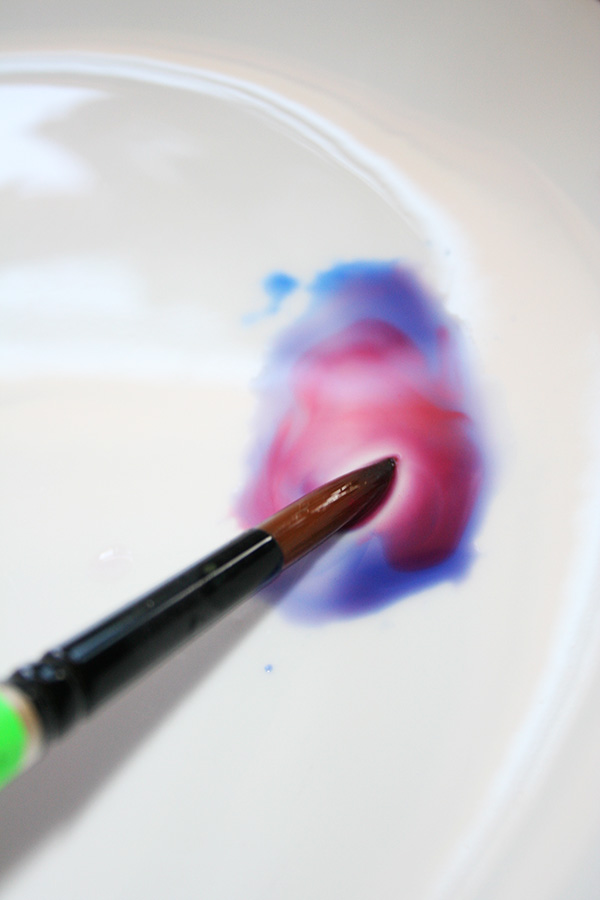 Step 5:
Once you've reached your desired color, your paint is ready to go. Get painting!
Notes about mixing watercolor
While the simple method above will get you started mixing colors in watercolor, as you continue to paint, you'll find that your methods may become more refined. Sometimes, the perfect color isn't just a straight mix of two different colors. On occasion, a touch of an additional color is just what you need. For instance, adding an extra bit of yellow to green tones can make the difference between a forest and grass green; adding a touch of blue (yes, blue!) to skin tones can give them the undertone they need.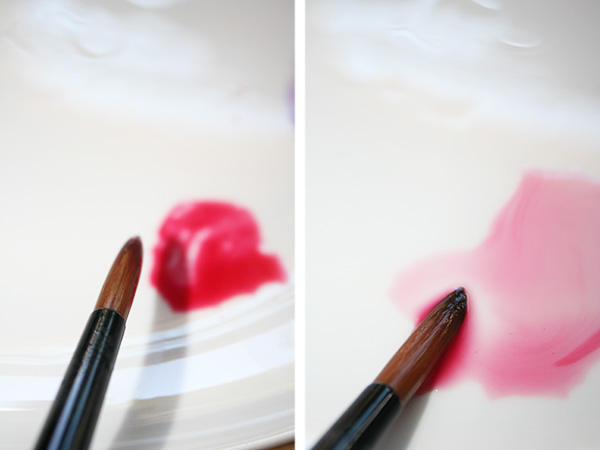 Sometimes mixing the right color doesn't require mixing two different colors together. Sometimes, it's simply a matter of adding water to lighten a color. For instance, you could make pink by combining red and white watercolor — or, you could simply water down red paint to create a pleasing pink tone.
Even dried watercolors will be able to "re-animate" with water, so unlike acrylic paint, you don't have to worry about sealing colors in an airtight container between painting sessions. However, do make sure that you mix enough of a given color because re-mixing exact tones can prove difficult.